Disclosure: This Website is Reader Supported. As an Amazon Associate I earn from qualifying purchases.
Last updated on April 29th, 2020 at 07:27 am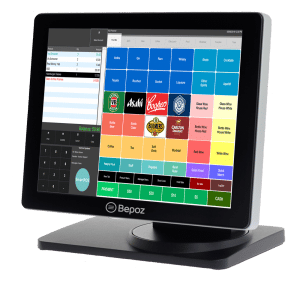 The best pharmacy point of sale (POS) system should help you increase margins, grow sales, and remain compliant. The system needs to offer so e of the best patient care capabilities for enhanced customer service.
Your preferred software should be capable of tracking expiry dates and calculating prices based on diverse insurance schemes. It should also help you handle prescription drugs in accordance with legislation. 
To get the right one, you should consider the drug inventory management, automated refills, e-prescribing, and pharmacy management capabilities. Reviewed below are the top five pharmacy POS systems you should consider.
5 Best Pharmacy POS Systems 
| POS System  | Hardware Cost  | Software Subscription Fees  |
| --- | --- | --- |
| CashierLive | Starting from $2,099  | Starting from $75/Month per store |
| Celerant | Depends on the hardware components you require  | Starting from $125/Month  |
| Auto-Star | Compatible with third-party hardware solutions  | Starting from $99/Month |
| McKesson Pharmacy Systems | Quote-Based | Quote-Based  |
| PrimeRx | Depends on the hardware components you need | Starting from $150/Month  |
1.CashierLive POS – The Best Pharmacy POS System Overall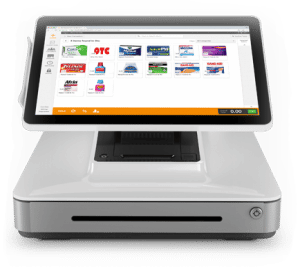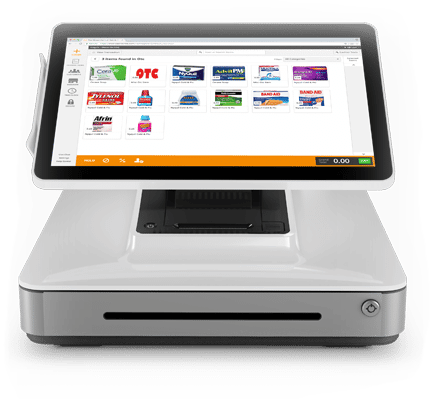 Cashier Live offers a modern pharmacy POS system that integrated with pharmacy management software and supports FSA and chip cards.
The system is specifically designed for independent pharmacies and allows you to send electronic purchase orders right from the point of sale. 
The solution also supports integration with the leading third-party solutions, such as HBS, SpeedScript, RNA, and Carepoint. Other capabilities that make the CashierLive pharmacy POS system stand out include: 
Wholesaler Integration 
Just like any other type of business, you need to have the right products on your shelves at the right price. With this innovative wholesaler Integration capability, Cashier Live allows you to send orders to different wholesalers in a single click. 
In this regard, the software integrates with the major wholesalers in the industry, allowing for the easy importation of products and pricing. The system will automatically update price changes for the products you have in stock as they happen. 
Re-Ordering is easy and convenient with electronic purchase orders that are sent through EDI to the wholesaler's ordering system.
FSA and Chip Card Support 
CashierLive payments processor supports all Chip and FSA/HAS cards, offering your patients added convenience. A large number of benefit program administrators today require independent pharmacies to implement an inventory information approval system (IIAS).
CashierLive complies with this requirement, ensuring that no transaction is declined due to compliance issues. Cashier Live is also a SIGIS certified system capable of accepting all FSA cards. 
Pricing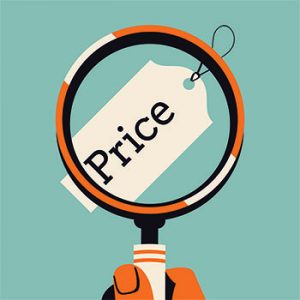 All Cashier Live software plans for independent pharmacies are compatible with iPad, PC, and iPhone POS hardware. The provider offers a14-day free trial period, after which you will be required to subscribe to either of these software plans: 
Standard Plan ($75/Mo)
This plan offers basic POS and management capabilities, with support for unlimited registers, inventory items, and support. 
Pharmacy Plan (Quote-Based) 
This plan is quote-based, but the provider guarantees the best value on the industry. With this plan, you can accept FSA cards, and connect to the pharmacy management system. 
Possible Drawbacks 
You may experience occasional software glitches, but their customer support is very reliable anytime you need them. 
2.Celerant POS – The Best  All-in-One Pharmacy POS System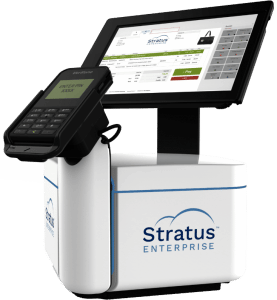 Get yourself an all-in-one pharmacy POS system that is compliant and relatively easy to use. RetailSTARx allows pharmacies to manage over-the-counter sales, prescriptions, wholesale integrations, and dispensing.
The system also features innovative auditing, reporting, eCommerce sales, and delivery signature capabilities. 
Other aspects that make RetailSTARx one of the best pharmacy POS systems include: 
Prescription Management
With the RetailSTARx POS system by Celebrant, you can manage all prescription aspects with utmost precision. It supports copay for pickup at the point of sale with signature capture as well as barcode scanning for your retail operations. 
The system makes it easy for you to manage child-proof caps, pick-up auditing, and authorized users. Track your prescription deliveries with Celerant Offline Delivery Application. This functionality supports signature capture for both NOPP and Rx receipts.
Compliance
Comply with healthcare regulations in your state with the Celerant suite of compliance tools. It features Electronic Data Capture for faster audits. The system is designed to carry out automatic updates, allowing you to always comply with healthcare requirements.
The system is compliant with such requirements as the IIAS for FSA and HIPAA Notice of Privacy Policy (NOPP).
Pricing 
Both CashierLive in-store and eCommerce software packages are available on scalable options. As such, you will be able to scale the pharmacy POS system as your business needs change. Some of the software subscription plans offered by this provider include: 
In-Store ($125/Mo)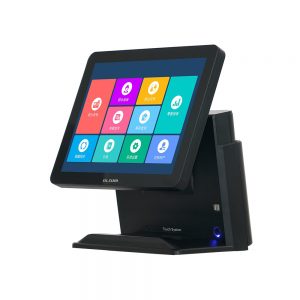 The provider claims this to be the most popular Celerant monthly subscription plan. For $125 a month, you will get a single POS register with support for up to five users. This plan features inventory and fulfillment, product and pricing, customers, and loyalty, as well as purchasing and vendor management capabilities. 
With this plan, you will also get reporting, employee management, and customer support. 
Online ($250/Mo) 
This plan is all about marketing and selling your drug store items online. It will offer you an eCommerce website with support for up to two office users. The plan also features professional templets in responsive design, dynamic navigation, order fulfillment, hosting, and customer support. 
Both ($350/Mo)
This plan allows you to combine the features and capabilities of the Online and In-Store subscription plans described above. It will offer you cross-channel integrations between your eCommerce website and physical store. 
Possible Drawbacks 
The system is rather complex, hence relatively hard to learn and use. 
3.Auto Star – The Best POS System for Clinical Pharmacies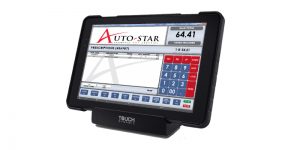 RxPOS by AutoStar is an all-in-one point of sale solution that is specifically designed for clinical pharmacies.
The front-end point of sale solution is affordable and comparatively easy to use. With RxPOS you will have all the features and functionality you need to be integrated into the POS, including: 
Reporting 
Features comprehensive reporting tools that allow you to watch your sales as they grow. The real-time reporting capabilities, including substance and  RX tracking, can be run at any given time. You may also schedule reporting for scheduled for the end of the day and email them to owners on the go. 
The suite of tools offers to provide insights and margin opportunities for your front store. You may also use the Star-Plus report builder and at a glance Dashboard to quickly find any business data in real-time.
Optimized Inventory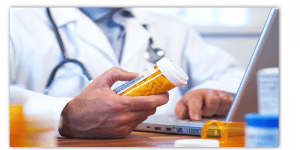 Spend less time on your front store product maintenance, hence have more time for the customers. You will find the sophisticated suggested ordering feature to be intuitive and highly beneficial. It will help you increase turns, grow sales, reduce inventory investment, and guarantee accuracy.
To allow for this, the inventory management features offered by this system are integrated into your preferred suppliers.
Pricing
Although the provider does not include any pricing information on its website, reputable sources reveal that AutoStar software pricing starts at $99/month. To get an accurate quote, you should contact the provider directly. 
Possible Drawbacks 
You may have problems with the way the software calculates lease contracts. Even so, you will find their customer support staff to be helpful at such times.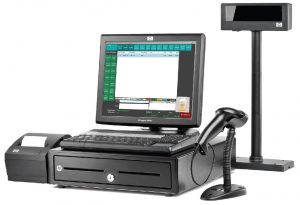 The McKesson POS software will help you manage inventory, retail sales, and pricing for your single pharmacy across multiple sites. It will upgrade the customer checkout experience in your business with advanced payment processing software and hardware solutions. 
The system is specifically designed to boost productivity and profitability in your business. Other aspects you will come to like about this pharmacy management software include: 
Pharmacy Delivery 
The McKesson prescription medication delivery service tracks information about your pharmaceutical deliveries. It will track such details as patient signatures, payment details, delivery status, and driver routes. Adopt remote payment with support for debit, credit, FS, and HAS cards. 
The provider offers a patient medication mobile delivery service that helps pharmacies reduce the number of abandoned prescriptions. This alone has been proven to improve profitability and efficiency in pharmacies. 
The feature enables your business to offer convenient home and bedside medication delivery to your patients. This has been helping such businesses pursue new revenue opportunities and optimize operational efficiency.  
Secure Transaction Processing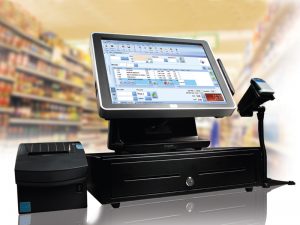 Get cutting-edge payment processing technology and PCI compliance that meets current PA-DSS security standards. The solution is also EMV chip compliant and supports multiple payment options, including NFC payment processing technologies. 
McKesson POS equipment offers seamless gateway connectivity to the leading payment processors in the industry. You will also get convenient receipt management with electronic signature capture. 
Pricing 
The provider does not display any pricing information on its official website. To know the much you will spend on the software and hardware components, contact the provider for a quote. 
Possible Drawbacks 
As of now, the McKesson pharmacy POS software does not allow the copying of compounded formulations to a new record. 
5. PrimeRx – The Best Pharmacy Management Software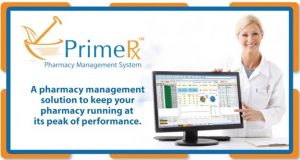 Get signature software technology for your patient-focused business with the PrimeRx pharmacy POS system. The system functions as a centralized processing center for your workflow operations.
The diverse range of tools offered by the software may also be customized to meet your specific needs. 
Other capabilities that make PrimeRx the comprehensive, and intelligent pharmacy management solution it includes:
Customized Workflow and Reports 
In addition to the industry-specific inventory management capabilities, PrimeRx offers advanced reconciliation functionality. This ensures that you do not miss a payment. It allows for the seamless management of incoming prescriptions. 
Facilitate the prescription pickup process with the innovative bin management feature. Generate electronic orders with wholesalers based on your unique drug ordering parameters.
The software will show cost comparisons between wholesalers and update true cost automatically EDI files received from wholesalers. Benefit from an automated backup of all your business data with remote access to servers in case of an emergency. Additionally, the system will ensure compliance with federal and state regulatory bodies. 
Refill Management System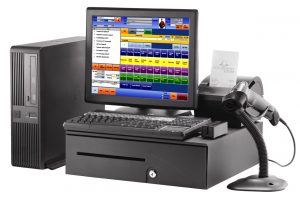 Automate prescription refills in your business with the PrimeRx automated Reilly management functionality. It facilitates the filling of electronic prescriptions by reviewing the existing prescriber, patient, and drug inventory data. 
The Refill Compliance Dashboard offers enhanced visibility into all refill management processes at a glance. The Dashboard may be customized to include preferred metrics including scheduled refills, missed refills, expired refills, and Med Sync Rx.
Following the initial setup, the system will automatically queue the refills scheduled for each day in advance. Prescriptions not picked up by patients will be flagged, with the system easily updated to reflect missed pickups, and drugs added back to inventory.
Pricing 
The provider offers pricing plans that are tailored to your specific business needs. As such, you will be required to contact the provider for an accurate quote. According to the current PrimeRx users, software pricing starts at about $150/month. 
Possible Drawbacks 
The software does not update automatically, you will need to be on the lookout for new updates and implement them manually. 
Things You Need to Know Before Choosing a Pharmacy POS System
Drug stores need a specialty POS system to automate and simplify prescription processing. Such a business still requires some of the traditional retail POS features. However, your preferred pharmacy POS system should also have specialized functionality that is specific to the pharmaceutical industry. 
Basically, the right solution should help you manage the inventory as well as full prescriptions more efficiently. While shopping for the best pharmacy POS system, here are some of the things you should consider. 
Drug Inventory Manager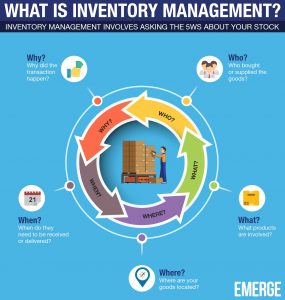 Improve turns, lower inventory costs, and boost sales with the right set of pharmacy inventory management tools. The Inventory manager should be capable of tracking orders, monitoring supply, and usage of store medication. 
It should be specifically designed for managing drug and medication inventory as well as facilitating pharmacist verification and billing. It should allow for easy and efficient handling and dispensing of drugs, and tracking if retail documentation. 
The system you choose should also be capable of reducing operational costs and medication waste in your pharmacy. Here are other inventory management capabilities you should consider: 
Re-Ordering Capability 
Coupled with advanced analytics, this tool should help you understand which drugs need to be re-ordered. In this regard, you should consider getting a solution that supports utilization management service integration. 
Even so, your preferred pharmacy POS software should accurately record all drugs that are stored and dispensed to your patients. It should capture such details as lot numbers, cost, patient name, and expiration dates. 
Delivery and Shipment Tracking 
The system should also make it easier and more convenient for you to re-order as well as monitor shipments and deliveries in the business. It should also centralize all inventory data, including stock counts, and trends in usage. 
E-prescribing
The software should allow you to receive electronic prescriptions directly from your patients' medical practitioners. This eliminates the need for written prescriptions and speeds up the process of filling prescriptions in the pharmacy. 
His feature has been proven to reduce dosage errors, simplify medication workflow, and improve patient safety. E-prescribing functionality may also lead to automated refills, and reduce the need for paper prescriptions.
Such a solution will improve patient medical records and documentation while strengthening relationships between your pharmacy and medical practices. To allow for these, it should facilitate communication with medical practices, often leveraging EHR data.
Automated Refills 
Pharmacy POS systems with this feature are capable of refilling your patients' prescribed medicine within a specified period. A considerable number of patients love the convenience offered by the feature as it refills their prescriptions before the drugs run out. 
Pharmacy Management Tools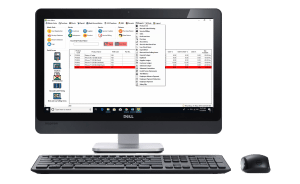 Get a POS solution that helps you manage all your business locations from a central point. As such, you can make decisions at the head office and distribute them across all the locations immediately.
Additionally, it should offer you the tools you need to streamline workflows for medical claims, drug dispensing, and patient medication adherence
The system needs to have specialized tools for optimizing operational efficiency and reducing costs. It should also help with compliance requirements and help you leverage actionable data points. Most of the leading pharmacy management software solutions are designed to collect and maintain stock and customer data automatically. 
The software should also simplify and automate important daily pharmacy management tasks, such as billing, stock, and customer management. Additionally, you will need a system that features medication management functionality. 
Final Verdict 
While you will still need some retail features, it is advisable to go for an industry-specific pharmacy POS system for this type of business. You should choose one that streamlines operations, simplifies management, and helps with compliance requirements. 
Like the five solutions reviewed above, your preferred software should also feature Pseudoephedrine, and FSA card approval tracking functionality. Get re-order alerts, information on generic names, and enhanced visibility into the non-moving stock with the best pharmacy POS system.