(Last Updated On: 07/21/2022)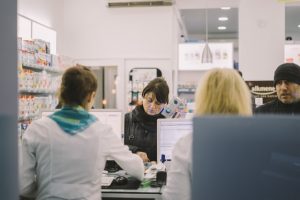 The pharmacy business these days are pretty competitive. Although the market is growing every day, the opportunities here largely depends on effective management, smart operation, and uncompromised customer service. 
Because of multipurpose operational and management solutions, pharmacy management system software as well as POS systems are becoming popular. They not only benefit the pharmacy and clinical personnel but also ensure safe and efficient delivery of medication to the patients.  
The best pharmacy point of sale (POS) system should help you increase margins, grow sales, and remain compliant.
This article will provide you an insight into pharmacy management systems and the best  Pharmacy POS Systems. 
What Is Pharmacy Software?
Pharmacy Software is a great tool to efficiently handle and automate pharmacy operations, e.g. inventory management, customer outreach, point-of-sale, etc. The pharmacy management software system provides a platform to store and organize data, match prescriptions to appropriate medication, and dosage, process claims, and coordinate insurance benefits. 
The integration of the pharmacy software system is a key part of the point-of-sale (POS) functionality. Pharmacy POS system apps provide a safe and accurate process of prescription sales with applicable features, e.g. e-signature. 
Pharmacy software systems provide improved customer satisfaction, better pharmacy management, and seamless operation. Hence, the integration of an effective pharmacy POS system protects both the pharmacy and its patients, thus contributes to increasing sales. 
Top Five Pharmacy POS Systems
| POS System  | Hardware Cost  | Software Subscription Fees  |
| --- | --- | --- |
| CashierLive | Starting from $2,099  | Starting from $75/Month per store |
| Celerant | Depends on the hardware components you require  | Starting from $125/Month  |
| Auto-Star | Compatible with third-party hardware solutions  | Starting from $99/Month |
| McKesson Pharmacy Systems | Quote-Based | Quote-Based  |
| PrimeRx | Depends on the hardware components you need | Starting from $150/Month  |
Winpharm By Datascan is an excellent pharmacy POS and inventory system, which continuously updates itself with the change in the industry.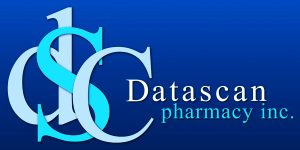 Compared to the competitors, this POS system is unique in the fact that it was written and designed in house. Hence, it is specifically geared towards pharmacy application.
The company sincerely takes into account the client's requests and feedback. In order to share patient data and activity, it is quite efficient to fully integrate POS with the WinPharm software.
Among different pharmacy POS system apps, Winpharm by Datascan has certainly proved to be versatile and exceptional. 
The system offers customizable security settings, for instance, you lock RX from being sold without prior verification. The touch-screen system offers fast and easy operation, while the scope of operator misappropriation is minimized.
Equipment Rental Program
You can organize your pharmacy's DME rentals with their built-in rental program. The program offers setting up reminders, automatic payments, and scheduling returns.
Robust Processing 
This system is EMV Chip Ready Software, which means it ensures that your pharmacy is PCI compliant. Additionally, it is SIGIS certified, hence accept FSA Cards. They also facilitate PSE (Pseudoephedrine) tracking etc.
Shipping integration: Seamless shipping Integration with UPS, FedEx, USPS, as well as Endicia, helps mail-order pharmacies.
Loyalty Rewards Program: Its attractive Loyalty rewards program helps retain customers. You can even customize coupons targeted towards certain buyers.
Integration 
Datascan offers Workflow Integration, which notifies the pharmacy manager and/or other RX's waiting for the patient upon check-out, synchronization of co-pays, reversals, etc. Additionally, It allows electronic purchase orders with vendors, whereas purchase order creation can be done through re-order points by item, manually, or both.
Maximizing Profits 
Profit Observer: The smart system will stop a rejected 3rd party script from being checked out, hence taking care of your profit.  Additionally, the system can find the best price for products across all of your wholesalers as well as shop for you.
Automatic Inventory and Price Update: The system automatically updates inventory quantities as well as prices from your wholesalers. This feature is especially useful during automated purchase orders processing.
Tracking & Reporting 
You can take advantage of custom report building tools for reports
as per your requirement.
Sale Customization/Tracking: You can customize sales such as pre-scheduling  in-store sales by item, category, or subcategory. Besides you can also track results & history of sales and coupons. They also offer custom-made gift cards with the feature of tracking the spending. 
Email receipt/ Statements: You have the option to email clients their receipts& monthly statements. For efficient billing, you can also send bills by the group such as nursing-home patients, or family members together. 
Delivery Management: You can manage drivers with POS and Workflow, whereas electronic delivery is also possible with signature capture options.
Sales Analysis and Reporting: You can keep a record of all purchases while tracking sales and maximizing shelf usage.  Financial & Informational reporting is also convenient in this system. 
Celerant Technology provides comprehensive commerce and  POS system called RetailSTARx for pharmacy retailers like you.
They always make sure to comply with state healthcare regulations and guidelines. Their thorough reporting with AR statements, open items, and balance forward will not fail to impress you!
They emphasize on easy management of patient prescriptions, copays, and over-the-counter products.
Besides, this pharmacy POS and inventory system with integrated eCommerce offers an interface with multiple dispensing systems and wholesalers. They also have in-store pickup as well as delivery options for medicines.
Prescription Management
This system facilitates barcode scanning and copays for pickup at POS with signature capture. With this Pharmacy POS system, managing Rx pick-up auditing, child-proof caps, authorized users becomes easy and precise. You can also track your prescription deliveries in their application.
With the RetailSTARx POS system by Celebrant, you can manage all prescription aspects with utmost precision.
The system makes it easy for you to manage child-proof caps, pick-up auditing, and authorized users. Track your prescription deliveries with Celerant Offline Delivery Application. This functionality supports signature capture for both NOPP and Rx receipts.
Compliance
This Pharmacy POS and inventory system features Electronic Data Capture that enables quicker audits. Besides, it automatically updates to remain compliant with state healthcare regulations and guidelines such as HIPAA Notice of Privacy Policy (NOPP), and IIAS for FSA.
Inventory Management
RetailSTARx POS system integrates with major wholesalers like McKesson, Cardinal Health, AmerisourceBergen, and HD Smith. Therefore it can populate your pharmacy POS and inventory system promptly and effortlessly. Moreover, you can find the product you need at a reasonable price by communicating with your wholesalers.
Vendor Integrations

This Pharmacy POS and inventory system can make your life easier! It can directly interface with multiple dispensing systems such as  McKesson PharmacyR/McKesson EnterpriseRx, Rx30, CarePoint, Computer Rx, Visual Superscript, QS/1, ScriptAssist, and Suite Rx. As a result, you will enjoy increased efficiency and improved workflow.
Launch and Promotion of eCommerce Site
This is an exceptional feature, not too common among pharmacy pos system apps. You can launch and promote a fully compliant eCommerce site for your customers that is accessible via any mobile device. Furthermore, you can also send targeted email campaigns to help drive traffic to your pharmacy.
RetailSTARx has user-friendly features with touch screen displays that support barcode scanning, EMV/chip card processing, and payment security. There are several discounting strategies, gift certificates, credit memos, hold tickets, payment types, in-house charge accounts, currency exchange, etc. 
Pricing 
Both CashierLive in-store and eCommerce software packages are available on scalable options. As such, you will be able to scale the pharmacy POS system as your business needs change. Some of the software subscription plans offered by this provider include: 
In-Store ($125/Mo) 
The provider claims this to be the most popular Celerant monthly subscription plan. For $125 a month, you will get a single POS register with support for up to five users. This plan features inventory and fulfillment, product and pricing, customers, and loyalty, as well as purchasing and vendor management capabilities. 
With this plan, you will also get reporting, employee management, and customer support. 
Online ($250/Mo) 
This plan is all about marketing and selling your drug store items online. It will offer you an eCommerce website with support for up to two office users. The plan also features professional templets in responsive design, dynamic navigation, order fulfillment, hosting, and customer support. 
Both ($350/Mo)
This plan allows you to combine the features and capabilities of the Online and In-Store subscription plans described above. It will offer you cross-channel integrations between your eCommerce website and physical store. 
Possible Drawbacks 
The system is rather complex, hence relatively hard to learn and use. 

Retail Management Solutions is one of the industry leaders in POS technology for retail and outpatient pharmacy. As they are exclusively specialized in pharmacy, they are pioneers of industry standards.
The POS solutions from RMS are entirely scalable, ranging from small form-factor computers to EvolutionPOS™,  the first mobile, handheld unit for pharmacy use. 
RMS offers a full suite of retail applications with all-in-one store management, customer management, inventory control management, and back-office management.RMS has several POS solutions, depending on the type and operation of the pharmacy:
RMS Pharmacy Software Plans 
Star-Lite POS: This POS is designed for clinics and apothecary pharmacies. If your emphasis is on prescription tracking and workflow completion, this will be a perfect fit for you.
Star-Plus POS: This is one of the most robust pharmacy POS systems. Although it builds on Star-Lite, it has additional features such as inventory control, wholesaler interfaces for price updates, purchase orders, and advanced reporting.
Star-Link Enterprise Solution: This is designed for the multi-store and chain environment, which unifies information management across multiple sites. You can specify the degree of management for products, pricing, and ordering, either centralized or localized at a store level. 
Top Features 
Centralized Accounts Receivable:  The integrated A/R featured by the RMS POS system simplifies the management of customer charges. You can review customer account detail, print aging reports, run statements, check your outstanding and past due balances using a simple wizard. 
Inventory Management:  Basic or Advanced Inventory Control paired with Vendor EDI and automated price updates can help you with efficient inventory management. You can keep inventory counts correct, prices up to date, and product in stock. 
Security and compliance: The importance of security and compliance is paramount. The RMS POS system features built-in safeguards through redundant storage, encrypted communications, and certified payment mechanisms.
Customer Loyalty:  The system facilitates a customer loyalty program to ensure customer retention. You can offer rewards based on past purchases, discount coupons for future purchases, or create special promotions for loyalty members. 
Prescription Delivery: In order to improve compliance, the system features the delivery of prescriptions to outpatient pharmacies. Besides, home delivery, drive Thru and curbside pick-up is also possible. Wireless applications and solutions make you process transactions very easy and convenient.
Multi Pharmacy: The POS systems also allow sharing of customer data, inter-store transfers, etc. 
4. PrimeRx – The Best Pharmacy Management Software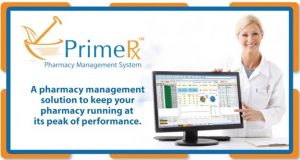 Get signature software technology for your patient-focused business with the PrimeRx pharmacy POS system. The system functions as a centralized processing center for your workflow operations.
The diverse range of tools offered by the software may also be customized to meet your specific needs. 
Other capabilities that make PrimeRx the comprehensive, and intelligent pharmacy management solution it includes:
Customized Workflow and Reports 
In addition to the industry-specific inventory management capabilities, PrimeRx offers advanced reconciliation functionality. This ensures that you do not miss a payment. It allows for the seamless management of incoming prescriptions. 
Facilitate the prescription pickup process with the innovative bin management feature. Generate electronic orders with wholesalers based on your unique drug ordering parameters.
The software will show cost comparisons between wholesalers and update true cost automatically EDI files received from wholesalers. Benefit from an automated backup of all your business data with remote access to servers in case of an emergency. Additionally, the system will ensure compliance with federal and state regulatory bodies. 
Refill Management System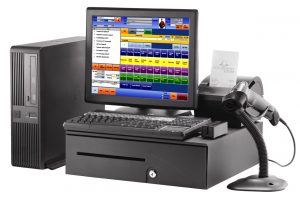 Automate prescription refills in your business with the PrimeRx automated Reilly management functionality. It facilitates the filling of electronic prescriptions by reviewing the existing prescriber, patient, and drug inventory data. 
The Refill Compliance Dashboard offers enhanced visibility into all refill management processes at a glance. The Dashboard may be customized to include preferred metrics including scheduled refills, missed refills, expired refills, and Med Sync Rx.
Following the initial setup, the system will automatically queue the refills scheduled for each day in advance. Prescriptions not picked up by patients will be flagged, with the system easily updated to reflect missed pickups, and drugs added back to inventory.
Pricing 
The provider offers pricing plans that are tailored to your specific business needs. As such, you will be required to contact the provider for an accurate quote. According to the current PrimeRx users, software pricing starts at about $150/month. 
Possible Drawbacks 
The software does not update automatically, you will need to be on the lookout for new updates and implement them manually.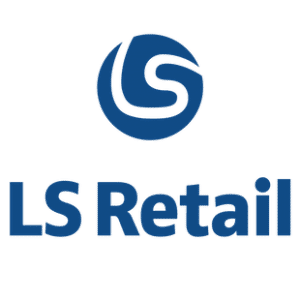 The Pharmacy management system software from LS Retails offers competitive features. However, it is not a true Pharmacy solution but a retail POS system that was customized.
It can provide an in-depth report about business financials and profitable retail products.
Moreover, the system focuses on cutting your costs while improving customer experience with a fully integrated retail and dispensing software.
Top Features 
Data structure to manage medications and prescriptions: This POS system can efficiently Manage medical products. You can set up the products and packaged items through different dimensions, substance, ATC group, strength, classification, warning text, product description, quantity in the pack, daily dose, etc. Once you set up, you can easily search for them in the system.
The system accepts both paper and electronic prescription, whereas it stores an electronic copy of the paper prescription.
Security and Permissions
The system features an advanced setup of permissions for POS users. You can establish limited access for several functions depending on user roles. For example, management can request an additional login, or e-signature with PIN code to perform specific operations/ sell specific drugs. You can also define permissions for groups of users.
Comprehensive Customer Management
This POS system offers superior customer management. You can access your customers' current and previous orders, history, and specifications. 
Based on the insurance scheme assigned to a specific customer, the system can calculate the discount and final price for the customer.  The software lets users to directly invoice insurance companies as well.
You have scope to suggest a generic medicine in place of a branded, prescribed medicine. The smart system is capable of finding appropriate substitutes. You can notify your customers when their prescriptions are close to their last withdrawal through text message, email, or mobile app.
Pharmacy Role Center
You can find your pharmacy management needs all in one place! You can perform the following functions-
Checking orders that are open and those ready to pick up at POS

Printing labels with dosage instructions, warning text etc.

Checking up-to-date inventory, store, and location data.

Managing campaigns and offers

Setting up prices, offers, and campaigns.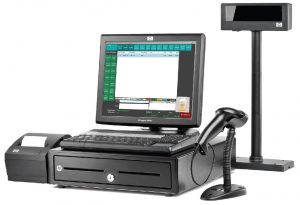 EnterpriseRX software (by McKesson) will help you manage inventory, retail sales, and pricing for your single pharmacy across multiple sites.
It will upgrade the customer checkout experience in your business with advanced payment processing software and hardware solutions. 
The system is specifically designed to boost productivity and profitability in your business. Other aspects you will come to like about this pharmacy management software include: 
Pharmacy Delivery 
The McKesson prescription medication delivery service tracks information about your pharmaceutical deliveries. It will track such details as patient signatures, payment details, delivery status, and driver routes. Adopt remote payment with support for debit, credit, FS, and HAS cards. 
The provider offers a patient medication mobile delivery service that helps pharmacies reduce the number of abandoned prescriptions. This alone has been proven to improve profitability and efficiency in pharmacies. 
The feature enables your business to offer convenient home and bedside medication delivery to your patients. This has been helping such businesses pursue new revenue opportunities and optimize operational efficiency.  
Secure Transaction Processing 
Get cutting-edge payment processing technology and PCI compliance that meets current PA-DSS security standards. The solution is also EMV chip compliant and supports multiple payment options, including NFC payment processing technologies. 
McKesson POS equipment offers seamless gateway connectivity to the leading payment processors in the industry. You will also get convenient receipt management with electronic signature capture. 
Pricing 
The provider does not display any pricing information on its official website. To know the much you will spend on the software and hardware components, contact the provider for a quote. 
Possible Drawbacks 
As of now, the McKesson pharmacy POS software does not allow the copying of compounded formulations to a new record. 
Chetu is renowned for custom-designed, specialty pharmacy platform and software services. In addition to tailored pharmacy management system software, they integrate document management, inventory management, data management, pharmacy POS system apps, etc.
Inventory Management & Accounting 
They utilize database management systems, barcode scanner integrations, and National Drug Code (NDC) manifests in order to automate inventory processes. This includes restocking, counting, tracking, warehousing, and dispensing of medication.
Accounting Tool: The system helps in tracking profits, losses, profitable customers, and products. Furthermore, it provides access to the Flexible Spending Account (FSA) and Health Savings/Reimbursement Account (HSA/HRA) networks. 
EHR/EMR: software alternative for pharmacies and web-based networks that comply with HIPAA electronic health record (EHR) and electronic medical record (EMR).
External Practice Management System (PMS) modules
Works great for coordinating prescription histories within your retail pharmacy. Besides, their pharmacy management system software incorporates electronic signature capture capabilities, customer Relationship Management (CRM), risk evaluation and mitigation strategies (REMS, revenue cycle Management (RCM) integrations, Electronic Batch Records (EBR), and much more.
Honorable Mention: Epicor Eagle N Series POS software 
Epicor provides a great pharmacy POS and inventory system as an end-to-end business solution for Retail Pharmacies. Their seamless technology ensures smooth operation and efficient management. 
Top Features
Pharmacy

management system software as well POS system from Epicore focuses on simplifying a wide range of activities, such as-
Prescription scanning

NPLEx

Flexible Spending Accounts, etc.
Facilitates identifying best customers to retain them through powerful loyalty programs

They offer lots of best practices and time-saving tools that can reduce your inventory cost without sacrificing revenue

Maximization of margins by analyzing buying patterns so that you can better inform merchandising, promotions, and bundling.

Easy tracking and management of business performance with intuitive dashboards and mobile tools.
Honorable Mention #2: CashierLive POS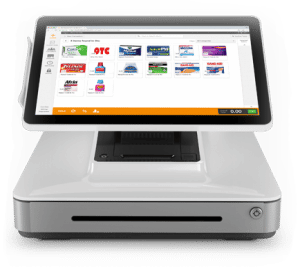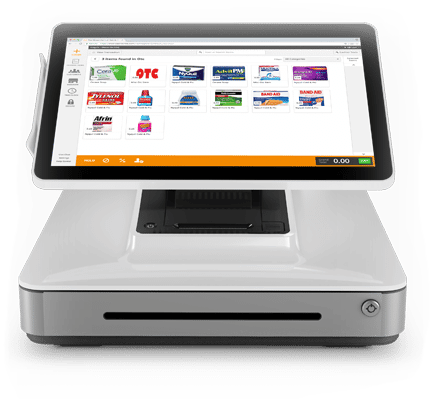 Cashier Live offers a modern pharmacy POS system that integrated with pharmacy management software and supports FSA and chip cards.
The system is specifically designed for independent pharmacies and allows you to send electronic purchase orders right from the point of sale. 
The solution also supports integration with the leading third-party solutions, such as HBS, SpeedScript, RNA, and Carepoint.
Buyer's Guide: Common Features of Pharmacy Software
An effective pharmacy POS system should route workflow tasks across multiple systems. For example, robotic prescription dispensing systems allow access to prescription data throughout a pharmacy or across a health system's network.
Basically, the right solution should help you manage the inventory as well as fill prescriptions more efficiently
User-friendly and Intuitive Interface 
The pharmacy management system software as well as pharmacy POS system apps should be intuitive and user-friendly. The screens and buttons should be easy to understand that are well-matched with the intended operation.
Inventory Management
Inventory management is a significant feature, that should integrate with the pharmacy's wholesalers. Thus checking inventory, ordering, and tracking orders should be handy.   
Drug Inventory Manager 
Improve turns, lower inventory costs, and boost sales with the right set of pharmacy inventory management tools. The Inventory manager should be capable of tracking orders, monitoring supply, and usage of store medication. 
It should be specifically designed for managing drug and medication inventory as well as facilitating pharmacist verification and billing. It should allow for easy and efficient handling and dispensing of drugs, and tracking if retail documentation. 
The system you choose should also be capable of reducing operational costs and medication waste in your pharmacy. Here are other inventory management capabilities you should consider: 
Improved Efficiency
Minimized time on prescription entry, order processing, inventory maintenance, claims resolution, the printing of labels, leaflets, etc. Thus more attention can be given to serving the patients.  
Re-Ordering Capability 
Coupled with advanced analytics, this tool should help you understand which drugs need to be re-ordered. In this regard, you should consider getting a solution that supports utilization management service integration. 
Even so, your preferred pharmacy POS software should accurately record all drugs that are stored and dispensed to your patients. It should capture such details as lot numbers, cost, patient name, and expiration dates. 
Simple Claim Processing
software systems should be designed to easily add and remember data associated with claims billing and processing. It should also be secured to avoid mistakes that could cost money.
Clinical Integration
Effective pharmacy software should integrate clinical tools such as drug interaction details and dosing guidelines.
E-prescribing
The software should allow you to receive electronic prescriptions directly from your patients' medical practitioners. This eliminates the need for written prescriptions and speeds up the process of filling prescriptions in the pharmacy. 
This feature has been proven to reduce dosage errors, simplify medication workflow, and improve patient safety. E-prescribing functionality may also lead to automated refills, and reduce the need for paper prescriptions.
Such a solution will improve patient medical records and documentation while strengthening relationships between your pharmacy and medical practices. To allow for these, it should facilitate communication with medical practices, often leveraging EHR data.
Conclusion
We hope this article helped you to understand what to look for in a pharmacy management system software. From the discussion above, you can also understand how implementing a   pharmacy POS system can benefit your business.
So, what to wait for? Fill out the form and attend a FREE demo of your favorite pharmacy POS.