(Last Updated On: 11/17/2022)
Discover how to be successful in selling jewelry online. In this full-fledged guide, I'll highlight the steps you need to take if you want to make money selling jewelry online. 
Written by Martin Nikolaev: Point of Sale Expert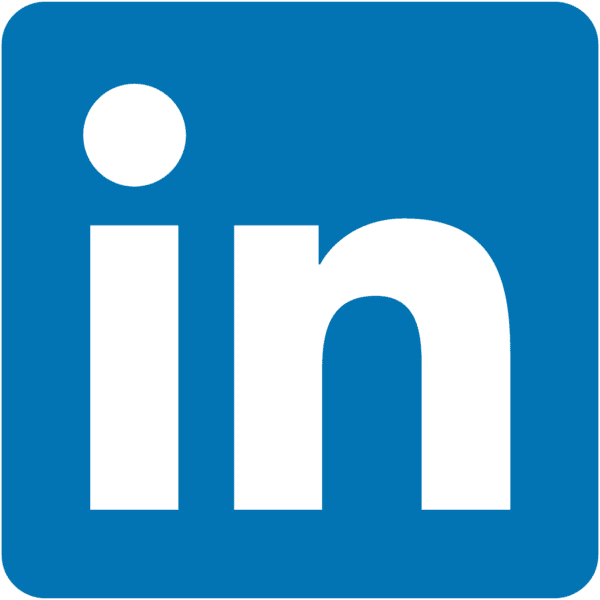 Our product review team dedicates hours of research, fact-checking, and testing to recommend the best solutions to business owners. We earn from qualifying purchases through our links, but this does not influence our evaluations. Why trust our reviews?  
How to Sell Jewelry Online: A Quick Overview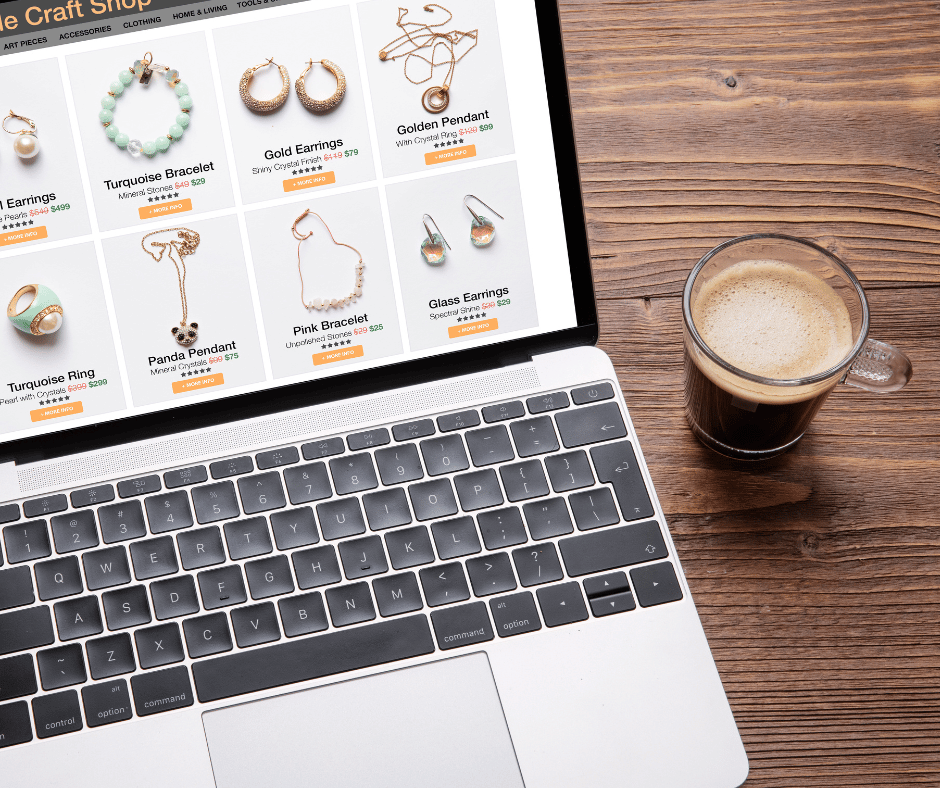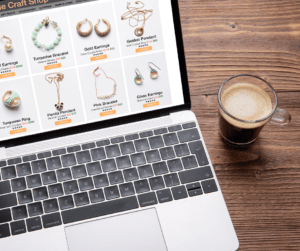 If you've been thinking about how to start an online jewelry business, you've come to the right place. This is one of the retail niches that require creativity, expertise, and vision, but most of all, it requires research and planning. In case you're wondering if it's worth the investment, I'll simply mention that the jewelry and watch market in the U.S. alone was worth roughly $60 billion last year. This is one pie you'd want to have a piece of. 
There are plenty of questions to ask yourself when considering such a business endeavor: 
Should you choose a specific type of jewelry to sell, such as handmade jewelry or fashion jewelry?

What does it take to open a jewelry store?

Is there any type of law frame or legislation to comply with if you want to make money from selling jewelry?

What are the ways to make money selling jewelry from home?
Truth is, you can start an online jewelry business from the comfort of your home, or you can create an online empire. It all comes down to your goal, your budget, and your experience. In this step-by-step guide, I'll walk you through everything you need to know to earn a profit from selling jewelry online. 
You may be interested in reading a related jewelry article: 5 Best Jewelry Store POS Systems for Accurate Inventory & Streamlined Sales.
Don't have time to read this whole review? Skip ahead to: 
How to Sell Jewelry Online: Key Takeaways
Starting a successful online jewelry business requires meticulous research and a business plan, alongside a well-calculated budget.

Creating an online jewelry boutique is always a good idea, regardless if you'll start it from scratch or use it as an addition to your existing brick-and-mortar operation.

You can sell online via a standalone website, an e-commerce platform, as well as through social media platforms and online marketplaces. 

Choosing the right type of jewelry to sell that fits your initial plans is essential and it will shape your entire operation.

You can start an online jewelry business even if you have zero experience in this
Start Your Jewelry Business in 7 Steps
Spoiler Alert! This is going to be a long read. But it will be worth your time, I promise.
I've always been curious about the questions people ask prior to starting a business. With jewelry, a reasonable question would be: why pick this exact niche? But there are a handful of correct answers to that question:
It's profitable

It's prestigious

It's sustainable
Enviable profit margins, specific business status, and a (theoretically) endless growth horizons are fair enough reasons to consider joining the jewelry retail business. You can do it even if you lack specific knowledge. It will all come with experience, but only if you create a strong foundation to step one, which is why I took my time to create this comprehensive guide. I'll describe the process of starting a jewelry business, after which I'll explain how to take your whole operation online. Let's go!
1. Create a Business Plan
Just like any other industry or niche, it all starts with a business plan. This is where you'll need to do your homework properly. You should study everything related to this specific niche, such as types of jewelry, price ranges, origins, supply chains, laws and legislation, and so forth. Creating a SWOT analysis would help a lot. You can always hire a consultant to help you connect the dots.
Market Research and Strategic Planning
An essential part of your plan would be market research. It will help you determine the most competitive corners of the jewelry market and it will reveal the most profitable ways to enter it. During the research, you must determine your outreach, your desired retail location, all the fitting marketing channels (outdoor advertising, social media, etc.), and your clientele.
Define Your Desired Target Audience
You should precisely profile your prospects based on your initial plan. The target audience always depends on your scope: the types of jewelry you intend to sell and the locations you intend to distribute the goods. Sometimes, your entire business is best shaped from scratch, depending on the needs of your future customers. This is why identifying the latter is crucial.
Do the Math
Your plan should be designed well, down to the last detail. It must feature all the costs you need to plan initially, and it should also include your projected profit. This is the only way to determine the expenses related to such an operation and to set a budget to stick to. Here's a small part of the expenses you need to consider:
Rent and/or down payment for a retail space

Loan payments (in case you need one)

Production and/or supply costs

Paperwork (permits and licenses)

Consultation fees

Storage and/or logistics

Administrative fees (salaries, utility bills, online costs)

Insurance and/or security costs
It's hard to estimate the exact costs of starting and launching an online jewelry store. The expenses related to legal fees (probably less than $100), design and marketing activities, website building (it can be free, but it could cost $2,000+), and other aspects can be noteworthy. Don't forget to calculate the costs for professional jewelry photoshoots, packaging and delivery, supplies and labor costs, web hosting (under $20 per month), and so forth. Every last expense matters when you're starting from scratch. 
Research Financing Options
Starting a jewelry business is not a walk in the park. You should think in advance about the capital needed to start and run the business until it takes off. This means that you should be aware of what banking institutions and investors have to offer.
2. Register Your Company
This goes without saying, but you need to register your company before proceeding. You need to own some form of legal entity that's compliant with your projected goals. In most countries and states, registering a company takes a few days, so this shouldn't be a hiccup. 
3. Choose the Products You Want to Sell
Once you've done with the outlines of the project you envision and you have the blueprint you need, it's time to dwell on your inventory. While designing the business plan, you've surely mentioned the type of jewelry you'd like to get involved with. This is the step that will determine everything else related to your business, mostly the way you showcase and market it. It will also more or less determine your growth potential when you factor in competition, financing, and several other factors.
Explore the Latest Jewelry Trends
One way to start thinking about your dream inventory is to follow the trends, both globally and locally. There are different ways to research this aspect, such as browsing through trustworthy statistics portals. This is how you'll determine if the types of jewelry you're thinking about are the ones that'd bring the projected profit. 
When comparing the possible types of jewelry that you'd like to sell at your store, you should consider some key factors:
Availability

Margins

Origin

Shape

Purity

Demand
Here's a short list containing some of the possible types of jewelry you could start selling:
Bridal jewelry

Party jewelry

Vintage/Antique jewelry

Bead jewelry

Handmade jewelry

Unique jewelry

Non-luxury jewelry
The latter category is especially curious. In case you have doubts about which type of jewelry to sell, you should consider the last option: nearly 80% of all jewelry sales in the U.S. comprise non-luxury items. 
Consider Your Own Designs and Seek Inspiration
One possible way to make money selling jewelry from home, at a retail location, or online is to create the design and commission the fabrication to a specialist. This is how you'll end up with a unique product catalog, which will put you in an entirely different league. This is a demanding route to follow, but it might be worth it.
Handcrafted, Unique Jewelry Production
You can go further than the step I've mentioned above and decide to create one-off pieces that would have a specific clientele, but would also be in a higher price range, possibly.
Handmade Jewelry Production
Selling handmade jewelry doesn't necessarily mean it needs to be very expensive. Hundreds of shops sell jewelry and accessories meant for clothing, costumes, and similar purposes. A fashion statement can also be affordable, so this is a niche that could be a great fit for you if you want to keep your budget as low as possible when starting out.
Factory Jewelry Production
If you want to have a bigger inventory and a catalog that always boasts available items and collections, then you should think about either finding a supplier that manufactures the goods or outsourcing your catalog to an independent jewelry producer and having the goods manufactured exclusively for your business.
4. Create Your Brand's Identity
Three of the top five biggest jewelry retailers worldwide are incredibly famous brands: LVMH, Chanel, and Cartier. While you've probably never thought about competing against them, there's something you should do to copy their business model: create a notable brand and wrap your entire operation around it.
In today's world, marketing is everything, and there are more channels to reach your target audience than ever before. This is why a brand with a strong identity is a must-have. You should think about everything: the name, the logo, the colors, the fonts, and so forth. Every last detail matters.
5. Organize Procurement, Payments, and Distribution
Long before you create your first marketing campaign, you'll need to create and organize the relationships you need with different partners, suppliers, distributors, affiliates, payment processors, and other entities. Designing a robust procurement chain is important if you want to sell non-luxury jewelry that's usually supplied in bulk. In case you'll be offering your own specific branded items to distributors, you'll need to sign partnership contracts with clear terms and conditions.  
Set up a Jewelry Workspace to Showcase Your Unique Products
If you've decided to create your own handcrafted jewelry, this would be the main part of your branding. To make it on point, you'll need an artistic space where you'll work your magic and create the strong brand identity that'd help you sell your jewelry.
6. Showcase Your Products
There are other ways to showcase your products, of course. Having a retail space is important, but what's more important is for it to be appropriate. It should have a presentable façade with big enough windows. It should also be at the best possible location, depending on the type of jewelry you sell. When it comes to such a specific industry, you'll need to create the most appealing displays possible. This is the only way to attract potential customers, especially while you're still building your brand.
7. Inventory Management and Organization
Here's something that I've seen business owners neglect. They're always sorry afterward. Being able to take care of your inventory is a must. Depending on your specific operation, it could either consist of ready-to-dispatch products, or supplies and materials used to create jewelry. You need to have the tools to monitor and manage your inventory if you want to enjoy a smooth workflow.
Tools to Help You Succeed
Your jewelry business should be primarily oriented toward creating an online store. Choosing this sales channel seems to have way more potential compared to running brick-and-mortar locations, as it will allow you to reach a much wider audience with less effort and expenses, to pinpoint a couple of advantages. Still, you'll need all the managerial help you can get. The good news is that there are software solutions to help you streamline your enterprise.
POS Software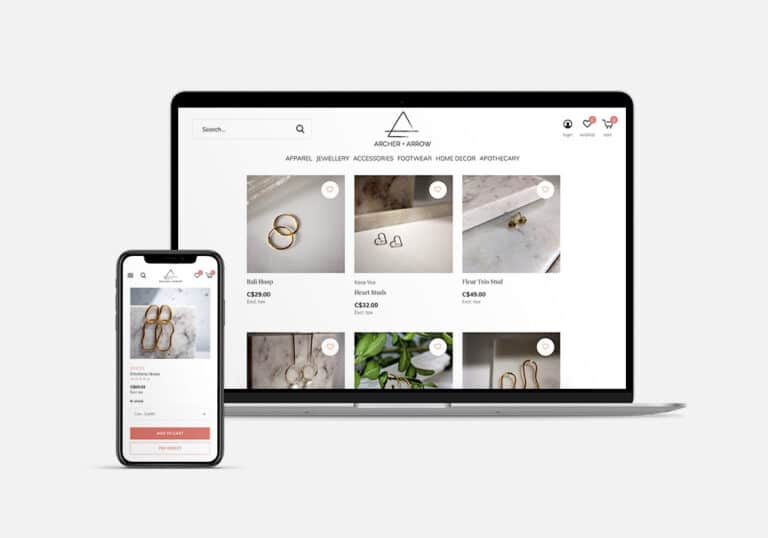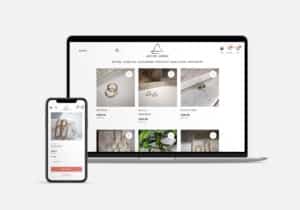 Retail businesses can greatly benefit from utilizing a fitting point-of-sale system. The modern solutions in this niche can take care of your inventory, employee scheduling, payroll, data harvesting, reports, analysis, and countless other aspects. There are various types you can choose from, depending on your needs. All state-of-the-art POS software solutions are mobile-friendly, cloud-based, agile, and feature-rich. Examples of great retail POS solutions include, but are not limited to Square POS, Shopify POS, Clover POS, and Vend POS. 
CRM
You'll never be able to create a sustainable business without having a strong bond with your customers. This is only possible through a bundle of customer relationship management tools. There are proven CRM software solutions that could help you with that.
Accounting 
Being able to integrate automated accounting software that works alongside the rest of the software helpers you already have is a blessing. This is why solutions such as QuickBooks exist. 
How to Prepare for Launching an Online Jewelry Business 
One way to make money selling jewelry from home is to set up an online jewelry boutique. Some vendors prefer sticking to social media accounts, but you need a proper online presence if you want to run an SME. The way to do this is to either set up a standalone online store or choose to partner with an e-Commerce platform.
Starting an online business can either be the next step to take after you've managed to create a brick-and-mortar operation, or it could be an entirely new start. Either way, I've listed most of the aspects you should consider in this section.
Check Out the Competition
It's always a good idea to see what your present or future competitors are up to. You can draw inspiration from them or spot any mistakes that you could easily avoid. Seeing what works and what doesn't ( and on someone else's account, too) is always the way to go.
When you dive into the world of online sales and e-Commerce, you should comply with all the current trends, but you also need to be inspired enough to create a presentation and a catalog that could stand out from the crowd. 
Think About the Strong Points of Any Successful Online Store
Don't worry about the important bits; I'll mention most of them below:
Your store needs to be easy to navigate and user-friendly

It needs to have a flawless mobile version compatible with all operating systems

A successful store is always optimized in terms of indexing and content

The design must be distinct, with loads of perks, such as 3D visualization and AI

Simple checkout process and intuitive add-to-card mechanisms

Quality audio, visual, and text content are all essential for such a project

You'll need integrations with various social media and other platforms
Consider Your Niche When You Develop an Online Store
The type of jewelry you sell will determine everything related to building an online store, regardless if you decide to use a website builder for a standalone project or you choose to opt for any popular e-Commerce platform. The menu, the layout, the introduction, and even the tone of the content posted need to match the products you're selling. I'll mention a few key things to consider. 
Who Is Your Jewelry For?
This is one of the important questions to ask in addition to the consideration I mentioned above. The audience you're targeting needs to be approached the right way. Understanding what your clients want and being able to offer it to them are the key steps to a successful online jewelry business.
Where Does Your Jewelry Come From?
Here's an important aspect that many business owners often neglect when they try to sell goods online. The destination where your product comes from is in direct correlation to the quality of the services and products you offer. It has everything to do with delivery terms, competitiveness, and price. There are plenty of ways to handle this aspect of your jewelry business: you can either organize your own warehouse and maintain a full inventory all the time, or you can rely on subcontractors to make deliveries for you. Another popular way is to use a dropshipping platform and only deal with the sales process. Oberlo would be a great option in this case. 
Create the Best Packaging Possible
They say that the first impression matters a lot, but you need to keep up with it, in case you made a good one thanks to a welcoming online store. The second impression your clients will get after they buy something from you online is the way you'll handle packaging and delivery. It needs to comply with the website design and the branding you have. The company logo and colors are a must, among several other things.
Decide Where and How You Want to Sell Online
Now, this is one VERY important step to take. Choosing between your own online store and space within a global e-Commerce entity is always hard. Again, it depends on the scope of your business:
Do you want to sell globally or locally?

What is your projected turnover?

Are the sales volumes you manage low or high?

How big is your inventory?

Do you rely on subcontractors or manufacturers?
These questions, among several others, are the important ones to ask yourself. When you profile your business, you'll know which route to follow. Don't forget to consider your budget, too. The maintenance costs vary between running a standalone store and using an e-Commerce service. The goal is always the same: to create the best possible experience for your clients and to promote your catalog in the most appropriate way possible.
Don't forget about customer support: this aspect is usually the difference between a quality shopping experience and a poor one. This is one of the main criteria you should consider when choosing an e-Commerce platform. Here's a list of the most popular platforms to check out:
Some online jewelry vendors prefer to sell their goods only using online marketplaces and communities, as well as social media groups and pages. This is not a bad way to make a profit, as you reduce costs by not investing in an online shop, but it's riskier and you're likely to be limited to selling only certain types of jewelry that may not fit your initial idea.
Your online store needs to be marketed in all appropriate ways, which usually includes social media campaigns. You can appoint influencers and create unique loyalty programs to promote your catalog. Don't underestimate the power of email marketing and newsletters as well.
Resellers and Distributors
If you create your own jewelry and market it under a specific brand, then you might appoint resellers and distributors to offer your catalog. This is a great way to expand, although you'll need to pay commissions. 
Benefits of Starting an Online Jewelry Boutique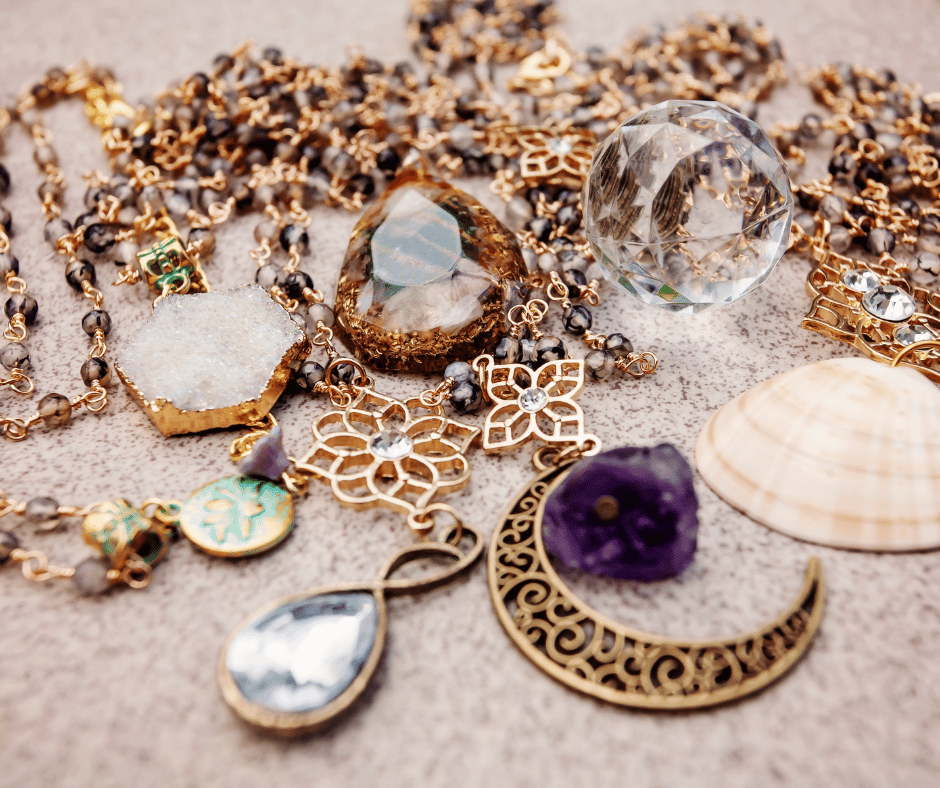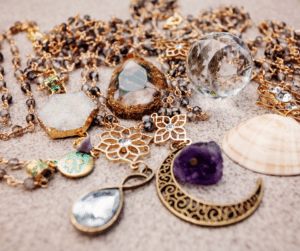 It's a great idea to learn how to make money selling jewelry online for obvious reasons. Still, there are plenty of other reasons why starting such a business would be a smart choice to make. It's a specific niche dedicated to delivering delicate, often unique products that are more or less personal. People would always spend time and money trying to make themselves or someone they love feel special. This is the reason why there'll always be a market for every type of jewelry you could imagine. 
By focusing on an online business. You provide your clients with the chance to make a selection from the comfort of their homes and to compare your products with the ones the competition offers. Plus, unplanned economic hiccups, such as the recent pandemic, would not influence your financial results. 
Creating an online subsidiary of an existing land-based jewelry business will strengthen your brand identity and will also widen the array of shoppers you could reach. Despite the additional costs, it would be well worth the investment if done right.
Real-Life Examples of Successful Jewelry Businesses
This is a section that could be endless, but I'll feature one curious story that serves as the perfect example of how to start an online jewelry business: the success story of MoissaniteCo. 
The company founders, Mike and Jera Christensen, were not newbies. Mike's great-grandfather started the family's jewelry business many decades before MoissaniteCo was founded back in 2005, but this doesn't mean you need to inherit someone's love for gemstones to be successful. All you need is sufficient knowledge, vision, and the will to succeed, no matter what. Maybe some luck sprinkled on top would help, too. 
Elena Castaneda's journey is another awesome example I simply had to share. She was able to develop an unlikely business model: she marketed her online jewelry store to a whopping 44 online marketplaces and eCommerce platforms. This ultimately resulted in a lot bigger success than Castaneda imagined possible, and skyrocketed her profits, too.
The stories above are textbook examples of how to plan, launch, and run a thriving online jewelry business. They suggest how niche products should be marketed the right way (using different strategies), eventually leading to massive success. But this rarely happens overnight. With some patience and development, your business could grow into a global player, thanks to careful positioning, adequate pricing, and expertise. These two stories are great examples to be inspired by and to learn from.
In Conclusion
There are plenty of ways to start an online jewelry business. It's a challenging niche, despite that there isn't much competition when compared to other industries. It all starts with choosing specific products to sell. 
By taking the time to research the market, the products you'd be able to sell, and the competition, you will perfect your initial plan and create a blueprint that will allow you to be successful if you persevere. I hope this guide will help you along the way and allow you to avoid making a wrong turn.
FAQ
How do I start a small jewelry business from home?
To start an online jewelry business, you need to pick your niche and target the right audience. After that, it all comes down to market research, creating a blueprint and a project catalog, alongside brand identity and a marketing strategy.
How do I start a jewelry business online?
To be successful at this, you need to create a welcoming online space that's easy to navigate. You need to offer the best price/quality ratio and market your catalog.
Is selling jewelry online profitable?
The profit margins in this industry are higher than average, meaning that starting such a business could be very profitable. 
How much does it cost to start an online jewelry business?
The cost of starting an online jewelry business can vary a lot. It depends on the projected scale of your operation and the development you're planning further in time. It would all cost you at least $3,000 dollars, but it could also pass the $10,000 mark.