(Last Updated On: 08/15/2022)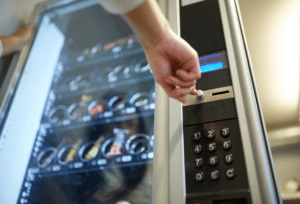 Vending machines, which are automated machines that dispense items such as beverages, lottery tickets, etc. to consumers after payment in cash, coin, or credit cards has been inserted into the machine, have been around for centuries. 
The first modern vending machines were developed back in the 1880s in England and were reported to have been used for dispensing postcards. These basically accepted coins as payment. Unlike some other inventions of their time, the importance of their core essence and value continues to grow even with human evolution.
However, traditional vending machines, which are basically coin-only vending machines, are gradually being phased out. And they are giving room to new-age machines with increased functionality and less need for human supervision.
This new generation of vending products accepts credit and debit cards as well as NFC payments.
Welcome To The New World Of Automation
Now the world is virtually going the way of unattended businesses, requiring less and less physical human presence. Automation here is the keyword.
One of these is the world of cashless transactions. Today the world is going cashless, with most businesses turning to new models to embrace the shift. Banks are increasingly adopting digital channels, which makes brick and mortar branches less necessary.
Today, self-service car washes, snack and beverage vending machines, laundromats, kiosks, and more, which require little or no human supervision, are the new normal.
The advantages of this as compared to human-run or solely dependent businesses are pretty obvious. Faster turnaround time, more convenience and turn-out since machines have no fixed working hours, faster service delivery, and lower overhead costs make service automation the way to go.
This also applies to vending machines. Today, automated vending machines are the new big thing. With the growth in technological advancement in the point of sale systems industry, all that is needed to turn a vending machine into a self-serve point is just the right type of point of sale solution.
With the right machine-integrated POS terminals, payments can be made by using a card or contactless device. Machines can be remotely monitored and can hence go for days without the need for a human touch.
How Do Vending Machines Work With POS Solutions?
New models of vending machines now come with contactless payment provision. There are different models by which today's vending machines work with POS systems. Some work with small point of sale devices which have to be externally fitted and require some form of internet connectivity to work along with the vending machine. Others come built into the machine itself and make use of contactless provision to read our debit cards via the RFID chip on the bank card.
When you approach the vending machine, you go ahead to place your order by making use of the vending machine's keypad. The machine receives the request and initiates communication with the contactless receiver. Once the communication is successfully processed and your card information is validated, the card information is then transferred to a processor through a database center. This allows for the approval of the transaction..
What Are The Available POS Options for Vending Machines?
Let's take a look at these point of sale solutions ideal for vending machines. They include:
Nayax POS is an all-in-one virtual point of sale solution designed for vending machines that comes top on our list of recommended products. It offers two distinct products: the VPOS and Onyx. Both are mobile card readers that offer seamless cashless vending along with your vending machines.
While the VPOS is an all-in-one cashless payment and telemetry point of sale device, the Onyx is a contactless card reader and telemetry device.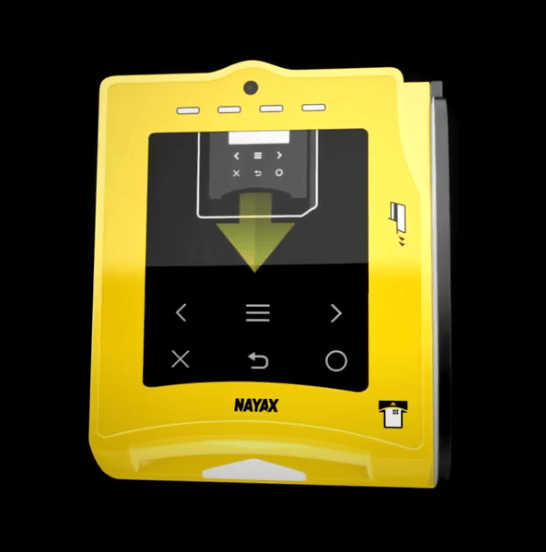 Its VPOS Touch, which is part of the complete solution, offers a colour touchscreen and voice recognition. Its features include remote vending, instant refunds, multi-vending, anti-fraud thresholds, real-time data syncing with its management suite, and so on. The VPOS Touch can be easily fitted onto a machine in seconds.
The Onyx, on the other hand, is a sleek, contactless card reader that can fit on any small machine and affords your customers a convenient way to make cashless payments. It also offers other powerful capabilities, including contactless, NFC, and QR payments, marketing tools, remote machine management, and telemetry.
The Onyx is an ideal solution for a seamless payment solution for a number of businesses such as car washes, laundromats, transportation tickets, donation machines, massage chairs, kids' and amusement parks, electric charging stations, and even offices.
The Nayax POS device features a plug and play capability, offers seamless operation with its management solution, and ensures increased customer satisfaction.
Both the Nayax VPOS Touch and Onyx accept all debit and credit card solutions, including swipe, contact, contactless, and EMV chip card solutions, as well as mobile and NFC payments such as Google Pay, Samsung Pay, Apple Pay, Interac, Swish, Twint, and Paytm.
Nayax POS offerings feature an attractive and eye-catching design with a high-resolution touchscreen, which makes it engaging to consumers. Both integrate with the Nayax Management Suite where reports can be pulled and analysed.
They seamlessly integrate with cashless clearance, management console, and monitoring solutions. It connects with your vending machine via wi-fi or cellular network and has LTE and 4G connectivity, ensuring that connectivity is continuously maintained with the machines.
How Much Does Nayax Vending POS Cost?
Nayax offers two plans and this includes:
$7.95 Monthly (cashless only – allows for credit card sales and use of database to track all sales)
$9.99 (remote and cashless – allows for credit card sales and use of a database to track inventory  and all sales).
Next, two models of transaction fee plans:
5.95% Transaction fee which is a blended rate recommended for vend value of $5 or less.
2.5% + 10 cents per transaction. This is for vend value over $5.
All new Nayax accounts come with a one-off activation fee of $30 per device with an option of ordering the Verizon or AT&T Chip which provides internet connectivity.
Creasoft POS is a payment solution built especially for use with vending machines and allows owners to easily take payments from customers. It allows the processing of payments by bank cards for the approval of transactions on vending machines.
The Creasoft POS vending machine solution is an ideal system for vending machine owners to increase the functionality of their machines. Vending machine owners now have more control over their businesses as the issue of payment is automated seamlessly with the solution.
The Creasoft POS solution processes transactions via both contactless swipe and card insertion. It allows all bank cards like VISA, MasterCard, credit or debit cards. These options are processed via its two POS devices, the myPOS and UPT1000 Castles.
Creasoft POS offers other products like inventory management and electronic timesheet, attendance register solution, timesheet with fingerprint reader, mobile phone timesheet, and timesheet for remote work.
Creasoft myPOS Indoor POS is especially ideal for vending machine merchants who want to integrate automated payment into their vending machine offering. It offers remote monitoring of sales transactions, but this comes at an additional cost.
What Are The Features of Creasoft POS?
Real Time Location Tracking Of Vending Machine
Depending on options required by a user and their preferences, the real-time location display of more than one vending machine can be triggered with the Creasoft POS tracker. The point of sale solution offers a tracking capacity where it is able to transmit the location as well as the machine's real-time display to a remote system.
Error Tracking And Real Time Monitoring
Creasoft's point of sale solution for vending machines is set up with the capability to track errors and malfunctions of the entire vending machine. When this happens, the details are recorded by the device and transmitted via the server. 
From those classified as critical, which can affect the smooth operation of the entire machine, such as lack of an essential product or over-filled compartment, to warnings, which essentially do not stop the system functions and payments.
Stock Management
The Creasoft POS offers an innovative way to keep track of stock quantities in the vending machine. It has an innovative display interface that shows the amount of a product available in a machine. It also shows the maximum stock capacity, critical stock, and a product's last supplied quantity with its last stocked date.
The vending machine can also transmit these details along with loading activities by the server when a supply button or QR code scan of a specific product is initiated. With each sale, the quantity number on the display drops.
Reporting And Analytics
Creasoft POS has an inbuilt reporting system that allows for the generation of reports, and this can be exported to Excel. This report can also be sifted through using parameters such as: products and quantity sold, receipts, sales rankings, and profit calculation.
Email Alert Setup
Vending machine owners and facility managers can configure the point of sale system to receive automatic updates in the case of certain critical events and warnings like vending machine sabotage, critical stock level of products, disconnection of power source, compromise of cash register, and so on. 
How Much Does Creasoft POS Cost?
The Creasoft MyPos Indoor POS costs anything from 322 Euro ($339.06) per POS and 6 Euro ($6.32) per month for maintenance including its GSM communication but without remote monitoring and telemetry functions. Get in touch with Creasoft for more information.
Launched in 2014, MyPOS is a full-suite point of sale payment solution for small and medium-sized businesses offered by MyPOS, a technology company based in the United Kingdom. 
It was founded by Christo and Javor in 2012, who, after observing legal changes in the European payment framework, decided to seize the opportunity to offer a more affordable payment service to small and medium-sized business owners.
myPOS offers an array of solutions like myPOS Kiosk, Integra, and Mini. 
These point-of-sale solutions offer automated payment services with their machine-integrated POS terminals. This facilitates payments through a card or contactless device. This is an ideal solution for self-service projects, parking lots, and ticketing hotspots and features a vandal-proof body.
With an internet connection, myPOS solutions accept a wide range of cards. It is an easy-to-use Windows and Android-based solution that offers payment processing via debit and credit cards. It boasts features such as electronic signatures, in-person, mobile, and online payments, and reporting and analytics.
With myPOS, you avoid having to pay monthly fees and do not have to worry about bank charges or cash flow concerns when accepting card payments.
By leveraging its system where a free settlement account is integrated with your merchant account and a free payment business card, merchants are settled instantly as payment is collected.
All three products connect via WiFi, 4G, or 3G networks via their inbuilt SIM, which comes with free data valid throughout the EU.
myPOS offers quite an array of self-service solutions. It is an offering you should look into, from its all-purpose stand-alone kiosks, which are multi-purpose and serve a variety of use cases, to its smaller mobile devices, which can be integrated into vending machines to process payments.
These unattended payment devices are ideal for different use cases that require self-service solutions, such as car parks, kiosks, transit and ticketing systems, as well as any location where vending machines and self-service kiosks are needed. Let's take a look at these solutions.
myPOS Kiosk is a full-service, unattended payment solution terminal that allows users to simply order and pay at one self-service terminal. Communication is facilitated via Wi-Fi, Bluetooth, and LAN.
It is a smart Android device with a 23.8-inch full HD touch screen display that is an excellent use for businesses in the food and beverage, hospitality, and entertainment sectors.
It is hit-resistant, has an auto-cut thermal printer and accepts all cards with its variety of card readers, like magnetic card readers, smart card readers, and contactless card readers. It also offers multiple options for connectivity, such as USB, RS323, RJ45 ports, etc.
myPOS Integra is the second in the myPOS line-up of point-of-sale vending payment solutions. It allows merchants to accept all types of transactions, including contactless transactions, card-based transactions, and NFC-enabled payments.
It is an ideal point of sale system that comes with a 4.3-inch colour touch screen display, hit-resistant glass, smart and contactless card readers, and is water-resistant, meaning it can be located outdoors.
Its sturdy nature and well-structured design mean it can fit into virtually any business setup.
myPOS mini is the more regular kind of point of sale system for vending machines. myPOS can be easily integrated with vending machines to process payments. Just like its sister products, it accepts any type of transaction, including cards, NFC-enabled payments, and contactless transactions.
It is uniquely designed so it can be easily operated and communicates seamlessly with connected machines, vending, kiosks, etc.
What Are The Features Of myPOS Suite of Point of Sale Systems?
No Monthly Fees Or Contractual Commitment
It's particularly an inviting solution as it doesn't come with any contractual commitment or monthly or annual fees. All you need to do is pay a one-off price for the terminal; the only other costs are the transaction fees and other account activities incurred as the system is used.
Free Merchant Account Along With Purchase
myPOS offers a free merchant account and a VISA business card for every purchase. This is used to facilitate the instant transfer of payment for every transaction processed. Your merchant account also comes with dedicated IBANs in a whopping 14 different countries. Also, unlike some other providers, you get instant access to your funds.
Receive Receipts Via SMS Or Email
You can set-up to receive receipts and notifications of transactions either via SMS or email on the go.
Multiple Connections
All three unattended and self service myPOS devices come with multiple connection options like USB, RS232, etc.
Simple Integrations
myPOS point of sale solutions can be easily integrated with a host of other solutions.
Free Data For Users Across Europe
This one is certainly an offer to beat. myPOS offers free data for users across Europe.
How Much Does myPOS Cost?
As noted above, myPOS offers a no contract service but only charges you per transaction.
For card present Transactions: myPOS charges 1.691.69% + € 0.05 for domestic, EEA and UK consumer cards while other consumer and commercial cards are charged at 2.89% + € 0.05 per transaction.
For Card-Not-Present Transactions (this happens when payment is made for products or services online via your website): 1.30% + € 0.20 is charged per transaction on domestic and EEA consumer cards, while all other consumer cards are charged at 1.30% + € 0.20 per transaction. MO/TO payments attract POS payment fee + 1.00%.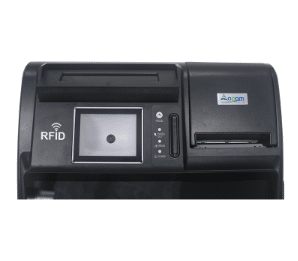 Ocom Windows POS solution for vending machines is a windows point of sale system for vending machines that equally comes with a printer. It runs on the Android 5.1 operating system and comes with a 2G ram and an 8G rom.
The OCOM POS System comes with a multipoint capacitive touch screen and a magnetic card reader that supports dual-swiping.
The solution comes with a 14.1-inch high-definition colour screen with built-in support for thermal printer connectivity. It is an ideal solution for vending machine operators in locations such as hotels, restaurants, coffee shops, boutiques, departmental stores, parking lots, subway stations, and others.
OCOM boasts over 2300 customers in about 159 countries with a line-up of other products ranging from barcode printer and scanner, dot matrix printer, and magnetic card reader, as well as other POS peripherals such as cash drawer, POS keyboard and monitor, customer display, etc.
How Much Does OCOM POS Cost?
OCOM POS does not offer its cost publicly and as such you will have to get in touch to get a quote.
CCV vending payment solutions lets you accept card payments at your vending machine points. The solution accepts all payment types, from chip-and-pin, contactless and even gift cards.
CCV boasts of more than 60 years in the payment service business and as such is an authority anyone wants to listen to. It currently boasts of about 650,000 terminals in the European market.
CCV offers three different point of sale devices for vending machines. They are IM30, OPM-C60 & COR and OPP-C60 & SCR-C.
The IM30 device is an Android-based terminal that features high-end security that rivals the industry standard. It is CCV's newest of its payment system offerings and is touted as the future of payment. The IM30 has tons of customization.
It offers an opportunity to offer your customers a great purchasing experience by ensuring that the purchasing process is seamless, intuitive, and self-easing.
The IM30 is intuitive, secure, and intelligent as it offers diverse ways to establish communication channels with your customers, thereby increasing the trust and confidence of consumers in your brand. 
It is an ideal system for public transport where travel tickets are issued, electronic vehicle charging points, and parking points where payments need to be processed.
IM30 allows you to tweak and customize the user experience and supports diverse use cases. You are also able to gather marketing intelligence with its reports, which can aid in business decisions. With the IM30, you can easily connect your own applications or other apps from CCV's own app store.
CCV's OPM-C60 and COR is a contactless payment solution that offers a fast and secure payment process. It is an ideal solution for busy and hectic places where a fast and secure payment solution is needed.
CCV's OPP-C60 and SCR-C device is a convenient payment option suited for indoor and outdoor use.
How Much Does CCV Vending POS Solution Cost?
CCV's vending POS solution cost is not known. Reach out for details on its device's cost.
Author: Wale Ameen.
Wale is a business journalist and editor with over six years of experience in business and technology reporting. He is the author of the book, Future Focus: Tapping into the Wealth in Digital, available on Amazon.
FAQs
Q: What sells best in vending machines?
A: Here are some of the most popular vending machine snacks:
Snickers Bar: The top snack for vending machines in the U.S. is Snickers bars!  Others are: Cliff Bars, Pop-Tarts, Sun Chips, Reese's Peanut Butter Cups, Planters Trail Mix, Granola Bars, and Cheez-its.
Q: How do you set up a POS machine?
A: Here's a step by step guide on how to setup a POS machine and get it up and running:
First, before anything else, you need to find the right retail solution provider. Secondly, determine the store set up you'd like to have. Next, decide on who will set up your POS. Next, launch the software and login and enter or upload details of your products.
Q: Do vending machines make good money?
A: The answer to this is pretty much a yes. Vending machines can be profitable . Data has it that the average vending machine earns about $35 a week, but for vending machines that are well-stocked and placed in high-traffic locations, they can potentially generate over $400 a month. So it all depends on the location.
Q: How do I increase vending machine sales?
A: A number of marketing strategies can be adopted to boost the sales of your vending machines. Some of these are:
#1. Use Promotions to Increase Overall Machine Profits.
#2. Make Your Vending Machine Grab Attention.
#3. Convince People to Make a Purchase.
#4. Stock Vending Machine Shelves for Optimum Sales. 
Q: How long do vending machines last?
A: While most vending machines last 12 to 24 years, they may look older than they should if not properly maintained.