(Last Updated On: 06/15/2022)

Businesses of all industries and scales have been benefiting from POS systems for quite some time. As POS technology evolves, so do other niches that help business owners grow their operations and manage them with less effort. If you are one of them, then you know that accounting software is one of those additional features of managing your business that matters the most. The best-case scenario is simple: having the means to accept and process payments with ease in combination with all the accounting tools you need. Peachtree, known as Sage 50cloud today, is one of the most popular accounting software solutions you can opt for. What's even better is that it integrates with POS systems, making for the perfect suite of tools and functionalities you could ever need.
Small and medium-sized businesses need something more than just a regular accounting service. Peachtree (Sage 50cloud) is here to help. The system would allow you to automate all processes related to accounting, and that would certainly make your life easier, as possible problems and potential losses would be detected with higher accuracy. In the end, you will save effort and resources.
Before we look at the details regarding POS for Peachtree, let's start with the important basics.
What Is a POS System and How Does It Work?
You're probably aware of what a modern POS system can do for your operation. Still, many business owners think of point-of-sale solutions merely as a means to accept payments. This clever combination of software and hardware offers a lot more than that. It can take care of all your scheduling tasks and monitor and update your inventory. All the reporting and sales functionalities most POS solutions offer are must-have options as well. 
Of course, the basic functionality of such a system is accepting payments, and it's carried out similarly to traditional checkouts. When your client makes a purchase, the point-of-sale system calculates the total amount that needs to be paid. The next step is payment processing. During this step, the system creates a log containing all details about the sale and the client. This information is crucial for the proper reporting and data analysis carried out by high-end POS systems. Once the sale is registered, the system updates your inventory as well.
Depending on your industry, you might need a variety of combinations between software and hardware. The peripherals used often include card readers, printers (for receipts or labels), cash drawers, barcode scanners, and self-service kiosks. 
It goes without saying that you'll need software to run your system. There are two types you can choose from: POS software can be either local-based or cloud-based.
Local-based software

: This is a classic setup that boasts a lot of features, but it has its limitations. The system can only be accessed on-site, meaning that you will not be able to control it from a different location from your mobile smartphone. These on-premises systems allow for creating sales logs and syncing with other types of software. This turns them into a possible POS for Peachtree. 

Cloud-based software: This is the future of POS technology. Cloud-based systems continue to evolve. Investing in one will bring you a lot of benefits. You will be able to control multiple checkouts using a single device connected to the internet. Plus, cloud-based POS systems are far more flexible, as they offer unprecedented mobility when needed, not to mention the fact they can integrate will all types of hardware and software, including accounting software.
When it comes to payment processing, most POS vendors will offer their in-house processor, but you can opt for a third-party payment processing service. This might affect costs. In terms of fees, it all comes down to the POS vendor's terms and conditions and your personal preferences. As for payment types, a modern POS for Peachtree would support the most widely used ones, including:
Contactless payments (digital wallets and credit or debit cards)

Cash payments

Card-not-present payments (the client's bank details need to be entered manually by the person behind the counter)
The variety of payment types and the combination of brick-and-mortar and online checkouts are among the reasons why you would certainly benefit from using accounting software such as Peachtree. Having a POS system that fully integrates with it is also a must, of course. Not just any point-of-sale solution would do, though. You need to make sure the system has the following features:
Reporting tools: This functionality will give a good idea of your overall performance thanks to the reports it generates based on transaction data. Taking advantage of such reports will help you track and resolve problems. This, on the other hand, will help you save money and generate higher profits.
Staff management suite: A modern POS for Peachtree will have the employee management tools you will need to oversee schedules, payroll, work hours, and individual performance if needed.
CRM compatibility: Your Peachtree-compatible POS system should also be able to integrate with other third-party software solutions, such as customer relationship management tools (CRMs). Some POS vendors have that feature built-in. It's important to have such a tool, as it will optimize the way you manage client loyalty programs.
Why Do You Need a POS System for Your Business in 2022?
We've already covered some of the important aspects of modern POS systems. We've also mentioned some of the must-have features of the point-of-sale solution you should go for. But there are other reasons why you should invest in one, especially the POS for Peachtree type. Regardless if you're running a bakery, a plumbing business, or a food truck, for example, you will always be better off choosing a proper, tailor-made POS system that covers every specific need of your operation. 
Being able to automate several processes and have control of the system using a handheld device is only one of the reasons why your business needs a modern POS system in 2022. 
The best POS system will be designed to help your particular operation will perfect several of your management tasks and processes, allowing you to have better control and put less effort into running it.
Needless to say, the higher the client satisfaction, the better the results of your efforts. When you take advantage of a POS for Peachtree, you will not only enjoy seamless accounting-related procedures but also focus more on providing your clients with the best possible experience. The POS software will help you with various loyalty and bonus programs, allowing you to retain clients for longer. As a result, you will have better than ever results.
More consumers than ever before prefer to collaborate with businesses that can present them with the most relevant and exciting offers. Being able to provide them with custom-made offers and give them suggestions is a valuable competitive advantage. The right POS for Peachtree can certainly help with that.
Clients also have no problem with sharing their information for the sake of a better customer experience. Most consumers realize that this is the only way they can receive relevant and tempting offers. 
If you want to be ahead of the competition and enjoy retainer clients, then you'll need to choose the most suitable POS for Peachtree for your business. It must have all the functionalities you need and it also needs to be capable of integrating with other types of third-party software and hardware.
Overall, the key reasons why you need to invest in a POS system can be summarized in a list:
Better client experience

Seamless transactions and flexibility

Higher profits thanks to fewer mistakes and optimized processes

Less effort is required when running your business

Lower payroll costs due to good automation
Now, let's focus on the basic details of Peachtree and the importance of having such software integrated with your POS system.
Peachtree: The Basics
Sage 50cloud, previously known as Peachtree (many clients and prospects still refer to this product using its former name) is a nifty accounting software that comprises various tools with the sole purpose of making your life as a business owner a lot easier. Sage 50cloud makes things a lot simpler to organize and increases your overall performance. 
The system is known for its performance and enviable security levels, as well as for its accuracy, which is the most important aspect of every accounting toolset you could find. The software offers an intuitive interface and has complete control of all the cash flows, transactions, and details related to payments and expenses.
Accountants know that managing business records, financial reports, and other related activities needs to be done with accuracy. This is why business owners often choose the popular Peachtree accounting software to do the heavy lifting instead of hiring full-time accounting specialists. The system can provide you with frequent reports and take care of every aspect of your accounting tasks, such as financial statements and creating archive logs.
Using a POS for Peachtree setup will also enable you to provide your clients with a seamless process of accepting their payments and collecting all the information you need, part of which will be processed by the accounting software. The data collected by both systems includes information about your operation, clients, and employees. Since Sage 50cloud is highly scalable, you could easily make it work with your existing management system and current structure of the business you are running in terms of cash flows, subsidiaries, contractors, inventory monitoring and updates, and more.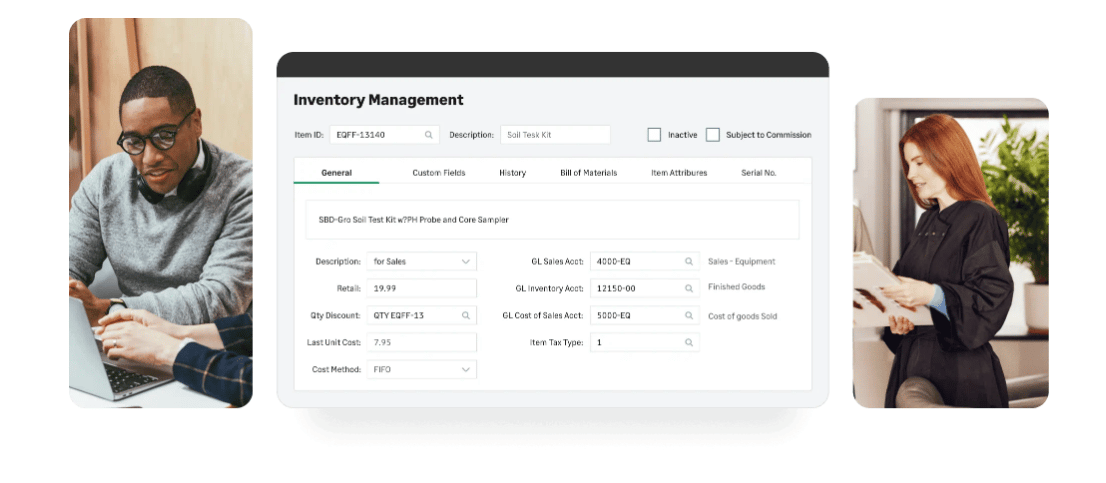 The benefits of using POS for Peachtree also include the efficiency of combining a modern point-of-sale solution and a state-of-the-art accounting toolset. This results in timesaving processes related to invoicing, cash flows, taxation, and more. Peachtree/Sage 50cloud is inexpensive and simple to use, but it offers all the functionalities you need. These are the system's main advantages:
Easy installation and setup

: Peachtree has been known for its straightforward installation process. It takes minutes to set up the software and start using it. What's even better is that it doesn't take an accounting specialist to install it. The simple instructions are enough to make it easy for you to run the software. 

Simple to use

: Using this accounting software is as easy as getting it up and running. There are simple steps to follow. What's even better is that sometimes using a POS for Peachtree is a seamless process that requires no additional steps. Depending on the point-of-sale system you choose, the POS and the accounting software collaborate smoothly. In most cases, you can create a custom solution by altering both systems' functionalities. 

Affordable

: Peachtree is a popular accounting solution not only for its plethora of features but also for its affordability. There are different specs to choose from, meaning that the price may vary, but it's still less expensive than hiring accounting specialists. 

Feature

–

rich

: When combined with a proper POS for Peachtree, you end up with a fully functional setup. The accounting software's functions and the point-of-sale system's task management capabilities go hand in hand when it comes to payroll management, invoicing, tracking expenses, and more.
Peachtree's Popularity Explained
Sage 50cloud is still widely known as Peachtree because the accounting software grew popular under that name. This popularity was the result of multiple acquisitions of software companies over the years. The Peachtree name was used for 15 years and business owners still recognize it as a benchmark for accounting software quality. This is why a POS for Peachtree is a reasonable choice to make, as it would bring you all the benefits of a modern point-of-sale solution combined with the accounting automation you need.
Millions of business owners have recognized the importance of Peachtree/Sage 50cloud. If you already know that it's hard to manage things like transaction records and discount offers on your own, then you are likely to join them. Yes, your POS system that complies with your specific requirements can handle them, but there are accounting tasks that only a designated software could handle. Therefore, the combination of the two would be a great solution. This is why thousands of business owners have shifted toward POS for Peachtree. Such a solution ensures that the accounting software would have a smooth interaction with your point-of-sale system.
Must-Have Features and Functionalities of a Proper POS for Peachtree
A POS for Peachtree needs to cover every last specific need your business might have. It all comes down to priorities, but such a combination of software solutions must have several basic features. Let's take a look.
Synchronization capabilities

: Not all POS systems can fully integrate with Peachtree/Sage 50cloud, meaning that you need to search for the one that both suits your needs and budget and is compatible with the accounting software to a full extent.

Smooth cooperation

: When choosing POS for Peachtree, you must be sure that the point-of-sale system would allow the accounting software to have access and control over transaction records even when you have multiple locations.

Error traceability

: Using accounting software always results in higher accuracy and fewer errors. What's even better is the system's traceability. Utilizing POS for Peachtree will allow you to quickly find the source of any error that you may encounter. The availability of this functionality depends on the particular combination of a POS system to integrate with Peachtree/Sage 50cloud.

Software compatibility

: Since Peachtree has different versions every few years, keeping long-term records would mean that your POS system would need to be compatible with the accounting software's older versions. 

Hardware compatibility

: To have the broadest possible range of possibilities, your POS for Peachtree should be compatible with different types of devices and operating systems. This will allow you to combine multiple types of checkouts or locations and manage their accounting using Peachtree. 

Payment solutions integration

: This feature allows you to seamlessly integrate your system's payment processing tool with the accounting software's workflows.

Extended list of functionalities

: Choosing the right POS system should follow not only its compatibility with Peachtree/ Sage 50cloud, but also the basic functionalities any modern checkout software needs to have, including quick transactions, inventory management and updates, and various integrations with third-party software and hardware. Having a fully functional POS system that integrates with Peachtree is the biggest benefit of them all, as it would reduce all your efforts related to accounting, management, and monitoring of your sales, expenses, employees, and more.
Key Benefits of Utilizing POS for Peachtree
Having a feature-rich POS for Peachtree is more than just a good idea. It's the easiest and most affordable way to enjoy higher efficiency, lower costs, and better overall performance. 
Additional benefits of using such a system:
You can link all your accounts and checkouts to a single accounting system

You can manage your inventory across multiple warehouses and locations

You can combine all accounting procedures between brick-and-mortar locations and online platforms

You will have more time and resources to focus on loyalty program management and marketing activities

You will enjoy a lower error rate in data processing and accounting
Does Peachtree Offer a Proprietary POS S
olution?
Sage 50cloud offers its own POS system that makes for a suitable POS for Peachtree. Needless to say, this is one of the best choices to make in terms of easy integration and compatibility. Of course, there are point-of-sale systems with broader range of features to choose from.
Sage's POS system is aimed at retailers running small and medium-sized businesses. The solution is simple and affordable, just like the accounting software it's meant to be linked with. The ease of use and the compatibility with third-party hardware are great features to have. Plus, the complete integration between Sage's accounting software and POS system allows for accurate accounting and extensive reporting. 
What are the Best Peachtree Compatible POS Vendors?
There are a few different options when it comes to finding a vendor that will be compatible with the Sage 50cloud software. After reviewing these systems extensively and taking all factors into consideration including ease of use, pricing, and overall efficiency, we narrowed it down to the top choice.

Why AccuPOS? AccuPOS is one of the most reputable software options available in the point-of-sale industry. We chose AccuPOS as the #1 pick compatible with Peachtree for a few different reasons.
#1. AccuPOS works with any version of Peachtree
This includes Sage 50 US, Sage 50 CA, Sage 100 ERP/MAS, and Sage BusinessWorks.
#2. The integration is bidirectional
The synchronization between AccuPOS and Peachtree works both ways. All the detailed data and insights that make up your business will be easily accessible on your dashboards. The point of sale software and Sage communicate directly.
#3. Trustworthy partnership
AccuPOS has been awarded the Sage Development Partner of the Year, meaning that this software is trusted by many developers and businesses across the globe.
#4. Easy to use
There are many other POS systems out there that *technically* will let you integrate with Peachtree. However, in a lot of cases you will have to download third party apps in order to get the two softwares to communicate well with each other. It's important when running your business that you choose software that will be simple and efficient to use, not something that will make your business operations more challenging.
#5. 24/7 customer support
Let's face it… Most of us are not technical troubleshooters. AccuPOS offers 24/7 customer support so that no matter what issues you run into, you'll always have an option to get help and keep your business running smoothly.
AccuPOS starts at just $99/month, reach out directly for a customized quote for your business.
The Conclusion
There are numerous ways to streamline your operation and achieve higher profits. This is usually the result of utilizing several types of software and hardware, including POS systems and accounting solutions. Being able to take advantage of the latter two toolsets has proven to be key for the success and growth of hundreds of thousands of businesses.
To achieve the perfect harmony between your point-of-sale system and your accounting software, you need to consider several factors. Once you compare your options, you are likely to find out that utilizing POS for Peachtree is among the best decisions to make. Peachtree, known as Sage today, is a reputable accounting software used by countless businesses. Taking full advantage of this software product is only possible if you integrate it with a fitting POS solution. While there aren't many options to choose from when it comes to POS for Peachtree, you will always find the combination that suits your needs best.
Once you see the benefits of a fitting POS for Peachtree that enhances your operation to the fullest extent, you will be surprised of how less effort it would take you to run your business in the future. The automated processes such as updates, management, reporting, calculations, and taxation will make your life as a business owner a lot easier. This is actually the main reason why Peachtree-compatible POS systems exist in the first place.
Before you invest in POS for Peachtree, make sure you've considered all specifics of your business and your budget. Making the right decision is a lot easier after that.
Author: Written by Martin Nikolaev. Martin has 5+ years of experience in reviewing various tech gadgets, FinTech solutions, crypto markets and products, and all IoT-related products. 
FAQ
What is Peachtree and why is it so popular?
Peachtree is a popular accounting software because of its easy installation, affordability, multiple functionalities, and simple interface.
What are the key benefits of utilizing a POS for Peachtree?
Such a combination of software solutions would allow you to combine the accounting and reporting needs of all your checkouts and locations.
What are the main reasons to invest in a modern POS system?
A fitting state-of-the-art system will allow you to put less effort into managing your operation by giving you more control through multiple monitoring and reporting tools.
Why do most clients refer to the software provided by Sage as Peachtree?
The popular accounting software adopted the name Sage in 2013, but most clients are already used to the original name – Peachtree.
What is the best Peachtree (Sage Accounting) compatible point of sale system?
AccuPOS is the top point of sale provider for a seamless integration with Peachtree.