(Last Updated On: 02/12/2023)
Written by POS Expert Martin Nikoleav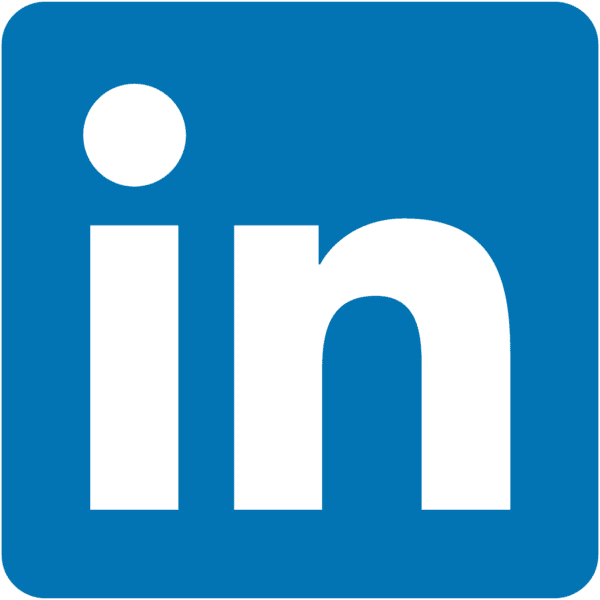 Our product review team dedicates hours of research, fact-checking, and testing to recommend the best solutions to business owners. We earn from qualifying purchases through our links, but this does not influence our evaluations. Why trust our reviews?

The Sage 50cloud accounting software is a great way to streamline your business, regardless of the niche or scale. Formerly known as Peachtree, this advanced software will help you manage your business better and faster. In the best-case scenario, you should combine the means to accept and process payments with the accounting toolset of your dreams. Sage 50cloud is one of the most popular accounting software solutions you can opt for. It integrates with certain POS systems, making for the perfect suite of tools and functionalities you could ever need. This will help you deal with the responsible but painstaking tasks related to accounting. By investing in a POS system for Sage 50cloud, you will enjoy automated accounting alongside the simplified management of large inventories and high sales. This is why none of the Sage 50cloud alternatives are better than this product. 
This article has purely informational purposes. It aims to introduce the benefits of Sage 50cloud and the advantages of combining it with a POS system that would work flawlessly alongside this leading accounting software. The available Sage 50cloud integration options allow for such a collaboration. Still, you're welcome to use it as a guide to finding the best POS solution. Keep in mind that not all point-of-sale solutions can integrate with third-party software, meaning that not all of them would be a good fit for your business. In the years I've reviewed POS products, I've managed to determine the important factors, aspects, and features you need to consider when searching for the ultimate point-of-sale software. I'll share them in this text, of course. As informative as you may find this text to be, the final decision you make needs to be based on your personal preferences and the specific needs your business may have. 
Considering the above, I need to clarify that small and medium-sized businesses need something more than just a regular accounting service. Sage 50cloud is here to help with that. The system can allow you to automate all processes related to accounting, and that would certainly make your life easier, as possible problems and potential losses would be detected with higher accuracy. In the end, you will save effort and resources.
Sage50 Cloud Software
Features
Sage 50Cloud offers intuitive software by offering businesses with accounting and point of sale solutions.

Some of the top features of Sage 50Cloud include:

Inventory management assistance
Payroll simplification
Robust reporting
Cash flow manager
Greater business insight
Don't have time to read this whole review? Skip ahead to:
When it comes to payment processing, most POS vendors will offer their in-house processors, but you can opt for a third-party payment processing service. This might affect costs. In terms of fees, it all comes down to the POS vendor's terms and conditions and your personal preferences. As for payment types, a modern POS for Sage 50cloud would support the most widely used ones, including:
Contactless payments (digital wallets and credit or debit cards)

Cash payments

Card-not-present payments (the client's bank details need to be entered manually by the person behind the counter)
I consider the variety of payment types and the combination of brick-and-mortar and online checkouts to be among the reasons why you would certainly benefit from using accounting software such as Sage 50cloud. Having a POS system that fully integrates with it is a must, of course. You need to make sure the latter boasts the following features (among other perks):
Reporting tools

: This functionality will give a good idea of your overall performance thanks to the reports it generates based on transaction data. Taking advantage of such reports will help you track and resolve problems. This, on the other hand, will help you save money and generate higher profits.

Staff management suite

: A modern POS for Sage 50cloud will have the employee management tools you will need to oversee schedules, payroll, work hours, and individual performance if needed.

CRM compatibility

: Your Sage 50cloud-compatible POS system should also be able to integrate with other third-party software solutions, such as customer relationship management tools (CRMs). Some POS vendors have that feature built-in. It's important to have such a tool, as it will optimize the way you manage client loyalty programs.
Sage 50cloud Accounting Software: The Basic Advantages and Functionalities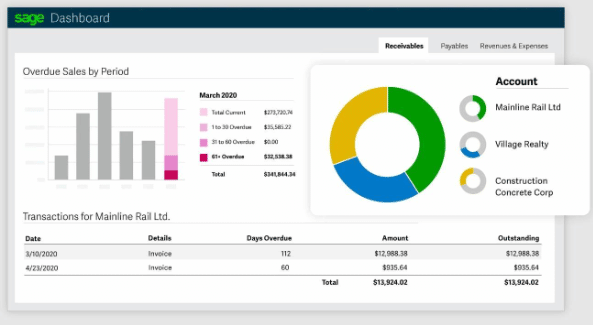 Sage 50cloud, previously known as Peachtree (many clients and prospects still refer to this product using its former name) is a nifty accounting software solution that comprises various tools with the sole purpose of making your life as a business owner a lot easier. Sage 50cloud makes things a lot simpler to organize and increases your overall performance. 
Trusting the Peachtree POS software enhancements can streamline your business thanks to a few key advantages, among others:
Intuitive user interface that's as easy to learn as possible

Accurate, functional, and compliant software that's a breeze to control

High data security levels and outstanding performance
The system is known for its performance and enviable security levels, as well as for its accuracy, which is the most important aspect of every accounting toolset you could find. The software offers an intuitive interface and has complete control of all the cash flows, transactions, and details related to payments and expenses.
If you're wondering about what the Sage 50cloud cost is, you'll be glad to know it's very affordable. Pricing plans start at just over $50 per month for the basic Pro Accounting option. You can try it for free, too. I believe you won't be disappointed.
Accountants know that managing business records, financial reports, and other related activities need to be done with accuracy. This is why business owners often choose the popular Sage 50cloud accounting software to do the heavy lifting instead of hiring full-time accounting specialists. The system can provide you with frequent reports and take care of every aspect of your accounting tasks, such as financial statements and creating archive logs.
Using a POS for Sage 50cloud setup will also enable you to provide your clients with a seamless process of accepting their payments and collecting all the information you need, part of which will be processed by the accounting software. The data collected by both systems include information about your operation, clients, and employees. Since Sage 50cloud is highly scalable, you could easily make it work with your existing management system and the current structure of the business you are running in terms of cash flows, subsidiaries, contractors, inventory monitoring and updates, and more.
The benefits of using POS for Sage 50cloud also include the efficiency of combining a modern point-of-sale solution and a state-of-the-art accounting toolset. This results in timesaving processes related to invoicing, cash flows, taxation, and more. Sage 50cloud is inexpensive and simple to use, but it offers all the functionalities you need. These are the system's main advantages:
Easy installation and setup

: Sage 50cloud has been known for its straightforward installation process. It takes minutes to set up the software and start using it. What's even better is that it doesn't take an accounting specialist to install it. The simple instructions are enough to make it easy for you to run the software. 

Simple to use

: Using this accounting software is as easy as getting it up and running. There are simple steps to follow. What's even better is that sometimes using a POS for Sage 50cloud is a seamless process that requires no additional steps. Depending on the point-of-sale system you choose, the POS and the accounting software collaborate smoothly. In most cases, you can create a custom solution by altering both systems' functionalities. 

Affordable

: Sage 50cloud is a popular accounting solution not only for its plethora of features but also for its affordability. There are different specs to choose from, meaning the price may vary, but it's still less expensive than hiring accounting specialists. 

Feature

–

rich

: When combined with a proper POS for Sage 50cloud, you end up with a fully functional setup. The accounting software's functions and the point-of-sale system's task management capabilities go hand in hand when it comes to payroll management, invoicing, tracking expenses, and more.
What is Sage 50cloud | The Accounting Software's Popularity Explained
The popularity of Sage 50cloud is the result of multiple acquisitions of software companies over the years. The Peachtree name was used for 15 years and business owners still recognize it as a benchmark for accounting software quality. This is why investing in a POS for Sage 50cloud is a reasonable choice to make, as it would bring you all the benefits of a modern point-of-sale solution combined with the accounting automation you need.
Millions of business owners have recognized the importance of Sage 50cloud. If you already know that it's hard to manage things like transaction records and discount offers on your own, then you are likely to join them. Yes, your POS system that complies with your specific requirements can handle them, but there are accounting tasks that only a designated software could handle. Therefore, the combination of the two would be a great solution. This is why thousands of business owners have shifted toward POS for Sage 50cloud. Such a solution ensures that the accounting software would have a smooth interaction with your point-of-sale system.
Must-Have Features and Functionalities of a Proper POS for Sage 50cloud
The chosen POS for Sage 50cloud needs to cover every last specific need your business might have. It all comes down to priorities, but such a combination of software solutions must have several basic features. Let's take a look.
Synchronization capabilities

: Not all POS systems can fully integrate with Sage 50cloud, meaning that you need to search for the one that both suits your needs and budget and is compatible with the accounting software to a full extent.

Smooth cooperation

: When choosing POS for Sage 50cloud, you must be sure that the point-of-sale system would allow the accounting software to have access and control over transaction records even when you have multiple locations.

Error traceability

: Using accounting software always results in higher accuracy and fewer errors. What's even better is the system's traceability. Utilizing POS for Sage 50cloud will allow you to quickly find the source of any error that you may encounter. The availability of this functionality depends on the particular combination of a POS system to integrate with Sage 50cloud.

Software compatibility

: Since Sage 50cloud has different versions every few years, keeping long-term records would mean that your POS system would need to be compatible with the accounting software's older versions. 

Hardware compatibility

: To have the broadest possible range of possibilities, your POS for Sage 50cloud should be compatible with different types of devices and operating systems. This will allow you to combine multiple types of checkouts or locations and manage their accounting using Sage 50cloud. 

Payment solutions integration

: This feature allows you to seamlessly integrate your system's payment processing tool with the accounting software's workflows.

An extended list of functionalities

: Choosing the right POS system should follow not only its compatibility with Sage 50cloud, but also the basic functionalities any modern checkout software needs to have, including quick transactions, inventory management and updates, and various integrations with third-party software and hardware. Having a fully functional POS system that integrates with Sage 50cloud is the biggest benefit of them all, as it would reduce all your efforts related to accounting, management, and monitoring of your sales, expenses, employees, and more.
Key Benefits of Utilizing POS for Sage 50cloud
Having a feature-rich POS for Sage 50cloud is more than just a good idea. It's the easiest and most affordable way to enjoy higher efficiency, lower costs, and better overall performance. I believe that most businesses would greatly benefit from utilizing a state-of-the-art POS system that's integrated with accounting automation means. This is a winning combination for various industries, regardless of the type and scale of the operation.
Overall, the key reasons why you need to invest in a POS system can be summarized in a short list:
Better client experience

Seamless transactions and flexibility

Higher profits thanks to fewer mistakes and optimized processes

Less effort is required when running your business

Lower payroll costs due to good automation
Additional benefits of using such a system:
You can link all your accounts and checkouts to a single accounting system

You can manage your inventory across multiple warehouses and locations

You can combine all accounting procedures between brick-and-mortar locations and online platforms

You will have more time and resources to focus on loyalty program management and marketing activities

You will enjoy a lower error rate in data processing and accounting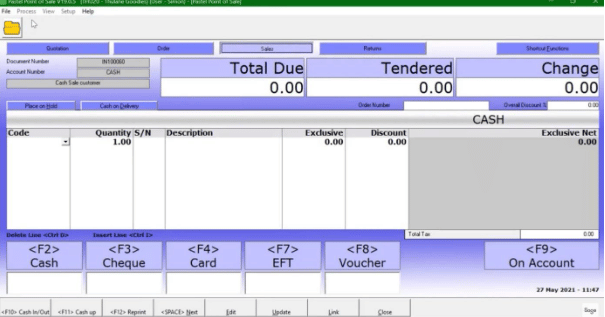 Does Sage 50cloud Offer a Proprietary POS Solution?
Sage 50cloud offers its own POS system as one of its proprietary add-ons. Previously referred to as simply Peachtree POS, Sage 50cloud Pastel POS is the best choice to make in terms of easy integration and compatibility. Of course, there are point-of-sale systems with a broader range of features to choose from, but there isn't a great variety. The Sage 50cloud integration is seamless with Pastel POS, which is an obvious advantage.
Sage's Pastel Xpress POS system is aimed at retailers running small and medium-sized businesses. The solution is simple and affordable, just like the accounting software it's meant to be linked with. The ease of use and the compatibility with third-party hardware are great features to have. Plus, the complete integration between Sage's accounting software and POS system allows for accurate accounting and extensive reporting. 
I understand that some business owners avoid proprietary POS extensions when they introduce accounting software, ERP, or CRM systems to their businesses. They have their reasons, but in this case, choosing Sage 50cloud Pastel Xpress is the right decision (or one of the best choices to make, at least). This point-of-sale desktop solution is an all-in-one system featuring the important bells and whistles your business will need. The system is an in-depth solution that will easily handle accounting, cash flow, inventory, invoicing, etc.
Sage 50cloud Pastel Point of Sale (POS) is a relatively affordable, simple-to-use, and secure retail solution aimed at small and medium businesses. The keyboard-friendly solution allows for fast payment processing. 
What I like about Sage 50cloud Pastel POS is that you can integrate it with almost every third-party peripheral device, including barcode scanners, cash drawers, card readers, and pole displays. If you're thinking that the software might be too hard to learn, I've got great news: your employees will learn its highways and byways in minutes.
I wasn't surprised to find out that Sage's proprietary POS solution boasts all the reporting and back-office management features your business will ever need, including client data, statements, and sales history. The best thing about this toolset is the option for discounts per volume. You can create special offers and set discounts because you will know the value of pricing per customer.
Sage 50Cloud Alternatives
| What's Out There? 
When I searched for POS solutions that are ready to integrate with Sage 50cloud, I discovered that there isn't a large variety of alternative products to the one Sage offers as a separate module. Still, I need to introduce a worthy competitor to Sage's proprietary POS module, and I believe AccuPOS is the best among the few Sage 50cloud alternatives (when it comes to exploiting the Pastel POS add-on). This modern POS solution is the powerful tool you need. It's an all-in-one solution that will deliver software, hardware, and various integrations to create the ultimate package.
Since I mentioned integrations, this is surely AccuPOS' greatest distinctive advantage. This POS provider is certified by Sage and Intuit, meaning that it's fully compatible with Sage 50cloud and QuickBooks (in my opinion, the two most popular accounting software products available today).
AccuPOS boasts numerous features and functionalities:
Real-time reporting

Web-based management

Venue management

Inventory updates and alerts

Gift card management

Mobile and desktop solutions

Customer loyalty programs
AccuPOS is the modern solution I expected it to be. It seems to be a good fit for every industry or business type. The system is accessible from any location, but what's even more important is that it's very adaptable, even more than key POS players I've reviewed in the past. It can meet any type of requirement and it can run on all kinds of devices, including TVs!
You can opt for a bundle comprising a 15.5" display with an additional 7" customer-facing one. The receipt printer and magnetic stripe card reader are part of the bundle. The core of the system is Android-based.
If you need a mobile POS solution, AccuPOS has that covered. You can choose the mobile POS unit that has an integrated printer and a card reader compatible with EMV technology. The sensitive touchscreen display and the SIM card slot allow for freedom of movement and top functionality. Overall, AccuPOS is a great solution for both service-based and retail solutions that has the kind of flexibility I've only seen in the high-class point-of-sale solutions I've reviewed previously.
This video will give you a fairly good idea of the sales reporting capabilities of this brilliant software. I think you'll see how good of a design they came up with, too.
Pros
Numerous integrations 
Inventory control
Advanced reporting tools
Mobile devices and desktop POS bundles are available
24/7 reliable support
Cons
Android mobile devices only, not compatible with iOS
Sage 50Cloud Cost
|
What are the Differences Between Sage 50cloud's Subscription Plans?
I already mentioned that when it comes to the Sage 50cloud cost, you won't be set back a small fortune. Instead, you'll see that the system is worth every dime. The same goes for its in-house POS solution. 
When you make up your mind to introduce Sage 50cloud to your business, all that would be left for you to do is choose a payment plan. It's a choice that many of you would consider being a predetermined one due to limited budgets, but if you need extended functionalities, you should opt for a more expensive plan.

The good news is that even the basic Pro plan has all the bells and whistles most businesses would need. Let's compare them.
Pro Accounting (available for a single user only)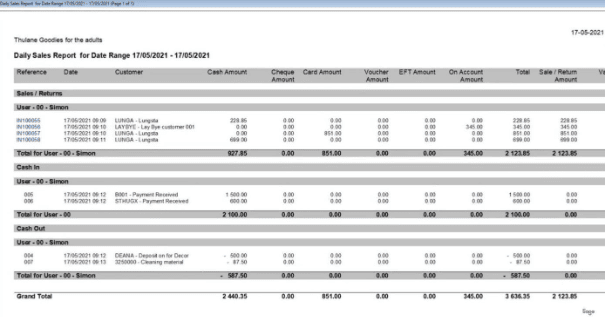 For $567 per year, you can get the Pro plan. It offers quite a lot:
Invoice tracking

Cost management

Reporting

Inventory management

Purchase ordering

Fraud protection

Job management
This is an impressive list of features, but it gets even better. Should you decide to upgrade to the Premium plan (priced at $924 per year), you'll get the same perks plus:
Up to five users

Advanced reporting tools

Extended budgeting means

Advanced job cost calculation

Audit trails
The top-of-the-range plan is called Quantum. For $1,533 per year, you'll enjoy all of the perks offered with the Premium plan, but there are additional goodies, such as:
Up to 40 users

Role-based user accounts

The fastest processing possible

Workflow management

Ordering workflow management
No matter which payment plan you opt for, there's a 30-day trial to take advantage of, which I highly recommend doing.
Success Stories
Some business owners have shared their insights on investing in Sage 50cloud. Their reviews are nothing but positive, too.
A fine example to mention would be the Irish company Unmake. It's one of the thousands of businesses that use Sage 50cloud, and they have even been featured on the accounting software's website.
The agency's director liked the ease of access Sage 50cloud offers, alongside the target monitoring capabilities it boasts. Instead of working around the system and dealing with sloppy processes, it seamlessly integrated with the client's workflow.

As any other growing company, the management of Unmake benefitted from the data syncing and automation handled by Sage 50cloud. Generating standalone reports and converting or exporting data sheets by hand is a thing of the past thanks to this advanced accounting software. Overall, the company's growth was supported in more ways than one: removing some of the managerial burdens and allowing for a bigger client flow.
Let's look at another curious example of a successful collaboration between a business and Sage 50cloud. 
Crick Heitman LTD is an accounting company guided by young professionals. Their primary goal was to transform the accountancy firm and turn it into a modern business with a wide array of services. Introducing the Sage 50cloud software immediately showed results: the turnover per year increased by 7%. Not only that but the workflow was dramatically improved by removing the need for paper receipts that used to be processed manually and stored indefinitely.
The Conclusion
You and I already know that there are numerous ways to streamline your operation and achieve higher profits. This is usually the result of utilizing several types of software and hardware, including POS systems and accounting solutions. Being able to take advantage of the latter two toolsets has proven to be key to the success and growth of hundreds of thousands of businesses. I hope that this article may have influenced or inspired you to act now and enhance your business in a suitable way.
To achieve the perfect harmony between your point-of-sale system and your accounting software, you need to consider several factors. Once you compare your options, you are likely to find out that utilizing POS for Sage 50cloud is among the best decisions to make. Sage 50cloud is a reputable accounting software product used by countless businesses. Taking full advantage of this software product is only possible if you integrate it with a fitting POS solution. My research has shown that there aren't many options to choose from when it comes to POS solutions that integrate with Sage 50cloud, but you still have the chance to find the combination that suits your needs best.
Once you see the benefits of a fitting POS system for Sage 50cloud that enhances your operation to the fullest extent, you will be surprised by how less effort it would take you to run your business in the future. The automated processes such as updates, management, reporting, calculations, and taxation will make your life as a business owner a lot easier. This is actually the main reason why Sage 50cloud -compatible POS systems exist in the first place.
Before you invest in any POS for Sage 50cloud, I strongly advise you to make sure you've considered all specifics of your business and your budget. Making the right decision is a lot easier after that, not to mention all the perks you will enjoy from that moment on. The way you manage your business will change from the bottom up for good. 
Both Sage 50cloud Pastel Xpress and AccuPOS are great choices to make, and you won't be disappointed if you go for either of them.
The smooth integration with Sage 50cloud will allow you to focus on the important things instead of dealing with accounting complications. In short, it's a step in the right direction. Make that step as soon as you can and get a free quote from Sage 50Cloud today!
FAQ
What is Sage 50cloud and why is it so popular?
Sage 50cloud is a popular accounting software because of its easy installation, affordability, multiple functionalities, and simple interface.
Does Sage have a point-of-sale solution?
Yes, it's called Sage 50cloud Pastel POS. The software is simple and affordable, not to mention secure. It's a great solution for SMEs. The easy setup procedure and the intuitive interface turn it into a winner.
What are the key benefits of utilizing a POS for Sage 50cloud?
Such a combination of software solutions would allow you to combine the accounting and reporting needs of all your checkouts and locations.
What are the main reasons to invest in a modern POS system?
A fitting state-of-the-art system will allow you to put less effort into managing your operation by giving you more control through multiple monitoring and reporting tools.
Why do most clients refer to the software provided by Sage as Sage 50cloud?
The popular accounting software adopted the name Sage in 2013, but most clients are already used to the original name – Peachtree