(Last Updated On: 08/15/2022)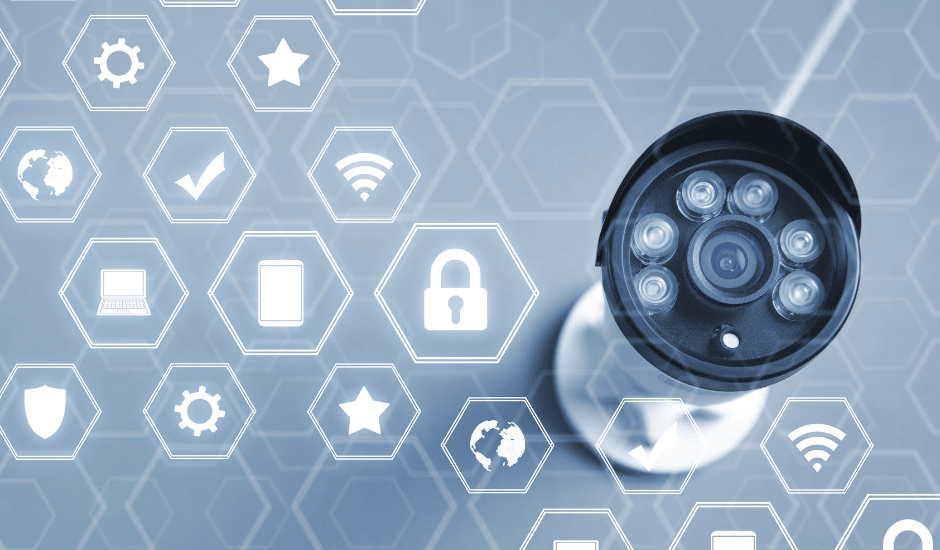 You have cameras placed strategically all around your store, along with all the necessary security installed across the length and breadth of your store, yet, when it comes to taking stock, things never seem to add up. At your wits end, you wonder what the issue could be. 
The above scenario might describe your current dilemma.
Truth be told, running a modern business enterprise, or being a retailer or merchant in today's world is no small feat. And every business owner will tell you this.
This is because every enterprise goes through rough patches, challenging times, and scenarios like the one illustrated above at one time or another in their entrepreneurial journey. And these challenges constantly evolve and change with the changing times, technology, and global market dynamics of demand and supply. 
As such, being a business owner takes much more than just the fanciness that the title bestows or the seeming independence that comes with it. These challenges come in different forms and shapes and vary from one business to another given the peculiarity of the industry and location of the business. 
Some of the challenges that businesses face at different points in time include:
Coping with digital disruption 

Choosing ideal technology solutions

Attracting and retaining customers

Growing database of customers

Evolving with customer expectations

Adopting modern solutions to the marketing mix

Attracting and retaining great employees

Maintaining internal communications

Striving to maintain profitability 
This list is practically endless. Of all the above, the issue of striving to maintain profitability is probably one of the most tricky. This is because a number of factors responsible for inventory shrinkage are usually right under the nose of the merchant and business owner. What do we mean by this? 
Inventory shrinkage leading to loss of profitability usually occurs at the register as a result of simple employee error, like making a mistake in ringing up the wrong items, or not even ringing them up at all. At other times however, it could be as a result of the deliberate actions of employees deliberately not ringing up items or incorrectly for their friends and sweethearts.
One of the major challenges to the profitability of businesses is theft among employees. 
And there is a lot of data to prove this.
Data on Employee Theft
According to a report by riskandinsurance.com titled "Spotlight on employee theft," fraud costs the typical organization about 5 percent of revenue each year, and the median loss from employee theft overall is about $280,000. That amount, it says, is roughly equivalent to what a small company (less than 500 employees) earns in net profit.
Also, a recent Point of Sale Theft Report done by eConnect shows that:
34% of all 18–29-year old employees believe it is justifiable to steal from their employer.

60% of business failures are a direct result of internal theft.

On average, customers reported that retail cashiers caught stealing via exception reporting stole $87 per day.
For smaller employees, employee theft has the potential to knock them out of business, riskandinsurance.com quotes Doug Karpp, senior vice president and national underwriting leader, crime and fidelity, at Hiscox.
The platform writes that an analysis of federal actions involving employee theft in 2014 showed that 72 percent of cases occurred at companies with fewer than 500 employees. Within that subset, 80 percent of incidents occurred at organizations with fewer than 100 employees, and more than half of those had fewer than 25 on staff.
Additionally, according to the National Retail Security Survey, retailers attribute 43% of their shrinkage to employee theft, translating into an annual employee theft price tag of $14.4 billion.
Many of these losses recorded by stores range from unauthorized discounts to simple thefts. Many employees collude with their relatives to issue unauthorized discounts to their relatives who believe that their behavior cannot be detected and thus find the temptation irresistible.
In order to guard against employee theft, one of the proactive measures business owners can take is to install point-of-sale cameras that help capture and store visuals of staff activities at the processing point.
Types of Employee Theft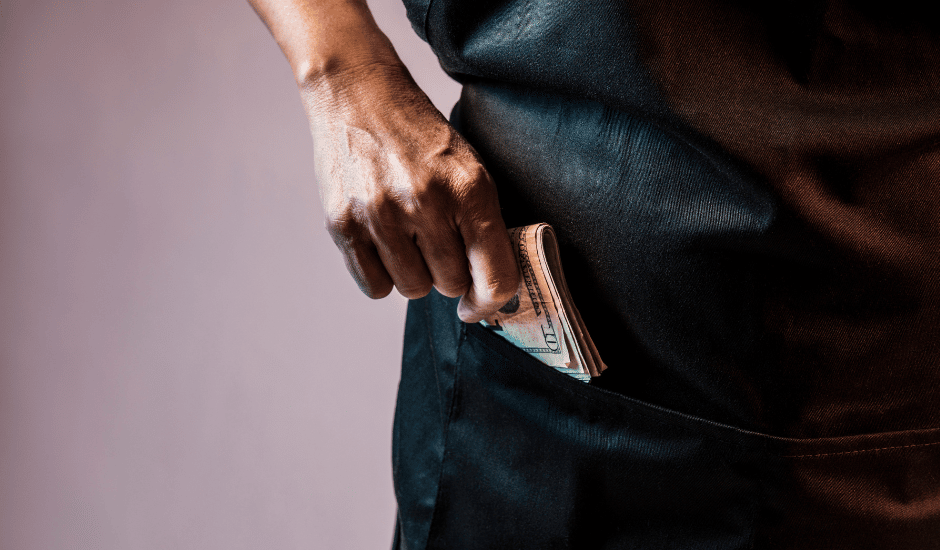 There are a number of ways store employees perpetuate theft with point of sale systems. Some of these are highlighted below:
Sweethearting
As mentioned above, a major way employees perpetuate theft is by making concessions to their relatives or those they know. To do this, an employee's accomplice or relative loads up expensive items for check out. The sales clerk then either goes on omitting certain items or rings up the items and charges a lower price than what is marked against the product. This goes on to reduce inventory without corresponding monetary value.
Substitute Scanning
This is a type of sweethearting that is carried out in stores with scanning systems. The sales clerk fixes a scan tag of lesser value on their palm. When the item is scanned, the palm tag is scanned in place of the actual item. This can also be carried out by collaborating with an accomplice or a "sweetheart".
No Ring
In this instance, the sales clerk rings up nothing and goes on to make a change from an open cash drawer or from the top of the change drawer.
Short Changing
This is carried out against the customer by the sales clerk. Here, the sales clerk cheats the customer by giving an incorrect change.
Short Ring
In this case, the sales clerk rings up an incorrect amount for an item, which is usually much lower than the actual value, and then goes ahead to pocket the extra amount or piles it up and later removes it all from the register.
Pilfering
This happens by directly "pilfering" or removing cash from the register, thus making the total fall short of what ought to be there. This can happen when multiple sales clerks use the same cash drawer, and as such, it is difficult to charge one person with the theft.
Voids
This is done when a transaction is voided by the sales clerk after a sale has been concluded and the customer has left. The money is in the register but the sales are cancelled out. The sales clerk goes on to pocket the amount of the transaction.
Returns/Refunds
This raises a question mark, especially when no exchange is made and cash is paid out. Items are usually pulled out of the inventory and made-up refunds are awarded to him or herself or even a 'sweetheart.'
Cancels
This involves a transaction being partially rung up. The sales clerk asks the customer for the money, and in a situation where the customer does not ask for a receipt and leaves, the sales clerk goes ahead and cancels the sale. When the customer requests his or her receipt, the clerk finishes the transaction and gives the customer the receipt.
Why Does Your Business Need a Point of Sale Camera?
Usually, a good way of monitoring and controlling employee use of
POS
exception codes such as no sale, void, coupon, discount, refund, over ring, and cash drawer open is sufficient to detect a large percentage of fraudulent activity. In the long run, however, a major reason why integrating CCTV with POS cameras is such a great idea is that it helps in preventing retail loss from internal theft. As such, it provides actionable forensic evidence, which gives the retailer a good position to not only detect fraud but also take swift action, which may include reprimanding, counseling, termination, prosecution, and recovery of stolen goods.
Evidently, from all that has been written so far, the issue of theft in stores and businesses is a big issue. Reviewed below, we highlight other reasons why your business needs a point of sale camera.
POS cameras provide general safety. Security cameras in general and POS cameras specifically help secure your business. There is a higher tendency for businesses known not to have any form of security to be burglarized than those known to have security measures put in place.
Reduces theft: According to a security report, 64% of all small businesses are victims of employee theft, and small businesses nationwide lose $25,000 to $33,000 per minute to shoplifters.
Helps prevent employee theft: It is said that a typical business can lose as much as 5% of its revenue to fraud. This loss is said to also happen in organizations with fewer than 100 employees, and more than half of these have fewer than 25 employees. This means that fraud is more likely to happen in small businesses. With POS cameras in place, this is reduced to the barest minimum, if not eradicated totally.
Serves as a deterrent: While attempts might still be made, the installation of POS cameras in smaller organizations will serve as a deterrent to employees who might want to carry out such acts.
Better perception from customers: With the presence of a good security system, which includes POS cameras, your customers have a better perception of your entire business structure, knowing that their transactions are well guarded and will not be defrauded by your employees.
Improve employee productivity and business operations: With POS cameras installed in your business, employees tend to be more alert and process sales as and when due. This, in turn,  leads to increased productivity on their part.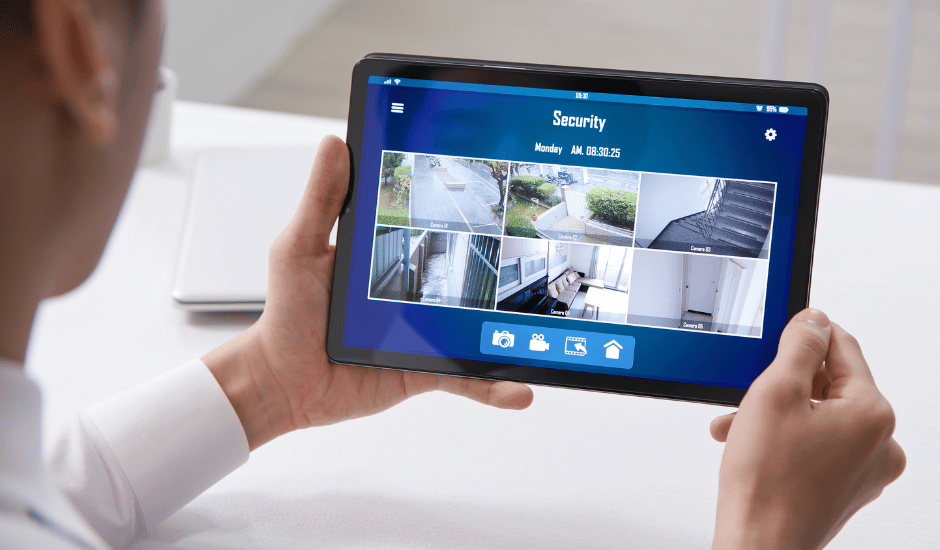 Increased sales: With employee productivity shooting up, this automatically translates to an  increase in sales.
Monitor employees: With POS cameras, it is easy to see how well employees attend to customers. This will help with proper training and employee performance training.
Improved customer satisfaction: With employees properly and promptly attending to customers as and when due, customers will be promptly attended to, and this in turn ensures that they leave your store happy and satisfied with the attention given to them.
Better tracking of business processes: With POS cameras installed and recording business transactions and detailing customer preferences and purchases, you are better able to track your business process and note buying patterns. This ultimately provides you with vital business data to help improve operations. You are able to track and move inventory and adjust stock and, as such, take advantage of spikes in demand.
Cost-effective: The cost of setting up a system to track processes on your POS system is by far less than the heartache and loss that can be recorded should employees decide to engage in fraud.
Safeguard your business against legal claims and fraud: Having events within your store, and particularly the processing point, covered consistently will help you guard against possible legal claims that may arise.
It provides you with a record of all transactions being processed: With the activities of employees captured and recorded, you can always refer back to them to cross-check or scrutinise your business process.
Make your business compliant with appropriate regulations: With proper recording of operations, your business stays in compliance with regulations such as HIPAA.
Gives you peace of mind: With the likelihood of theft and fraud erased, you can concentrate on other matters that need to be attended to in order to grow your business.
Increase your profit: With your business fraud proofed, you can be rest assured of an increase in your profit. 
How Does a Point of Sale Camera Work?
Most POS cameras integrate or connect with the business's terminals, security cameras, and then the main server. These cameras are then installed above or near terminals. When transactions are being carried out, the cameras record the footage, and data is recorded from items scanned at the register. 
An authorized user can, as such, monitor footage using different parameters such as date, employee number, or an item.
In other cases, some solutions run as a software to be installed on the device used in the point of sale system setup and utilizes the computer's inbuilt camera function or simply run by recording the computer screen and transferring the captured visuals to a connected database.
Recommended POS Cameras 
There are a number of POS camera types available on the market that you can adopt for your convenience store, fast food outlet, or retail grocery store, etc.:
Remote Eyes Video POS Integration Software
CCTV Camera Pros-Viewtron Surveillance System CCTV POS Integration
DeskCamera is a POS surveillance solution for retail businesses. It is a virtual ONVIF (Open Network Video Interface Forum) IP camera that streams a PC screen into video surveillance systems using the ONVIF and RTSP protocols. To use DeskCamera, simply install the software and it promptly streams visuals to any VMS or NVR systems.
According to the company, the aim of DeskCamera is to replace expensive hardware solutions when it comes to PC screen monitoring. As a software-only solution, it requires no hardware encoders or physical IP cameras to stream the PC screen. 
How Does DeskCamera Work?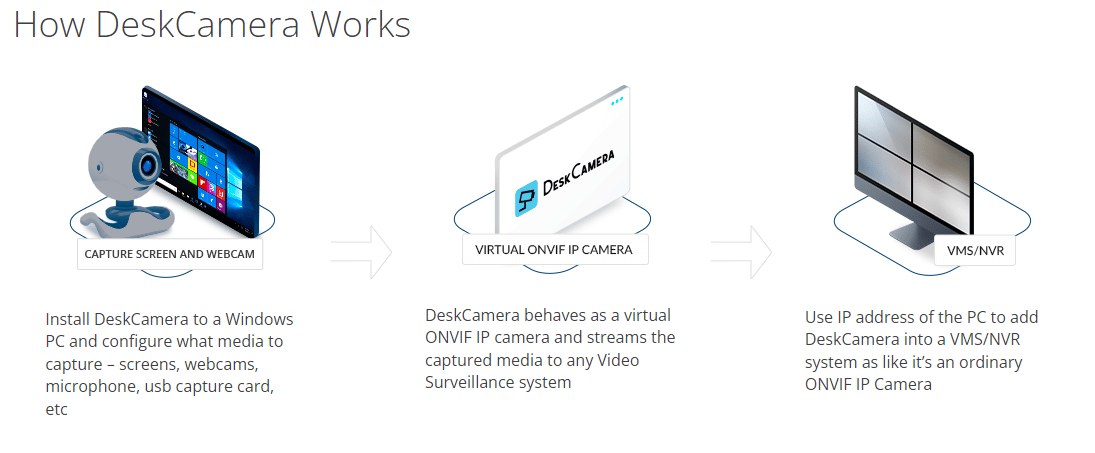 DeskCamera software natively integrates busy Point of Sale systems into existing CCTV infrastructure with a few clicks. It turns a POS terminal into an ordinary IP camera that streams the POS screen to any VMS or NVR systems via the open standard ONVIF.
DeskCamera works on Windows-based POS terminals. Once installed, the POS terminal screen can be viewed in real time and recorded to any ONVIF compatible Video Management Software (VMS) or Network Video Recorder (NVR) system.
It is a software-only solution.

It is Windows-based.
It supports offline mode installation.
It runs in the background and is password protected, ensuring that no unauthorized access is allowed.
It enables you to turn your POS screen into an extra VMS channel where you can collate all data across multiple visual links.
Search for evidence across multiple POS systems, physical cameras, and store locations.
With the use of the ONVIF standard, DeskCamera is compatible with many Video Management Systems (VMS) or Network Video Recorders (NVR).
It can easily be integrated into your existing CCTV setups and used side by side with other IP cameras.
It allows simultaneous streaming of more than one PC screen and webcams to VMS/NVR systems.
Allows to convert external HTTP and RTSP streams to ONVIF
Who is DeskCamera Ideal For?
DeskCamera is ideal for coffee shops, high-end restaurants, pharmacies, cash terminals, banks, supermarkets, exam/certification centres, Supervisory control and data acquisition (SCADA) terminals, and any industry that uses a Windows PC as a point of service or point of sale system.
How Much Does DeskCamera Cost?
The cost of running the DeskCamera solution is not publicly displayed. You can reach out for a quote.
ADS POS Camera System
The ADS POS Camera system, referred to as the OpenEye Lost Prevention Solution, is a software security solution that works along with security cameras to help protect the three parties involved in the purchase system; the business's inventory, employees, and customers alike.
With the solution, businesses can connect their security cameras with their Point of Sale (POS) systems.
How Does the OpenEye Lost Prevention Prevention Solution Work?
The OpenEye Loss Prevention Software works by linking security cameras and POS systems. All business terminals, security cameras, and the main server are linked up to provide data connectivity. With this, cameras are also installed. At the same time, the software brings together all the data, which makes searching for evidence an easy task.
It can be used across multiple terminals, cameras, and stores. The solution also comes with SaleGuard software, which gives business owners the ability to search for events by date, terminal number, or UPC codes. This helps properly track inventory and gives insight into products.
During a transaction, security cameras record footage, data is recorded from items scanned at the register, and authorized users can monitor footage using a particular date, employee number, or item.
How Much Does an ADS POS Camera System Cost?
ADS does not give a cost breakdown, but you can reach out for a quote.
Remote Eyes Video POS Integration Software
Remote Eyes video POS integration software is an IP-based video POS integration software transaction system that helps to track business processes and increase employee productivity. It is a solution by Odyssey Technologies, based in Maryland, USA.
It uses Internet Protocol network technology to jumpstart the serial data integration of products that are commonly used, like point of sale systems and even automated teller machines.
Remote Eyes uses Virtual Circuit Television (VCTV) to connect with an existing point of sale service equipment. With it, you can view and manage multiple locations remotely.
Remote Eyes is ideal for various types of businesses, whether they are convenience stores, drug stores, bars, or restaurants.
By using Remote Eyes' advanced POS/ATM integration software, you can connect your CCTV system with your POS to ensure easier access to control systems in a more reliable and cost- effective way.
Features of Remote Eye POS Integration Software
It is easy to set up.

It is cost-effective.
It enables you to track every event and transaction.
It offers real-time data collection.
Transaction filtering
It offers local database storage for up to 30 days.
One-click video archive search and retrieval
Extended Video Archive: With Remote Eye, you can store up to 540 days of continuous recording from your security cameras in your video archive.
It helps manage store operations: With daily operating reports, you can tell how much you sold, product costs, profits, and other meaningful operating data.
Manage from anywhere: By connecting to your security camera systems using broadband connectivity, you can see, hear, and receive data from your stores from any location.
How Much Does Remote Eye POS Integration Cost?
Contact Odyssey Technologies to get a quote today.
CCTV Camera Pros-Viewtron Surveillance System CCTV POS Integration
The CCTV Camera Pros-Viewtron Surveillance System's CCTV POS Integration is a combination of closed circuit TV monitoring system that comes with a POS integration which provides for Point-of-Sale text overlay with its security cameras, its hybrid security camera DVRs, and IP Camera NVRs (Network Video Recorders).
How Does Viewtron Surveillance System Work?
The Viewtron CCTV DVRs and Viewtron IP Camera NVRs support POS integration for text overlay. 
The integration allows store owners to overlay the text from their point of sale system over their security camera recordings. These surveillance systems are compatible with older analog CCTV cameras, HD-over-Coax security cameras, and network IP cameras. Our DVRs and NVRs are natively integrated with AVE, Optima, Hayley, and SAM4S POS systems. However, most other POS systems use a similar text format and will also work.
Features of Viewtron Security Camera DVRs for BNC and IP Cameras
Connecting your POS system with the Viewtron DVR security camera works by connecting the point of sale/ cash register to the same network as the network video recorder. This is done by connecting both devices to the same network switch or router with the use of a CAT5 or CAT6 network cable.
It can be integrated with cash registers and POS systems for retail stores.

The Viewtron security camera DVRs support analog CCTV, HD-over-Coax and network IP cameras.
It supports various camera resolutions such as D1, 960H, 720p, 1080p, 3mp, 4mp, 5mp, and 8mp/4K.
It supports motion detection, continuous, scheduled, and alarm triggering.
It comes with remote camera viewing system monitoring apps and software.
Features of the Viewtron IP Camera NVR (Network Video Recorders)
For the Viewtron NVR and IP camera, the point of sale/cash register is connected to the same network as the network video recorder. This is done by connecting both devices to the same network switch or router with the use of a CAT5 or CAT6 network cable. The IP camera can either be connected directly to the Viewtron NVR or connected to the switch.
Viewtron IP camera NVRs work with ONVIF compatible IP cameras up to 4K resolution.

The built-in Ethernet ports with PoE (Power over Ethernet) make installation easy.
Viewtron DVRs support the following video recording modes: motion detection, continuous, scheduled, and alarm triggered.
Person and face detection is supported.
Remote camera monitoring can be easily setup.
How Much Does the Viewtron Surveillance System CCTV POS Cost?
The cost of obtaining the Viewtron surveillance system is not specified as it is quote-based, but the company offers free shipping on all orders above $99.
The CCTV Camera Pros however scores high among users as it has a largely 5 star rating from reviewers. It also has an A+ rating with the Better Business Bureau.
Reach out for a demo and quote.
Conclusion
With many businesses today constantly battling shrinkage and internal fraud, the importance of having activities at the checkout point well documented for constant review and cross-check cannot be overemphasized. With POS cameras integrated into a business's closed circuit television monitoring system as well as video capturing software solutions, such fraud can be detected and promptly addressed, leading to savings in revenue. The POS camera and software reviewed  here are a good option to look at should you be considering taking this step. 
Author: Wale Ameen. Wale is a business journalist and editor with over six years of experience in business and technology reporting. He is the author of the book, Future Focus: Tapping into the Wealth in Digital, available on Amazon.
FAQs
Q: What does POS mean on CCTV?
A: In this instance, the point of sale system on CCTV simply implies that it is also connected to the same network as the DVR.
Q: Do POS Systems have cameras?
A: Android POS cameras can be used to take photos of items while typing, scan and identify files, recognize faces, and of course scan bar codes, including one-dimensional codes and two-dimensional codes.
Q: Do all IP cameras use ONVIF?
A: Not all IP camera models make use of the ONVIF technology. However, camera models made by Honeywell, Panasonic, Dynacolor, Sony, Samsung, Pelco, Bosch, Axis, HikVision, and Arecont Vision can be ONVIF compliant. It is also important to note that not all cameras by these companies are ONVIF compliant, so you'll need to check compatibility with the model you are considering.
Q: Can any IP camera work with any NVR?
A: Not all IP cameras are completely compatible with all NVRs . This is because each IP camera has its own user interface and camera options built into the camera itself.
Q: What is ONVIF on camera?
A: The term ONVIF  is a common term in the IP Video industry and it is an acronym for Open Network Video Interface Forum – a global forum and a global protocol that allows different surveillance and security devices from different manufacturers to operate together seamlessly. This is achieved by using a uniform set of standards across the board.