(Last Updated On: 08/15/2022)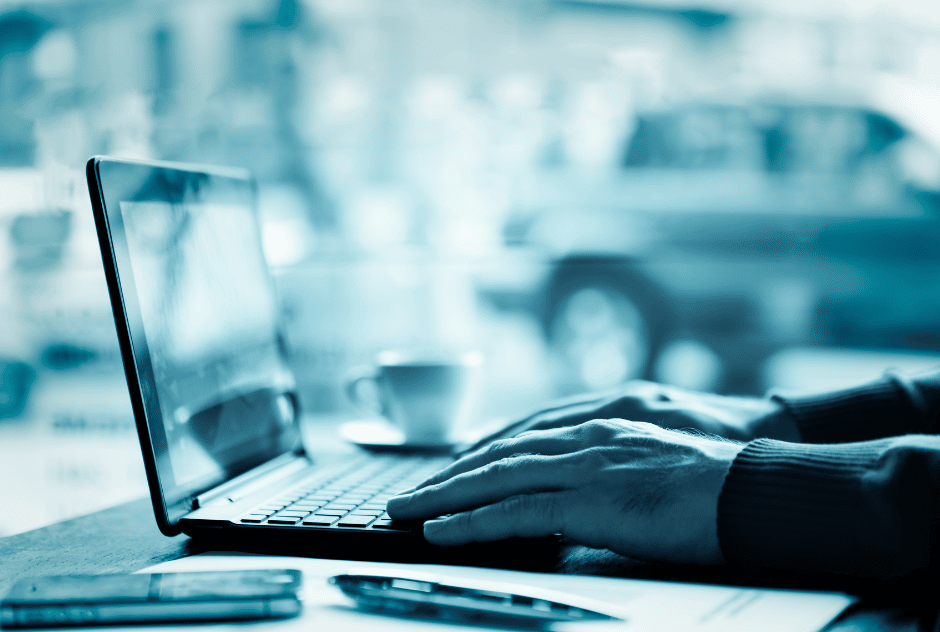 Hundreds of retail and service-based business owners have long recognized the need for an advanced POS solution. It's often something that proves to be vital for the growth and ease of management of their operation. 
Today, mobile POS systems (known as mPOS) seem to be the star of the point-of-sale scene. A fully functional mPOS system comprises of POS software installed on a mobile device, such as a smartphone or a tablet, with additional gadgets such as card readers or barcode scanners. The result is a portable, highly efficient checkout register that brings nothing but benefits for your business on the go.
Not all businesses would steer toward mobile POS systems, but it's a perfect solution for many niches, some of which are becoming increasingly popular. Therefore, learning more about POS for mobile business is the logical step to take. It's estimated that mobile businesses will continue to expand their presence in terms of market share, meaning that POS for mobile business will also become an important part of the POS industry. 
All the above is the aftermath of the changing world we live in today. The recent pandemic and several other factors have transformed the way we do business and interact with various operations. The need for mobility has been recognized by business owners across the globe. All of them would surely be interested in learning more about POS for mobile business. If you are one of them, you should keep reading, as we are about to take a closer look at the trends and benefits related to this point-of-sale type.
What Is a Mobile POS System?
The obvious point-of-sale solution for mobile businesses is mPOS. As mentioned above, mPOS systems have become extremely popular in recent years, as business owners began to recognize their advantages. Choosing a POS for mobile business will bring you all the functionalities of a traditional checkout, but with the benefit of being mobile, flexible, customizable, and easy to integrate with various other add-ons. 
What matters the most for mobile businesses in terms of client satisfaction is being able to serve their customers and accept their payments on the spot, using a portable, easy-to-use device capable of quick payment processing.
There are several great things about utilizing a POS for mobile business. For starters, you can use the software you already have. This, of course, depends on the POS vendor you choose, as some companies insist on selling you their proprietary hardware.
Having a fully functional POS system in the palm of your hand is a must for mobile businesses such as food trucks and mobile massage therapists, for example. 
How Does an mPOS System Work?
When it comes to POS for mobile business, there are plenty of similarities in the way these systems work when compared to traditional point-of-sale solutions. This is how mPOS systems work:
Making a sale

: Once the client chooses products or services, the person making the sale brings the mobile POS device they have at their disposal and initiates a transaction. This step may include scanning a barcode or a QR code.

Price calculation

: When you enter all the details related to the sale, the mPOS software will calculate the total amount the client must pay.

Payment

: The payment can be accepted in different ways, depending on the functionalities of the mPOS system and the preference of the customer. It may involve using a card reader. 

Transaction completion

: Once the client pays using their credit card or digital wallet, for example, the mPOS system will process their payment. A receipt may be printed if needed. Once the transaction is complete, the system will update your inventory and engage other functionalities if present.
Benefits of Choosing a Fitting POS for Your Mobile Business
Mobile businesses need a suitable POS system if they want to provide their clients with the best customer experience and make sure not a single sale is missed due to an inability to take their money. When you count on attracting every single client and try to retain them and turn them into a regular one, then you need a fully functional mPOS system that supports smooth and quick transactions. Having such a point-of-sale solution will provide your business with:
Flexibility

: Running a mobile business requires you to be as flexible as possible, meaning that you will need a POS system that combines all the functionalities you need with the easiest and fastest checkout process possible. The best mPOS system for you will allow you to reduce waiting time while giving you all the tools to manage your operation easier and faster. Being able to update your inventory and not keep a client waiting is one of the benefits of having a suitable POS for mobile business.

Mobility

: This is the primary advantage of mPOS systems. Running a mobile business will require you to ditch the traditional checkout counter and replace it with a portable device capable of accepting and processing payments in seconds while giving you a complete toolset typical for any classic checkout. 

Security

: There's no doubt in the fact that secure payments are just as important to customers as they are to business owners. This is why mPOS systems are a good investment: they offer data encryption and PCI compliance. Such features are enough to protect payment information from getting lost or stolen.

Ease of use

: Your new POS for mobile business may be compatible with your existing hardware, meaning that it would be a breeze to use it. Even if you need to opt for the POS vendor's branded hardware, it would still be easy for you and your clients to interact with the interface of popular operating systems such as Android and iOS.

Scalability

: mPOS systems are highly scalable and allow you to add new checkouts easily and quickly. This is important for mobile businesses, as they could expand rapidly or increase the volume of their operation if it's a seasonal gig, for example. This is why having a proper POS for mobile business is a must: it will reduce costs while giving you all the opportunities for growth you'd need.

Easily customizable

: Having the means to customize your POS system is important, especially if you're running a mobile business. Adding different features or plug-ins and having several settings allowing for a faster checkout process can be crucial for your business growth. 

Reporting

: Except for a smooth checkout process, your POS for mobile business will let you enjoy a variety of tools. You will benefit from automated processes such as reordering, inventory management and updates, client profiling, data collection aimed at creating successful loyalty programs, and more. 

Better customer experience

: All in all, a suitable POS for mobile business will help you deliver your services and sell your products in the best possible way. Your clients will not be interrupted or forced to wait. Instead, they will receive more attention from you and will be provided with a quick, seamless checkout process. This results in the ultimate customer experience that will make your clients come back.

Various payment options

: This is an important aspect of mPOS systems, as it will allow you to be as competitive as possible. When it comes to payment methods, a modern POS for mobile business will guarantee you never miss a sale by being able to accept all popular types of payment. This includes credit and debit cards, gift cards, mobile wallets, and more. It all depends on the particular POS system you decided to go for, of course.
What Hardware Does a mPOS Need to Work?
The primary device you need to run your POS for mobile business is a portable gadget such as a smartphone or a tablet. Still, some point-of-sale vendors might require you to use their proprietary mobile device or a small terminal. However, there are cases when your operation might require additional hardware to function as it should. Let's take a look at the additional devices you could use as part of your mPOS system.
Card reader

: Using a card reader is a must for most mobile businesses, as they need to be ready to accept card payments. Cards with magnetic strips are still widely popular, meaning that people use them often.

Scanner

: Barcode and QR scanners are among the possible devices mobile business owners might need, depending on the type of their operations. The barcode scanners you could opt for are all wireless, meaning that using them is convenient on the go. Of course, some POS solutions will allow you to use the primary device's camera to scan barcodes and QR codes.

Printer

: Being able to print receipts is usually important for mobile businesses. If you need one, you will be glad to know that most mPOS systems are compatible with third-party printers.

Cash register

: Having a cash register is a must for some mobile business owners (food trucks, for example). Many clients still prefer to pay cash for the services or products they take advantage of, including when they are on the go.
Types of Mobile Businesses That Need a mPOS Solution
There are plenty of mobile businesses in need of a fully functional POS system that would give them the competitive advantage they need to thrive. There's no wonder that POS vendors are considering the needs of mobile business owners more than ever. Movers, handymen, food trucks, landscaping engineers, mobile beauticians and massage therapists, plumbers, and dozens of other operations require a quick and reliable point-of-sale solution. This is where POS for mobile business comes in handy, literally speaking.
All of these businesses prefer mPOS systems for their speed, convenience, affordability, and flexibility. Here's a brief outlook on the types of operations that need a suitable POS for mobile business: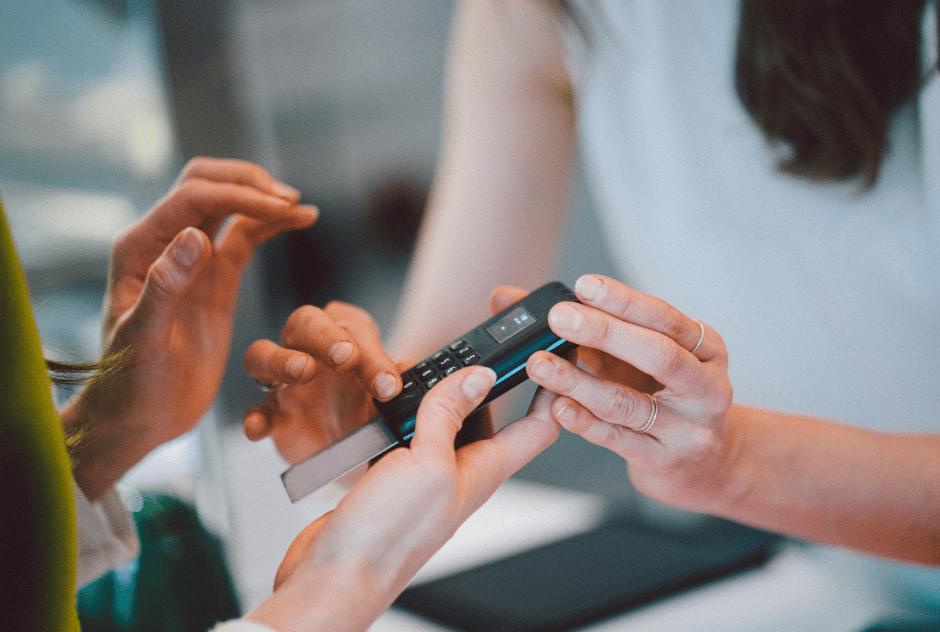 1.Retail operations
Retail businesses are not only limited to stores and kiosks. There are thousands of sales representatives that are constantly on the go, selling all kinds of products. If they want to make a sale, they would surely need a handheld POS system. This is a fitting solution, as it would also allow salesmen to gather important data related to loyalty programs.
2. Street food vendors
Every fast food kiosk or food truck needs to have a portable POS system for accepting payments fast and on the go. If you're part of this industry, the right POS for mobile business will allow you to switch locations whenever you please.
3. Taxi drivers
Classic taxi companies and their modern competitors, such as Uber need POS terminals to be flexible enough to never lose a client. They often opt for POS for mobile business, as it is often a low-cost way to accept payments quickly.
4. Service providers
Specific services such as event photographers, plumbers, and handymen also need a portable POS solution. They can benefit from all kinds of add-ons and integrations, such as accounting software.
5. Fair and Market attendees
Many brands decide to organize promotions and temporary shops on the street or in a shopping mall, for example. They also attend trade shows, markets, and fairs, hoping to make sales on the spot. This is why they would need an affordable, efficient, and easy-to-use point-of-sale system. Having a POS for mobile business would be the best option in this case.
What Should You Look for When Comparing POS for Mobile Business?
The right mPOS solution for your mobile business needs to cover the blend of requirements and preferences you have. This is why you need to opt for a feature-rich POS for mobile business that has every tool you'll ever need. We'll mention some of the features to look for when you are on the hunt for the ultimate point-of-sale system.
Compatibility

: Your new POS for mobile business should be compatible with various third-party software and hardware, as you might need to integrate it with something extra.

Inventory management

: To make the most of your POS system, you need to make sure it has all the features to track and update your inventory while you're making sales on the go. This will help you manage your operation easier and quicker.

Flexibility

: You never know when you'll need to add more checkouts to your operation, meaning that the POS for mobile business you invest in needs to be capable of supporting numerous terminals at one.

Customizable interface

: There are POS systems that allow you to create a custom checkout interface that completely suits your needs.

Employee management

: This is an important part of the tools your POS for mobile business must have. Being able to organize permissions, roles, and schedules while monitoring your employees is a must. 

Omnichannel support

: Your mobile business obviously needs a specific POS system, but if you decide to extend it and add another location or an online store, for example, you would need a feature that combines the management and reporting tools for multiple checkouts.
POS for Mobile business: The Top 3 Vendors
| System | Lightspeed | Square | Clover |
| --- | --- | --- | --- |
| Pricing | Payment processing starting at 2.6% + $0.10 per transaction, software costs starting at $69/month | No monthly fees for basic software, 2.6% + $0.10 per transaction fee | Free monthly plan for payment processing only, 2.6% + $0.10 transaction fee |
| Top Feature | Robust analytics and customer loyalty tools | Extremely accessible and easy to use | Fully customizable with many integrations |
Finding the ultimate POS for mobile business requires a lot of comparing, but it starts with setting your priorities straight. You need to consider all the important aspects of your business before you invest in a POS system, but you also need to stick to your budget. The good news is that mPOS systems are affordable and most of them will allow you to use your existing hardware.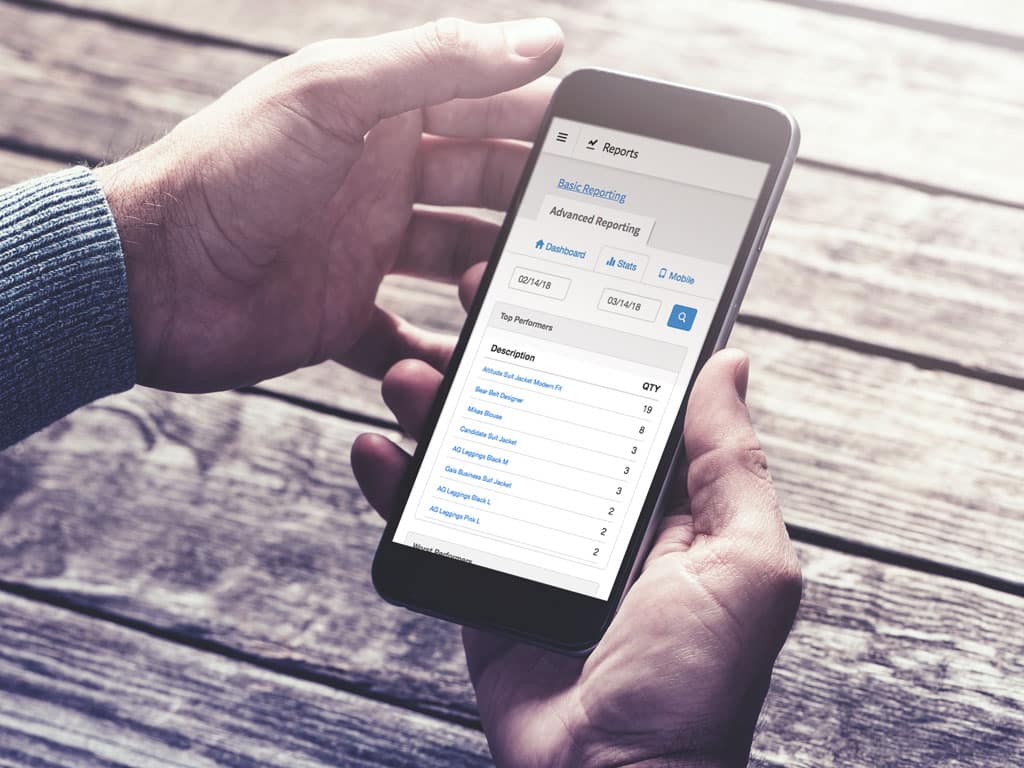 Lightspeed is a popular POS solution that many restauranteurs and retailers have invested in. Still, it's also a fitting POS for mobile business. The reason for that is simple: this point-of-sale solution has all the features you will ever need while on the go, including e-Commerce integration, reporting tools, inventory and order management, employee management, CRM, and omnichannel support.
Of course, not all the features listed above are available with the basic plan. You would need to opt for a higher plan if you want all the advanced features and that will cost more, but it's worth it in the end. The basic plan is priced at $69.
Lightspeed works great when installed on an iPad, which happens to be a popular device used by mobile businesses. Using this combination will let you accept payments anywhere and at any given moment. Since it's quick and very easy to use, you will avoid long waiting lines and your clients will be happy to report the best customer experience. 
When you're searching for the best POS for mobile business, you will probably bet on an advanced system with excellent reporting capabilities and an intuitive interface. Lightspeed is all of that, but it's so versatile that it can also be used as a desktop checkout system.
Lightspeed has its own payment processor, too. Lightspeed Payments will cost you as low as 2.6% + $0.10 per transaction. Depending on your sales volume, this could either be a high rate or a very good deal. If you want to use Lightspeed's POS software but you are not happy with the processing rates, you can always opt for a third-party payment processor. This will result in extra monthly costs.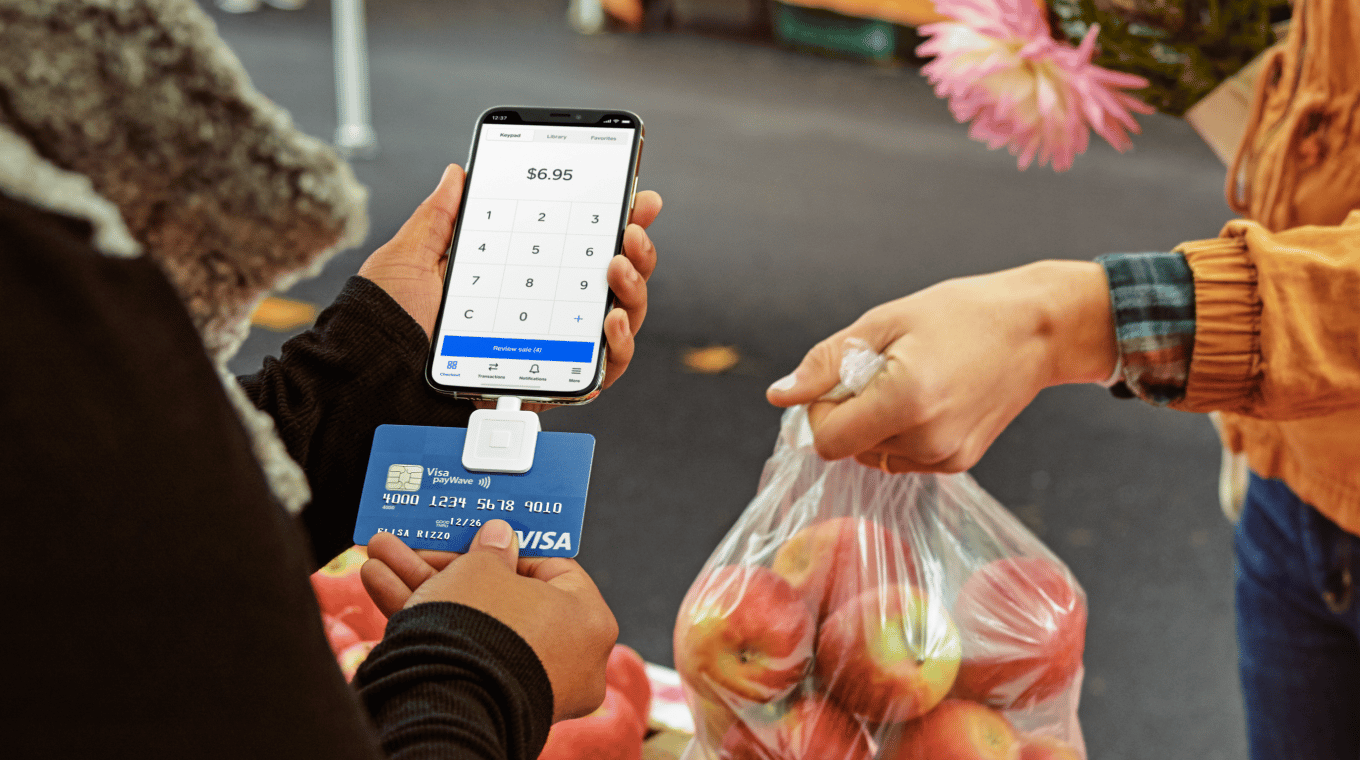 Square is a popular name in the POS sector for all the right reasons. This point-of-sale vendor offers suitable solutions for retailers and restauranteurs, meaning that it also offers reliable POS for mobile business. The variety of features and the system's versatility make Square a trusted partner. There are plenty of free integrations, too, which makes things even better.
When you opt for Square's POS for mobile business, you will get the chance to use the basic software for free. Not only that, but you'll also receive a free card reader, in case you need one. There is an even better device available at $49 – it has a built-in EMV/NFC reader. While you can keep your existing hardware, you can also opt for Square's proprietary terminal, priced at $299.
The simple interface and seamless integration, alongside the flat-rate processing and the variety of additional hardware options, make Square a preferred POS partner. The above-mentioned toolset is one of the main reasons for Square's POS for mobile business, of course. On the downside, this point-of-sale solution may be too costly if your sales volumes are relatively high.
When it comes to pricing, Square mPOS requires no monthly fee. You'll need to pay 2.6% + $0.10 per transaction.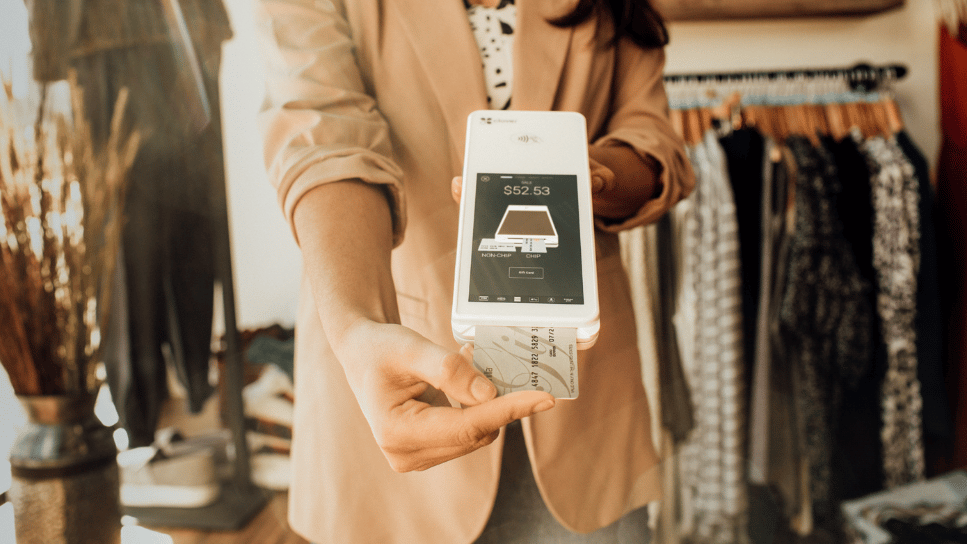 Clover is another widely popular POS provider offering a variety of hardware options to choose from, including Clover Mini, an Android-based unit that has a complete set of features suitable for every mobile business. This POS solution is fully customizable and integrates effortlessly with several plug-ins and add-ons, creating the specific solution you've been looking for.
Plus, it's roughly the size of an iPad, meaning that it would serve well as a POS for mobile business. It integrates well with e-Commerce platforms, too, meaning that you could combine your mobile operation with an online store, for example. The only negative aspect is the price. Clover Mini will set you back $749.
You can always opt for Clover Go instead. Choosing this POS for mobile business will allow you to take advantage of a mobile card reader that can easily sync with your existing hardware. Such a setup is more affordable and would probably suit your small or medium-sized business. Clover Go can accept payments through EMV and NFC technology, and it has a printer and a barcode scanner as well. 
In addition to the feature-rich POS solutions supplied by Clover, you can benefit from additional ones from Clover's own App Store. You can opt for a free monthly plan with a processing rate of 2.6% + $0.10. The rates can be lower if you choose a higher paid plan, and this is also the way to access all the additional functionalities. The $0 per month plan is for payment processing only.
The Conclusion
The advantages of mPOS systems are too many to list, but even mentioning the most important ones is enough. Mobile point-of-sale solutions will help you set up a new location fast, meaning that your workflow will not be interrupted if you switch locations daily. Plus, it will also allow you to reduce queues, offer quick and easy payment to your clients, and achieve higher security levels. 
The most appropriate POS for mobile business will also help you achieve greater efficiency and reduce costs at the same time. This is extremely important for all operations on the go, as keeping costs low is crucial for most of them. 
Your mobile POS system will quickly prove to be more than just a system for accepting payments. It is one of the ways to earn a competitive advantage and create the means to manage your entire operation with a lot less effort. 
Last, but not least: all the benefits of having a POS for mobile business are usually affordable. Most mobile businesses and startups prefer to have a low initial investment. This is another reason why you should think about selecting your specific POS for mobile business.
Author: Written by Martin Nikolaev. Martin has 5+ years of experience in reviewing various tech gadgets, FinTech solutions, crypto markets and products, and all IoT-related products. 
FAQ
What devices can you use for running a mobile POS system?
You can either use your existing hardware or opt for the POS vendor's proprietary devices, but it all depends on the point-of-sale system you choose.
How expensive is running a POS for mobile business?
The initial setup of most mPOS systems costs next to nothing, but the monthly fees and the payment processing fees depend on the functionalities you want to have.
Do you need additional devices to run a POS for mobile business?
Yes, most mobile businesses need additional devices to deliver their products or services the way they should. Additional peripherals include barcode scanners and printers.
How can you find a fitting POS system for your mobile business?
Before you compare the systems POS vendors have to offer, you need to prioritize the specific needs of your operation, compare them to the features of the POS systems you chose to learn more about, and consider your budget.