(Last Updated On: 02/12/2023)
Written by Software Expert Hamza Shahid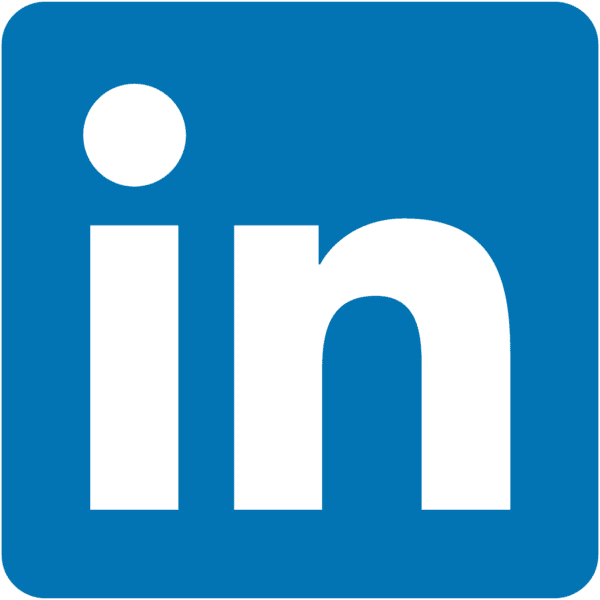 Affiliate Disclaimer: Our product review team dedicates hours of research, fact-checking and testing to recommend the best solutions to business owners. We earn from qualifying purchases through our links, but this does not influence our evaluations. Why trust our reviews?
Ice cream shops, coffee shops, and numerous other small and medium-sized retail and hospitality businesses all have something important in common. They need the most flexible POS system possible because it would provide them with the mobility and easy-to-use interface they need. This is why such point-of-sale solutions are usually cloud-based and compatible with specific or all mobile devices, such as smartphones and tablets.
A modern POS for ice cream shops is capable of a lot more than just purchase price calculation and accepting payment. It would improve customer experience and optimize several processes behind the counter, reducing time, effort, and expenses. This results in greater customer satisfaction and higher profits: a true win-win situation.
Our Experts' Choice
Toast POS System

The best ice cream shop POS system is Toast. Toast POS offers:

Inventory Management

Order Management

Real Time Reports

Customizable Menu

Contactless Payments
Best POS System for Ice Cream Shop – Overview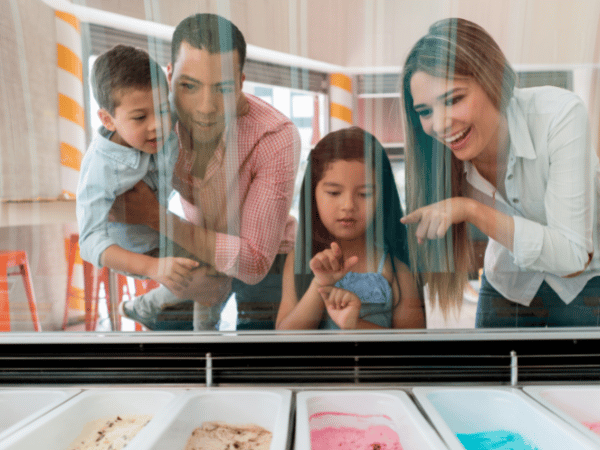 Many businesses depend on quality service and smooth customer experience to survive. Ice cream shops are a good example of that. They operate in a highly competitive field and rely on two major aspects of their work: quality products and superb service. If you run such a business, then you know you need a specific POS for ice cream shops to use your full potential and retain your clients.
Since most ice cream shops are small businesses, they share common managerial challenges, including distribution hiccups, inventory irregularities, slow checkout that creates queues, and more. This results in fewer customers and, respectively, lower profits. You can escape such fate by utilizing a suitable POS for ice cream shops.
How We Evaluated
The market is flooded with ice cream shop POS systems, and choosing the right one can be a challenge. To come up with the top 2 best ice cream shop POS system, I reviewed dozens of  POS systems on Capterra, G2, and Trustpilot based on their features, pricing, and pros and cons.
Top 2 Ice Cream Shop POS System 
The ease of use of cloud-based POS systems is just as important as the plethora of features they have. All you need to do to access them is use a web browser and have a device to install your app on. Still, the variety of POS vendors you can choose from and your specific requirements and needs mean you must choose wisely and leave no room for compromise.
When you set your eyes on a particular ice cream shop POS software, you'd need to check out the background of the company that developed it. Reading client feedback and possibly trying out the software for free are important steps to consider. After all, you're investing in a service with several aspects and features, and you would like to make the most of that investment.
If you manage to find the POS for ice cream shops that meets every last need you might have and fits your budget, then it's all a matter of reputation. If the POS vendor checks out, then you should be good to go. We'll share a couple of examples of popular point-of-sale vendors that offer fitting solutions for small and medium-sized retail and hospitality businesses.
To help you make the best decision for your ice cream shop, we've rounded up the best 2 ice cream shop POS systems. Let's jump right into the reviews. 
A flexible POS system, Toast POS is designed exclusively for restaurants and food service businesses. The solution helps restaurant operators adapt quickly and take control of changing industry trends and guest expectations by providing tools such as online ordering, delivery, takeout, mobile apps, contactless payments, and e-gift cards.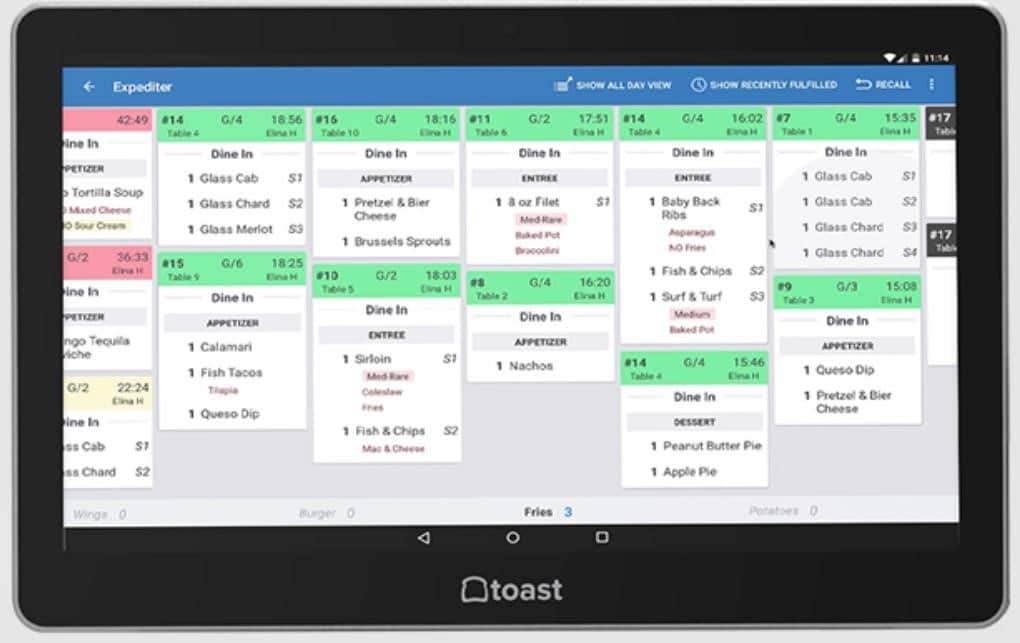 Toast POS provides users with access to restaurant data from anywhere, on any mobile device, as a safe and secure cloud-based platform. Restaurant management can identify ways to save money, highlight best-selling menu items, and much more with its powerful reporting and analytics suite.
It helps ice cream shop owners streamline inventory management and operations by allowing users to update menus, such as daily specials, from any Toast terminal or mobile device using the Toast app. The Toast Go tablet allows servers to complete payment processing and tableside ordering at the restaurant. In addition to tracking bar tabs and looking up drink recipes, Toast users can use this POS solution to improve the overall customer experience. There is also a Toast Kiosk available for diners to self-serve.
Using Toast's Payroll and Team Management product, ice cream shop owners can track time, approve employees, and manage employees in a seamless manner. By reducing the need for additional software vendors, ice cream shop owners can save money. In addition to automating standardized gratuities, Toast's POS system can increase employee morale among shop / restaurant employees.
Read: Toast POS Review
Salient Features
API

Access Controls/Permissions

Accounting Integration

Activity Dashboard

Alerts/Notifications

Barcode / Ticket Scanning

Billing & Invoicing

Built-in Accounting

Cash Management

Commission Management

Credit Card Processing

Customer Accounts

Customer Management

Customizable Branding

Customizable Reports

Data Import/Export
Pros
Online ordering tools and hardware options make it easy to take orders in any setting.

Reporting features and multi-location support are included in the software.

All pricing levels include 24-hour customer service.
Cons
Requires a long-term contract
Why Choose Toast? 
Toast would provide you with a rich set of features and tools capable of handling every aspect of managing your ice cream shop. Using Toast's ice cream shop POS software, you will be able to control all aspects of your business and apply changes whenever you want to. What's even better is that you could monitor everything using a single mobile device.
Toast Pricing
Toast Software Price
Starter: Free or $69. This basic plan includes one terminal, payment device, and terminal. It does not include online ordering or staff management features. You can choose from no monthly payments and higher processing fees, or $799 upfront and $69 per month with lower processing fees. By choosing the latter, you'll pay a half-percentage point less per swipe than if you choose the latter.
New Restaurant Basics: $140 per month. There are no online ordering services included in this plan. Hardware, installation, and payment processing costs are custom in this plan.
Essentials: $165 per month. The Essential plan adds digital ordering, delivery services, and access to Toast's takeout app to the Starter plan. It excludes staff management tools and hardware installation costs.
If you choose not to use the pay-as-you-go plan, you'll also have to pay for the hardware. You can explore the hardware bundles on Toast's website. Keep in mind that the bundles start at $799. If you decide to open another terminal, you can add as much hardware as you need. To explore more, reach out to Toast for a free quote here. 
There are a number of good reasons why Clover Point of Sale is a major player in its industry, even though Clover POS reviews are mixed at times. On the surface, Clover POS systems are more intuitive and easy to learn than any of Clover's competitors. I would be looking for this kind of interface if I were a small business owner just starting out. In addition to offering a variety of hardware and software options for any type of business, Fiserv-owned Clover also allows you to upgrade if your business expands.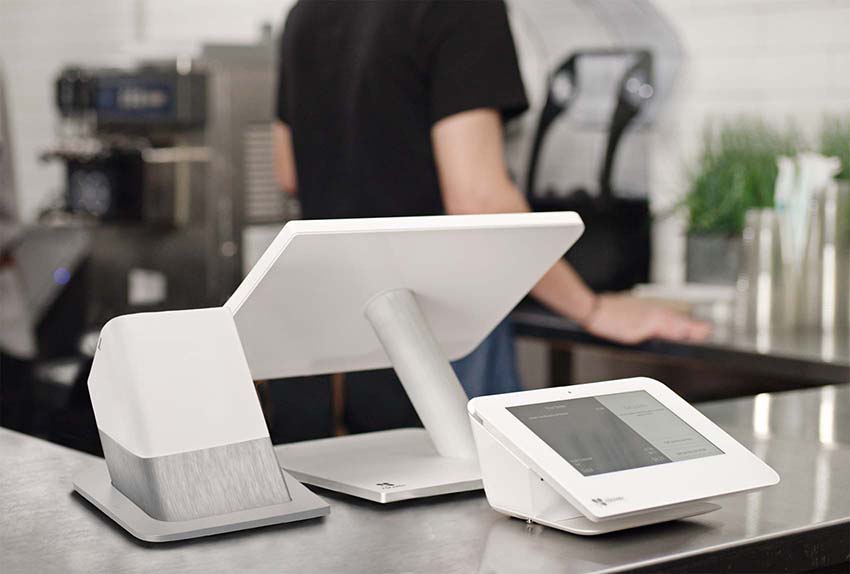 When combined with Clover's App Marketplace apps, this POS system becomes a powerful tool. On its own, it has a very limited set of capabilities, but that's a bit misleading. Most of these apps are free or can be purchased for a small fee. They allow you to manage employees and customers, track inventory, generate and view reports, and monitor your revenue stream.
Read: Clover POS Review
Salient Features
ACH Payment Processing

Access Controls/Permissions

Accounting

Activity Dashboard

Appointment Management

Juice barcode / Ticket Scanning

Juice barcode Recognition

Billing & Invoicing

Cash Management

Commission Management

Credit Card Management

Customer Accounts

Data Security

Delivery Management

Discount Management

Electronic Payments

Electronic Signature

Employee Management

Feedback Management
Pros
Payment processing at competitive flat rates.

A well-designed and well-performing piece of hardware.
Cons
Pricing can be tough to understand
Why Should You Choose Clover POS? 
Clover would give you the mobility you need. As a POS for ice cream shops and similar operations, the system can handle pop-up shops and mobile ice cream trucks. Instead of waiting for clients to come, you can bring the shop to them. This point-of-sale solution is fully functional while on the go.
The system has a complete set of tools allowing you to take care of your inventory. Ice cream shops involve a lot of products with short expiration periods, meaning that a well-planned inventory is a must. While updating your inventory, Clover will handle promotions and rewards thanks to Clover Promos, a special feature meant to help you retain your clients and make them visit your ice cream shop again. The system can organize promos that you can send to your clients in various ways.
Clover Pricing
Clover POS pricing starts at $9.95/month for basic POS services. The more advanced packages go all the way up to $69.95/month.
Credit Card processing fee: In-person transactions are charged 2.3% + $0.10, and card-not-present transactions are charged 3.5% + $0.10.
Hardware Cost: Clover has many hardware options that range from a few hundred dollars up to over $1,000 dollars. Clover hardware can be purchased directly on their website, but we've found that it's sometimes more cost efficient to browse their hardware on Amazon. 
To learn more, get a free quote from Clover.
Buyer's Guide:
Why Do You Need an Ice Cream Shop POS System?
The benefits of having the best POS for ice cream shops don't end with customer satisfaction. Using such a system will enable you to organize your inventory and plan better. It will also track employee hours and performance while it gathers client information you could later use to create loyalty programs. In the text below, we'll explore the structure of ice cream shop POS software and pinpoint its benefits and advantages.
The right ice cream shop POS software for your particular operation will allow you to serve your guests as quickly as possible and provide them with a seamless checkout. Getting ice cream should always be a pleasurable activity and any delays would result in a mediocre customer experience. This is the last thing you'd like, which is why you need a fitting POS for ice cream shops. Such a system will streamline your whole operation and make it as efficient as possible, increasing your performance.
How to Choose the Best POS for Ice Cream Shops
There are several aspects of your business to consider when you decide to invest in a POS for ice cream shops. The first one should be the size of your operation and the number of terminals you would need. There might be specific tasks and challenges that need to be handled, meaning that your search should start with setting your priorities straight. 
The next important step is to consider the hardware you'd need. Some ice cream shop POS systems may turn out to be compatible with your existing devices, thus reducing your initial investment. Many of the point-of-sale solutions ice cream shops use are compatible with iPad. This is a great option, as iPads are reliable and easy to work with. Other vendors prefer to offer proprietary equipment. It all comes down to price and compatibility.
When you compare what several POS vendors have in store, you must also check out their contract terms. Sometimes, complicated contracts hide details that you're likely to miss when signing. The simpler the contract is, the better for you. Terms matter, too, as you could always find a better deal eventually and switch to another POS provider, but only if the contract allows you to do so. Make sure you also read all about the possible additional details related to using third-party add-ons or payment processors, for example. This might save you costs you don't want to pay.
Speaking of costs, your new POS for ice cream shops needs to be as affordable as possible, or at least meet your budget. You should check out not only the monthly payments but also processing and service fees and hardware prices.
If you have an opportunity to test the system for a free trial period, then you should grab it. Even if the POS system for ice cream shops you intend to buy is the perfect fit for your business on paper, things may be different when you put it to the test. You need to make sure it's fast enough and just as easy to use as you expected it to be. It must offer an intuitive interface that would require little to no training. Having a system that's flawlessly designed and a breeze to use means that you wouldn't have to waste valuable time dealing with potential problems and employees who can't handle the system menu.
Key Benefits of Investing in POS for Ice Cream Shops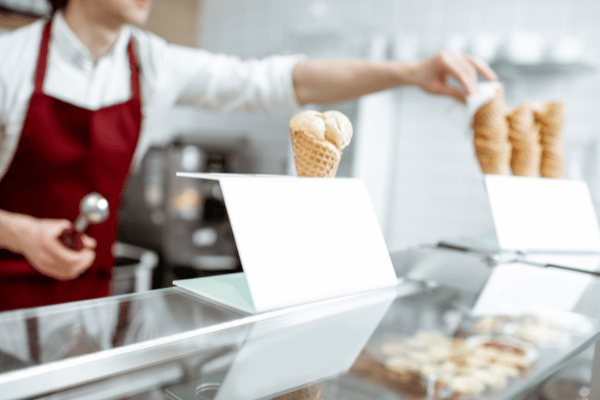 There are dozens of benefits you could enjoy if you play your cards right and select the most appropriate ice cream shop POS software for your specific operation. For starters, your advanced point-of-sale solution will tell you everything about the current product demand at your locations. This is possible thanks to real-time reporting of sales patterns. Knowing what sells well is key, as it would allow you to focus more on your price policy, menu changes, appropriate supply chains, and more.
Another major benefit of investing in POS for ice cream shops is cutting down costs. The system will help you avoid unnecessary expenses, allowing you to maximize your profit. Plus, it will take a lot of weight off your shoulders from a managerial point of view.
A cloud-based POS for ice cream shops is usually easy to integrate with third-party software, allowing you to customize your system or take advantage of useful accounting software, for example. Better yet, the system would also allow you to run multiple locations at once and monitor their inventory and sales results, either as a whole or individually.
In terms of business image, your operation will benefit from introducing a modern, mobile, and flexible checkout service that's different from the classic checkout layout. The latter includes servers, checkout devices, and a plethora of peripherals. With the proper POS for ice cream shops, your business will boast a presentable and, what's more important, a lot smoother and faster checkout process. 
All the above leads us to one of the biggest benefits of running your ice cream shop the right way: retained clients. Your main goal should always be to make a great first impression and provide your guests with the kind of service that'll make them want to come back. With the right ice cream shop POS software, you will be able to welcome your clients and provide them with the highest customer satisfaction. Better yet, you will also be able to gather all the information you need to present them with special offers and include them in loyalty programs based on their previous purchase history and specific preferences.
Important Features and Aspects of POS for Ice Cream Shops
It has already become apparent that choosing an ice cream shop POS software is not easy, as it takes a lot of consideration and careful comparison. There are tons of features to look for. Let's check out some of the must-have ones, as well as the important aspects of the perfect ice cream shop POS software for your business.
Inventory tracking and management: One of the most important features to look for when searching for the best POS for ice cream shops is inventory tracking and management. This is the functionality you need if you want to be constantly aware of all your stock quantities. The system will alert you if you are close to overstocking or when you're low on certain products. You could also set it to automatically reorder what's needed at the moment. Your inventory will be updated after each sale. In short, inventory management is a feature that will save your time, effort, and money, as it will help you avoid overstocking and allow you to concentrate on your best selling products instead.
Pricing: It's not necessary to opt for the most expensive POS system. In fact, you need to be careful not to exceed your budget. Chances are, the right point-of-sale software that would cover all your needs would also be affordable. When it comes to retail and hospitality cloud-based POS solutions, there are several great options to choose from.
Processing fees and additional costs: The initial investment is one thing, but processing fees are a different story. Having no gateway fees and low processing fees is important if you want to keep costs low, especially for ice cream shops where most individual sales are worth a couple of dollars each.
Offline mode: A must-have feature for all cloud-based ice cream shop POS systems is offline mode. This is a huge advantage, as it allows you to accept payments even when there's no internet connection. It will allow you to never miss a sale and, what's even better, your clients will never be bothered by such a problem, as they will never detect it. While in offline mode, POS systems function in the same way as usual, but they store the payment information and other details and process it once the system is back online.
Third–party integrations: Integrations matter a lot when you need a flexible POS system. This is why you need to be certain that the POS for ice cream shops you decided to choose can integrate with various software and hardware. Ideally, it would integrate with the accounting software you selected. Having such an add-on is helpful, as it would automatically process all the information it needs to do your taxes, for example.
Customer support: Having reliable customer service support is essential when you invest in a POS for ice cream shops. The POS vendor needs to guarantee 24/7 support, preferably through live chat or phone. This will help you get out of sticky situations, in case an unexpected issue occurs with the software. As a result, your operation will not stall for a long time.
Real-time reporting: This is a functionality that will help in more ways than one: by tracking your sales and monitoring the performance of your employees. Plus, the system will be able to calculate work hours, rates, and additional costs. When you access the real-time sales reports, you will also see potential weak points to clear and increase your profits by doing so. 
Payment processing options: A POS for ice cream shops must be able to accept as many payment types as possible, including cash, credit and debit cards, digital wallets, gift cards, etc. Clients are beginning to realize how easy it is to pay using their phones or contactless cards, meaning that you need to be able to provide them with the means to do it. 
Cash management: Since we mentioned cash payments, we need to mention that, in case you accept cash payments, you must check the compatibility of your existing cash drawer with every POS for ice cream shops you set your eyes on. The ideal POS software for your operation will be compatible with the hardware you already have.
Enterprise management suite: If you run several locations at once, then you'll need to opt for an ice cream shop POS system that has the toolset to sync all of them. Being able to have centralized control over all your retail spaces using a single POS system is a great advantage. It will give you access to individual reports, meaning that you will be able to compare their performance and spot mistakes easily. Plus, you will get to monitor price consistency across all locations.
Online ordering: If you're working with third-party food delivery companies or you've set up an online ordering platform, then you'll need the kind of POS that has this type of functionality. This feature is also important for transferring data to your CRM, in case you use one. 
Menu management: With the right POS for ice cream shops, you will be able to alter menus when you need to. If you notice that some items on your menu are not great performers, you can easily replace them. If your POS system can handle multiple locations, you will be able to arrange different menus for each retail space you run. 
Sales data analysis: Being able to access analytical reports based on sales history data is a great competitive advantage to have. It will allow you to monitor your revenue and make adjustments if needed. Being able to measure your success and compare the performance of different items on the menu is how you can steer your operation to success.
Customer behavior analysis: Your sophisticated POS for ice cream shops will collect valuable information about your clients and their interactions with your business. This information includes order history and personal information. Based on an extended analysis of everything collected, you will be able to organize successful marketing campaigns, loyalty programs, and more. Being able to identify your clients' preferences and studying their purchasing habits is a great advantage to have.
Expiration levels control: This is an essential feature to have, as running an ice cream shop is directly related to purchasing products with short shelf life. This means that your POS solution needs to monitor and handle frequent reordering of products by keeping track of expiration dates from the moment the products and ingredients enter your inventory. The system can be set to remind you when you're running low on a particular product or when its expiration date is near.
Kitchen management: If you prepare the ice cream you're selling on the spot, then you need several tools to monitor the process of ice cream making. This is very important for companies with numerous locations, as they would easily control supplying all of them based on their specific needs at any given moment.
Final Thoughts
Thanks to choosing the right POS for ice cream shops, your business will become easier to manage and a lot more profitable than before. Such a system will optimize all processes within your company, including inventory tracking, time management, reporting, supply chains, and more. By analyzing performance and sales history, the system will also help you improve your entire operation and create a successful strategy. 
Best of all, a proper ice cream shop POS system would contribute to the superb customer experience your clients would enjoy by ensuring a fast and seamless checkout process. Being able to retain your clients and learn more about their personal preferences thanks to the variety of data collection and processing tools is essential for the growth of your company.
The best ice cream shop POS system will bring a ton of benefits for both your employees and clients. Faster billing equals happier clients and higher profits, and that's what you should strive for. Toast and Clover are both great options for ice cream shop owners to consider. If you're ready to start churning up the next level of sweet success with your ice cream shop, get a free quote from Toast here or a free quote from Clover here. 
Frequently Asked Questions
What type of POS do ice cream shops need?
The best POS for ice cream shops is very similar to all specific restaurant and hospitality point-of-sale solutions, but often features additional functionalities, such as expiration date reminders.
What are the key features of a proper POS for ice cream shops?
The most important features of an ice cream shop POS system include menu management, real-time reporting, and third-party integrations.
What should you consider before investing in a particular POS for ice cream shops?
Before going for a certain POS vendor, you need to consider all your specific requirements, your budget, and the scale of your business.
Do you need a specific POS for ice cream shops to integrate with multiple locations?
Yes, you need to find an ice cream shop POS system with an enterprise module allowing you to control multiple locations through centralized point-of-sale software.