(Last Updated On: 02/12/2023)
Affiliate Disclaimer: Our product review team dedicates hours of research, fact-checking and testing to recommend the best solutions to business owners. We earn from qualifying purchases through our links, but this does not influence our evaluations. Why trust our reviews?
Written by Software Expert Hamza Shahid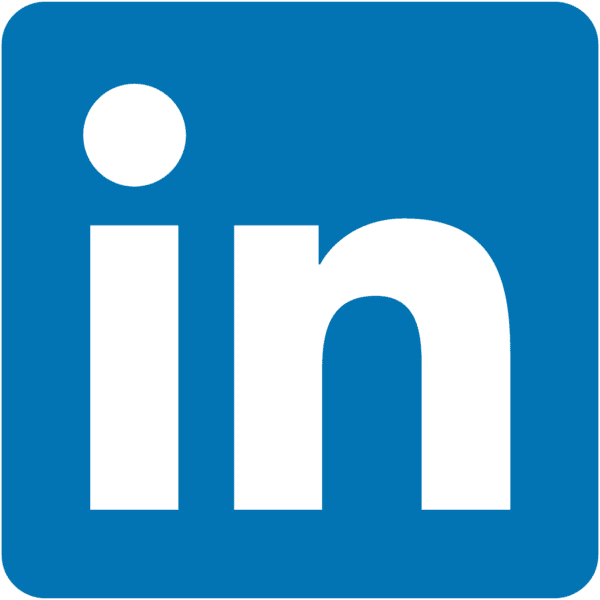 Bevo POS is a restaurant and hospitality point of sale (POS) system by Benseron Hospitality. The solutions are suited for a vast array of businesses, including bars, clubs, bakeries, pizzerias, yogurt shops, and all types of niche industries. 
You may also be interested in:
Discover the Best Restaurant POS System | 25 Systems Reviewed
10 Best Pizza POS Systems in 2022 to Maximize Profit Margins
8 Best POS System Options for Retail Business Owners
Bevo POS 
Software Overview

Pricing: Fair

Features: Good

Customer Service: Good

Complaints & Testimonials: Good

Integrations & Add-Ons: Fair

Reviews: Good
Don't have time to read this whole review? Skip ahead to: 
Bevo POS – An Overview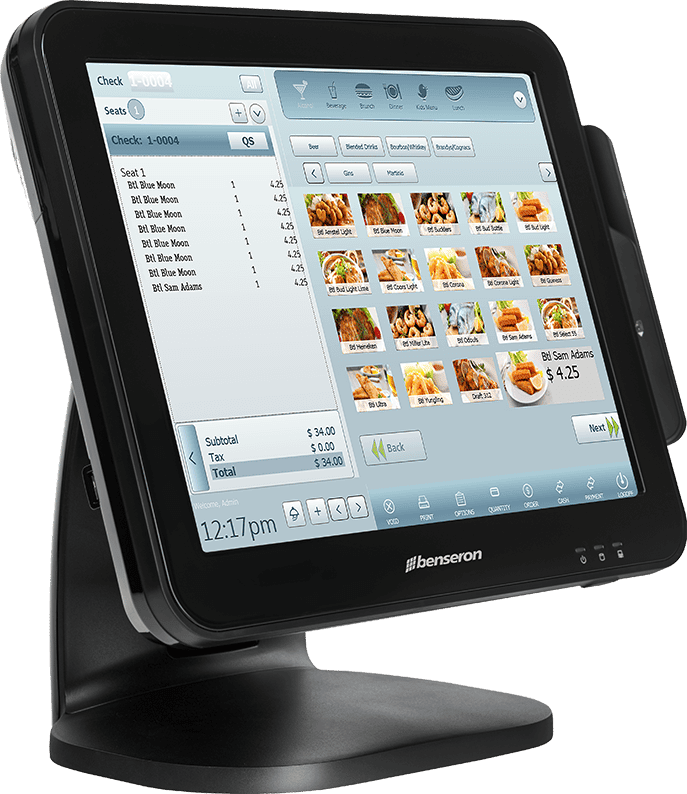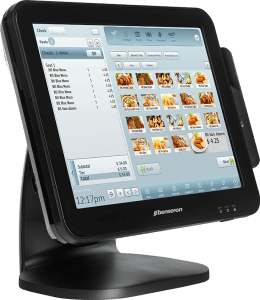 As a leader in restaurant and hospitality technology, Benseron provides restaurants and retail store owners with desktop and mobile point of sale systems called Bevo POS to help them grow and manage their businesses. There is no downtime, no restarting is necessary, and pending transactions continue to be processed. The program is built on redundant architecture, which means each terminal runs independently and does not cause a systemic failure if one freezes.
This POS system comes with EMV and NFC card readers, Intel chipsets, and LED touchscreens. Users can see employee and sales metrics to make quick, accurate decisions.
Bevo POS accepts most major credit cards, while its compact size does not take up counter space. The system also offers the highest level of security and meets industry standards. Whether you're a small or large business, Bevo POS is easy to use and comes with a free application process. After submitting an application, Bevo POS will store the information you provide. The information will be used in accordance with our Privacy Policy.
Their desktop and mobile POS systems are built on redundant architecture, making it possible for every station to be completely independent. The software offers an assortment of special features, such as table layout, custom pizza ordering, status dashboard, and loyalty programs. 
What is Bevo POS?
In the restaurant, bar, and hospitality industries, Bevo POS is a cloud-based retail point of sale system. Each terminal of the Bevo POS system is independent, allowing for complete system failure in case one terminal freezes. Benseron Company, a Florida-based company, developed Bevo POS. It ensures that no downtime or restarts are required, and that any pending transactions continue to be processed.
Bevo POS has a number of key features, such as inventory management, check status dashboard, online ordering, POS Management, and much more. Clients can make orders online through the online ordering feature that seamlessly integrates with the existing POS, and the user can view their overall profit changes. Bevo POS is compatible with Windows 8, and Windows 10.
Bevo POS Alternatives Compared
| | | |
| --- | --- | --- |
| POS System | Software Subscription Cost | Best Suited for |
| Bevo POS | Starting from $49.99/Month | Ideal for all restaurant types  |
| HotSchedules | Quote-Based | The software is best suited for the multi-location franchise, and enterprise-level businesses |
| OpenSimSim | Starting from $15.99/Month | Suitable for any business that has hourly employees, including healthcare, restaurants, security, and education facilities.  |
| OpenTable Restaurant POS | Quote-Based | All small and medium-sized businesses as well as accounting and bookkeeping practices |
Bevo POS System Salient Features
Bevo POS by Benseron is an industry-specific POS solution. As such, it has a vast array of special features to offer your business. For instance, it allows for easy resting and management of happy hour offers and splitting of checks. 
It will also allow you to manage every bar tab separately and offer you a complete overview of the tables and business data. Here are other aspects that make Bevo stand out from other restaurant POS systems:
Inventory Manager 
Get an inventory manager that is designed to improve efficiency, control food costs, and boost profit margins. The solution features bulk management, bar control inventory, and purchase order management capabilities. 
It is designed to reflect real-time usage and keep you updated regardless of where you are. For enhanced convenience, the Bevo inventory manager will allow you to access and manage your inventory remotely. 
In this regard, all changes to the inventory will be automatically updated right away to all your POS terminals as well as the back office.  
Online Ordering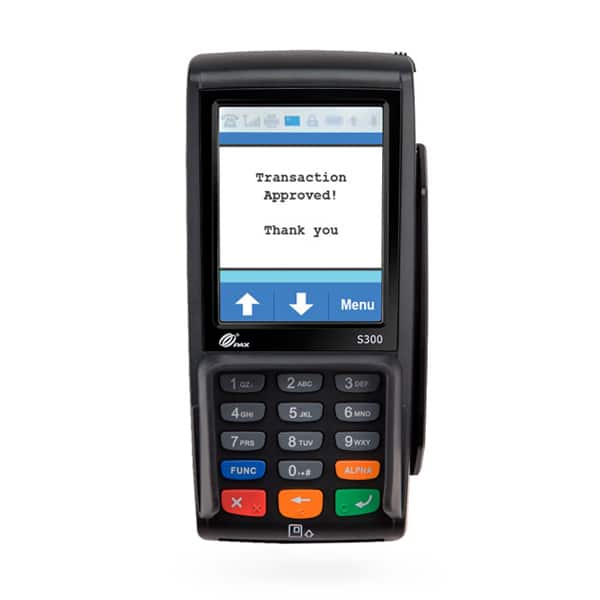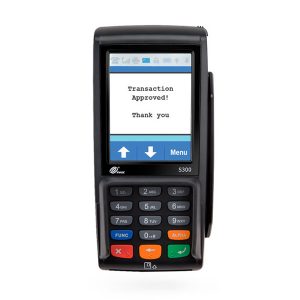 Give your guests the convenience of ordering food from your restaurant whenever they want to. Bevo offers an intuitive, mobile-friendly online ordering platform that may be customized to your needs. 
Integrated online ordering platforms have been proven to increase order volumes and grow revenue in restaurants. The Delivery Zone creation tool will help you streamline delivery options for your online orders. 
With this feature, you can create multiple delivery zones, allowing your customers to match their locations to the nearest store. Other online ordering capabilities you will come to like about the Bevo POS system include:
Branding 
Offers a range of customization options to help you blend the online ordering portal with your business theme. For instance, you can add your business colors, logo, and contact information. You will also be able to customize the menu to your specific business needs. 
It allows you to use the same online menu for all your stores or have a different menu for each of your locations. The system also makes it easy for you to add your preferred specials to the menu at any given time. 
Mobile and Web Apps
You may expand the online ordering integration with the mobile and web applications offered by the provider. This gives the customers the convenience of ordering from any device, such as desktops, tablets, and mobile phones. 
With this solution, you can pull reports on any aspect of operations and sales through the online ordering platform. The solution allows for easy comparison of high and low selling items in all locations. This way, you will have an easy time making the relevant price adjustments. 
Kitchen Printing 
All orders placed on your Bevo online ordering portal will be sent directly to the kitchen for preparation. This allows for faster order preparation and streamlines operations. Such capabilities will definitely boost customer satisfaction in your business. 
Online Order Mapping 
Map orders directly on the Bevo POS for your drivers. The solution allows you to use Google Maps to route your delivery drivers. This functionality may also be used to map out customer zones as well. These are meant to boost order delivery efficiency and save the drivers' time. 
Delivery Dispatch 
Equips you with the delivery management tools you need for timely, and satisfactory deliveries. To begin with, it will help you keep track of the delivery drivers and know the status of each delivery order in real-time  
Multi-Store Management
Bevo allows you to manage online orders placed on your various stores centrally. The platform is designed to route every online order to the location designated by the customer. Reporting will also match the intended location. 
Reports and Interface
Stay updated with Bevo's performance and status dashboards. The Status Dashboard displays such information as all open, closed, voided, and future checks on a single screen. The performance Dashboard, on the other hand, measures and analyses the key performance indicators in your restaurant. 
Some of the performance dashboards you will find useful on your Bevo restaurant POS system are the store and employee performance screens. Such tools will help you keep things organized in the restaurant. 
They will also come in handy whenever you want to make important business decisions. The system is also capable of generating reports on various processes within your business. 
Custom Pizza Ordering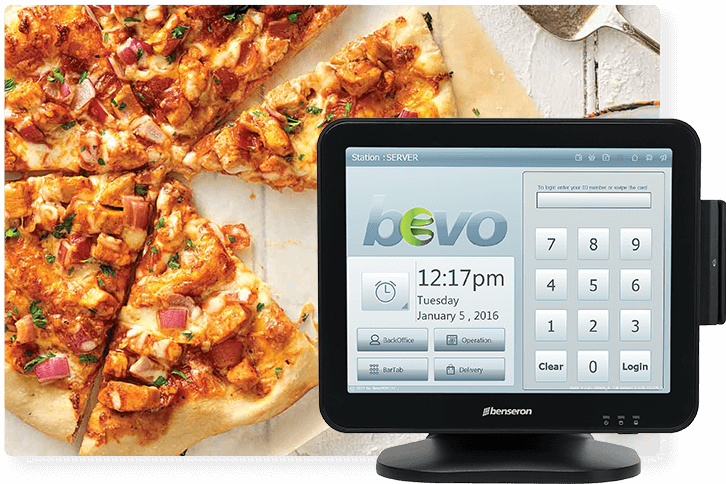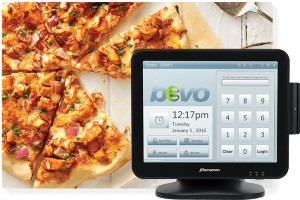 The system will allow your customers to customize their pizza orders down to a half or even a 1/4 slice while making the appropriate price adjustments. In the process, the system will allow them to input  the toppings they prefer.
This gives the customers more options, which will improve customer service and grow your bottom line. Other capabilities you will come to like about this feature include:
Delivery Module 
Upgrade the delivery service in your restaurant to the next level. The Bevo delivery module is a simple solution that integrates with your POS seamlessly. It simplifies the ordering process even further, right from order preparation to delivery. 
To begin with, it allows for the creation of delivery zones. This tool will help you indicate the right price and accurate delivery times depending on each customer's location. 
Customer Analytics
Track customer activity, and collect important customer information automatically with the Bevo restaurant POS system. Using Customer Analytics capability, you can use such information to come up with customized offers for each customer. 
For instance, you may customize offers based on the items ordered, order frequency, or customer location. This will enhance the guest experience in your establishment and encourage repeat business among your customers. 
Caller ID
The system is designed to collect important customer information at the checkout. This way, you can securely collect and store customer contact details. Every time a customer calls, the system will pull up their profile information, ranging from contact info to their order history.
Again, this helps your staff to customize their services to each customer's needs. 
Pick-Up Ticketing
Keep things organized and easier to track in your establishment.  Pick-up ticketing lets you distinguish between the customers who will be picking their orders and those who would like to have theirs delivered to their locations. 
Register Tools 
Bevo keeps the register simple and straightforward. At the same time, it is equipped with all the tools you need to ring up sales and turn tables faster. Some of the register tools offered by Bevo include: 
 Check Splitting
The split checks feature for Bevo POS will allow your staff to easily manage large party sizes and the multiple payment scenarios that may arise.
Table Layout 
The table layout feature allows you to map out your restaurant floor and tables on the POS system. It presents owners and managers with an effective and efficient way of managing staff and customers.
Coursing and Modifiers 
Automate order timing in your restaurant with the Bevo coursing feature. The solution will estimate order processing times and present the customers with accurate wait times. The modifier capability, on the other hand, allows the customers to add special notes and customize their orders to their needs. 
Bevo POS Pros
Can be operable without an internet connection

Personalize the seating options at restaurants

 Note the number of people at each table

Provide digital receipts for electronic signatures
Bevo POS Cons
You may find the software rather difficult to navigate in some areas. However, it features an appealing user interface that is easy to learn. 
Bevo POS Pricing
The provider offers a simple subscription plan pricing model. Bevo offers two main monthly subscription plans that are billed annually. You may also contact their customer support team to get a custom POS solution. 
These are the two Bevo POS software Subscription plans you should consider:
Bevo Plan ($44.99/Mo) 
This is the most basic subscription plan you can opt for with the Bevo restaurant POS system. Priced at $49.99/month per register, it is only suited for small and startup businesses. This plan will offer you basic capabilities, including inventory management, Bevo reporting, yearly support, and table layout. 
Bevo Bundle Plan ($99.99/Mo)
Should you require more capabilities than the Bevo plan has to offer, the Bevo Bundle subscription plan will come in handy. Priced at $99.99/month per register, this plan offers everything the Bevo plan has to offer plus a number of impressive add-ons. 
The add-ons include customer loyalty, and loyalty analytics, remote reporting, and online ordering.
Bevo POS Hardware and System Requirements
In addition to the award-winning POS software, Bevo also offers several hardware options to meet different business requirements. For instance, you may opt for the Bevo Prestige POS terminal or ultra-modern Bevo Tablet POS system.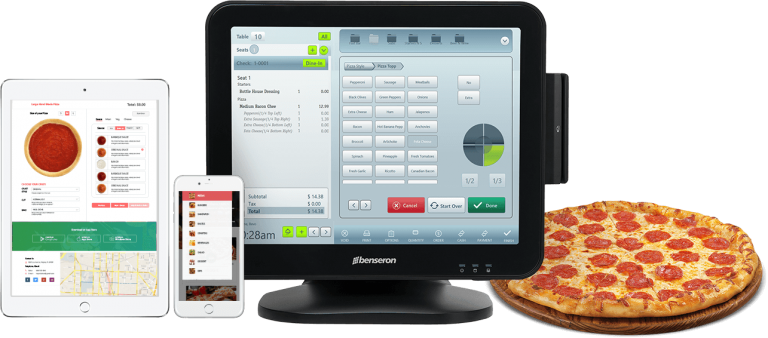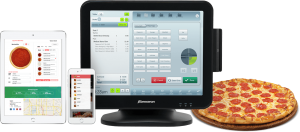 If you are unable to pay the upfront hardware cost, you may opt for the hardware financing solution by the provider. The leasing program allows you to buy the hardware in smaller monthly installments. The provider also offers an array of POS accessories, ranging from printers to EMV card readers. 
All Bevo hardware is covered by a one-year hardware warranty. You may also install the software on your existing hardware, provided it meets the minimum system requirements. 
Read more on Hardware POS
Minimum Bevo System Requirements 
The Bevo 10.0 POS software can run on Windows 7 64-Bit operating system or higher. The hardware needs to have a Duo Core Intel processor or better. A minimum of 4GB of RAM and 32 GB of hard disk space will also be required. 
Industries Bevo POS is Used in
Designed to serve restaurants, bars, and hospitality industries, Bevo POS software provides retail point of sale systems. It is suitable for small and medium businesses as well. A wide range of businesses can benefit from the services offered by Bevo POS, including franchises, full-service restaurants, quick-service restaurants, pizzerias, country clubs, bakeries, and fine dining establishments.
Bevo POS Benefits
Comparatively affordable and features a short learning curve 

Features intuitive and customizable options and menu settings 

EMV chip compliant integrated payment processor that supports NFC payments

The provider offers financing options for POS hardware.
Final Thoughts on Bevo POS 
Make your business successful with Bevo's easy-to-use, flexible, and secure tools. These tools feature EMV integration, mobile tools, reporting tools, customizable options, and more.
With Bevo POS, you will be able to create a POS system that will be compatible with a variety of devices locally or on the cloud. A number of features are available that will assist you in running your restaurant more efficiently. It is a perfect fit for a variety of types of restaurants, whether they are full-service, quick-service, bars, or pizzerias. You will be able to improve your business with the help of Bevo POS.
The system works on an Apple iPad, and it can be connected to hardware that consists of a cash drawer, credit card swipe, EMV credit card reader, and receipt printer, as well as a cash drawer.
Take your business to the next level by increasing its performance: don't miss out on this opportunity to get your hands on the Bevo Point of Sale System! Get a free quote now. 
Frequently Asked Questions
Who uses Bevo POS system?
Bevo POS serves a wide range of business types from small businesses, to medium-sized businesses and large corporations. 
Is Bevo POS easy to use?
In many ways, Bevo POS is fairly easy to use. It's intuitive, user-friendly, the has a small learning curve. 
Is Bevo POS cloud-based? 
It is not a cloud based solution so you would have to install it locally and connect it directly to the server if you wanted to use the service.
Can Bevo POS be used on mobile? 
It is possible to access Bevo POS on your mobile phone/smart phone, yes.
Is Bevo POS the best POS for hospitality? 
Out of the 430 software products in their category, Bevo POS is ranked 142 out of the top software.