(Last Updated On: 10/20/2022)
Affiliate Disclaimer: Our product review team dedicates hours of research, fact-checking and testing to recommend the best solutions to business owners. We earn from qualifying purchases through our links, but this does not influence our evaluations. Why trust our reviews?
Written by Software Expert Hamza Shahid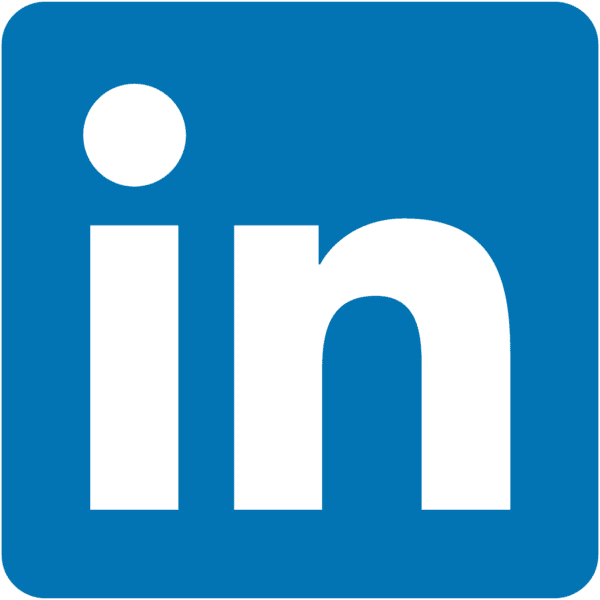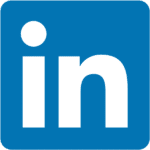 Copper POS software features inventory and client management capabilities as well as support for multiple currencies and payment forms. It allows retailers to process tax exemptions, returns, and refunds while supporting custom discounting, coupons, and receipt printing. In Copper Point of Sale, your employees and customers can streamline the retail checkout process. Copper POS lets you:
Easily record sales transactions

Print receipts for customers

Manage product pricing and discounts
Copper POS Review

Copper POS System

Pricing: Fair

Features: Good

Customer Service: Good

Complaints & Testimonials: Good

Integrations & Add-Ons: Fair

Reviews: Good
Don't have time to read this whole review? Skip ahead to: 
Copper POS Software by NCH – An Overview
As its name may suggest, Copper POS software helps you in the retail checkout process. This program can be used to speed up transactions, pricing products, making discounts, and printing receipts in a short period of time. Although its interface is straightforward, it may require you to undergo some training before you can use it effectively.
In addition to allowing multiple payment methods, like cash, check, and credit cards, the program supports entry of data through touch-screen terminals and barcode readers, which greatly reduces the time required.
Two types of users can be configured according to their roles in Copper Point of Sale Software. It is possible to assign different privileges to salespeople and administrators. Each user can specify personal information such as name, email, and phone number.
Before generating a receipt, you need to enter the data associated with the items to speed up the checkout process. It is awesome that you can add an unlimited number of items to the database. Each item is included along with details such as its identifying code, description, price, discount, and tax.
The integrated payments processor accepts multiple payment methods. The provider offers a free trial version of the software and a number of affordable subscription plans. This NCH Copper POS review will help you understand why you need the solution in your business. 
What is Copper POS Software?
As a dynamic point of sales solution, Copper Point of Sales Software enables businesses to store product information and simplify the checkout process for employees and customers, while providing them with a cash register system. You can save time and avoid costly cashier errors using this POS software when making sales calls and it works well with barcode scanners and touch screen terminals.
As opposed to other POS systems, Copper lets you easily record recipes, sales, transactions, and manage discounts and prices, so you can focus on running your business. Aside from customizable receipts, deals, and coupons, it also supports multiple payment forms and receipt printing in a variety of sizes, as well as powerful plugins.
In addition to inventory capabilities, Copper also offers notifications and alerts when inventory needs to be reordered, plus classification and forecasting capabilities.
Copper POS Alternatives and Comparison
| | | |
| --- | --- | --- |
| POS System | Software Subscription Cost | Customer Support Options |
| NCH Copper POS | Starting from $34.99 one time payment | Video tutorials and documentation plus paid phone support. |
| Booker | Starting from $129 / Month | Live online, documentation, and webinars. |
| LightSpeed | Starting from $69/Month  | Live online, documentation, and webinars. |
| Shopify | Starting from $29.00/Month | Not provided by the provider |
Salient Features
The Copper POS system by NCH will offer your retail store much more than just a cash register. It is designed to automatically collect important information and store it securely. The system is also renowned for its swift and accurate transaction processing experience. 
It supports a vast array of hardware solutions and peripherals, such as touch screen terminals, barcode scanners, and receipt printers. From the POS register, you will be able to manage to price, and discounts as well as analyze sales performance in your store. 
NCH Inventory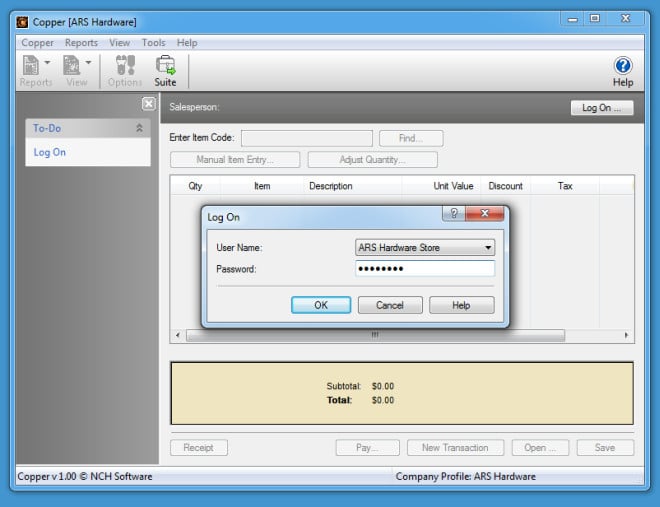 This is an inventory management and stock control POS module offered by the NCH provider for use with the Copper POS system. The solution features an intuitive interface and is comparatively easy to install and use. 
In its functioning, it is meant to help you order, receive and manage your merchandise more effectively. With Inventories, retailers are able to manage their stock by location, category, or supplier. It will also allow for easy receiving, and transfer of merchandise among your stores. 
The solution is packed with a myriad of capabilities to streamline operations and grow your bottom line, including: 
Ordering and Receiving 
Create your purchase orders and send emails to various vendors' right from the Copper POS system. To make this easier, the solution allows you to create and maintain an up-to-date database of your suppliers. 
Again, the system is designed to automate inventory counts, updating item quantities whenever a sale is made and when orders are received. It will also allow you to set low-level item levels. These will let you know when and what to order before you run out of stock. 
Users and Locations Management 
The copper Inventoria software allows you to manage the stock in your various stores and warehouses from a central location. This feature allows managers and owners to transfer merchandise among their various business locations.
This way, you will get a real-time overview and the ability to manage stock in each one of your locations remotely. Copper also allows retailers to regulate access levels for different POS users in their businesses. 
The Web Access capability of the software allows users in different locations to log into the system in real-time. The provider also offers a mobile interface that may be used to access the POS system remotely from an Android or iOS device. 
Item Control 
While setting up the POS system, Copper allows you to import your current inventory database in the form of a CSV file. Thereafter, you will only need to scan in barcodes to add new inventory items and process customer transactions. This simplifies the process and saves you time.
The system allows you to add URLs, photos, and notes to each inventory item for easier identification at the register while ringing up sales. You can also group related items to keep things more organized. If you also sell weight-based products, the system will allow you to set up sales by weight. 
Express Accounts
This is a professional accounting and bookkeeping software solution that is designed for use with the Copper POS system. It is best suited for small and medium-sized retail businesses that need to document and report on their outgoing and incoming cash. 
The system will take all aspects of your cash flow into account, including receipts, sales, and purchases. It equips retailers with the tools they need to monitor deposit and payment transactions, as well as view balances and relevant reports. 
Some of the impeccable capabilities of the Express Accounts feature include: 
Sales and Accounts Receivable 
Keeps accurate track of sales and accounts receivable while automating the recording of recurring invoices and orders in your business. With this tool, you will also be able to generate professional quotes, invoices, and sales orders right from the Copper POS system. 
Financial Analysis and Reporting
Once integrated into your copper POS system, Express Accounts will allow you to generate up to 20 different financial records at any given time.
For instance, it allows you to easily generate income statements, both profit and loss statements, to understand how the business is faring. 
You may also generate accurate balance sheets that show your liabilities and assets at any given time. The module features powerful analysis capabilities, allowing you to analyze your sales by the salesperson, customer, or item.   
With curated and on-time financial reports, you will have an easy time preparing tax returns for the business. 
Accounts Payable 
Manage your accounts payable and even pay bills right from the POS system. It will allow you to generate purchase orders, and keep track of purchasing and outgoing payment transactions. Additionally, Express Accounts allows you to create and print checks. 
Express Invoice 
Express Invoice lets you create invoices you can print, email, or fax directly to clients, hence facilitating faster payment. Invoicing reporting functionality allows you to keep track of payments, overdue accounts, and even the sales team performance.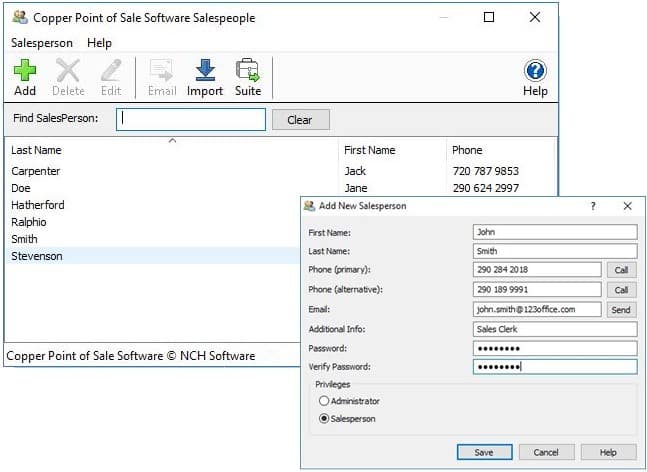 Discussed below are several other features and capabilities of the Copper POS system. 
Multiple payment methods

Discounts and coupons

Print receipts

Refunds and returns

Records sales transactions

Supports receipt printers that use roll paper

Touch screen terminals and barcode scanners

Manage item pricing

Sales reports

Maintain inventory data and quantities

Data backup/restore

Inventory Management

Barcode Scanning

Point of Sale

Layaways

Quotes

Multiple Payments

Forecasting

Purchase Orders

Variable Pricing
Pros and Cons of Copper POS Software
Pros
Transactions can be recorded easily

Provide customers with receipts

Discounts and pricing management
Cons
The system is fragmented into multiple software solutions, which may be a bit costly to piece together as each is priced separately

The NCH Copper POS system supports only a few payment processors
NCH Copper POS Pricing
The provider offers a free trial plan to help you experience the software capabilities first hand. Afterward, you will be required to pay for the various POS software modules offered by the provider.
Copper POS system pricing may be categorized into two broad plans: Basic Plan, which starts at $29.99, and the Plus plan, which starts at $34.99. 
The pricing is further broken into multiple other pricing plans and bundled plans to suit various requirements. These are some of the main pricing options offered by this provider:
Copper Plus Quarterly Plan ($2.77/Mo)
This plan offers retailers unlimited access and ongoing use of all the Pro capabilities the provider has to offer. You also need to note that all upgrades associated with this plan will be billed at $8.31 quarterly.
Bundled Plans (Starting from $49.99)
The provider allows you to integrate the Copper POS system with different NCH software solutions to enhance its capabilities in accordance with your needs. For instance, you will be charged $49.99 if your Copper POS system comes bundled with the Express Invoice Plus module. 
If bundled with the Express Accounts Plus module, the system will cost you about $59.95. This solution is designed to help retailers manage their income and expenditures more effectively.
You may also bundle your POS with the Inventoria Corporate Edition module. In this case, you will be charged $69.95 for the bundled product. 
Standard Volume Discounts 
NCH also offers generous discounts to customers who buy multiple POS software licenses at once. To get a discount, you need to purchase more than five licenses at once. In this case, you will get a 10% discount for purchasing five to nine units. 
If buying 20 to 49 units, you may qualify for a 30% discount on the purchase price. Businesses that require more than 100 POS stations can get a discount of up to 50% from the NCH provider. You may also incur additional costs to get dedicated technical support. 
NCH Copper POS Hardware and System Requirements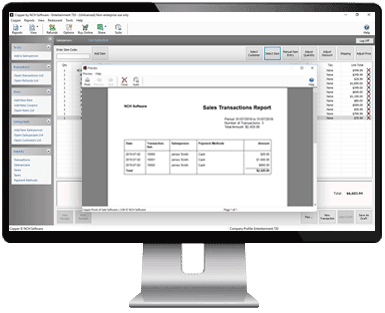 Although the NCH Copper POS software is designed to work with different hardware solutions, your hardware needs to meet its system requirements. The software is offered in Windows and Mac options, both of which have different hardware requirements. 
The Mac version of Copper POS software runs on Mac OS X10.5 to 10.14. Copper POS Windows version is compatible with several operating systems, including Windows 8, Windows 7, Windows Vista, and Windows XP. 
Your preferred hardware should have a Celeron 2.1 processor or better. As for space, you will need at least 100 MB of hard disk space and 512 MB RAM or higher to run the software. Regardless of the hardware you choose, Copper POS allows you to connect an assortment of accessories and peripherals. 
Works on Windows 10, XP, Vista, 7, 8, 8.1 & 11

Works on 64 bit Windows

Mac OS X 10.5 – 10.14
Benefits of Copper POS System
Using Copper point of sale software is a great idea if you want your receipts to be customized, to manage your stock inventory efficiently, and to accept payments in a flexible way.
Receipt Customization
Through receipt customization, Copper helps businesses increase sales, build brand awareness, and create deeper connections with customers. For a fraction of the cost of a digital or print campaign, businesses can reach a broad spectrum of shoppers by customizing receipts and coupons. Aside from everything else, Copper also allows businesses to print receipts on regular paper pages or a roll of paper.
Flexible Payment Options
Customers can use Copper to accept checks, debit cards, and cash payments from their clients. Businesses will not only be able to increase sales and turnover, but they will also be able to increase engagement rates and make more purchases as a result. In addition, having multiple payment gateways helps your customers feel more secure, which could result in more sales.
Managing Stock Inventories Efficiently
By automating operations, Copper enables businesses to maximize profits by reducing carrying costs like taxes, insurance, and storage. Using Copper, you can create and dispatch sales orders immediately after scanning the shipment. This allows you to focus on your business while maintaining customer satisfaction.
Other benefits are:
Allows for swift and easy recording of sales transactions and supports receipt printers

Flexible product pricing, with various discounting capabilities 

Integrates with seamlessly NCH Inventoria for accurate stock monitoring

Forms with secure data backup and restore capabilities

Relatively easy to install, with support for multiple hardware solutions
Final Thoughts on Copper POS Software
Copper POS is a platform-agnostic, web-based POS system with a comprehensive point-of-sale and management feature suite to offer retailers. The system offers customer, user, inventory, and vendor management capabilities as well as support for multiple currencies. 
In order to record sales transactions, you only have to enter the quantity and the code of each item. In addition, you can optionally include the customer's name. After printing the receipt, you can hand it to the buyer. Moreover, you can generate PDF reports of the transactions. The program also allows you to create backups of the database.
Ultimately, Copper POS provides an effective way to automate sales for small businesses, which I believe will be highly appreciated. In my opinion, the basic version of this product makes little sense since a point of sale always has a commercial purpose, which means it can be used for non-commercial purposes. However, if you want to access additional features, you can purchase the Plus version.
Frequently Asked Questions
What are the pricing plans of Copper POS?
Copper POS has the following pricing plans:
Starting from: $34.99

Pricing model: One Time License, Free

Free Trial: Available | (No Credit Card required)
Who are the users of Copper POS?
Copper POS has the following typical customers:
Freelancers

Mid-Size Business

Small Business
What is the technical support level of Copper POS?
Desktop

Web Based

Phone

Online

Forum 

Knowledge Base

Chat 
Which type of integrations are offered by Copper POS?
The following Copper Point of Sales Software integrations are currently offered by the vendor:
InventoriaBoss

Insights

Moneris