(Last Updated On: 02/01/2023)
Written by: POS Expert, Martin Nikolaev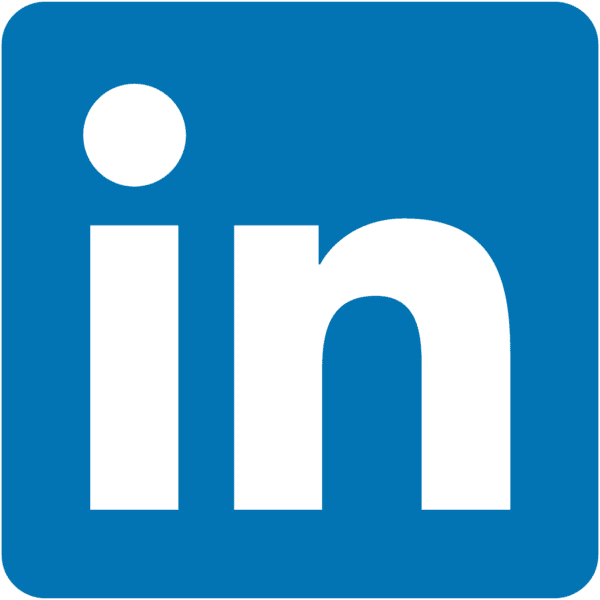 Our product review team dedicates hours of meticulous research, fact-checking, and testing to recommend the best solutions to business owners. We earn from qualifying purchases through our links, but this does not influence our evaluations. Why trust our reviews?  
How Did Business Phone Systems Evolve? | VoIP Technology Explained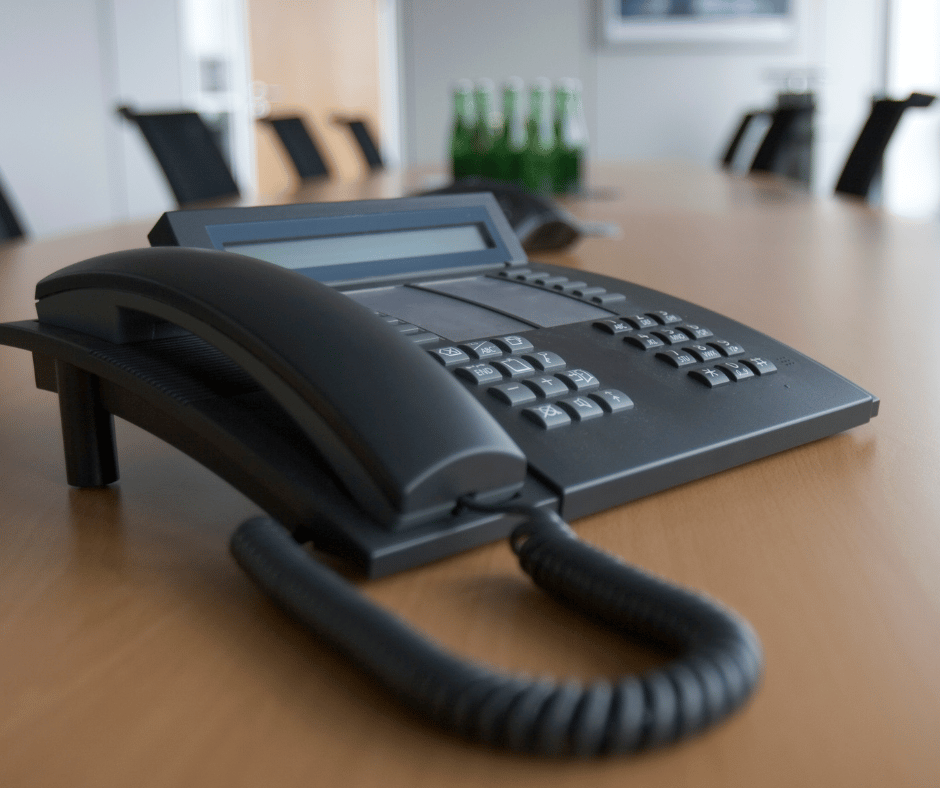 There's no doubt in my mind that any of the best business phone systems I'll review today can become the ideal solution for the needs your organization may have, such as automated menus, call groups, unlimited calls, and so forth. The six suggestions I'll share with you are all advanced, feature-rich options, but they have their differences, creating the perfect diversity. There's nothing like comparing the top-of-the-range solutions before choosing the best fit.
In the years of researching products and services that aid small businesses, I've spoken to many professionals in different industries who either own a business or manage one. Most of them stated their need for a fitting business phone system that's flexible enough to suit their every need. That's a hard task, but I think I have a handful of working solutions that I'll introduce below. Any of the suggestions in this article could be considered to be the perfect small business phone system. 
Modern business phone systems have completely replaced traditional phone-call-only solutions. Today's systems integrate several features like call transferring, call metering, private communication, call recording, voicemail-to-email options, VoIP (Voice over Internet Protocol), and so forth. Plus, modern phone systems allow for text- and video-based communication, allowing for greater flexibility for businesses of different sizes and types. The best business phone systems seamlessly set up your entire organization's communication infrastructure.
There's another technology worth mentioning, but it's still picking up speed. The PBX phone system for small businesses is a possible option offered by some of the leading providers. PBX (Private Branch Exchange) is a phone system that handles calls both internally and externally. When it emerged, it was for internal use only, but it's become a versatile solution. You can use it to check voicemail, hold calls, and redirect them to various extensions. Today, you can opt for cloud PBX, which boasts greater scalability.
Still, the integration of cloud technology in a VoIP-based communication system allows for deeper integration with any piece of software. VoIP has helped businesses improve the handling of phone calls (67%), boost the management of messages (63%), and perform work remotely (57%). Simply put, it's easier than ever to perform different soft actions on your organization's calling history and patterns. For instance, you can integrate the system with analytic software to assess behaviors. This is vital information that can help you make the right long-term decisions.
Don't have time to read this whole review? Pick a section to skip ahead to: 
Choosing the Best Business Phone System | Important Advice and Must-Have Features
There are a ton of things to consider when investing in something as important as a small business phone system. I'll share everything that I look for when I do my research and compare various options.
Following this methodology, you're likely to make the right choice, too.
Make sure the system you choose has all the features you've identified as solutions to your business needs or problems (I'll list the must-have perks below)

Check for user reviews to learn if the solution you'd opt for is REALLY as reliable as it's advertised to be. There are several websites with user feedback to check, but reviews like the one you're reading now will help as well. Doing this will 

Study the supplier's background. Sometimes, this can well indicate the quality of the product you'll receive. Years of history in the business and a strong reputation are signs of a trusted partner you'd want to collaborate with

Choose the type of system that'd be the best solution. Landlines are likely not the type to select anymore, but you need to decide which type of VoIP system will suit your needs best: a cloud-based one or an on-premise alternative.

Decide if you want exclusive customer support or not. This is an important decision to make, especially if you can't afford a second of downtime. I know that reliable support with a preference can pay off in the long run, which is why, in many cases, small business phone system costs do not include a full-fledged customer support option.
Now, when it comes to the features you should look for in a business phone system, the list could go on forever. I tried to come up with the most important of them all.
Unlimited calls: If the cloud-based VoIP system you're researching offers unlimited calling for no extra cost, then it's probably a legit one

Group calls: The feature that allows you to create group calls that ring a certain group of employees is helpful when any of the people included in the group can be of assistance. You won't have to call them one by one until someone responds

Voicemail-to-email. This is a must-have feature, in addition to the classic voicemail option. It can be either transcriptions or audio recordings, but you need this, even if you don't realize it

Recording: This is an obvious feature to look for in a business phone system, as later playback and analysis will help you never miss making a sale or processing a vital piece of information

Chances are, you'll need other miscellaneous perks, such as call queues, call forwarding, and so forth.
The best system for your business should take care of every aspect of your organization. It needs to cover everything, from plain texts and calls, through conference calls, to video conferences. This is how you save money from having separate service providers, not to mention that there's a lot less to worry about when you rely on a single customer service center instead of a bundle of them.
Using Business Phone Systems | The Perks
No two businesses are alike, so there is no one-size-fits-all formula for choosing the best phone system for your business needs. I remember the times when a VoIP system was only available to large-scale businesses at a premium fee. This was not too long ago, as you can probably recall as well. In recent years, these phone systems have become more and more accessible, so every business has the capability to integrate a phone system into their business structure.
In the business world today, it's more important than ever to have a VoIP system that's as precisely set up for your business as possible. There are five major benefits that business owners can expect from utilizing a robust phone system for their business. 
24/7 Remote Accessibility

: In our society today, instant gratification is a key component of customer satisfaction. Previously, if a business owner, manager, or employee was out of the office, a customer would reach them via voicemail and have to wait until someone was back in the office to respond to their inquiry or correspondence. I guess this may have been an acceptable business practice, but it isn't applicable today. A major advantage of using a cloud-based VoIP system is the ability to take or return business calls from anywhere. If you are unable to take the call while you're out of the office, using a business phone system will allow you to forward the call to another person who can help, and even get customer voicemail messages transcribed to you directly via email. The remote accessibility aspect of business phone systems will increase customer satisfaction by lessening response time, as well as boost employee productivity since they do not have to be in the office in order to work.

Greater Scalability Opportunities:

I'm convinced that you can only grow certain businesses if your employees are tied to physical phones all day. It doesn't matter if we're talking about international conference calls, global customer support, or cold calls. This means that more employees are required to ensure that your business never misses the chance to monetize a phone call. A VoIP system will mitigate such issues by allowing you to scale upwards with your phone system. No need to worry about purchasing more phones and hardware, or having a stand-by employee for taking phone calls on dedicated phone lines. Rather, a business phone system will allow you to grow more rapidly and more efficiently.

Save Money

: As a business owner or manager, you surely know that cutting costs in any area of your operation is important. Employees are able to access work remotely when using a VoIP system, which results in lower costs and, respectively, higher profits. In fact, a

study

shows that businesses can save an average of $11,000/year per employee thanks to part-time remote work. In a traditional phone system, adding extra lines and hardware can be costly. Most additional features that your business might need are built in the majority of VoIP systems. They are available at no additional cost. This means that as your business grows, you won't have to worry about unexpected and unnecessary costs for communication. Additionally, small business phone system costs today are not as high as they used to be.

Local Business Feeling:

You'll probably agree that it's important to make each individual customer feel like their needs are your top priority. Previously, using toll-free numbers to handle large call volumes was a working solution. While setting up such lines can be advantageous, they have a major downfall: consumers find dialing a 1-800 number to be somewhat disheartening. This is a huge no-no if you're trying to create a strong relationship with your customers. A huge benefit of using a business phone system is that when you set up your VoIP number, you can make your phone number locally targeted, with an area code central to your main consumer audience. For instance, if you operate your business out of California, but the majority of your target customers live in New York, you can set up your number with a New York area code. This makes your business feel more local, natural, and approachable to consumers trying to communicate with you.

Increased Trust:

In today's society, fraud is more rampant than ever. It seems like every other email or phone call we receive comes from someone attempting to steal valuable information from us. Consumers are extremely aware of this fact. They are often hesitant to share private information, particularly over the phone. This can be a problem because many businesses need personal identification information from customers. When you opt for a secure business phone system, your customers can rest assured that the line of communication is safe for them to share their private information. VoIP utilizes the latest technology, such as encryptions, identity management, and service providers frequently undergo security audits, and send out automated alerts for any suspicious calling behavior.
The 6 Best Business Phone Systems | Comparison Reviews
Different phone system providers have various pros and cons you should consider. It's essential for you to choose the one that fits the specific needs of your business. Buying the one that's top-rated or another that happens to be advertised the most is never the right solution.
To help you make the ideal choice, I took my time and analyzed all the big names in the industry. You'll find them below. They're all industry leaders, with a strong presence in the sector and a good reputation. Some of the entries are brands that are recognizable all over the world.
Which Business Phone System to Choose?
Before proceeding, I need to mention that it's not a ranking where the winner takes it all, but rather a comparison review that highlights each entry's strong points. The entries on this list are all worthy competitors. However, if I must choose one of them to be the best, I'd say that RingCentral has the edge. The system's extended set of features makes it a worthy choice, but it's the flexibility and scalability it boasts that make it shine. Plus, it's reasonably priced and shapes one of the best price-quality ratios in the industry, which is an opinion that other users share: RingCentral has a good rating of 4.2/5, and it's well-deserved. 
I believe you'd find RingCentral's products to be a fitting solution to your needs, regardless of the type and size of your operation. Based on my research, it takes the lead in the following list.
| Business Phone System Provider | Best Feature | Software Pricing |
| --- | --- | --- |
| RingCentral | Extended features, flexible communication protocol | $19.99 – $49.99 per month |
| Ooma | Mobile and desktop apps, 50+ features in the base plan | $19.95 – $29.95 per month |
| Nextiva | Impressive CRM module | $18.95 – $32.95 per month |
| Vonage | Integration with MS Teams | $19.99 – $39.99 per month |
| Dialpad | Free video meetings | $19.25 – custom high-end plan |
| GoTo Connect | Incredible hardware compatibility | $27.00 – $43.00 |
As our top all-rounder option, RingCentral has the capabilities to serve businesses of all sizes and industries. RingCentral offers numerous service plans that are suitable for businesses of different shapes and magnitudes, meaning that you're likely to find one that'll fit like a glove when you consider the needs of your operation.
It has a wide set of features, including mobile support, calling, and collaboration capabilities. Plus, setting up RingCentral's system is as easy as it gets. Its services are cloud-hosted and sit under the umbrella of VoIP.
RingCentral recommends a high-speed DSL or fiber optic connection to ensure your service works like a charm from the beginning. If you decide to partner with RingCentral, they'll also provide you with an installation specialist who guides you through the entire process.
RingCentral promises its service has an uptime of 99.999%, making sure the amount of unexpected friction is reduced to an absolute minimum. Furthermore, RingCentral pays close attention to making sure their service stays up and running smoothly forever (a bold statement, I know, but they seem to deliver exactly that). They also ensure a high level of security for their clients. It's part of the reasons why they recently acquired Kindite's technology and engineering teams.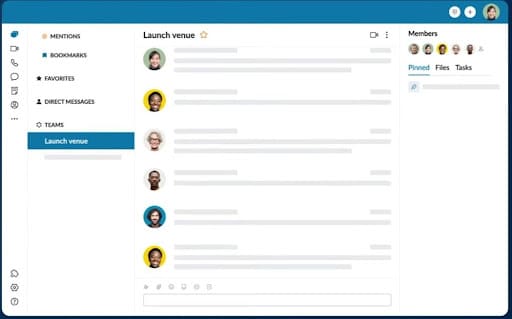 RingCentral achieved a competitive advantage by hooking up their partnering companies with a wide array of features like call recording, call forwarding, hold music, virtual receptionists, call logging, message alerts, you name it. Businesses of any kind can mix and match different features to develop a system that works for them.
As said earlier, RingCentral is not only a phone system provider but also serves as a unified communication and collaboration host. There are numerous features like conference calling with up to 1,000 members, video conferring where each host can add up to 200 participants, screen sharing, online faxing, team messaging, and more. Simply said, RingCentral installs a full-fledged communication protocol in your organization that fulfills all its needs. This is one of the reasons why I consider this product to be superb.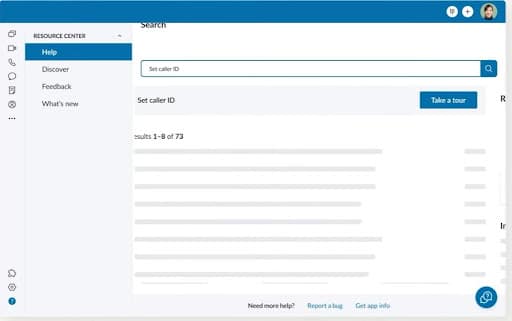 How Much Does RingCentral Cost?
RingCentral has four service plans. The basic package allows for only 10 members, while the remaining three let you have unlimited users in your system. The prices vary depending on the plan you choose and the number of users you have. However, the minimum monthly rate starts from $19.99 (the Essentials plan) but can go as high as $49.99 (the Ultimate plan) if you decide to get all the features.
Pros
Numerous additional features

Virtually no downtime

Advanced security protocols
Cons
The Essentials plan features texts and calling only
Get A Free Quote From Ring Central Now
Ooma has a strong reputation as one of the best business phone systems for remote teams and smaller organizations. That said, it may not have all the bells and whistles of the more expensive competitors it has, but it certainly gets the job done with its complementary set of features that work well for smaller organizations, hence its place on this list.
I firmly believe that small firms with a tight budget may find Ooma to be a surprise — but in a good way. Ooma stands out from the rest by providing its quality services at a comparatively cheaper price point, and I believe it's where it needs to be in terms of price-to-features ratio.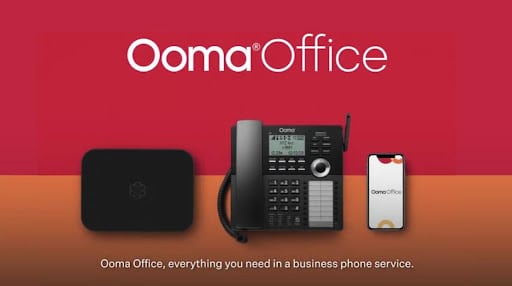 Ooma has reliable mobile and desktop applications that allow you to connect to your phones remotely. Through these applications, you can make or receive phone calls from anywhere, anytime — while also being able to send messages remotely. The service is reliable and doesn't skip a beat. This feature makes Ooma a robust option for remote teams whose members work from different geographical locations.
If you decide to go with the Ooma Office Pro plan, you also get video conferencing capabilities that allow up to 25 members to join the conference. Plus, there's a screen sharing feature that often comes in handy.
Ooma features everything essential a phone system for small businesses should have. These include call recording, call forwarding, call logging, music on hold, and others. Furthermore, virtual receptionists are also available to pick up calls and redirect them to the respective departments or persons.
Ooma is also well-known for its reliable and knowledgeable customer support. I consider customer support to be an essential part of every business tool, and Ooma has what it takes. There are helpful resources available on its website that can help customers troubleshoot and fix their problems as fast as possible. That said, it's possible to set up and manage Ooma's phone system without hiring a full-time IT employee to complete the task. That's crucial for smaller organizations as they need to save up on any financial resources they can.
How Much Does Ooma Cost?
Ooma has two subscription plans: Ooma Office and Ooma Office Pro. Ooma Office will set you back by $19.95 (the Essentials plan) per user every month, and the most expensive plan will cost you $29.95 (the Pro Plus plan) per user per month — which is much lower than what you have to pay for maxed-out services delivered by other companies.
Pros
Feature-rich and affordable base plan

Simple setup

Multiple award-winner
Cons
Texts require added contacts first
Another big name in the business phone systems industry is Nextiva. It's a cloud-based communication system that has all the basic and advanced features you could possibly need. However, Nextiva mostly stands out from the crowd with its proprietary CRM software that can be integrated into its phone systems.
Nextiva allows your business to handle its customers through proprietary customer support. While you can set up Nextiva with third-party CRM software like Salesforce as well, I strongly recommend using the proprietary service for better integration and control, not to mention the lower costs.
The built-in CRM solution has tons of features for sales and customer support representatives. These include account history, email forwarding, contacts management, workflow automation, sales pipeline management, and many more.
Alongside its CRM capabilities, Nextiva has its phone services sorted out to meet industry standards. Features like voicemail-to-email, HD voice calling, call groups, and call recordings, are all there.
To help teams collaborate on projects and tasks, Nextiva also has many collaborative tools. The headline feature is Nextiva Cospace, which is like a virtual workspace for team members to collaborate and work together. Furthermore, the group calling feature is also readily available. You can also conduct video conferences with up to 250 participants simultaneously.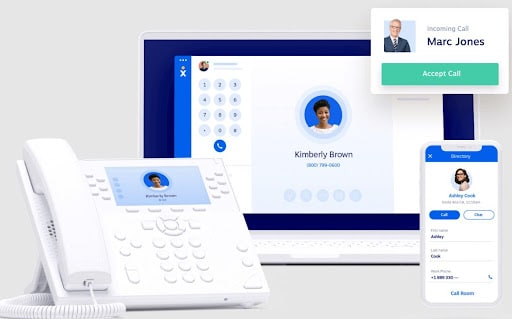 Nextiva has data centers all over the U.S., and each center is monitored by specialists 24/7 to ensure the downtime is minimized. Just like RingCentral, Nextiva claims an uptime of 99.999%, which means the service goes down only for a few minutes every year. All of that makes Nextiva's services extremely robust and reliable for businesses of all sizes.
Nextiva also performs regular checks on its system to ensure it's not vulnerable to any type of hackers or other digital attackers. Furthermore, the team inspects call histories and call logs for irregular behaviors that may cause extra charges for your company. If any suspicious activity is detected, Nextiva reports it to the partner immediately. I like this feature a lot, as it's that extra personalized service you need to improve your business.
If you're concerned about call privacy, Nextiva also has an option to encrypt the calls, so there's no risk of leaked information.
How Much Does Nextiva Cost?
Nextiva has a few service plans to choose from. The total service cost depends on the number of users, though. Furthermore, the price can also vary depending on the features you opt for and whether you're going to pay in advance. The cheapest plan starts at $18.95 per user, monthly — while the most expensive package will set you back a good $32.95 per user, every month. 
Pros
Awesome CRM module

Almost zero downtime is allowed

Vulnerability checks and reports
Cons
Voicemail transcriptions are not available
Get A Free Quote From Nextiva Today
Vonage is a modern, robust, cloud-based business phone service that deserves its place on this list. It comes with all the essential features related to calling, mobile, and collaboration — enough to fulfill all the basic and advanced communication needs of your organization. However, just like the majority of its competitors on this list, Vonage hides a trick up its sleeves.
Vonage comes with deep and seamless integration with Microsoft Teams. That means if your organization relies on Microsoft Teams for its processes, Vonage might be the best phone service for your requirements. I believe there's no better option for a business phone system if you're using Teams.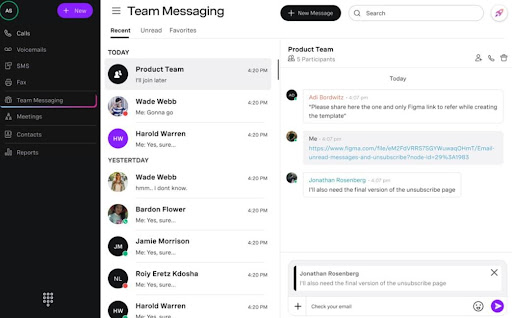 Vonage grants its customers incredible productivity advantages. As team members don't have to continuously jump between Vonage and Teams platforms, they save a lot of time, which they can redirect towards doing more productive stuff. This integration also allows for up to 10 CRM vendors to be incorporated into the system directly. That makes it incredibly easier for sales reps to get a bird's-eye view of the entire customer base. The best part is that you don't need any specific hardware to set up the integration, and neither do you need to download any additional software for the purpose. I love it when things happen in a seamless manner, and Vonage seems to offer exactly that.
Besides the MS Teams integration, Vonage has tons of features respected by businesses. High-quality voice calling, call forwarding, call screening, call recording, voicemail-to-email, it's all there.
If your organization doesn't utilize MS Teams and wants to rely on Vonage for the purpose, there's plenty to like here as well. Vonage's in-house conferencing service lets you video call up to 100 participants at the same time. Furthermore, you can send group text messages while the call is active. Screen sharing capabilities are also there. Audio calling is also available for groups of up to 30 members.
Just like Ooma, Vonage has some epic offerings for remote teams and small firms that work from home. Vonage's mobile and desktop applications let users access their business phones from anywhere, any time of the day. Users can perform all the basic functions like calling and messaging from their smartphones. These features make Vonage an attractive package for emerging remote teams who want to grow their collaborative capabilities on the go.
How Much Does Vonage Cost?
Vonage offers 3 subscription plans. However, the cheapest package only gives you access to mobile and desktop applications; but it starts from a pretty attractive price point of $19.99 per user per month for the Mobile plan. The Advanced package, however, will cost you $39.99 per month, per user.
If you're considering a partnership with Vonage and have more than 100 users in your company, you should contact this provider for a custom quote rather than purchasing the package directly.
Pros
Integration with Microsoft Teams

Numerous conferencing services

Reasonably priced services
Cons
Frequent automatic updates can be disturbing
Get Your Free Quote From Vonage
If you want to have deeper, AI-based insights into your calls, Dialpad might be the perfect phone service for you. There are multiple layers of AI technologies aimed at elevating your calling experience to the next level. It's like having a third pair of ears inside your calls that monitor and analyze everything.
The AI constantly listens to who's saying what during the call. Based on the words and phrases the AI detects, it can suggest various actions to the receiver to provide better answers to customers. For instance, if the caller mentions a specific keyword and it's there in the AI's personal dictionary, it will dictate the definition to the attendee so they can answer the caller's question effectively. This is only one scenario of the capabilities of integrated AI; the actual use cases are widespread.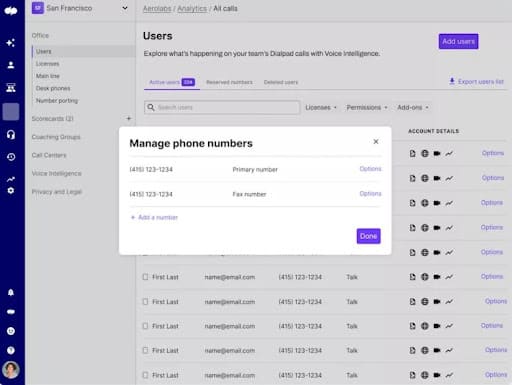 Customer support agents often have to take notes of what's being said by the customer to ensure they are on the same page. However, doing so diverts their attention from the customer, which is not the ideal practice. Dialpad's AI transcribes the conversation in real time, meaning it writes down what's being said by the customer automatically. That way, the receiver doesn't have to write down the notes themselves, allowing them to focus on the actual problem the customer is describing.
The transcriptions taken from the calls are fed to the system for record-keeping and analytical purposes. For example, CRM people could use the conversations to develop ways to build better relationships with customers by understanding their most common behaviors. I need to add that Dialpad integrates with Salesforce.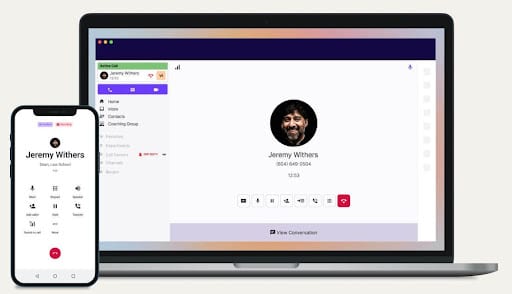 Here's the cherry on top: the AI-based features aren't only limited to IP phones, but also work seamlessly through desktop and mobile applications. Furthermore, users can leverage features like call forwarding, call queuing, multi-level auto-attending, and contact syncing. Users can make unlimited calls and send unlimited messages from IP phones, as well as desktop and mobile applications.
How Much Does Dialpad Cost?
For approximately $19 per month, customers can subscribe to Dialpad's Business plan. If they don't, the customers can still leverage the basic plan to create or join video conferences of up to 45 minutes for up to 10 members.
Dialpad has 3 subscription plans for you to choose from. The price you pay for each plan varies with the number of users you have. If you pick the biggest package called the Enterprise package, you have to get in touch with Dialpad's support team to get a custom quote.
Pros
Free video meetings

Free trial available

Custom plan available
Cons
Delays in missed call notifications may occur
You have more han likely heard of the cloud-based VoIP Phone service known as GoTo Connect. This service is one of the most widely used and recommended. In recent years, GoTo Connect has won an array of awards, including Top Rated in VoIP Providers, Shortlist Award for Telephony & Call Center Software, and a Leader award in G2's Grid Report for VoIP Providers. Aside from being popular and winning awards, when it comes down to the nitty-gritty, their system really does have the backing to hold up their claims as well.
If you decide to go for GoTo Connect (pun intended), you're in for a wide variety of admin tools. Their software is compatible with over 180+ desk phone models, so that's a big perk to note. You can utilize their system on your pre-existing hardware and enjoy all the benefits of a cloud-based phone system, starting with the much better audio call quality. Once you are set up with GoTo Connect, you can simply transfer your existing business phone number to your new system. The Dial Plan Editor feature offers a clear interface tool for admins. You can customize your call flows, set up schedules, and set up custom phone greetings to notify callers of your business hours/days. On this drag-and-drop style editor, you can also utilize tools such as auto-attendants, sound clips, and wait times.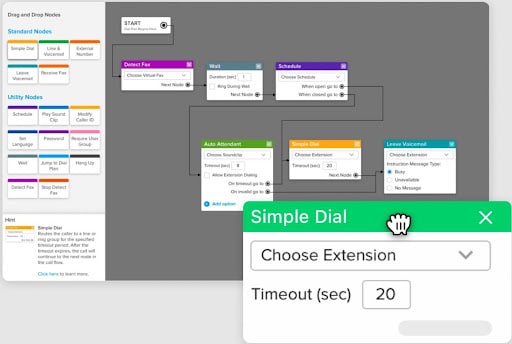 With GoTo Connect, users can enjoy the benefits of a VoIP system as well as video software for their business. However, the video platform is an additional charge that's not included with their standard VoIP software. With just one click, a user can jump from an audio to a video call in seconds. Their GoTo screen sharing capabilities allow users to share their screen from anywhere, including on the Android or iPhone device. Also, teams can markup during video meetings. This means that team members can draw on the screen and highlight or reference any topic interest that is being discussed. Their platform is also enabled for conference video calling. It should also be noted that GoTo Connect is integrated with some of the most popular applications on the business market; such as Microsoft Office 365, Outlook, Microsoft Teams, Google Calendar, ZenDesk, AWeber, Hubspot, Zapier, and more.
How Much Does GoTo Connect Cost?
GoTo Connect is the standard phone system that included phone meetings and chat. There are 3 payment plans to choose from. The basic plan is $27 per user per month, the standard is $32, and the premium costs $43. For the GoTo Meeting plan, which is the provider's video conferencing software, there are also 3 price plans available. The Professional plan is $12 per person per month (up to 150 participants), the Business plan is $16 (up to 250 participants), and the Enterprise plan is enabled for up to 3,000 participants, but you have to get a quote from GoTo for a personalized set of terms and conditions, and price, of course. If you're paying annually and/or bundling phone + video services, I recommend getting a custom quote from GoTo for discounted pricing.
Pros
Extremely wide scope of hardware compatibility

Video platform 

Third-party software integrations
Cons
The video conference software costs extra
Get A Free Quote From GoTo Connect Today
What Hardware to Choose for Your Business Phone System?
If you have existing phone and conference call hardware that you'd like to keep, you simply need to pick a business phone system that's compatible with it. But if you want to make the most of it, you need to overhaul everything, which is why I'll add a few of the best pieces of hardware to combine with your new business phone setup.
Sure enough, you can opt for the proprietary equipment offered by some business phone system providers, but it all comes down to terms and conditions, and costs, of course.
VTech Phone 4 Line Business System
VTech is a leading brand in the world of phone systems hardware. It's a well-known supplier across the globe, and it boasts nearly five decades of experience. 
One of the best products VTech has come up with over the years is the VTech phone 4-line business system. It's capable of handling up to 4 lines, it's easy to install, and the desk and handsets are wireless, meaning that it takes minutes to get the device up and running after pulling it from the box.
The system can be expanded to 10 stations, including the main console. There's a built-in auto attendant, separate for each individual line. The attendant can handle outside calls, directory calls, and so forth. It can also forward calls and suggest voicemail when needed.
VTech's clever device can record up to three hours of messages and announcements. Plus, it can connect to different devices if you want to set up a custom track as background music when the caller is on hold.
Cisco Phone Systems for Small Business
Cisco hardly needs an introduction, as it's probably one of the most recognizable brands in this industry. I believe the company was among the first to introduce devices that can receive calls via the Internet.
Cisco's small business phone systems offer unprecedented user experience. There are multi-line models to choose from, conference room equipment, and loads more. Some of the unique features typical of Cisco's products are two-way navigation and full-duplex communication. There are up to 16-line models featuring wideband audio.

The simple-to-use devices in Cisco's catalog also boast state-of-the-art security features. The encryption used guarantees secure communication. In addition, the devices are energy efficient and nature-friendly thanks to the recycled plastics used.
Panasonic Phone Systems for Business
Panasonic is another industry leader I need to mention. Not only has the company been on top of its game for decades, but it also offers a wide variety of devices for business phone systems. 
The company has a solution for every business type or scale. You can even filter the best suggestion based on your preferred features, such as mobility, unified communications, expandability, and more.

Panasonic offers a plethora of PBX solutions, terminals, apps, and virtually every device you could think of.
How  to Set Up a Small Business Phone System
I know you want to run your organization in the most efficient way possible. Staying client-oriented and being able to streamline all internal processes is unthinkable without enhanced communication. This is where business phone systems come in, of course. Getting the system up and running might be puzzling at first, which is why I'll guide you through the whole process.
Want to learn how to set up a small business phone system, even if you've never done it before? Follow these steps:
Activate the service. This part of the process may require contacting your service provider to activate the VoIP service.
Log into your new account. After you connect the device and sign up, you need to enter the administrative panel and take a look at the menus and functions. You can make tons of adjustments and personalize things later.
Set the important bits first. Start with entering business hours and schedules, as well as messages, call rerouting, automatic attendants, and so forth.
Create team add-ons. This is the moment when you'll need to add several extensions, based on the organization of your enterprise. Configuring the right groups is essential. Don't forget to set up the voicemail functionality as well.
Set up the call process you want. When someone contacts different departments, they need to enjoy the best (and most helpful) experience. Testing out the best call distribution is very important.
Set up call forwarding. When you're done with the steps above (which may slightly vary, depending on the system you chose), make sure you get in touch with your previous provider (if you had one) and arrange for all incoming calls to be forwarded to your company.
Customize the system. You'll likely need recorded messages, announcements, and audio tracks to add to the system's menu. They always make the right impression when done right.
Involve the team. There are different roles to assign, such as a receptionist, if you need one. Placing the team members accordingly and having them serve your clients is the result you should be after.
If there's an app to install, do it. Most modern small business phone systems come with handy apps allowing you access to the system from mobile and desktop devices simultaneously, among dozens of other perks.
Arrange for conference lines, if you need any. Depending on the system provider, there might be additional tweaks required or restrictions to keep in mind.
The Bottom Line
Cloud-based VoIP technology for business phone systems is an ever-growing technological space. From what I can see, it shows no signs of stopping anytime soon. Choosing to invest in a trustworthy service provider will be able to benefit your business in an array of ways. The right phone system for your business will save you money in the long run, not to mention boost employee productivity, enhance customer satisfaction, nurture CRM, and more. These are just some of the reasons why your business needs such a system. Hopefully, you'll find the best one for your organization in the list above.
FAQ
How much do business phone systems cost?
The cost of a business phone system can vary a lot, depending on what it comprises. The number of features, lines, and other aspects will determine the monthly expenses. The hardware you'll probably need will add to the costs.
How to set up a small business VoIP phone system?
This is a fairly simple procedure. You need to select the phone number you'll use and then add users to the system. Next, you need to set up incoming calls, and that's it. In addition, you can set up IP phones or integrate the system with third-party apps.
What is a VoIP phone system?
VoIP stands for voice over Internet protocol. This technology allows users to make voice calls via Internet connection that replaces the classic phone line.
What are the disadvantages of Google Voice?
Google Voice offers a lot of the basic functionalities you'd need, but it has its limitations. It can only integrate with other Google apps, not to mention that it's pricier when compared to the rest VoIP providers.
What does PBX stand for?
A PBX stands for a Private Brand eXchange. This is a telephone hardware system that operates the internal telephone network for a small business.