(Last Updated On: 11/03/2022)
Written by Martin Nikolaev: Point of Sale Expert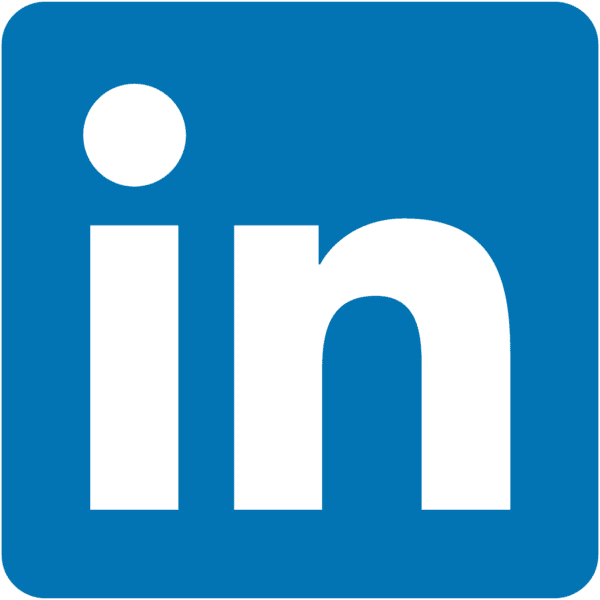 Our product review team dedicates hours of research, fact-checking, and testing to recommend the best solutions to business owners. We earn from qualifying purchases through our links, but this does not influence our evaluations. Why trust our reviews?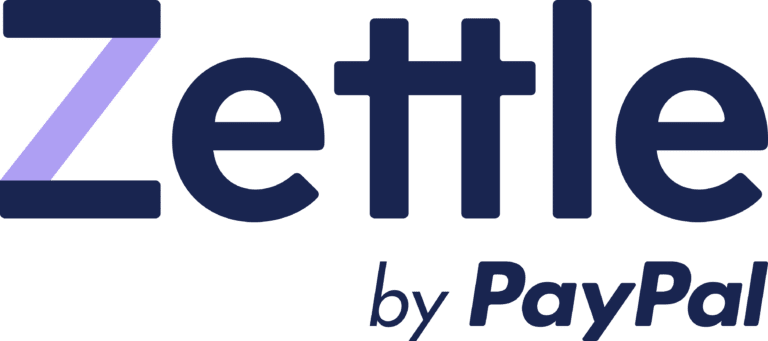 PayPal's name certainly rings a bell when it comes to the global payment market leaders, and PayPal Zettle POS is an equally trustworthy entity in the world of point-of-sale software. I believe that there's no point in convincing you of PayPal's strengths in providing payment solutions and payment processing. But I'll go through everything you need to know about the PayPal Zettle point of sale software and explain why it's a top choice for thousands of business owners like you.
By the time you're done reading, you'll be well-informed of this POS solution's perks. This will put you in a good position to decide if it's the ideal solution for your business and if you should give it a try or not. I strongly suggest you do. 
Don't have time to read this whole review? Skip ahead to: 
POS Review Methodology | The Process of Analyzing PayPal Zettle POS 
When I researched PayPal Zettle for the sake of creating this review, I took the time to explore the PayPal platform and its point of sale system. By having first-hand experience with the system, I've been able to dissect it and create the no-holds-barred review you're reading. In the process, I've compared the pros and cons, the costs, and the specifics of this solution with its main competitors. The result is an extensive description of PayPal Zettle POS that I'm sure will come in handy if you're thinking about utilizing this POS product.
What Is PayPal Zettle? | Introducing The PayPal POS System
PayPal Zettle is a point of sale system that replaced the payment giant's previous POS product, PayPal Here (in June 2021). But Zettle's history of changes doesn't stop here.
PayPal Zettle, previously known as Zettle, was a financial technology company based in Sweden and founded in April 2012 by Jacob de Geer and Magnus Nilsson. It was later acquired by PayPal and introduced to the US market. This cloud-based POS solution helps businesses accept payments, manage their inventory, provide real-time reporting, and fulfill both online and in-store purchases.
If you like the idea of having PayPal integration into your point of sale solution, then look no further, as Zettle would be an ideal solution for you. PayPal Zettle POS works seamlessly when integrated in such a manner.
PayPal Zettle POS Overview Video – Courtesy of PayPal

There are plenty of things about the PayPal POS system I like. For example, admins can add up to 1,000 users per account. This means that accounts can be set up for multiple employees. Also, sales can be tracked, so you'll know who processed what. You can easily manage your inventory by setting your cost price, selling price, and so forth.
With PayPal Zettle, your checkout process does not have to be a herculean task. Products can be quickly viewed and selected for purchase; discounts can be easily added; and payments can be accepted from a wide variety of payment types. You can also offer digital as well as physical paper receipts to your customers.
Its card reader, which comes along with the software, is quite intuitive and well-suited for taking payments. Overall, PayPal Zettle is a great option for merchants looking to plug in easily and begin taking payments as easily as they come.
Key Operational Advantages of PayPal Zettle POS to Note
Web Access

Android Compatibility 

iPhone/iPad Compatibility 

Chat Support

Available Knowledge Base

FAQs/Forum

Phone Support

Email/Help Desk
How Does PayPal Zettle POS Work?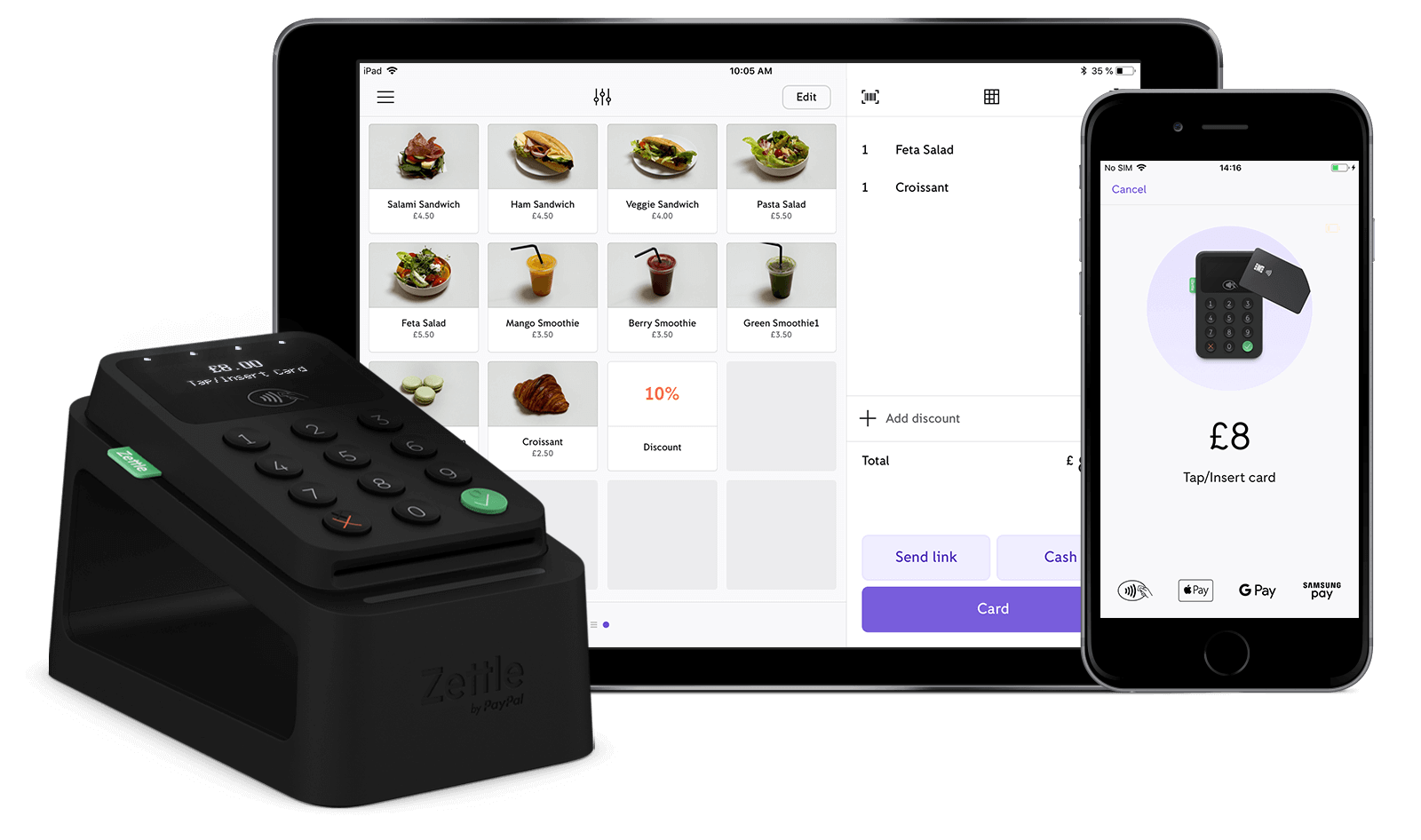 The PayPal Zettle app is available for easy and free download from both App Store and Google Play. It, however, requires devices with operating systems like iOS 12.1 or later and Android OS 8 or later to run properly.
PayPal also offers point of sale hardware solutions which can be used along with the software. This includes such things as card readers, which let you accept credit and debit card payments as well as NFC contactless payments; cash registers; receipt printers; barcode scanners, and other accessories to ensure seamless payment processing for your business.
The PayPal cash register is a fully integrated system that automatically uploads transaction data into your POS system, thus making even your offline store details available online.
To accept credit card payments with PayPal Zettle point of sale, you'll need a PayPal Business account, a smartphone or tablet, the PayPal Zettle app installed on your device, and the Zettle card reader. To get your business account, you need to visit the PayPal website and sign up. You have the option of either signing up for a personal account or a merchant account. As a business, your option here will be a merchant account. To open a business account, you will need details such as business name, address, city, phone, type of business, and category, as well as your estimated monthly sales and tax identification number.
To process a payment, simply enter the amount receivable from the customer onto the POS app, insert the customer's card into the card reader, or tap to make a contactless payment. Next, ask your customer to input his or her pin. Go ahead and print a receipt or send it via text or SMS.
Getting Your Card Reader and Other Hardware Devices
The credit card reader can be ordered online via the PayPal Zettle shop, where you have different options for hardware. The company offers free shipping and free ground shipping for orders within the US, with the option of overnight shipping where it is needed.
What Features Make PayPal Zettle Stand Out?
Ease of setting up
PayPal Zettle is a feature-rich, easy-to-setup, and easy-to-use point-of-sale system.
Accepts all payment types
With PayPal Zettle, your business can accept all payment types, from debit cards to checks.
No long-term contracts
PayPal's Zettle, along with its easy setup nature, also offers a very easy entry and withdrawal framework where users are not bound by any long-term contract. You can decide to stop using it anytime.
An extensive range of device compatibility
Zettle POS, being a cloud-based solution, boasts an extensive range of compatibility with devices. 
Easily accept all payment types
With Zettle, you can easily accept all types of in-person payments, ranging from credit and debit cards like Mastercard, Visa, American Express, and Discover, to digital wallets and QR codes such as PayPal, Apple Pay, and Google Pay.
Along with the above, you can accept payments over the phone, draw up invoices, and make customers pay using payment links.
Easily track metrics that matter to you
Zettle offers you the ability to customize the type of report you view and how you share these reports. You can easily search for and analyze key data and metrics on the go and stay up to speed with sales trends and reports.
Easily track your sales and get reports
You get detailed reporting on the Zettle app as it allows you to track sales and get automatic reports. Want to see how the day's sales are going? Hit up the report section and there, you can see an overview of how the day is going and the prior day's sales figures.
Along with this, you have the benefit of seeing a summary of your sales, payment types, and attendant fees, as well as seeing which products are selling the most. You can also review your employee's performance, as well as the number of gift cards that have been sold. Easily export these reports into other apps either as a PDF, an Excel spreadsheet or even as raw data. You've got all the options available for your use.
Easily set up and manage your inventory
Zettle POS allows you to manage your inventory. You can add new products, set the cost price of products, set the selling price, and so on. Do you have an existing spreadsheet consisting of your product list? Then you can easily import the same into the PayPal Zettle software and automatically update stock levels or manually edit the same and include new items.
With the software, you can organize your products into lists or groups to help you accurately manage them. You can seamlessly add photos and descriptions to each product, as well as scan bar codes to help you track specific products. from 
It allows integration with other solutions
The Zettle POS allows for integration with accounting and e-commerce solutions such as QuickBooks, Shopify, and WooCommerce. It also allows you to import your products from your e-commerce store, and these are automatically synced across the platforms. 
Hardware solutions are offered along with software
PayPal's POS hardware solutions help merchants manage all aspects of their business, from sales to inventory. It offers entire POS systems, card readers, cash registers, and cash terminals.
PayPal Zettle POS | All The Important Features At A Glance
In-app invoicing

Free sub-user accounts

Flat-rate predictable pricing

Contactless NFC + chip + PIN card reader

API

Cash Transactions

Check Processing

Compliance Management

Credit Card Processing

Data Import/Export

Data Synchronization

Discount Management

Electronic Payments

Electronic Signature

Inventory Management

Inventory Tracking

Invoice Management

Invoice Processing

Mobile Card Reader

Supports Multi-Location

It Offers Real-Time Reporting

Receipt Management

Reporting/Analytics
What Are the Pros and Cons of PayPal Zettle?
Just like any system, PayPal Zettle has its own advantages and disadvantages. I'll list the most notable ones below.
Pros
It is free
The adoption of PayPal Zettle is free, as the app can easily be downloaded at no cost from the respective stores. There's no monthly or annual billing whatsoever.
No setup costs
The POS system offers a very low cost of adoption, and this puts it on par with the best and most affordable POS system on the market, Square POS.
Mobile-friendly
The mobile-friendly PayPal Zettle app allows you to access most of the features of the software on its mobile version. This means you can keep working and keep track of every aspect of your business on the go, making it a truly mobile-friendly point of sale solution.
It offers a simple way to manage inventory across multiple devices
The solution offers a very easy-to-manage inventory. This, coupled with its usability on virtually any device, both on the Android and iOS divide, makes it a good solution to consider for merchants who are just setting up.
Ideal for small-volume merchants
Given its low barrier of entry and adoption, it is a great choice for merchants who are just starting out or whose current transactions are still small. 
Cons
It offers limited integration
The PayPal Zettle app offers limited integration, and this is one of its major cons that you might want to consider before making the jump to it. It has a streamlined number of third-party apps that can be integrated with it and, as such, does not offer flexibility in this area. This is a drawback you probably want to take a second look at and consider what other solutions you will be needing and if this is part of the few available on its list.
It makes use of your PayPal account for settlement rather than your bank account
While one of its strengths is its use of the company's payment processing gateway, the fact that the company fulfills your payment and settlement using your PayPal account as opposed to your bank account is a little drawback that may not align with many merchants and business owners.
PayPal has a history of freezing accounts
With the fact that payments are tied to PayPal accounts and with the company's history of sometimes locking up or freezing accounts, this may not be the best option for some merchants. The company itself has a fine print footnote on its website that warns that payment may be held or delayed as transactions are subject to review.
No offline mode
This is another major con for the point-of-sale solution. Since it does not offer users the ability to use it in offline mode, any loss of connection automatically disrupts and brings business to a standstill.
Manual transfer to bank accounts and cross-border fees
Since its default mode of settlement is merchants' PayPal accounts, funds need to be transferred to bank accounts and this has to be done manually. Many users do not find this ideal.
Not-so-great customer care service
Some users report that the solution's customer care services are not as great as should be expected. Customer service, they say, is sometimes very difficult to come by and this is something we feel the company needs to look into. 
How Does PayPal Zettle Compare with Other Point-of-Sale Solutions?
As noted earlier, Zettle is a worthy competitor to the very best of its rivals, Square POS, which is often referred to as being the best in terms of costs, ease of use, terms, and rating among users.
Let's take a look at how the PayPal POS system stacks up when compared with some of the best alternatives in the industry. They are:
Square POS

Lightspeed POS

Rain POS

POS Nation

QuickBooks Payments
PayPal Zettle vs Square POS
When compared side by side, PayPal Zettle vs Square POS, the latter boasts more unique features than Zettle POS, but both have at least 30 features in common.
Some unique features that stand Square POS apart from Zettle POS include online payments, order processing, fraud detection, and sales history; while Zettle has unique features such as its mobile card reader, focuses on retail, offers transaction monitoring, and provides for contactless NFC payments.
Zettle POS vs Lightspeed POS
Zettle POS and Lightspeed POS are both retail and restaurant-focused point of sale systems. When compared side by side, Lightspeed appears to have more features than Zettle, although both share some similar features and stand at par on some levels.
Some of Lightspeed's unique features include table management; sales history; accounting, and ordering automation. PayPal Zettle POS, on the other hand, boasts unique features such as reporting and statistics provision, retail inventory management, and inventory tracking.  
Zettle POS vs Rain POS
Both Zettle POS and Rain POS are similar in that they are both retail POS and point-of-sale solutions. They do, however, both stand apart with a number of features.
Rain POS has unique features such as purchase order management and pricing management. It enables you to offer loyalty programs and allows you to accept multiple currencies with its multi-currency provision.
Still, PayPal Zettle POS boasts unique features, such as its mobile card reader, transaction history, check processing, and transaction monitoring.
Zettle POS vs POS Nation
Both PayPal POS and POS Nation stack up nicely against each other, both having unique features which the other does not have. However, POS Nation has the following unique features: supplier management, pricing management, merchandise management, and offers ordering automation.
Zettle POS, on the other hand, stands out with its mobile card reader, check processing, transaction monitoring, and provision for data importation and export.
Zettle POS vs QuickBooks Payments 
When compared with the QuickBooks Payments solution, the PayPal Zettle POS stacks up more in terms of features.
QuickBooks Payments, however, offers some unique features when compared with Zettle POS such as mobile payments, credit card management, and debit/credit card processing, as well as its automatic integration with QuickBooks.
Zettle POS, on its end, has returns management, inventory management, and third-party integrations. QuickBooks Payments is more expensive to use, though. 
PayPal Here vs PayPal Zettle POS 
Now, this is a curious comparison to make.
PayPal Here is PayPal Zettle's predecessor, and you can say that the old platform is still alive. There are businesses that still run it. They also pay different fees, according to PayPal Here's terms and conditions. The transaction fees are much higher, starting at 2.7% per swipe. The common things between the legacy POS system PayPal used to offer and PayPal Zettle include:
No annual or monthly billing

No onboarding or setup fees

No PCI compliance costs 
After PayPal Zettle replaced PayPal here in mid-2021, there was an improvement in the wat the system handled payments. The wider range of accepted payment cards and the lower fees made a positive impact, which is why not many clients decided to stick to PayPal Here.
How Do Users Rate PayPal Zettle?
Merchants who use PayPal Zettle report it's easy to adopt and use as it is very easy to set up and easy to understand its user interface. It's also easy for their employees to get the hang of it and understand. As such, it scores highly for ease of use.
The brand's card reader also scores highly among users as it not only affords them the ability to collect payments in person but also handles sales, inventory, reporting, and payments.
Users have reported having issues with its payment gateway as payments were not processed and this hampered business processes.
Who is PayPal Zettle Ideal For?
PayPal Zettle is ideal for new businesses looking to adopt a point of sale system that is easy to use and budget-friendly, too. It would also suit established small and mid-sized businesses looking to replace their point of sale system with a new one.
How Much Is PayPal Zettle? | Costs and Fees 
Using PayPal Zettle is not as expensive as you might think. There are no monthly fees involved, not to mention that you can get a custom quote and arrange for specific pricing. Here's what to expect from the PayPal POS system, money-wise:
There are no long-term commitments to comply with

No monthly fees whatsoever

One of the cheapest processing fees in the industry

Fast money transfers: you get your money within a business day

Custom pricing for high-volume operations
The processing fees for card-present and QR-code scan transactions are fixed at 2.29% plus $0.09 per transaction. Scanned and manually input transactions cost 3.49% plus $0.09 per transaction.
You should also be aware of the $20 chargeback fee. That's pretty standard in the industry because dealing with chargebacks is a headache for any payment processor. Check out our article on how to avoid merchant account holds, freezes, and terminations to learn more about how to protect your account and minimize chargebacks.
On the downside, there's a $20 fee in case of chargebacks. Although most of PayPal's competitors have similar fees, this is something you should know. 
PayPal POS Hardware Costs
Let's look at the hardware you can buy alongside the PayPal Zettle app.
The PayPal Zettle card reader is called the Zettle Reader 2, which can be ordered in two different colous, black and white, goes for $29, and is delivered within 3 business days. This is a one-time price for new clients. Every additional card reader you need will cost you $79 per unit.
It can be purchased with the Zettle Dock, a charging stand for POS counters. You can easily charge the card reader with the USB charging cable that comes with it. You, however, do not need to do this too often as the card reader's battery can go for as long as 8 hours or process a total of 100 transactions before a charge is needed.
The PayPal Zettle card reader connects wirelessly via WiFi, 3G, 4G, or 5G internet connections to your mobile device, which could be either your phone or tablet via Bluetooth.
The card reader accepts NFC contactless card payments from cards like MasterCard, Discover, and American Express, as well as payments from mobile wallets such as Apple Pay, Google Pay, and Samsung Pay.
The Zettle all-in-one terminal costs $199 excl. tax. The ready-made store kits range between $249 and $699. For the lowest price, you get the Store Kit Mini. The Store Kit Standard goes for $499 excl. tax and it's one of the top choices to make. The system includes Zettle Reader 2, Zettle Dock 2, iPad Stand 360, Smart Printer, and Thermal Rolls for Smart Printer.
Zettle Terminal Hardware Overview – Courtesy of PayPal

The Store Kit Plus bundle goes for $699 excl. tax. and includes the Zettle Reader 2, Zettle Dock 2, Zettle Stand 360, Smart Printer, Thermal Rolls for Smart Printer, Barcode Scanner, and optional Apple iPad.
Other accessories available from the Zettle shop are:
Zettle Dock 2: Costs $49 exclusive of tax

Zettle Stand 360: Costs $159 exclusive of tax
In Conclusion
PayPal Zettle POS, as highlighted in this article, is an affordable point of sale system with limited drawbacks, such as issues with delayed payments. Its strength comes from the features and advantages it has, alongside the popularity of the payment processing giant that owns it. But aside from these drawbacks, PayPal Zettle will be a great choice for your business if its perks would make it a good fit for you. It's easy to adopt and use, and the lack of contractual restrictions makes it a good solution to try out. Hands down, it's one of the best options to pick in this challenging industry.  
FAQ
Does PayPal have a POS system? 
Yes. The PayPal POS system is called Zettle. It replaced the PayPal Here POS solution.  
Is PayPal a POS system? 
No. The company's primary service is a safe and secure online payment system that allows you to receive and send money across the globe.
Can PayPal be used as a POS?
Yes. PayPal Zettle is a comprehensive point of sale solution from PayPal that equips businesses with all the capabilities needed to run a retail store successfully. PayPal Zettle helps you streamline your transactions and business operations. Also, you can offer various payment options your shoppers prefer, including credit cards, QR codes, cash, and gift cards.
What's the difference between PayPal and Square?
One of the most significant differences between the two companies' POS systems is that Square offers more business tools, which include employee management, PayPal's features, on the other hand, are limited to payment. Square has a feature to schedule appointments within the app so that you can integrate your calendar with your payment platform.
How do you receive money on PayPal?
Getting paid with PayPal is actually easy. All you need to do is to follow the following steps:
Open the app and select Get paid.

Choose a PayPal user and enter the requested amount.

Add an emoji, GIF, or friendly note before choosing Request Now.
Can I buy my own POS machine?
Very often, most businesses end up buying their point of sale systems from a reseller, rather than from the company that actually manufactures the system. In some circumstances, this is the only way you can buy the POS. Sometimes the company that manufactures these POS systems sells their equipment solely through certified distributors.
Is PayPal Here being discontinued in the US?
PayPal Here is no longer available for new merchants, since it has now been overtaken by PayPal Zettle. However, the company has assured that existing PayPal Here users can continue using PayPal Here, use and purchase PPH hardware, and retain their current processing rates.