(Last Updated On: 11/14/2022)
Affiliate Disclaimer: Our product review team dedicates hours of research, fact-checking and testing to recommend the best solutions to business owners. We earn from qualifying purchases through our links, but this does not influence our evaluations. Why trust our reviews?
Written by Software Expert Hamza Shahid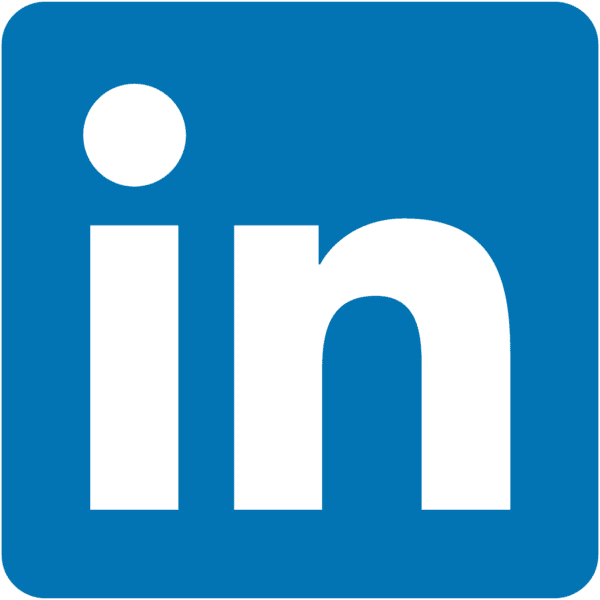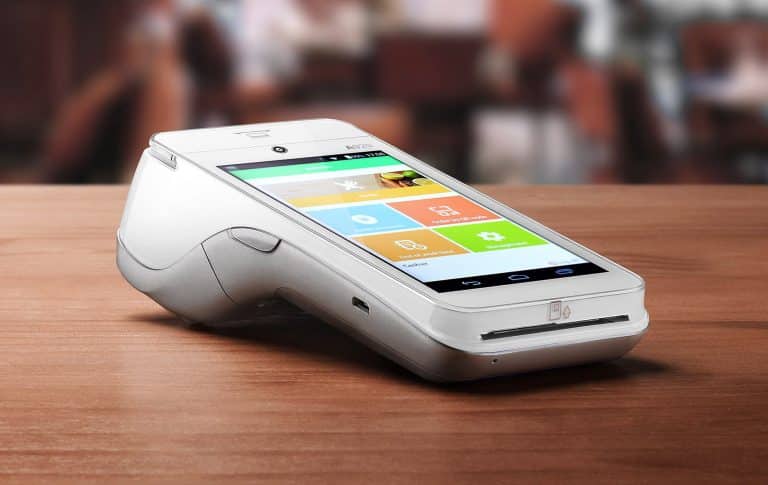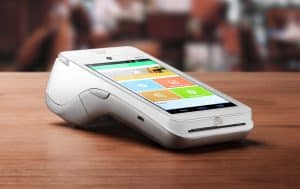 Is the PAX a920 terminal the best credit card reader for your business? Does it have the features you need? What about battery life? Does the PAX a920 integrate with the system that you're already using? Are there areas where another credit card reader is better than the PAX a920? Experts at Wise Small Business have answered all your questions in this explanatory PAX a920 review article.

Introducing the PAX A920, the world's first tablet mobile terminal. If you're looking for a bridge between conventional payment terminals and complex POS systems, the PAX A920 is for you. This device is also mobile, so it can be used anywhere. It has built-in WiFi and 4G connectivity and a 10-hour battery life. This model has a host of features, including an app store. In addition to its card reader, it has built-in Wi-Fi and 4G connectivity, and it can connect with your smartphone through Wi-Fi and Bluetooth.
Read some of our other hardware reviews:
PAX a920 Terminal – Overview
The PAX a920 is a multi-device machine that integrates a card reader and receipt printer. It has an internal thermal receipt printer that prints up to two inches of paper per second, and it can print a full receipt in three to four seconds. It has a long battery life, too, at 10 hours.
This device is also mobile, so it can be used anywhere. It has built-in WiFi and 4G connectivity and a 10-hour battery life. This model has a host of features, including an app store. In addition to its card reader, it has built-in Wi-Fi and 4G connectivity, and it can connect with your smartphone through Wi-Fi and Bluetooth.
This compact credit card terminal offers multilane transaction processing and a touchscreen that is easy to read. It also has a variety of peripheral ports, including a Micro USB port, one SIM card slot, and two PSAM card slots. The device also has 1 GB of DDR3 SDRAM and 8 GB of Micro SD memory.
If you're a mobile business on the go or a company or a company that needs multiple readers moving around, the PAX a920 is one the best credit card readers for your business.
The PAX a920 is tactile, has a beautiful screen, and integrates with many credit card processors. It's a prime choice for restaurants, pop ups, and other businesses that aren't using an all-in-one solution like Shopify, Square, or Lightspeed.
In the British market, PAX A920 terminals are recommended by more payment providers. Ingenico and Verifone's smart POS terminals have ergonomic designs and the latest technology. The device has been tested for your satisfaction by Mobile Transaction. See how it works, what it looks like, and where to get it.
Don't have time to read this whole review? Skip ahead to: 
Smart Terminal With Android System
PAX Technology manufactures the A920 terminal. The company has offices in Working and Horsham in the UK. Due to its touchscreen interface and software, PAX A920 credit card readers make a self-sufficient, portable checkout terminal that is a "smart POS".
For entrepreneurs, sole traders, and small businesses looking for a practical and stylish solution, it offers:
Looks cutting-edge

Adapts to your needs

Accepts different payment methods

Works on the go
PAX A920 terminal comes with a hard-coded Android operating system that lets you install PAX-based apps specific to your business, similar to how you customize a personal smartphone or tablet.
By adding reporting and customer loyalty features, it becomes more than a simple point of sale (POS) terminal that accepts card payments.
Technical Specs
PAX chose a low-power ARM Cortex A7 processor, equivalent to the low-power version of Cortex A9 found on Verifone terminals, to power its operating system. You don't need a stylus to use a 5″ IPS display because it responds to normal finger touches.
Specifications of PAX A920
Operating System

Paydroid (Android 7)

Processor

Cortex A7 by ARM

Memory

8GB flash memory + 1GB DDR RAM (expandable to 2GB)




Up to 128GB extendable storage memory with micro SD

Dimensions and Weight

176 x 75 x 57 mm




458 g incl. battery

Battery

5250 mAh

Card Reader

Chip, NFC and magnetic stripe




PCI PTS 5.x certified EMV 1 and 2

Screen

5" tactile colour




IPS 720 x 1280 pixels (WXGA)

Audio

Buzzer, speaker and microphone

Camera

Front: 0.3 Mpx




Back: 5 Mpx

Connectivity

4G (LTE) and WiFi 2.4 GHz

Geolocation

GPS, GLONASS, BeiDou

Printer

Roll: 57 x 40 mm




Speed: ​​40 mm/s

Ports

Micro USB and POGO
While it performs less well in low temperatures, the 5250 mAh battery guarantees 5-7 hours of use in normal environments. The PAX A920 can operate in the temperature range -10°C to + 50°C. You can use it inside or outside, but it works best at average temperatures, so keep it dry.
There are other localization systems (GLONASS and BeiDou) in Russian and Chinese markets, in addition to GPS for geolocation.
Key Features
Powered by Android 7.1

Cortex A7 processor

5″ capacitive touch screen 

4G + Wi-Fi + GPS

5250mAh capacity battery

Front & rear cameras

NFC contactless

PIN on glass 

PCI PTS 5.x SRED

ATEX certified 

Optional Docking Station
Designed to Move
The PAX a920 is a fully contained system that can work over Wi-Fi or Bluetooth. The little machine is a miniature tablet that includes both a receipt printer and multiple ways to accept payment; Swipe, Tap and Chip; a refreshing change from many other credit card readers that only accept 2/3 options. 
The tablet itself runs on android and makes sure the full package is easy to carry around and move. The machine is just about 7 inches and 11 ounces, which means it's not going to get in the way no matter where you need it. 
Its small stature means the PAX a920 is a good middle ground between the bulkier tabletop credit card readers and the flimsy phone-based credit card readers.
Integration 
The PAX a920 isn't going to integrate with any end-to-end solution like Shopify, Square or Lightspeed, but it does connect with a considerable amount of credit processors.
They work with Payworks, World Pay, First Data and more, so you'll have the opportunity to shop around for a processor that works for you. 
There are some notable exclusions from the list of integrations, namely Authorize.net and Stripe. Considering Stripe is one of the premier credit card processors in North America, this is a pretty big miss.
This is especially true considering web platforms like Squarespace will encourage you to use Stripe as a payment processor. 
A silver lining with the PAX integration is that it's account based, meaning that you will have the same processor and account whether you use the PAX a920 or the PAX mobile app.
Design 
The PAX a920 is an objectively good-looking machine. It's slick, modern, and a fantastic upgrade from some of the bulkier card readers you run into on the market.
A big part of this comes from the positioning of the receipt printer on the terminal. The printer is at the bottom, which means that the PAX a920 doesn't need to leave space at the top of the terminal, and the HD screen can cover 5 inches of the 7-inch machine.
The large screen lends to the PAX a920 feeling more like a modern tablet than a clunky reader with a keypad. This makes it one of the better credit card readers on the market design-wise. 
Price Point 
The PAX a920 is pretty expensive, with a list price of USD 600.00.  If you compare it to competing card readers/receipt printers, it seems overpriced. That said, unlike many of its competitors, the PAX a920 doesn't ask anything else of you.
Some retail solutions like Shopify and Lightspeed need you to bring your own iPad.
If you already have an iPad for your business, you can save a couple of hundred dollars by opting into another retail solution, but the PAX a920 is comparatively affordable for those who don't have their iPad already.
As part of this, it's worth noting that the price of the PAX a920 we're using is for a single machine. If you're looking to have a team that can grab one of many devices, it's going to cost the same for each one you buy.
All In One 
The PAX a920 has another advantage on some of its competitors, and that is that it's more than just a card reader. The machine has an internal thermal receipt printer that prints 2 inches of paper a second ( or a full receipt in about 3-4 second,) but most credit card readers do.
The real advantage is that the PAX a920 has a barcode scanner built in, you're not going to find that on a Square or Shopify credit card reader.
You can also use the barcode scanner to count inventory, a feature that's missing from a lot of POS solutions.
Keeps Going and Going 
Nothing is more annoying than working at a pop-up and having your terminal run out of juice. Even ignoring the nightmare scenario of a POS powering down mid-transaction, the last thing you want to do is split your day between two services.
The PAX a920 avoids this problem with a beefy 10 POH battery life away from the charging terminal. With one machine, you could work the whole business day without ever plugging it in. If you're planning for a long day and don't have charger access, two a920s will last longer than labor laws will allow.
Many of the other options for credit card readers, like the Square Terminal, shy away from quoting exact hours for battery life and hide behind vague claims. PAX's willingness to put a number on the PAX a920 shows that you can trust their claim of 10 hours.
Coolest Features of PAX a920 Terminal 
Ideal for Various Businesses and Payment Scenarios
Payment terminals work well in certain situations, but not in others. Desktop terminals, for example, work well at the counter, but not everywhere else.
If you want to accept payments, you have to stay in the aisles and a few steps away from your store. Besides having 2G, 3G, 4G, Bluetooth, and Wi-Fi capabilities, the PAX A920 also has 2G, 3G, and 4G connectivity.
At the counter 

In the aisle 

At tables 

At curbside 

At fairs, conferences, and festivals 

At customers' doors 

Just about everywhere, really
Since it has so many uses, it can be used for a wide range of businesses, from retail to restaurants to food trucks to clinics and even doorstop contractors.
10 Hour Battery Life
Whenever you leave your store, your credit card machine needs to be able to process transactions. If your payment terminal runs out of battery at a festival or at the customer's door, it's frustrating. Having a 10-hour battery life makes the PAX A920 a favorite among business owners.
Built-In Features
Featuring a bunch of built-in features you'll love, the PAX A920 is the smart payment terminal you need.
Thermal printer built in (receipts can also be emailed)

Barcode scanning with front-facing and rear-facing cameras

With a built-in EMV/NFC reader, you can accept a variety of payments securely (isn't that what transactions are all about?)
Manage Everything Virtually from the Terminal
The A920 allows you to manage employee shifts, time clocks, gratuities, and more via the terminal. If you would like to manage customer data, this is the way to go.
With this mobile POS solution, you can easily manage inventory. You can use the mobile POS terminal to count inventory in the back room, and since it's a POS system, you can add thousands of items.
Real-time sales activity updates can even be managed with the terminal. Your business is better managed when you can manage virtually everything from the terminal.
Lots of Apps
One of the biggest advantages of investing in a smart payment terminal is its availability of downloadable apps. The PAXSTORE is similar to the Apple Store and Android Play Store. The apps allow you to customize your device to suit your company's needs and enhance its functionality. The PAX STORE offers marketing, analytics, business management, and customer loyalty apps. There are countless options.
Payment Types
The way people pay these days is not only through credit and debit, but also through alternative payments. Businesses should consider their customers' payment preferences and expectations. They love digital wallets like Google Pay, Apple Pay, and Samsung Pay, as well as mobile payment apps like WeChat Pay and Alipay.
All card and payment types are supported by the PAX A920, including:
NFC contactless for mobile and wallet payments 

Electronic signature capture 

EMV chip 

Magnetic swipe 

QR code scan
You can increase your conversions and boost customer loyalty by enabling alternative payments.
Latest Version
PAX just announced the a920 Pro. It promises even better battery life, expanded features like Air Viewer (which allows for remote transactions using the terminal) and updated software.
And yet…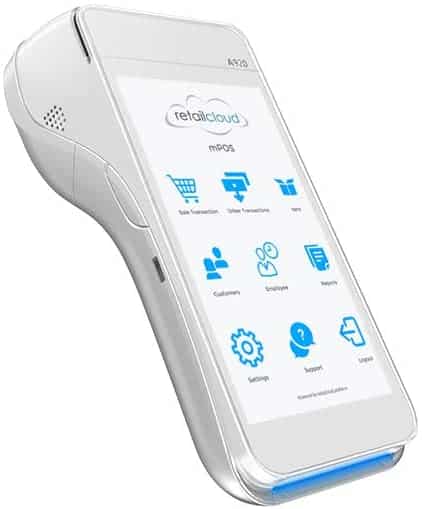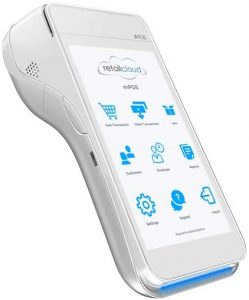 So many of the features of the PAX a920 pro just show off how good the original PAX a920 was. The design is almost exactly the same, with the a920 Pro only having a slightly bigger screen. Even the software interface is identical. 
The PAX a920 Pro is going to be a good upgrade, but it doesn't make the original a920 obsolete.
PAX a920 Paper Size
You can order all the thermal receipt paper rolls you need with PAX credit card payment terminals from POS Supply. PAX Technology makes world-class, cost-effective, superior quality payment solutions. On your PAX A920 mobile payment terminal, you can purchase Thermal Receipt Paper (50 Rolls) in the standard size of 2 1/4″ x 50′.
Final Thoughts
It's no surprise that PAX sold over 11 million devices in 2019, they are putting out quality products, and the PAX a920 is one of them. McDonalds, Starbucks, and Montblanc trust PAX for a reason and that stamp of quality is hard to turn down for your business.
If you're not already married to an all-in-one solution like Shopify, the PAX a920 is an incredible machine and solution for your business. With the Pro releasing soon, it's about to have a big brother, but the PAX a920 gets our highest recommendation, and we're sure the Pro will be the same when we have a chance to review it.
FAQ
How much does the PAX A920 cost? 
The A920 terminal from PAX costs around $300.
Who makes the PAX A920 terminal? 
PAX Technology.
Is the PAX A920 wireless?
The PAX A920 is wireless and operates via WiFi or 3G connectivity.