(Last Updated On: 11/16/2022)
An upgrade from the PAX a920 terminal, the PAX a920 Pro credit card terminal is very sleek and ergonomic. It lets you swipe cards, dip cards, or tap cards. It can be used wirelessly through 4G or wirelessly through Wi-Fi or Bluetooth, and has a nice big screen. There is also a camera on this mobile device, a front-facing and a rear-facing camera. 
Written by Software Expert Hamza Shahid
Affiliate Disclaimer: Our product review team dedicates hours of research, fact-checking and testing to recommend the best solutions to business owners. We earn from qualifying purchases through our links, but this does not influence our evaluations. Why trust our reviews?
The Pro version of the a920 terminal has a larger screen, faster performance, and a professional infrared barcode scanner that can be installed. The a920 Pro is powered by Android and features the same sleek, ergonomic design of the A920, integrated camera, high-speed thermal printer, and high-capacity battery that make it so successful. Experts at Wise Small Business have answered all your questions in this comprehensive PAX a920 review article that explains everything you need to know.
You may be interested in reading our full review of the standard a920 terminal here: Pax a920 Terminal Review.
Don't have time to read this whole review? Skip ahead to: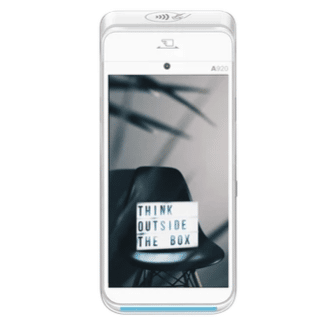 PAX a920 Pro Terminal – Overview
As a result of the new performance and features, together with the features you've come to love from its predecessor, the new version delivers an exciting and fresh payment experience across all dynamic environments where speed and mobility are key.
In order to use the software, you need to download it to the terminal. The receipt prints out the inventory products and gives you reports, just like a larger terminal tablet POS. Everything can be put into this little device. The whole point-of-sale system can be carried in your car if you provide delivery services or home service contracting. It is also possible to use the camera for scanning your inventory items with the front or back camera when your inventory comes in and you need to enter the inventory into your system by scanning the items.
The a920 Pro is a very sophisticated, sleek, sexy looking device that costs up to $500 compared to a standard desktop terminal that costs between $350 and $400. It may be a little more expensive than a regular desktop terminal, but it has so much more value because of its many features. While VX terminals and FD terminals are great workhorses, they are huge clunky things that sit on your desk. 
Core Features of PAX a920
Faster Processing & Larger Display
Featuring the fastest processor in the portfolio, the device is able to run complex applications simultaneously under the highest degree of payment security built into the processor. With its brilliant 5.5-inch touchscreen, the a920Pro delivers a spectacular viewing experience, making it easier for you to showcase logos, advertisements, and video clips, creating multiple ways to engage your customers.
Challenge the Impossible
In addition to public transportation, home delivery, queue busting and petrol, the a920Pro is also designed for a wide variety of vertical markets. This machine is equipped with a powerful processor and double memory, so it is ideal for managing multiple applications simultaneously, such as table orders, payments and loyalty programs. All of these applications are seamlessly integrated to accept any payment method.
Easy Interface 
A simple to use android interface with ultra HD screen.
Flexible Functionality
Rich Payment and Reporting Functionality.
Payments On The Move
With built-in Wi-Fi and 4G Capability, you can take payments from anywhere.
Future Proofread Technology 
High Capacity Battery, dual cameras and the latest in PCI security.
Professional Excellence & Performance
Featuring the same elegant design as the PAX a920 and a professional infrared barcode scanner, the a920 Pro is an upgraded version of the a920 with an auto-focus camera, as well as a quick scan side button. These features allow a QR code to be read quickly & efficiently, making it easier for a merchant to accept more payment options in-store. You can pay with a QR code taken from someone's phone. It is interesting because you can take a picture of that QR code.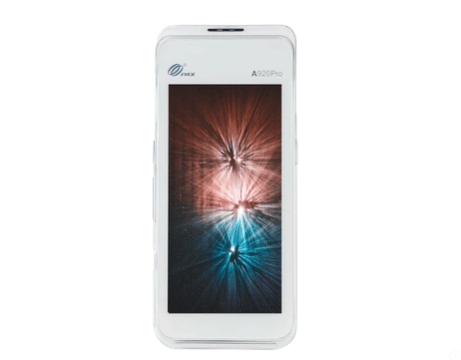 PayDroid Operating System
This mobile device comes equipped with the PayDroid operating system that offers a wide range of marketing & analytics apps through MAXSTORE, which include managing fidelity cards, meal vouchers, petrol applications, table order management, ticket validation and bill payment, all of which can be managed through the MAXSTORE. In addition to creating revenue generation opportunities through the distribution of apps, it also allows merchant service providers the opportunity to differentiate their offering from competitors while reducing merchant churn rates. 
In addition, merchants appreciate the improved management information reporting and analytics capabilities that can now be delivered through the MAXSTORE platform provided by a merchant service provider as a result of the additional data elements captured by Android SmartPOS and made available through the platform.
Ideal for Charities
It is the ideal donation and payment solution for charities who wish to offer donors the maximum number of payment and donation options. With Wi-Fi and 4G connectivity options, the Plus can be used with your own Wi-Fi network, or in a mobile environment. 
There is an optional PAX a920 Pro package available that includes the DonationsApp, which has been specially developed to enable charities to collect recurring donations, or a selectable payment amount. Charities can set their own donation amounts, and the App can be fully branded for the charity.
Professional Scanner
In order to accelerate the handling of alternative digital payments, as well as capture the barcodes of pre-marked bills, vouchers, and travel tickets as fast as possible.
Specifications of PAX a920 Pro Terminal
Operating System

PayDroid Powered by Android 10.0 (PCI 6) or Android 8.1 (PCI 5)

Processor

ARM Cortex A53 Quad-Core, 1.4GHz + Secure Processor

Memory

8GB eMMC Flash + 1GB DDR RAM | Optional: 16GB eMMC Flash + 2GB DDR RAM

Extended microSD Card Slot Up to 128GB

Card Readers

Chip & PIN | Contactless | Magnetic Stripe

Cameras

5MP Front-Facing Camera + 8MP Rear-Facing Camera + Top-Side Barcode Scanner Optional: Higher Quality Barcode Scanner

Displays

5.5" IPS HD+ 720 x 1440 Pixels Multi-Point Capacitive Touch Screen

Configurations

4G + Wi-Fi 2.4GHz + Bluetooth Optional: 4G + Wi-Fi 5GHz + Bluetooth 5.0

Battery

5150mAh | 3.7V

Printer

40 lines/sec | Paper Roll Outer Diameter: 40mm

SIM / SAM

1 Micro SIM + 2 SAM | 1 Micro SIM + 1 SIM + 1 SAM

Positioning

GPS | GLONASS | BEIDOU

Keys / Buttons

4 Keys: Power ON/OFF | Volume+ | Volume- | Quick Scan Key

Audio

1 Buzzer | 1 Speaker | 1 Microphone

Ports

1 Type-C OTG | 6 PIN POGO PIN

Adapter

Input: 100-240V AC, 50Hz/60Hz | Output: 5.0V DC, 2.0A

Physical 

178.3 x 78 x 54.2mm, 390g (Including Battery)

Environmental 

-10°C ~ 50°C (14°F ~ 122°F) Operating Temperature, Non-Charging -20°C ~ 70°C (-4°F ~ 158°F) Storage Temperature 5% ~ 95% Relative Humidity, Non-Condensing

Accessories

L920Pro-BC: Charging Base | 1 Power Port (Type-C) | 182.8 x 84.5 x 44.7mm L920Pro-BE: Charging + Wireless | Wi-Fi 5GHz + Bluetooth 5.0 | 1 RS232 (RJ45) | 1 Ethernet (RJ45) | 1 Power Port (Type-C) | 1 Type-C (Device) | 1 USB(Host) | 182.8 x 84.5 x 44.7mm

Certifications 

PCI PTS 6.x (Android 10), PCI PTS 5.x (Android 8.1) SRED | EMV L1 & L2 | EMV contactless L1 | Visa payWave | MasterCard contactless | UPI qUICS | American Expresspay | Discover D-PAS | JCB J/Speedy | Interac Flash | Mastercard TQM | Common.SECC UKCC | CE | RoHs | ATEX |FCC | IC | PTCRB | WPC | BIS | Anatel | ABECS
Key Features
Powered by Android 10 or 8.1

Cortex A53 processor

5.5″ capacitive touchscreen

4G + Wi-Fi + Bluetooth

Contactless + chip & PIN + magstripe

PIN on glass technology 

5MP front + 8MP rear camera

Professional scanner

5150mAh / 3.7V long-lasting battery

Fast-speed printer 

PCI PTS 5.x (Android 10) or 6.x (Android 8.1) SRED
Key Functionalities
Processing a sale on your device

Processing a refund on your device

Processing a Pre Authorization on your device

A clerk can perform sales and reports, and a supervisor can perform all functions on the device

Voiding a sale, refund or preauthorization

Closing off a batch at the end of the trading day

Printing a copy of a previous transaction receipt

Closing a shift and printing a shift report

Add room or table number
How To Get Started with PAX a920 Pro
You can set up your PAX a920 PRO just as easily as you would set up a phone. Here are a few tips that will help you get started:
Switching On Your Machine 
Step 1: Hold down the power button on the right-hand side of the device
Step 2: GPRS is automatically enabled on your device, and no action is needed. To connect to Wi-Fi, scroll down from the top of the screen
Step 3: Select the Wi-Fi icon
Step 4: Find the network that you wish to connect to
Step 5: Enter the Wi-Fi password and select Connect
Logging in
Step 1: From the main screen, select the AIB Merchant Services App
Step 2: Login to the App. Username will be Manager. User ID will be the number 1 and password will be set as the last 4 digits of your Merchant ID
Step 3: You're ready to take payments
Changing the Till Roll
Step 1: The till roll sits in the upper rear section of the device. Pull the lever backward to open the compartment.
Step 2: Remove the old roll and place the new roll inside.
Step 3: The image inside the compartment will show you what direction the paper should feed.
PAX a920 Pro Pricing
Purchase 
12 Month Minimum Contract Term
Purchase
$459.00
Monthly
$20.20 per month
Configuration & Delivery
$18.00 per device
4G SIM with 1GB Data
$5 per month 
Rental
Fixed Contract Term
12 Months
$45.20 per month
24 Months
$33.50 per month
36 Months
$30.90 per month
48 Months
$27.30 per month
Configuration & Delivery
$17.80 per device
4G SIM with 1GB Data
$4.70 per month
Monthly Fees For All Packages Include:
Gateway Processing

Connectivity

Terminal Management

Device Replacement Service

Technical Support
Benefits of PAX a920 pro Terminal 
A standalone device

Selectable donation modes

Rechargeable battery for continuous use

Fast thermal printer

Stores transactions offline when needed

Powered by Android OS-Supports electronic signature capture
PAX a920 vs. PAX a920 Pro: What's the Difference? 
The major difference between PAX a920 and PAX a920 Pro is that the Pro version has an infrared barcode scanner and a larger, more user friendly screen. Unlike a920, the a920 Pro comes with the newest version of Android 11. It is also compatible with WiFi and Bluetooth, and can make use of cellular data, in addition to being able to connect via WiFi and Bluetooth.
Final Thoughts
There are several features that make the A920 Pro so successful, including its sleek and ergonomic design, an integrated camera, a high-speed thermal printer, and an extremely powerful battery, all of which make the device so popular. As a result of its performance and feature upgrades, coupled with its best features from its original predecessor, the new a920 Pro offers a new and exciting payment experience across every dynamic environment where speed and mobility are of prime importance. The new technology is very modern and makes you look like you are on top of your field. You can learn more about the a920 and the a920 Pro terminals at Paxtechnology.com.
Frequently Asked Questions
What's the difference between A920 and A920 Pro?
The Pro version is not only equipped with all the features that the a920 has to offer, but it is also equipped with an infrared barcode scanner, as well as a larger, more user-friendly screen than the initial a920. 
Is PAX a Chinese Company?
It is headquartered in Shenzhen, listed on the Hong Kong Stock Exchange, and sells its products internationally.
What is PAX?
PAX Technology manufactures payment terminals, PIN pads, and point-of-sale hardware and software.
How much does PAX A920 cost?
Depending upon where you purchase the PAX a920, initial cost starts around $400. The Pro version starts around $500.