(Last Updated On: 02/01/2023)
Our product review team dedicates hours of research, fact-checking and testing to recommend the best solutions to business owners. We earn from qualifying purchases through our links, but this does not influence our evaluations. Why trust our reviews?  
Reviewed by Business Expert Wale Ameen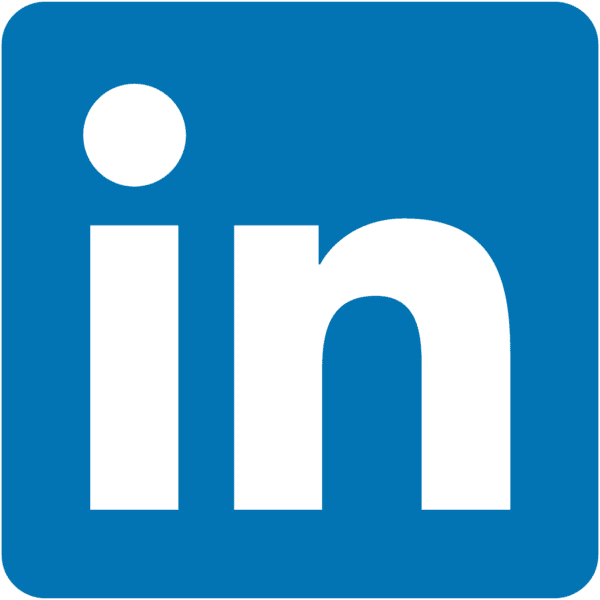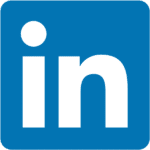 What is inFlow Inventory?
The inFlow inventory management system is a great tool to manage your inventory, track stock inflow and outflow, and stay in control of your business.  In coming up with this review, I have done a careful analysis of the pros and cons of the cloud based and mobile software.
A Quick Overview: Specifications of inFlow Inventory System
Cloud based (Windows)

Mobile compatible (iOS and Android)

Easy integration with ecommerce accounts on Shopify, Amazon + 35 others

Offers a B2B online showroom

Powerful reporting capability

Easy customization

No setup fee

14 day trial available
Want to jump to specific sections of this review? Here's a quick list of recommended sections:
What is an inventory management system?
Why do you need an inventory management system?
Features of the inFlow inventory management system
inFlow Inventory System Pros and Cons
An overview of inFlow – trial account, customer support, pricing
inFlow Inventory vs Zoho Inventory
inFlow Inventory vs Quickbooks
How I Evaluated
In coming up with this review, I have carried out a deep analysis of the features of the inFlow inventory system and compared it to at least 10 other top inventory systems on the market looking at how it fared in terms of pricing, popularity, and features. This step is in addition to  our top considerations for choosing a POS system.
What is an Inventory Management System?
Simply put, an inventory management system or inventory system is a process by which a company's stock items and inventory are tracked. It is a system through which a company's goods are tracked along the entire supply chain, starting from the production or purchase point to eventual sales. It is a set of processes that guide this entire process.
The modern inventory system has come a long way since the start of the second industrial revolution, which brought a number of breakthroughs for inventory management. Herman Hollerith, an American inventor, is credited as being the one who invented the first modern automatic computation machine.
Before then, keeping track of things was largely done by manual counting and tallying of items. The earliest form of stock taking and inventory management dates back more than 50,0000 years when humans used ''tally sticks'' to count and take stock of goods.
Over the decades, inventory management has, however, developed into more accurate systems where accounting and record keeping are carried out.
Why Do You Need an Inventory Management System?
In order to take the guesswork out of your stock management, then an inventory system or inventory management system is a must.
Every business owner or manager that handles stock and wants to ensure that he or she is abreast of the inflow and outflow of products and needs for production must definitely opt for a system of their choice. The particular one you now decide to use is really entirely up to you.
The inFlow inventory management system, or inFlow inventory software, is one of the best systems on the market that offers an easy way to run and manage a business enterprise. It is a cloud-based inventory and order management system that helps you stay up to date on your business processes from anywhere you may be located at any given point in time.
It runs on Windows (via browser) and on both Android and iOS devices. Its popular categories include Barcode, Order management, Warehouse management, and inventory management.
The inFlow inventory management system allows you to track stock across any location and manage purchases and sales from one app.
It is an ideal solution for virtually any business type: manufacturers, B2Cs, wholesalers, distribution, or ecommerce businesses. inFlow is a great tool to manage a business order or process from the very start to finish. It supports pick up, packing, and shipping and connects with more than 35 ecommerce platforms.
With inFlow Inventory, you can easily create purchase orders and restock, set order points as well as reorder quantities, easily manage inventory across more than one location, and access platforms from both desktop web browsers and mobile devices.
By scanning barcodes, you can pick, receive, transfer or ship products; assemble products from a bill of materials; integrate your omnichannel ecommerce accounts on Shopify, Amazon, etc.; and sell online with a B2B showroom.
It is an award winning software that is highly rated among users. It made the Capterra Shortlist of 2022, Software Advice 2021 Front Runners list, Get App category leaders 2021,  G2 Spring 2021 High Performer.
A good way to start off with inFlow is to try it out with its 14 day free trial offer.
About the Company


The inFlow inventory management system is a product of Archon Systems, based in Canada, and was founded in 2005. inFlow therefore boasts more than 15 years of experience in the inventory management space and, as such, is very popular among business owners in several countries, such as the United States, India, Canada, the United Kingdom, Italy, and Australia.
Get Started Now with inFlow Inventory
An overview of inventory and orders
inFlow enables you to stay on top of your stock levels, what is available, how many are left of each product in your inventory, and where they are, giving you a good view of products across multiple stores, offices, or warehouses. With it, you can easily track sales and purchases from one central point.
A powerful mobile app
inFlow inventory software has both Android and iOS apps with which you can stay in charge when on the go of all the processes of your business. You can do virtually all you can do on the desktop version right on the mobile apps. All you need to do is simply download, log in with your registered details and you can easily carry out a number of actions such as adding products, viewing sales and many more.
Barcode system/Ticket Scanning
inFlow inventory management features a barcode system with which you can move your inventory faster. By using its barcode system, you can easily transfer, pick, receive, and adjust inventory levels. Its barcode function helps you generate new and individualised SKUs and barcode labels for your products seamlessly.
Easily organize your products using a variety of parameters
You can easily organize your products by product names and SKUs, or organize products using multi-level categorizations, photos, dimensions and weight, and serial numbers.
An online showroom that allows you to sell to B2B customers
inFlow Inventory has an online showroom feature which lets you create an online portal where you can display and sell your products to B2B customers.
Powerful reporting capability
inFlow comes with a powerful reporting capability that offers different parameters with which reports can be viewed. It provides graphs for your key metrics with a snapshot of your top 5 products. It comes packed with 13 unique sales reports and 14 unique inventory reports.
Easy report customization
You can create custom invoices for your clients, customize your document numbers, assign orders to your team members, and create user-specific access rights for your team members, or restrict access by location. You can export reports as CSV.
Integration with more than 35 ecommerce stores and accounting software
As an inventory software, you can easily connect inflow to more than 35 different ecommerce stores along with various accounting solutions. You can easily integrate with ecommerce platforms such as Amazon, Shopify, Woocommerce, DYMO, and Squarespace. This makes managing your inventory as you sell across these different platforms easy as you can seamlessly manage the amount of inventory you have available for sale on these different ecommerce platforms.
Your stock levels are easily synced into your inflow account to help you manage multiple ecommerce platforms seamlessly. You can also easily push your finances directly to accounting software like Xero or QuickBooks.
No setup or contract fee
inFlow inventory management is an easy to setup and straight forward system to adopt. It's simple to understand pricing packages with no obligations, setup or contract fees make it a great solution to adopt. You need not worry about being tied down by long term contracts or hidden conditions.
inFlow Inventory Management System: Features at a Glance
Barcoding/RFID
Billing and Invoicing
Cataloguing/Categorization
Check-in/Check-out
Contact Database
Cost Tracking
Customization
Forecasting
Inventory Management
Inventory Optimization
Accounting Integration
Alerts/Notifications
Backorder Management
Barcode / Ticket Scanning
Get Started Now with inFlow Inventory
inFlow Pros and Cons
Any great system will most certainly have its pros and cons. Highlighted below are the pros and cons of the inFlow Inventory solution.
Pros
Ease of use
inFlow boasts an easy to use interface and a general walkthrough.
Easy to get employees on it
inFlow Inventory is easy to understand and quickly too. As such, employees can easily come up to speed with it and begin to use it in no time.
Great reporting
It has a detailed reporting provision that allows you to see your inventory at a glance using a number of parameters.
Very intuitive
Software is intuitive with the bar-coding solution, which tends to make it more seamless to use.
Cons
Reporting lacks some customization
While its reporting is generally great, it lacks full customization and may not be easily customizable down to a user's preference.
iPhone app missing some functionalities
inFlow's iPhone app has been noted to be missing a number of functionalities, like sub-location.
Software sometimes lags
The inFlow Inventory software has been reported to lag for some users as it consumes a lot of system resources, resulting in the system having to be restarted.
Year end inventory count reset missing in software
It has been noted that the inFlow Inventory software lacks an automatic reset function for users who would like to start a new year on a clean slate.
Who is inFlow Inventory Ideal For?
inFlow Inventory software is ideal for small and medium sized businesses. It is popularly used by companies with 10-50 employees and running between 1m – 10m dollars in revenue. It is a popular software among businesses in the United States.
According to enlyft, industries currently with the largest number of users of inFlow Inventory include information technology and services (11%), computer software (10%), retail (8%), and higher education (5%).
The following breakdown is the step by step guide to setting up your fourteen day trial account on inFlow. To setup your trial account on inFlow, the very first step is to go to the platform's website at www.inflowinventory.com.
The next step is to click on the "Free Trial" button at the top right hand corner of the homepage.
Clicking on the free trial link takes you to the sign up page where you are asked to input your email address.
After you have imputed your email address, a verification email is sent to that email address and you are required to verify it.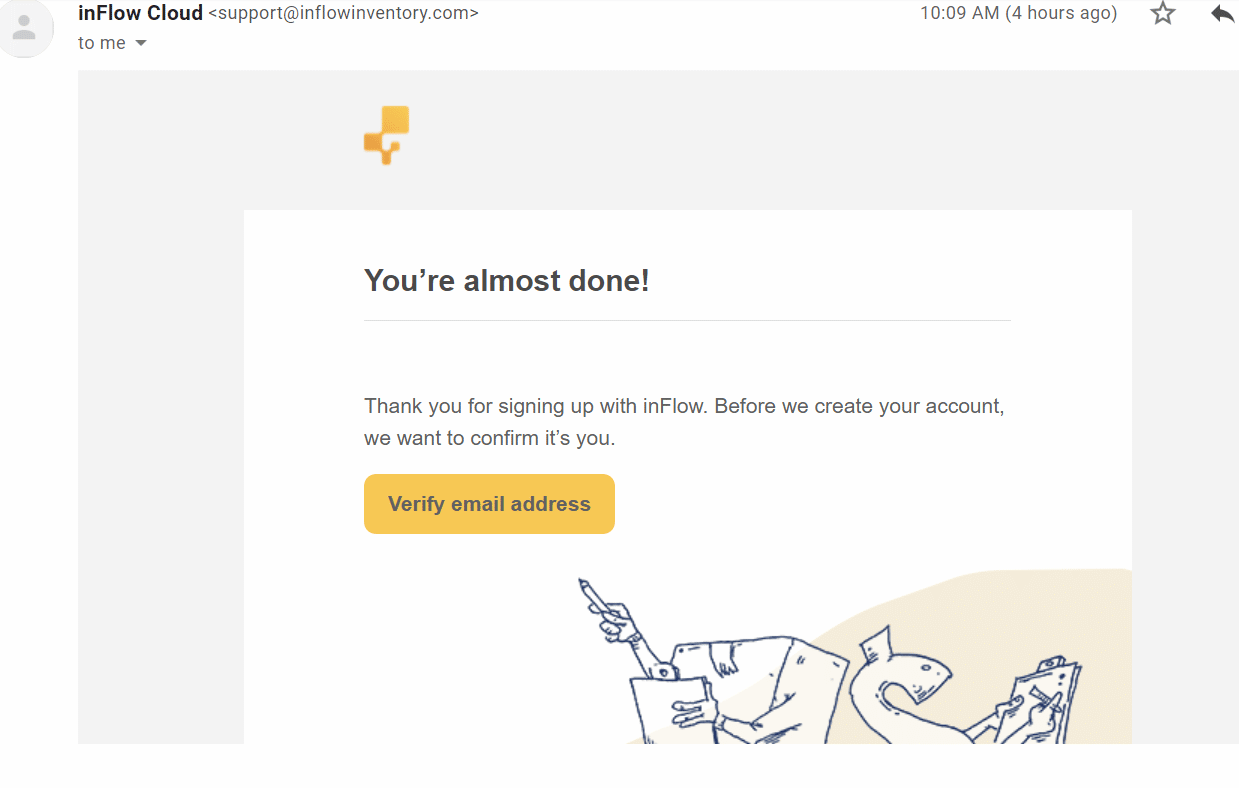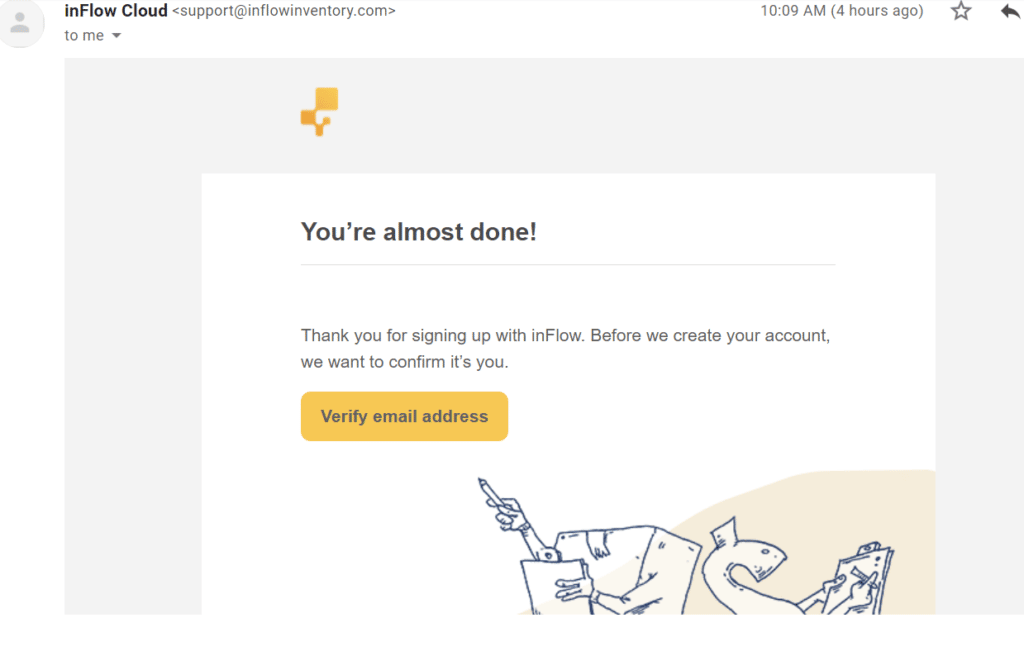 Once this is done, you are then redirected to the sign up page where you will be required to choose one of six types of business that best applies to your business type. You are required to choose either of these: Business owner, inventory operations, production or manufacturing, purchasing or procurement, finance office or administration, and sales or marketing.
Once you have selected your appropriate business, you are led to your desktop homepage where you have to customize it to your needs. The desktop view features a number of tabs such as Purchase, Inventory, Sales, and Reports, with tons of customizations and functions available under each tab.
Under the Purchase tab, you can set up your purchase order list, add a new purchase order, or quote. In the Inventory tab, you can set up a product list, reorder stock, and add new products.
From the homepage, you can also download the Windows version of the software application, while if your desire is to use the mobile version, you can also access and download the iOS and Android apps from the app stores.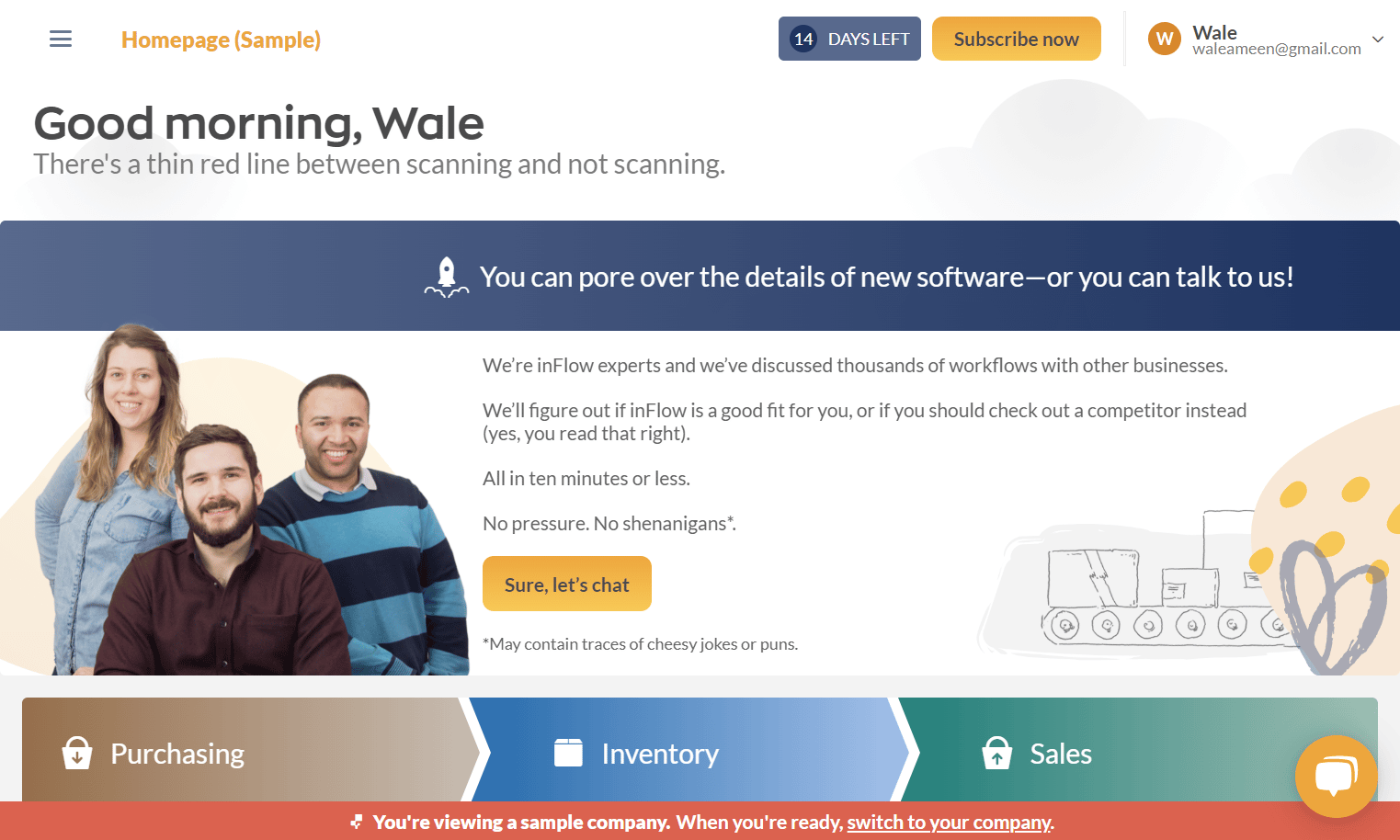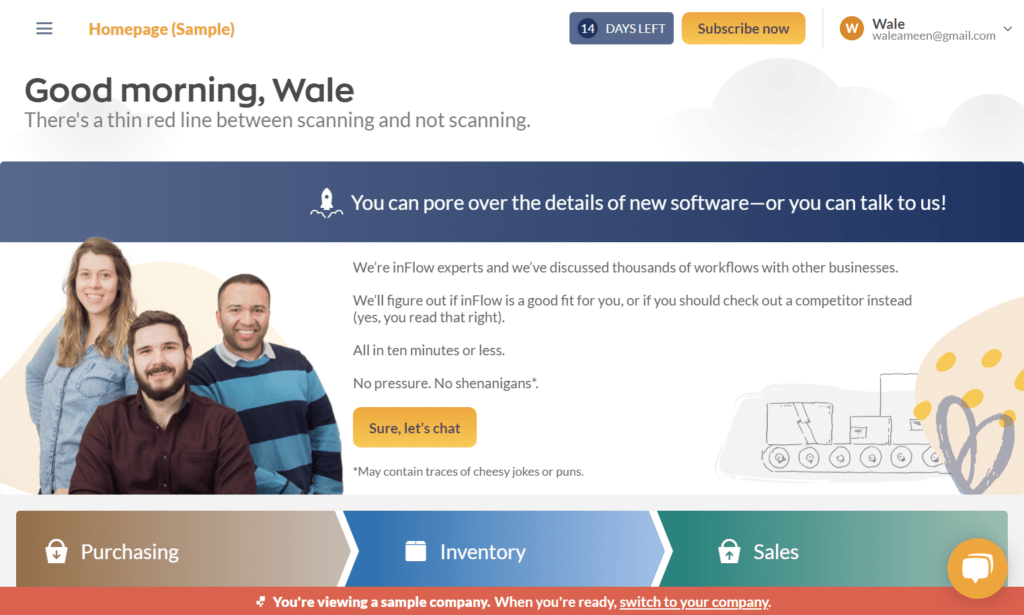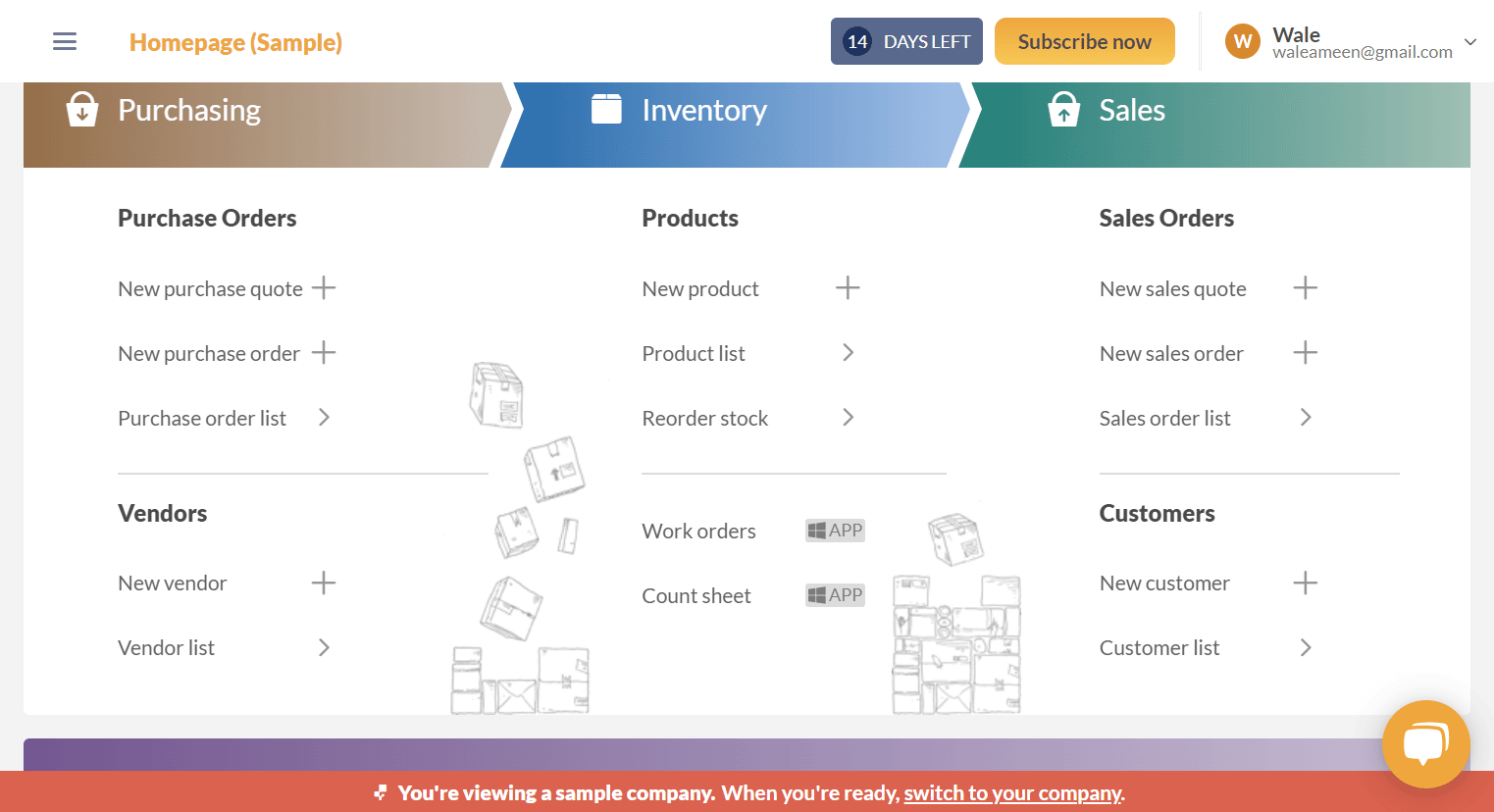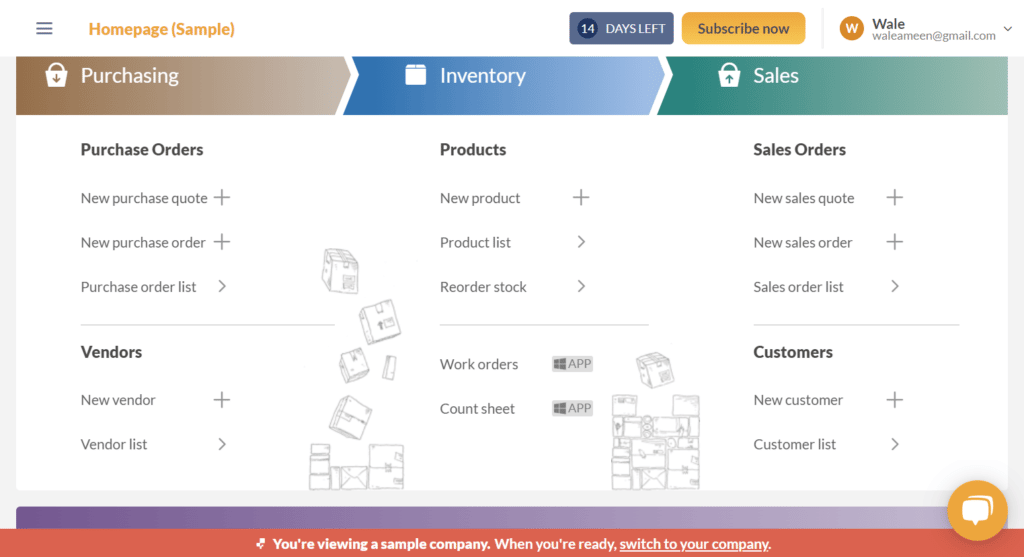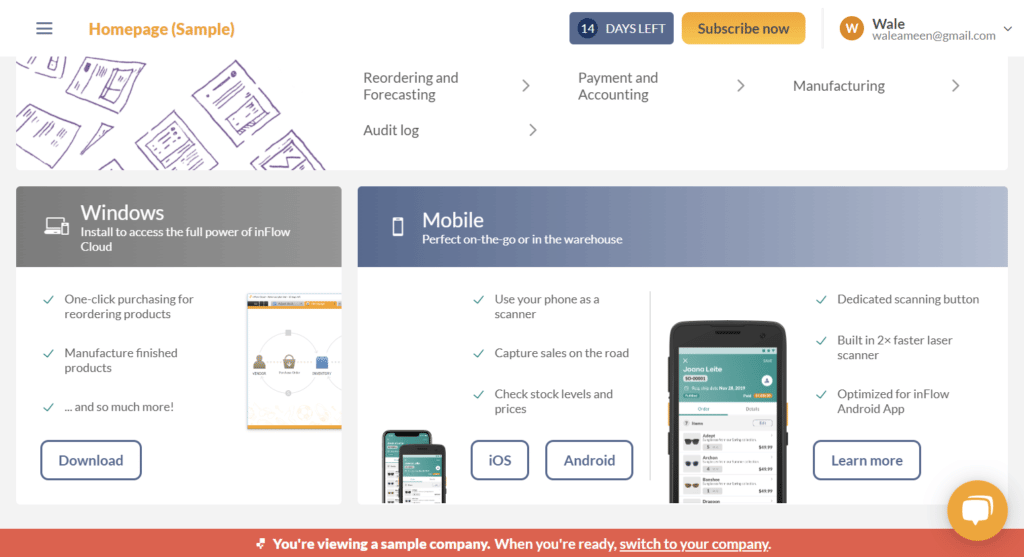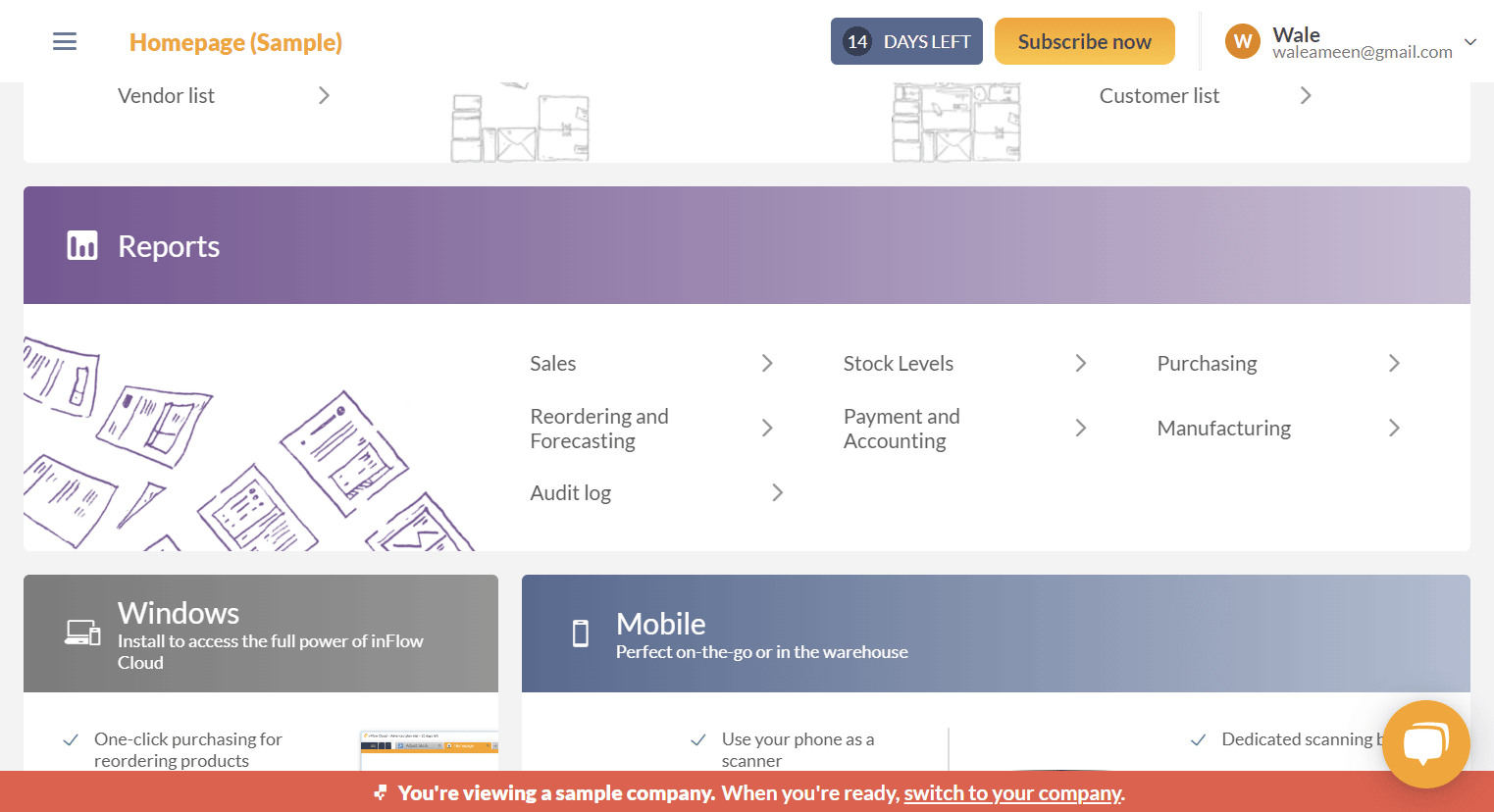 An Overview of its Android Mobile App
The inflow app for Android and iOS is a powerful tool that keeps you in control even on the go. You can easily fulfil orders and update inventory levels right on your mobile device. You can increase the mobile functionality by upgrading to the inFlow Smart Scanner, which is a full laser scanner that has been built into a 'drop-proof' Android device.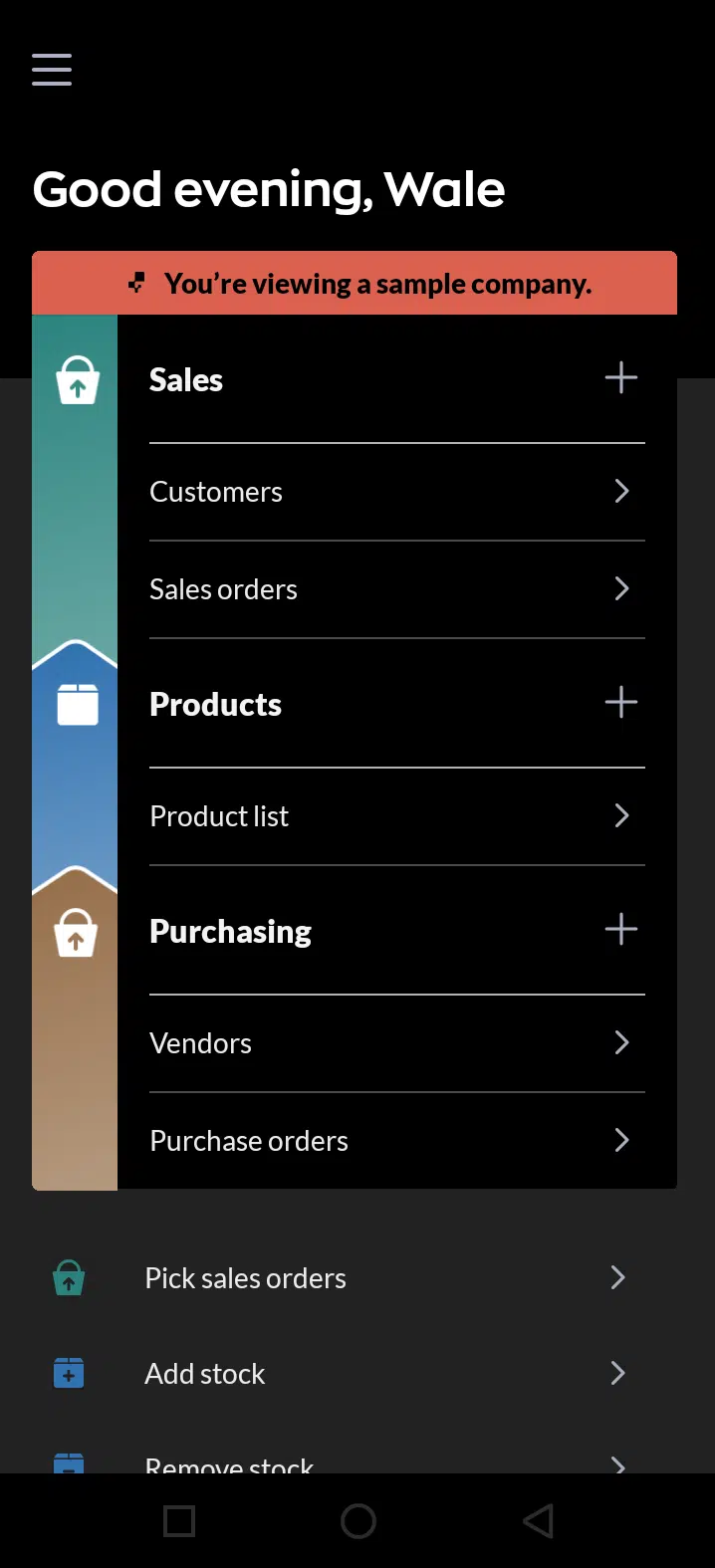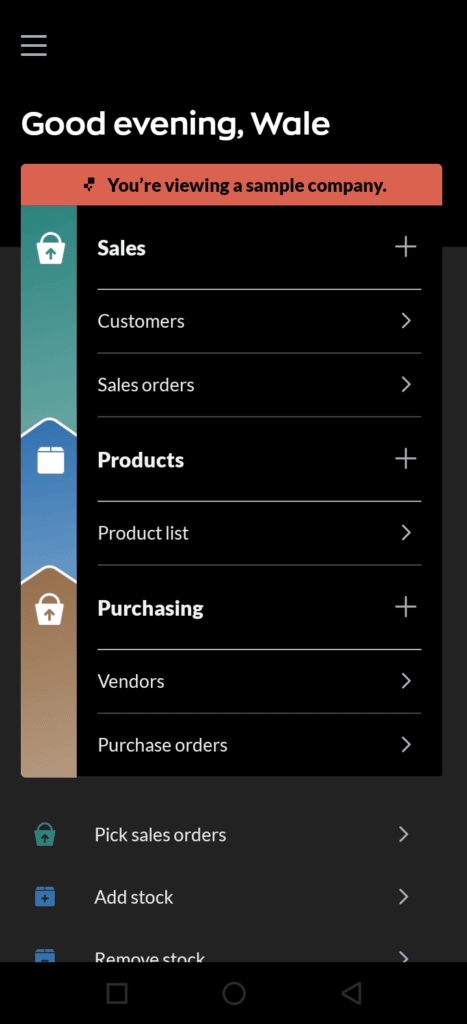 We took a tour of the mobile app and it features a handful of features such as ability to add products, an overview of customers, a one-click access to all your sales reports updated to the minute, vendors list, and products list. You can pick up sales orders, add stock, remove stock, transfer stock from one station to another, and receive purchase orders.
Get Started Now with inFlow Inventory
inFlow Customer Support
inFlow offers round the clock customer care support. This it provides via a number of outlets such as Email or Help Desk, its Frequently Asked Questions page and forum. It also provides support via phone, live chat, and users can make use of its knowledge base.
The company also provides training via live sessions, webinars, well outlined documentation, and videos.
How Much Does inFlow Inventory Software Cost?
In terms of pricing, inFlow offers four different pricing packages: Entrepreneur, Small Business, Mid-size, and Enterprise plans.
inFlow Inventory Price
Entrepreneur Plan
Its entrepreneur plan costs $79/ month and comes with provision for 2 team members, 1 location, and no sublocations. It allows up to 100 sales orders/month incl., 2 integrations. It also comes with unlimited support and up to 2 hours of setup assistance.
Small Business Plan
This plan costs $219/month and comes with an allocation for 5 team members; an unlimited number of inventory locations; 2,000 sales orders/month; integrations to three solutions; unlimited support; 2 hours of setup assistance; user access rights; and a showroom.
Mid-size Plan
Mid-size plan costs $439/month and comes with an allocation for 10 team members; an unlimited number of inventory locations; an allocation for 10,000 sales orders/month; unlimited integrations; unlimited support; 2 hours of setup assistance; user access rights; showroom (which helps you create a B2B portal); access location restrictions by location; sales rep restrictions; purchase order approvals; and inflow branding removal. It also has the option of purchasing an optional inFlow smart scanner, which goes for $999.
Enterprise Plan
inFlow's Enterprise plan costs $1319/month and comes with provision for 25 team members, unlimited inventory locations; 30,000 sales orders/month; unlimited integrations, unlimited support; up to 10 hours of setup assistance; user access rights; showroom; access restriction by location, sales rep restriction, API; serial number generation for each unique instance of a product; purchase order approval, which helps you determine whether purchase orders need approval and which staff member can approve such, premium database which helps optimise businesses with large amounts of inventory; and a dedicated account manager.
inFlow allows you to easily upgrade or downgrade your plan and allows for custom plans where you decide based on the peculiarity of your needs. The company promises that users' data is safe as it uses a 256-bit SSL encryption, which is backed by Microsoft Azure.
Get Started Now with inFlow Inventory
What Are the Top Alternatives to inFlow Inventory Management System?
While inFlow is no doubt a great inventory management system you should consider for your inventory management, there are a number of other top alternatives that compare nicely to it. Some of the top alternatives to the inFlow inventory management system are:
QuickBooks Commerce
Fishbowl Inventory
Cin7
inFlow Compared with Top 4 Competitors
Conclusions for these comparisons are drawn from our in-house practical review of these individual solutions, especially their free demos and trial versions. This is compared with data sourced from users' reviews and their noted preferences based on usage. These reviews are monitored across several top rated review websites online.
While both solutions are targeted at small businesses, Zoho inventory, when compared to inFlow, stacks up well. However, in terms of meeting various business needs, several reviewers point out that inFlow Inventory does better compared with Zoho. For product support, inFlow Inventory is preferred by more reviewers, while in the area of feature updates, Zoho Inventory is preferred to inFlow Inventory.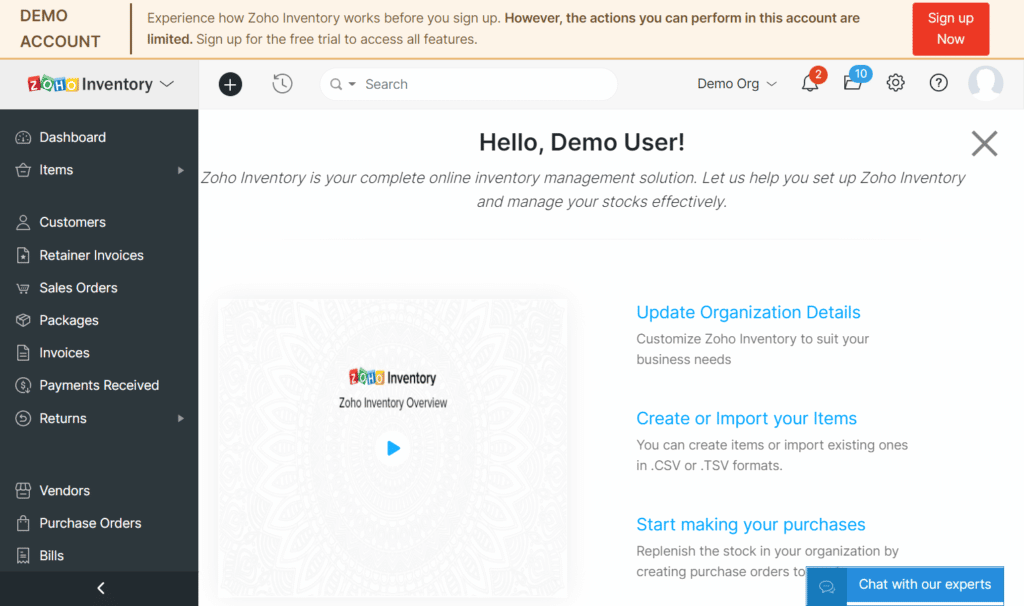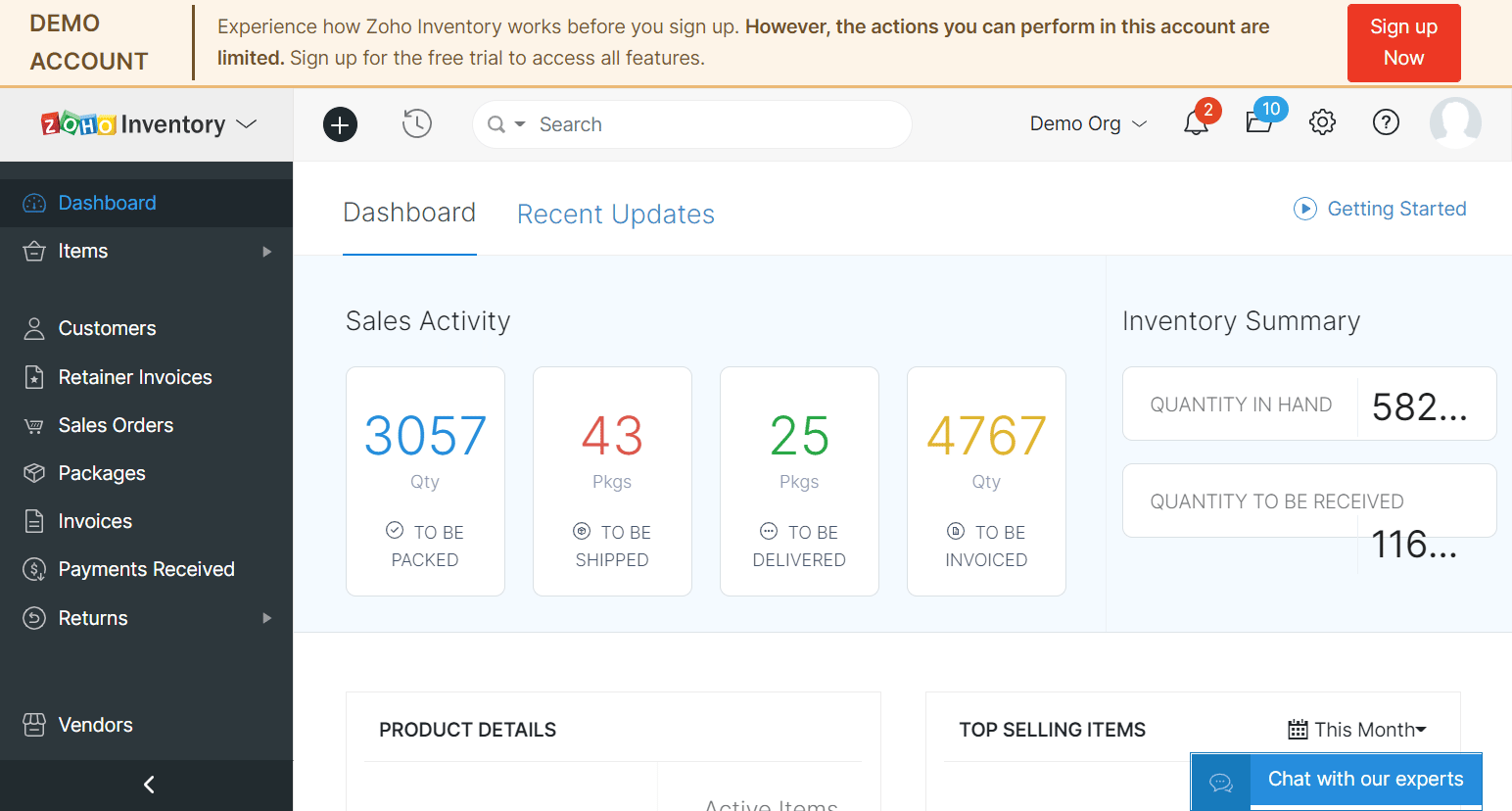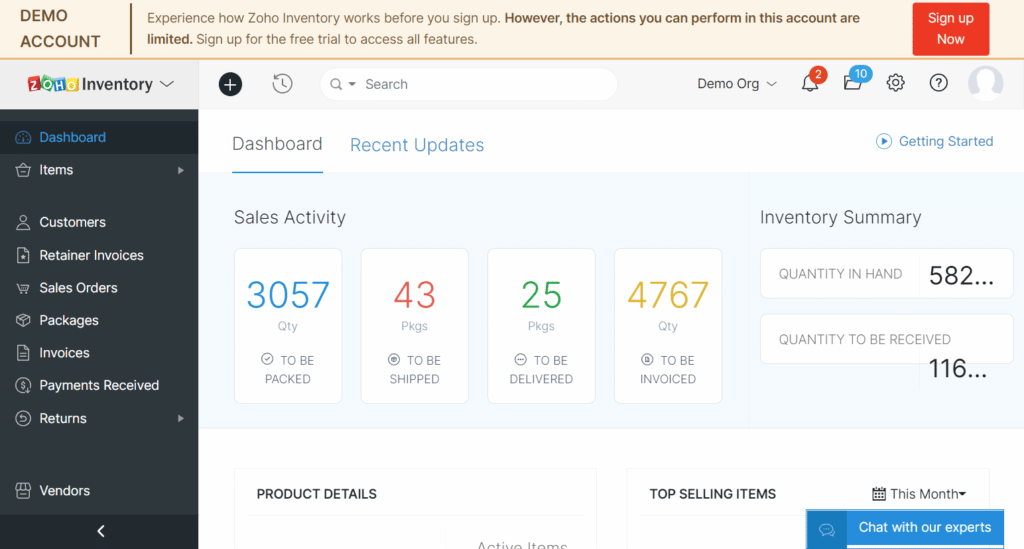 Pricing
While both solutions offer free trials, in terms of pricing, Zoho has a more friendly pricing range, but this needs to be compared in line with features available and what can be achieved using both systems.
inFlow Inventory
Zoho Inventory
Entrepreneur

$79.00 per month

Free Edition

$0 per organization / per month billed annually.

Small Business

$219.00 per Month

Standard Edition

$59per organization / per month billed annually

Mid-Size

$439.00 per Month

Professional Edition

$99per organization / month billed annually

Enterprise

$1,319.00Per Month

Premium Edition

$159per organization / month billed annually

Elite Edition

$239per organization / month billed annually
Reviews of both inFlow and QuickBooks show that inFlow is a more popular brand compared to QuickBooks, with more reviewers showing up for inFlow when compared with QuickBooks.
Users report that inFlow is more user friendly and reliable than QuickBooks. In the area of pricing, both solutions' pricing plans are presented below.
inFlow Inventory
QuickBooks
Entrepreneur

$79.00 per month

FOUNDER

$39per month

Small Business

$219.00 per Month

LITE

$99per month

Mid-Size

$439.00Per Month

SMALL BUSINESS

$249per month

Enterprise

$1,319.00Per Month

BUSINESS

$699per month

PREMIUM

$999per month
inFlow vs Fishbowl Inventory
Fishbowl is an ideal solution for companies that need users with a capacity of between 1-500, it is described as top rated manufacturing and warehouse management software that integrates easily with QuickBooks and offers cost-effective inventory management to manufacturers.
When compared side by side, reviewers show a preference for inFlow Inventory compared to Fishbowl Inventory. Both solutions offer free trials.
In the area of pricing, Fishbowl is more costly to set up as its entry price starts at $4,395 compared to inFlow's starting price of $79.
inFlow vs Cin7
Cin7 is a cloud based inventory solution ideal for brands, wholesalers, retailers, distribution, and light-manufacturers. It helps such businesses operate at scale and easily match demand with supply.
When compared with inFlow Inventory, Cin7 scores stand toe to toe with inFlow, especially as it has as many reviews as inFlow with sterling ratings from reviewers. Both systems score high in ease of use, customer service, and are likely to be recommended. A total of 84.4% said they would likely recommend inFlow, while 74.1% said they would likely recommend Cin7.
In terms of pricing, Cin7 starts at $295, compared with inFlow's $99 starting price.
Conclusion
The inFlow Inventory management system is a cloud based solution that compares nicely with the top software solutions in its industry and is a great option that you definitely want to give a try, especially since it offers a free trial version and demo with which you can get a feel of its processes.
FAQs
Is inFlow Inventory free?
inFlow is a great tool that is ideal for small and mid-sized businesses. It offers pricing plans great for these businesses and also offers a free 14 day trial.
Can I use Quickbooks for inventory management?
Quickbooks Inventory Management Software is a solution you can adopt to manage your inventory , track and stay informed of your stock levels at all times.
What is the best program to keep track of inventory?
Some of the best inventory management software include: Cin7, inFlow which is ideal for B2B companies, Lightspeed Retail which is ideal for retail stores.
What's the difference between inventory and inventory asset?
The difference between inventory and assets is that assets are a store of value while inventory are goods and products whose quantity constantly changes based on sales. 
What is the easiest way to track inventory?
The easiest way to keep track of your inventory is with an easy to use inventory management system. This will help you track inflows and outflows, and you will stay abreast of stock quantity levels.