(Last Updated On: 07/23/2022)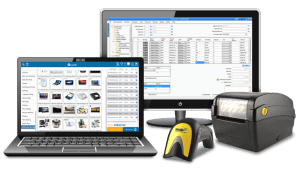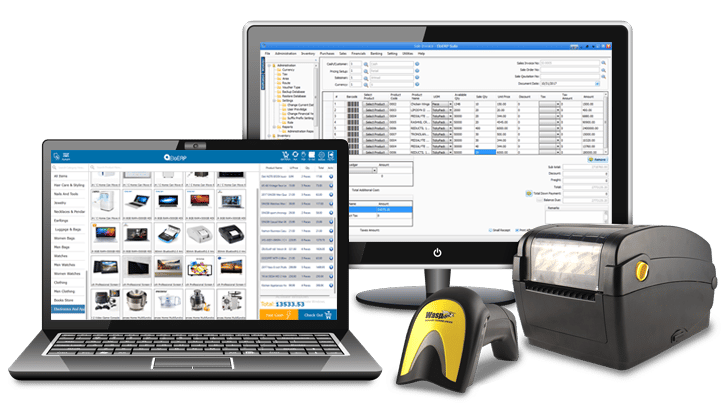 The best appliance store POS system should feature robust inventory features. It should streamline operations by reducing labor costs. It should have the right tools to simplify the management, tracking, and selling of an assortment of appliances and accessories.
The right software solution should allow for the right inventory control, and allow for efficient implementation of mark-downs and promotions. The all-encompassing solution should also allow you to track and report on product movement and trends in the store. 
Reviewed below are the top four appliance store POS systems you should consider.
Top Appliance Store POS Systems 
| POS Name  | Software Subscription fees  | Payment Processing Rate  |
| --- | --- | --- |
| MicroBiz  | Starting from $55/Month per register.  | Depends in your preferred payment processor  |
| iQmetrix  | Starting from $35/Month | Starting from 0.15% + $0.09 for credit card payments, 0.30% + $0.09 for Amex Card payments, and 0.20% + $0.19 for debit cards. |
| Storis | Quote-Based | Varies from one integrated payments processor to another  |
| Bepoz  | Starting from $69.00/Month | Quote-Based  |
| LightSpeed Retail  | Starting from $69/Month | 2.6% + 10 cents per transaction, and 2.6% + 30 cents for keyed-in transactions |
1. MicroBiz POS– Best Appliance Store POS System Overall
MicroBiz offers specialty cloud EPOS and retail automation software for independent appliance retailers.
It allows such retailers to ring up sales on iPads, MAC and Pc devices. With this solution, you will be able to upload financial data to QuickBooks and manage multiple outlets. 
Innovative inventory management, store transfer, automated receiving, purchasing, order, and delivery management are some of its best selling points. Other aspects that make MicroBiz a desirable appliance store POS system include: 
Customizable Fee and Tax Tracking
Manage any tax or special fee requirements with the specialty tax tracking tools on this system. Most tax calculations on the MicroBiz appliance store POS system are carried out automatically. It is also capable of handling other special fee scenarios, such as disposal fees on televisions.
Multiple Shipping Addresses 
If a customer has multiple addresses saved in the POS, you will be able to ship to any of them with ease. Additionally, you may also ship the same selection to multiple recipients.
Layaways and Deposits 
It allows you to collect deposits while holding the item out of inventory. This feature also allows you to accept and keep an accurate track of customer deposits. 
Pricing 
With MicroBiz, there are no long-term contract requirements or hidden fees. You will always know what you are paying for and be able to cancel, change or upgrade your subscription at any time. Each Microbiz subscription plan includes two free hours of configuration/training.
You may also purchase remote training at $75/hr.  These are the two main MicroBiz appliance POS subscription plans you should consider:
Single Store ($55/Mo)
This plan is ideal for startup and medium-sized appliance stores with a single business location. The price includes one register with supports for unlimited employees, unlimited users, free updates, and free QBO sync. 
Additional registers will be charged at $27.5/month each. 
Multi-Store ($80/Mo)
If you happen to have multiple appliance store outlets and would like to manage them from a central point, the MicroBiz Multi-Store plan will suffice. It is priced at $80 per month for a single register. Additional registers are priced at $27.5 each.
Possible Drawbacks 
Integrating the MicroBiz POS system to Magento is rather complicated and may require professional assistance. 
2.iQmetrix – Best Appliance Retail Management Suite
iQmetrix is one of the most powerful and innovative POS solutions for appliance retailers and cell phone sellers. In addition to comprehensive sales and management capabilities, the solution features to repair and service management functionality. 
It allows appliance store owners to accurately handle repair requests with its customizable repair workflows. Here are other aspects that make iQmetrix one of the best POS systems for an appliance store: 
Repair and Service Tools 
The RQ appliance store POS system is equipped with a range of features to help you manage the service department more effectively. It offers complete insights into the parts used as well as job status on each repair/service being carried out in your store. 
This has been proven to streamline appliance repairs and service requests for appliance retailers. It offers complete visibility into the repair tasks and helps you track parts used with ease. You may track the parts at the customer level as well as access custom fields for the process flow. 
Serial Number Tracking
It allows you to account for all appliances, accessories, and parts with ease. The solution is designed to deliver in-depth records of past service requests, and sales histories. This will come I handy whenever a serialized item is not identifiable in the inventory counts. 
Pricing 
iQmetrix offers a number of software subscription plans to suit different retail needs and budgets. Software pricing at iQmetrix mainly depends on the number of locations, trading volume, cash to card acceptance ratio, and advanced features required. 
Some of the main iQmetrix pricing plans you should consider include:  
Gateway ($55/Mo) 
This plan will offer you basic appliance retail POS and management capabilities, along with third-party payment processing integration support. The subscription cost also covers EMV updates and electronic signature storage 
Flex ($35/Mo) 
This plan offers iQmetrix payment processing along with several add-on options for your appliance store. In addition to basic POS and management features, you will also get a merchant account and payment, single-point customer processing, and support for basic PCI. 
Professional ($65/Mo) 
Despite its affordability, this plan offers iQmetrix processing with everything included. It will equip you with such advanced capabilities as terminal sharing, advanced PCI shield as well as terminal reporting and Branding.
Possible Drawbacks 
As compared to some of the leading appliance store POS solutions, updating iQmetrix is rather slow and time-consuming. 
3. Storis POS – Best Unified Commerce Appliance Retail Solution
For more than 30 years, Storis has been offering its reliable POS and management software to appliance retailers. Over the years, the provider has been striving to offer a fully-integrated POS platform to simplify daily activities for appliance retailers. 
The result is an efficient system that offers valuable insights, saves times and boosts productivity significantly. Some of the things you will come to like about the Storis appliance store POS system include: 
Integrated Customer Service 
This solution is designed to manage extended services, including repairs, and warranties, in your appliance store. The customer service feature integrates directly with your customer records and the initial sale. 
Transit from the sale to the service of inventory seamlessly with a range of tools to help you track warranties, manage inventory parts required, and service teams. Such a solution makes it possible for you to offer value-added benefits beyond the initial appliance sale. 
It allows you to track electronics and appliances using serial numbers and tire service requests to the original sales orders, and customer profiles. Manage payments and the responsible parties, with convenient access to warranty terms. 
Service Team Management and Routing
You may manage your service department through STORIS Customer Service. This functionality allows you to track work schedules, and manage labor rates more effectively. The system also applies labor rates to automatically calculate service costs. 
If the repair or maintenance service is to be carried out at the customer's location, Storis Logistical Scheduling functionality will come in handy. It lets you build optimal service routes, and use labor hours per technician to manage route capacities. 
Service orders may be scheduled using available dates at the POS to meet your customer expectations. 
Pricing 
The provider does not display pricing details on its official website. To get an accurate quote of what you will be required to pay, you should contact the provider directly.
Possible Drawbacks 
The software does not support many of the important third-party retail integrations. 
4.Bepoz POS – Best Cloud Based Appliance Store POS
Bepoz offers one of the best cloud-based retail POS dilutions for appliance stores in the industry. It presents you with one of the most customizable and configurable reporting and analytic solutions you can get. 
Similarly, the provider offers customizable promotion, customer loyalty, and voucher capabilities. Other aspects that make Bepoz stand out from other appliance store POS systems to include: 
Hand-Held Inventory Manager 
Manage your store inventory and carry out stock takes right from your back office or a handheld device. Allows for easy setup of reorder point, and replenish level rules. With this solution, you may carry out stock takes by size pieces, multiple unit breaks, and case breaks. 
It makes it easy for you to create purchase orders, enter invoices, and transfer stock to and from different warehouses and stores. Allows you to carry out Ad Hoc or full stock takes at any given time. The system is capable of spot-checking the stock as well as prices and margins. 
Reporting and Analytics
With the Bepoz appliance store POS system, you won't have to dig to find actionable data. To help appliance retailers solve practical problems, the system is designed to offer you tangible visibility into the entire business. 
It will automatically monitor and collect data on the various business processes. This data is then analyzed to create easy-to-understand reports and summaries.  The cloud-based solution also offers you remote access to your business data from anywhere. 
As such, the system ensures that you always have the right information to make important business decisions. 
Pricing 
Pricing for the Bepoz appliance store POS system starts at $69/month. The provider does not offer a free-trial period for its software. However, the provider is said to be in the process of switching to a single pricing option. 
If this happens, all users will be required to subscribe to the Corporate plan, which is priced at 119/month per register. Additional registers are priced at $49 each. 
Possible Drawbacks 
Customer support at Bepoz is not readily available. 
Get an appliance store POS system that unlocks your potential. The LightSpeed appliance store POS system features all-in-one inventory management and a range of cloud-based features. It is designed to help appliance retailers grow and visualize on the inventory. 
It helps you organize inventory and warranties, oversee orders, manage vendors and keep track of store performance. From work orders and layaways to electronic receipts and special orders, you will have everything you need to impress your clients and boost loyalty. 
Things You Need to Know Before Choosing an Appliance Store POS System
The best POS system for an appliance store should be capable of managing a diverse range of inventory items more efficiently. It should also feature the right tools to help you track standard, and  delayed deliveries and installations.
Additionally, you will need a solution that can create work orders and repair estimates as well as offer service contracts with autopay billing capabilities. A system that can track warranties and rebates will also come in handy for appliance retailers. 
If you are shopping for such a POS solution, here are some of the important considerations you need to make: 
Inventory Management
Get a system that gives you instant access to the available stock, and is capable of tracking all inventory types, including print, serialized, accessories, supplies, parts, and package deals. Specialty appliance retail solutions are designed to display the entire inventory history, including sales, rentals, repair, transfer and approval histories. 
It should allow for easy monitoring of inventory items returned to the vendor for repairs or replacement as well as the inventory on a floor plan. It should be capable of setting up measures for selling and purchasing of inventory items and monitor inventory counts. 
Additionally, it should allow you to establish minimum selling prices either by individual SKU number or by appliance model. It should also calculate relevant discounts per item automatically as per specified times and dates. 
Repair and Service 
In order to boost revenue generation, some of the leading appliance retailers are known to offer repair and maintenance services as well. In this regard, you should get a solution that supports your service department as well. 
For instance, you will need a system that can generate estimates for adjustments, repairs, and cleanings as well as convert estimates into repair tickets. While setting up repairs tables, the system should also allow you to attach parts to repairs. This will save you time while entering repair tickets and allow for easy tracking of parts. 
It should automatically keep repair/service history for serialized items and establish recommended next service dates. A system that can send out automatic notifications to the relevant customers once a repair or service is done will also come in handy. 
General Ledger
In addition to sales and inventory management, your preferred appliance retail POS system should also feature the right accounting capabilities. The system should automatically save larger details whenever you close out a month, and print financial statements by location and department. 
It should allow you to easily analyze inventory turns and gross profit in your store. The solution should also let you create custom financial statements and generate relevant tax reports. It should also allow for easy tracking of ledger discrepancies.
For advanced accounting functionality, it is advisable to get a system that supports integration with the leading accounting solutions, such as QuickBooks. 
Serial Number/ Product ID Tracking
This capability will help you account for each appliance or accessory with in-depth records of sales histories, past service requests, and prompts. It will offer you a detailed record of when a piece of merchandise was received, purchased, as well as its price and buyer. 
Warranty Tracking 
The leading POS systems for appliance stores couple serial number tracking to precise warranty tracking capability. Get a system that makes it easy for the store management to track appliance and accessory warranties for each sale. 
It should be able to bundle warranties with a specific product sold in your appliance store. It should let you know which items are covered and which are not at a glance. It should feature customizable warranty reminders as well. 
Such capabilities have been proven to streamline product management in appliance retail stores. 
Markdown Management 
Get an appliance POS system that makes it easier for you to manage group markdowns. It should also be equipped with the right tools for promotional pricing, multi-but items, and bulk discounting management. 
Maintenance Reminders
For the appliances that have been served in your store, the system should automatically work out the next service date. As the recommended service date bears, the system should generate customized reminders and send them to the appropriate customers. 
This will prompt them to bring their items for repair and maintenance, generating more revenue for your business. For instance, a system may be designed to remind your customers that it has been six months since their last service call. 
Sales Commissions 
With the right POS software for an appliance store, you will have an easy time calculating commissions for each item. The leading industry-specific appliance POS systems are designed to automatically calculate commissions based on the gross profit or sale amount.
The more advanced solutions are also capable of tracking commissions by the employee. This feature may also be used to gauge employee productivity in an appliance store. 
Final Verdict
As an appliance and accessories retailer, you will need a point-of-sale system that can do much more than just handling sales. It should allow you to seamlessly manage all aspects of the business, ranging from delivery to the repair and service department. 
Just like the five POS systems reviewed above, the right solution should also feature secure website hosting, online rentals, and shopping cart functionality. With this guide at your disposal, choosing the best POS system for your appliance store should be a lot easier, we hope.