Disclosure: This Website is Reader Supported. As an Amazon Associate I earn from qualifying purchases.
Last updated on March 1st, 2020 at 04:53 pm
RetailPro POS system is one of the leading retail pos systems.
In this detailed review and buyers guide we look at features, costs, advantages, and disadvantages of this professional pos system.
Who Uses RetailPro POS System?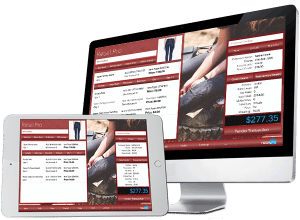 RetailPro is  tailored for specialty retail stores.
Furthermore, it is an efficient retail management software platform with inventory management, customer management and back office.
In addition, the system has KPI reporting capabilities with over 150 prebuilt reporting templates.
Chain store owners can use Retail Pro to overcome data fragmentation and tailor the whole system according to their specific business needs.
Retail Pro's adaptive user interface allows retailers to customize and configure the operational screen to fit their business requirements, define workflows for all sets of users and extend business branding to all customer touchpoints.
API Integration 
Users can also leverage the application program interface (API) in RetailPro to connect and sync retail data with third-party solutions such as ERP, CRM, HR systems, e-commerce sites, track shipments, etc.
The system's built-in e-commerce features allow managers to design their online stores.
How Much Does Retail Pro Cost?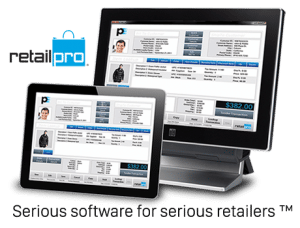 Retail Pro pricing is not readily available on the Internet, neither is it listed on the company's official website.
However, a third-party site suggests that it costs $75 per license per month.

Additional fees for customization, data migration, training, and program implementation may apply. We advise you to get in touch with the company for more complete pricing information.
Editions Instead of Plans 
Instead of pricing plans, RetailPro has three main editions: Small Business Edition, Global Edition, and Global Enterprise Edition.
The entire Small Business Edition system (including software, hardware, technical support, and upgrades) costs about $11,000. The software itself is about $1,600.
That's the cheapest edition designed for the least number of workstations.
RetailPro's Most Popular Features
Here are the most popular and noteworthy features of this POS solution
POS Screen
The POS screen is customizable to perform special orders, layaways, returns/exchanges, etc.
This segregation facilitates customer serving by separating lengthy return or exchange transactions to a designated POS.
Other POS capabilities include automatic calculation and addition of sales tax, acceptance of payments in multiple tenders, tracking customer info, tracking employee sales, completing discounts and promotions, and allowing for voids or returns.
Inventory Management
The system updates inventory instantaneously with every purchase or return, allowing for a real-time view of all levels. 
Purchase and Order Management
The system allows you to Preset your minimum and maximum stock levels for automatic notices to reorder inventory or set for auto PO creation. The system also supports ASN (automated shipment notice).
Employee Management
RetailPro has got some basic capabilities in this field, including, position-based security levels, cashier tracking, commission tracking, clocking in and out, tracking absences, and managing employee performance or productivity.
Reporting & Analytics
 RetailPro comes with over 150 preloaded standard report options, including stock levels, best/worst sellers, top employees, top customers, etc.
Customer Management 
Customer sales tracking allows shop owners to create special offers, promotions, and discounts based on past purchases.
They can also create email or direct marketing campaigns, and introduce special pricing for certain customers. The system can also execute a loyalty program.
Prism 
Prism is Retail Pro's modular platform for touch devices. Depending on how you want to use each of your devices, Prism allows you to customize different devices for different uses.
Customer Service and Technical Support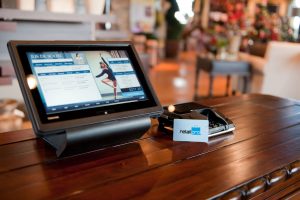 Technical support's quality and prices depend on the reseller from which you purchase the software.
There are five major Retail Pro resellers, and Retail Pro will assign you to one based on location. We highly recommend that you do your own research and chose your reseller.
My Retail Pro web portal provides users with access to a support database of articles, a training videos section.
There is even a Retail Pro University online as well as instructor-led classes. In the Documentation section you can find many user guides, technical memos, and release notes.