Disclosure: This Website is Reader Supported. As an Amazon Associate I earn from qualifying purchases.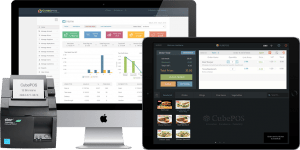 The Cube POS system is a simple, easy, and powerful POS and management solution for restaurant businesses. The system features innovative technology to enhance the guest experience, and reduce queues in your business. 
It will give you complete control over all order data, simplify kitchen communication, processes, and help you run the establishment more efficiently. The provider allows you to customize the system with such capabilities as customer, inventory, returns, and claims management.
Additionally, the solution offers barcode scanning, billing, and reporting, data backup and recovery as well as invoice generation and management capabilities. Throughout this Cube POS review, you will learn what makes it stand out from other restaurant POS systems. 
Cube POS System Alternatives  
| POS System  | Software Subscription Cost  | Deployment Options  |
| --- | --- | --- |
| Cube POS  | Quote-Based | Windows |
| Toast  | Starting from $79/Month | Windows, Android, iOS, and Web-Based |
| Vend  | Starting from $99/Month | Windows, iOS, and Web-Based |
| Square  | Starting from $60/Month | Windows, Android, iOS, Windows mobile, and Web-based |
Cube POS System Benefits 
All Cube POS plans include data backup and recovery options

Convenience invoice generation and management capability

Inventory management tools, including barcode scanning and stock information

Features returns and claims management functionality 

Comprehensive customer management capabilities 
Possible Drawbacks 
You may experience software bugs from time to time while using the Cube POS system. 
Cube POS Pricing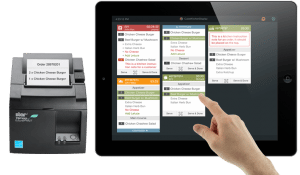 Cube POS software is an innovative restaurant point of sale and management solution by Cubelogicx. Through this software, the provider will empower you to simplify business processes for improved profitability. 
The provider offers a 30-day free trial for all software plans. Thereafter, you will be required to pay a monthly subscription fee for the software. Here are the three Cube POS software subscription plans you should consider: 
CubePOS Standard ($44.99/Mo)
This is the basic subscription plan you can get with Cube POS. As such, it is only suited for smaller food shops and cafes. The solution features take-away and delivery order support, which can increase your revenue considerably. 
You may also get a discount if you need multiple registers. The Standard plan of the software supports unlimited customers, users, menus, categories, and inventory items. Features order data hosting and comprehensive reporting. 
The plan also has an offline mode, allowing you to process transactions even when the internet is slow or out. You will also get free periodic App updates. 
CubePOS Pro ($54.99)
This plan is suited for larger restaurants that offer dine-in as well as Take-away and delivery services. The plan offers all the features and capabilities of the Standard plan described above. Additionally, it allows for ordering from the tablet screen as well as an instant address lookup for delivery orders. 
It features support for unlimited inventory items, delivery driver performance reporting as well as estimated delivery time and distance capabilities. 
CubePOS Enterprise (Quote-Based)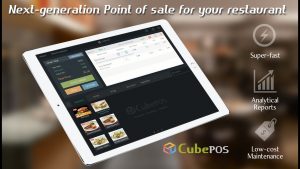 This Cube POS software subscription plan is suited for large restaurant businesses, preferably the ones with a multi-floor setup. It equips restaurant owners will all the features and capabilities of the CubePOS Pro plan. 
Additionally, it supports unlimited restaurant locations and unlimited registers for franchise businesses. With this plan, you will also get intelligent table management, with the ability to transfer or merge tables, and kitchen communication capabilities.  
It is worth noting that Cube offers one of the lowest credit card processing rates in the industry, of 2.5% per swipe. 
Cube POS Hardware and System Requirements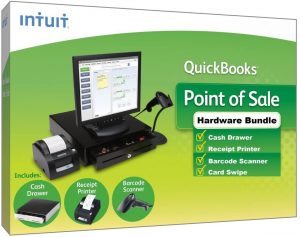 Cube POS software is designed to run on industry-standard hardware components and accessories. The provider offers different hardware and accessory solutions on its website. You may also use the system on the hardware you already own, provided it is compatible. 
The software can run on second and third-generation iPads. There is reported to be an extension that allows you to use the software on iPod Touch and iPhone as well. Hardware Cost for the system will mainly depend on the hardware components you require. 
For instance, iPad 2 is priced between $399 and $599. The system is compatible with Star Thermal Printer TSP100, and TSP 143 priced between $200 and $250. You may integrate your Cube POS system with any standard APG cash drawer. 
Cube POS Key Features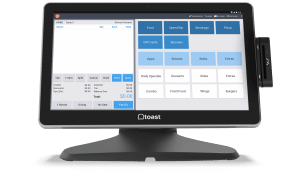 Cube POS software offers basic as well as advanced restaurant point of sale and management tools for streamlined operations. It allows you to conveniently manage the inventory as well as access and retrieve inventory information instantaneously. 
The system will also offer you speedy returns and claims management, automated reporting, and billing. Discussed below are several other features that make Cube one of the best restaurant POS systems: 
Register Tools 
Cube features a comprehensive point of sale and registers capabilities to streamline transactions, elevate efficiency, and profitability in your business. The various register tools offered by this solution are not only intuitive but also effective at improving the guest experience. 
Some of the Cube POS register tools you will find useful in your restaurant include: 
Multi-Register Sync 
Sync an unlimited number of registers to your Cube POS for centralized management. In this regard, the software allows you to sync multiple registers in real-time without the need for a central server. Once synced, orders may be continued from any of the synced registers. 
All the other synced registers will also be updated with the relevant order information in real-time. Whenever available, all Mobile Server Apps will also be synced with the registers and other mobile service applications. 
The solution also allows for the syncing of Kitchen displays with the registers and mobile server apps. For easier management, you can segment all stations into zones. For instance, you may have two or more registers, and a mobile service app synced into a single independent zone. 
Menu Management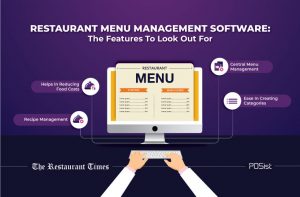 This feature allows you to arrange various menu items under menu-category or only categories on your register. In either case, the system will allow for swift and easy navigation through the categories and menus. 
The menu management capability comes complete with comprehensive modifier groups and modifier support. Feature a scrollable item and menu view, which supports unlimited items, categories, and menus. 
The system is also capable of displaying a detailed view of the menus and items. To do this, you need to long-press on any menu item. 
Table Management System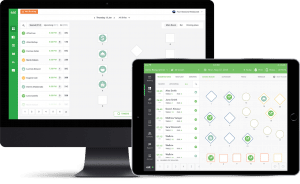 Get a convenient and flexible table management functionality for your restaurant. With this Cube POS tools, you can have orders placed and managed from the table management screen. Allows for easy creation and modification of table and room elements. 
Servers can use this tool to communicate with the kitchen right from the dining area. You will also be able to transfer or merge tables on your restaurant floor. 
Discounts and Price Overriding 
This feature allows you the option of offering percentage-based discounts on specific items or the entire order. Similarly, you can use it to implement fixed-amount discounts for specific menu items or the whole order. 
Set item prices to any custom value you desire or remove any of the existing discounts with ease. This capability is restricted by roles. 
Flexible Refunds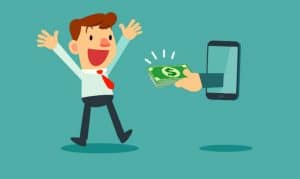 Cube POS system makes it easy for you to issue refunds with options for full or partial refunds. You may choose to issue refunds to the original payment source or offer cash instead. You may also transfer part or the entire refund amount to the customer's count as store credit. 
The feature supports customer data lookup, allowing you to find the relevant customer account for store credit allocation.
Kitchen Communication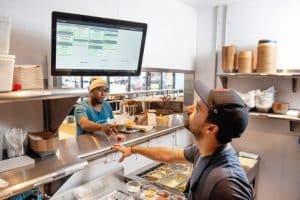 Smart kitchen communication ensures that your front of the house is connected to the back of the house more efficiently. Send quick notes to the kitchen regarding an order in an accurate and intuitive manner. You may also send an instruction note for a particular item to the kitchen. 
You can choose to send a note directly to the kitchen or attach it to the appropriate order before sending it. With this option, you will be able to choose the particular kitchen printer you would like to send the note to. 
With Cube POS your kitchen notes will be highlighted both on the kitchen displays and the kitchen printer. 
Split Order System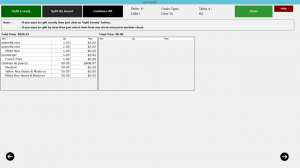 From the Cube register, you will be able to split any given order in four different ways. You will be able to reset a split order anytime prior to the payment from the split tab. From this screen, you may then print receipts for all or an individual split tab. 
Associated discounts, sales tax, and service charges will also be split in the same ratio as the split order. For manual split, you will be able to create unlimited split tabs, as required. 
Kitchen Display System (KDS)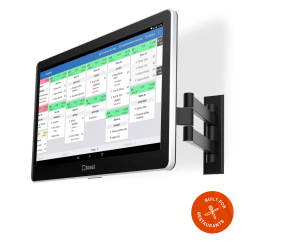 Cube KDS system integration is meant to simplify kitchen processes and communication. This has been proven to boost efficiency and reduce errors. Allows for the scaling of the display screen to fit the desired number of orders. 
Displays orders for preparation while monitoring timing for accurate and on-time meal delivery. This feature has been proven to increase the speed of service, and streamline kitchen communication. This will, in turn, boost guest experience in your establishment. 
Here are some of the capabilities that make the CubePOS KDS a must-have solution for restaurants: 
Zoom Order View 
Enlarge the order view menus for better visibility and easier management. It features a scrollable view that shows items in a more cohesive way instead of splitting into multiple columns. Updated orders will be reflected in zoom-view instantly. 
Pending Order Display 
Displays your orders in ascending order, according to their place of order and time. Deleted items will be shown as crossed while modified item quality is contained in a red box to attract attention. Features a 'Serve' button that notifies the register and server to inform customers when their order is ready. 
Dynamic Configurations 
It allows for easy and convenient configuration of the display and operational features. Features a separate preparation time functionality for Entrees and other items. With this feature, you can either enable or disable the 'Serve' notification to the register. 
Mobile Server App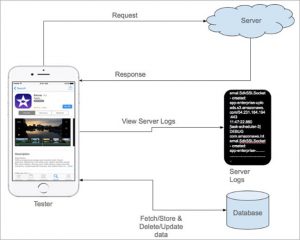 The Cube POS system comes with a smart mobile server application. This app is meant to reduce operational time while enhancing the overall guest experience in your restaurant. The app has been proven to be suited for all restaurant types, including quick service, table service, and coffee shops. 
With such a solution, you will always have the consistency of menus, pricing, and promotions throughout your Enterprise. You may also extend it to include inventory management, and loss prevention capabilities. 
Customer Support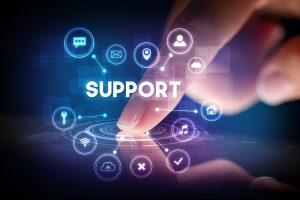 There are several ways, in which you can contact Cube POS customer support. If you are subscribed to the pay per swipe plan, you will be able to contact support via email and live chat. With the Enterprise subscription plan, you will also be able to get phone support. 
Final Verdict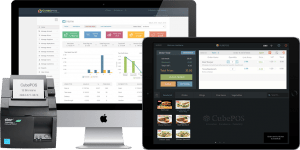 Cube POS empowers restaurants to simplify their operations, streamline kitchen communication, and accelerate business growth. A revolutionized kitchen Display system will expedite service, and enhance the guest experience. 
The system has been tailored to suit your unique needs and requirements, thus streamlining managerial tasks while elevating the guest experience. Such are the aspects that make CubePOS one of the best restaurant POS systems.