Last updated on March 13th, 2019 at 09:09 pm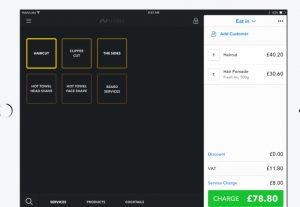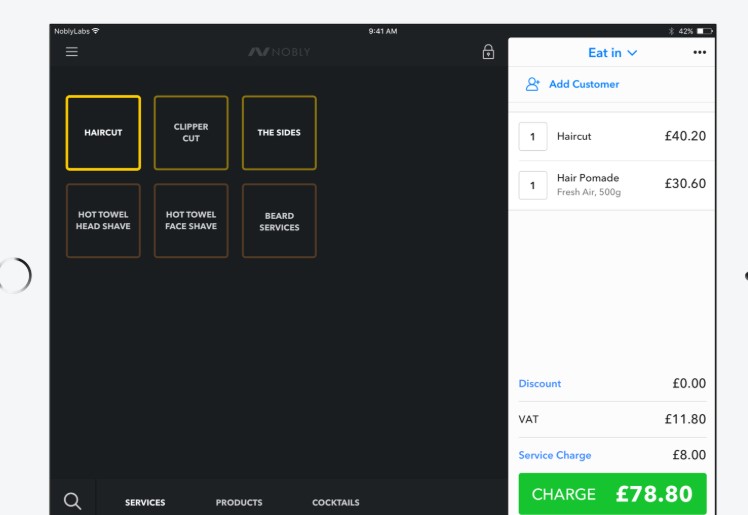 Years ago, a successful barber shop only needed a red-and-white striped pole, a couple of swivel chairs, and a barber with the gift of gab.
The fancy places had hot towels and shoeshine stations.
Those simple days, though, are long gone. Today, even small neighborhood barber shops find themselves losing customers to high-end salons.
Men's grooming goes far beyond shaves and haircuts. Men now expect services traditionally reserved for women. Men are asking for hair color, highlights, scalp treatments, waxing services, massages, and more.
They're buying professional products for hair and skin care. Keeping up with the times and staying competitive requires that barber shops expand their services.
As you add products and employees, though, tracking everything becomes more complex. Like so many other things today, the solution lies in technology.
Many barber shops are incorporating Point of Sale systems to handle everything from employee schedules to inventory management to commissions. In this article we are going to review some existing Point of Sale systems for barber shops.
When considering a Point of Sale system, the first thing everyone wants to know how much it will cost. Unfortunately, there's no simple answer to that question.
Before many Point of Sale providers can tell you the cost, you will need to know if you plan on installing the equipment yourself or if you'll need expert help.
The manufacturer also needs to know whether you'll be using desktop computers, mobile devices, or both. Some features come standard, but you may want to consider adding optional features. Price may vary depending upon your location too.
In short, get an idea of what you need before you start calling manufacturers so they can give you an accurate price.
Experts say you every Point of Sale system should offer at least these capabilities:
Digital check-in for walk-in clients so you capture their contact information

Wait list management that can display wait times per employee. This information should be visible to clientele.

Online appointment booking

Automated text messages that send coupons to customers who haven't returned for awhile.

Tracking employee attendance

Tracking employee commissions

Gift card management

Inventory management

Product sales reports
No matter what features you decide to include, remember that your Point of Sale system doesn't function in a vacuum.
To get the most out of your new system, you might need to invest in some new hardware.
At minimum, you'll need a station with a tablet or touchscreen device, a credit card reader, a cash drawer and till, and a printer for receipts.
You may want to add a tablet stand to hold the tablet in place. A barcode scanner speeds up the check-out process. You could even install caller ID so the system automatically starts an order when a customer calls.
Here, we review some of the features available in five systems that tout their products for barbershops.
Booker Salon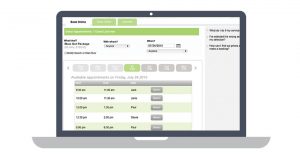 Booker, which has been around since 2010, promises an all-in-one service platform.
It helps grow your customer base, book appointments, process payments, manage employees, and build long-term client relationships.
Features of the Booker Point of Sale system include:

Online booking through a Book Now button on your website

Scheduling, including the ability to view appointments by time or stylist

Detailed descriptions of services

Mobile device capabilities

Appointment booking through Facebook

The ability to send customers text reminders about appointments and ask them to confirm. The text reminders include your business phone number so customers can easily re-schedule, if needed.

The ability to track customer purchases over time

The ability to keep customer payment methods on file

The system accepts multiple payment types including cash, credit, debit, gift certificates, and loyalty points.

Credit card processing

Mobile payment processing

The ability to advertise open appointments through the Booker Marketing Network

Social media options

A Business Intelligence Dashboard that provides insight into how much customers are spending, which marketing initiatives appeal to existing customers vs. those that appeal to new customers, and tracking of customer referrals.

Employee scheduling

Payroll management

Customer Relationship Management

Inventory management

Sales reports

A mobile app for your staff

A mobile app for customers

Customer loyalty programs
Booker offers flat-rate pricing plans, so your price doesn't change even if you add employees.
For $125 a month, you get unlimited log-ins, an online appointment book; appointment reminders & notifications; integrated point-of-sale.
Detailed customer records; packages, series & membership management; inventory management; gift certificates; customer document storage.
Optional credit card processing; 20 reports; and you can add the Booker Marketing Network.
For $195 a month, you get all that plus at least 15 additional reports; SMS/text appointment confirmations.
Email Campaign Builder powered by Frederick; Smart Email Targeting powered by Frederick Smart Lists; log-in protection; and custom customer fields.
For $395 a month, you get all the benefits of the $195 a month plan plus a branded mobile app.
You can learn more about Booker Salon at https://www.booker.com/ or by calling (866) 966-9798.
Clover
Clover is one of the few Point of Sale systems that mentions its sleek design. Since you're in the business of appearances.
It makes sense that a sleek, modern design would be important to you. Clover compares itself to Apple and Tesla in terms of the importance of style.
Of course, form without function doesn't do you much good. Clover doesn't lose sight of that, promising to deliver business reports, analytics, and an app.
It accepts multiple payment methods including chip cards and mobile pay systems.
Clover also has longevity in its favor. It was founded in 2009 to create a better way to handle credit card payments. It's grown steadily since then.
Clover also promotes its Turnkey Processing option, which provides set-up, integration, and ongoing support.
Features of the Clover Point of Sale system include:

Scheduling appointments for multiple employees

Keeping a history of past appointments

Generates SMS reminders to customers

Daily backups

Syncs with Clover Salon Scheduler app so the owner can manage the business from off-site.

Marketing and customer loyalty features

Coupons and incentive programs

Social media communication tools
Clover won't release pricing without information about your specific barber shop, but other websites list the price as a one-time fee of about $400.  
You can learn more about Clover at https://www.processwithturnkey.com/blog/barbershop-pos-systems-from-clover/ or by calling (888) 546-7565.
Franpos (formerly known as iConnect)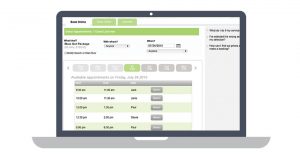 Franpos, formerly known as iConnect, specializes in Point of Sale systems for franchise businesses. Franpos focuses on the beauty, quick service restaurants, and retail sectors.
The Franpos website includes a lengthy section with answers to common problems. This feature appears to be frequently updated.
The website also features video tutorials for Android, PC, and Apple products.
Franpos has longevity in its favor. It was founded in November 2011 and has shown regular growth since that time.
The list of companies using Franpos now includes Nike, Traeger, and Crocs.
Features of the Franpos Point of Sale system include:

Enterprise Management to manage employees, schedules, pay, assign appointments, and add products or services, all from a single command center. This system allows you to assign unique service prices and commissions to each employee.

Manage payment methods

Loyalty and gift card management to reward customers

Growth marketing programs to target customers with technology

Enterprise reporting with real-time reporting

Ecommerce to allow you to see all sales in one dashboard

Royalties and ACH programs to generate and collect royalties

Financial Connector to connect to your accounting software.

A customer-facing app that allows you to reach customers with an up-to-date menu of products and services. Your customers can track their purchases through the app.
Franpos won't release pricing without information about your specific barber shop, but other websites list the starting price as $50 a month.
You can learn more about the Franpos Point of Sale system at https://www.franpos.com/health-beauty-pos or by calling (408) 898-3217.
Nobly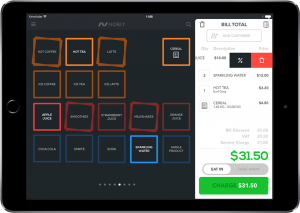 Nobly is designed for barber shops, beauty salons and nail bars. It also creates systems for coffee shops, restaurants, bars, delis, food trunks, and retail businesses.
Nobly prides itself on quick reports and a speedy back office system. It promises that you'll spend less time of administrative tasks and more time with customers.
Unlike some of the other sites, Nobly prominently promises reports tracking sales by product, category, and staff member.
It also offers a system to send payments directly through the Point of Sale system. Customer testimonials praise the system for providing owners with valuable information on who is the fastest barber or who sells the most products. It makes it easy to determine commissions, taxes, and tips.
Nobly — which was founded in 2013 — has earned a number of awards including the UK Digital Experience Awards Finalist in 2017.
Food & Drink Innovation Award Winner in 2017; and Category Leader for GetApp in 2017.
Features of the Nobly Point of Sale system include:
Sales reports

End-of-day reports

Offline mode so it continues to function outside of an internet connection. All data syncs when you return to a signal.

Loyalty programs

Personalized incentive plans for customers

Inventory management including sales and in-stock inventory reports

Payment terminals

Integrates with your accounting software
Nobly won't release pricing without information about your specific barber shop, but other websites list the price as about $50 a month with an annual contract or about $75 a month without an annual contract. You can learn more about the Nobly Point of Sale systems at https://www.noblypos.com/ or by calling (512) 768-9347.
Square Appointments
You've probably used Square to pay for something at a small business. You may even use it in your barber shop. But did you know Square offers a Point of Sale system?
According to the Square Appointments website, more than 2 million businesses use this system, which is free for an individual.
For businesses with between 2 and 5 employees, the fee is $50 per month and 2.5% plus 10 cents per tap, dip, or swipe.
For a business with 6 to 10 employees, the price is $90 per month and 2.5% plus 10 cents per tap, dip, or swipe.
The system is not tailored to barber shops. However, it does promise many of the same features as the systems created expressly for our industry.
Features of the Square Point of Sale system include:

Tracking purchase histories for customers

Sending digital receipts

Collecting instant feedback

Real-time sales reports by item or payment type

Sales reports by employee or location

Search refunds, discounts, and comps

Inventory management

Enables customers to book online 24/7
Square also offers tools including:

Employee management

Payroll

Marketing

Loyalty programs
You can learn more about Square Appointments at https://squareup.com/us/en/software/appointments or
In conclusion, there are a wealth of Point of Sale systems for barber shops. With a little bit of research, you can find the best one for your business.
Hopefully this article gives you an idea of what's available. Your next step is talking to your staff and customers to find out what they want.
Everyone has encountered Point of Sale systems and may offer good suggestions for you to consider.
Like anything worth doing, this process takes time. Determining what you need requires considering not only what your business is now, but how you want it to grow.
If you expect to add employees, a second location, spa services, professional products, or more, you'll want a Point of Sale system that allows for that growth.
Most of the systems offer free demonstrations so you can see how everything works. All the systems have sales people eager to explain what makes their system better than the others.
It's worth taking the time to examine your options. These systems make it easier for you to manage appointments and commissions as well as offer loyalty programs.
When clients feel valued, they're more likely to return to your shop. A good system also saves you time and headaches in tracking inventory and payroll.
We wish you the best of luck as you explore one way of improving your barbershop.
The WiseSmallBusiness Team is full of industry experts and successful business owners  willing to contribute important business articles.