Last updated on March 13th, 2019 at 07:36 am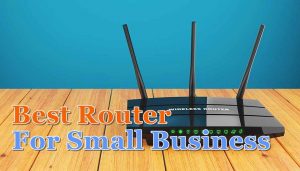 Internet connection is essential for any business to function effectively in this day and age no matter the size of the business.
It is important that every small business is equipped.
With a router in order to connect several networks together and route the traffic between them in a fast, reliable and efficient manner.
The considerations for the best routers are dependent on a lot of factors which includes the area of space that the router is required to cover.
(a small office would have more coverage than a cafe), and the level of security i.e. the capability of the router to establish a Verified Private Network.
Best Routers for Small Businesses
Our Topic Choice:  Synology RT2600AC Wi-Fi AC 2600 Gigabit router
The Synology RT2600AC has powerful wireless capabilities and a Synology Router Manager Core that is solely for security. This router was particularly designed for offices.
It supports MU-MIMO which means that more devices are able to connect at a higher speed. Synology RT2600AC offers strong security tools for small businesses which include:
Intrusion prevention
Firewall management and
Denial-of-service protection.
If your business is perhaps required to support remote workers, you can use this router and set up a "virtual office" in order to allow for secure remote access to the systems of your company.
Through the feature of optional multimedia add-ons, Synology RT2600AC is able to morph into a server that hosts multimedia content which will be accessible by anyone in your office.
Another feature it has is the ability it gives you to stream files located on your SD card or USB storage devices.
This router can also be used as a private cloud server which has advanced file management capability which is a feature.
By which files can be synchronized across multiple devices in the company as well as by which they can be shared with coworkers or even clients.
Finally, the router is able to back up computers for additional security.
Our Second Choice: NETGEAR Nighthawk X10 Wi-Fi Router
If your business is one that requires a blazing fast internet speed, then the NETGEAR Nighthawk X10 Wi-Fi Router is the right router for you.
This router is regarded as the fastest router for streaming media contents in the industry due to its ability to deliver 802.11ac/ad Wi-Fi for ultra-smooth streaming of 4K files and also for immediate downloads of media content.
The hardware of the router is nothing short of amazing as it includes a powerful 1.7GHz Quad Core processor and Quad Stream architecture. These afford you the opportunity to enjoy a combined speed of up to 7.2 Gbps.
Its support of MU-MIMO gives you a chance to engage in simultaneous streaming while the 160MHz doubles the Wi-Fi speeds available to mobile devices.
The NETGEAR Nighthawk X10 Router has four external active antennas that are designed to enhance the Wi-Fi signals of the router in order to maximize the output and range of the router.
3rd Choice: Linksys AC1900 Dual Band Wireless Router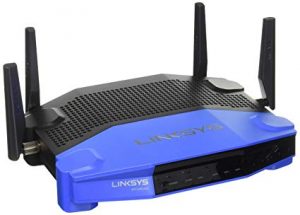 Is your business one that requires often streaming? Is the productivity of your group or company hindered by the annoying lag or buffering that occurs when you are streaming?
If your answer to the above questions is yes, then Linksys AC1900 Dual Band Wireless Router was designed especially for you and your business.
The router enables everyone in your work environment to enjoy fast and reliable internet as a result of the technology by MU-MIMO that transmits the Wi-Fi to several devices at the same speed simultaneously.
You can connect more than twelve devices including smartphones, tablets, 4K UHD televisions and so on to this one router all at the same time. A seamless and stress-free connection is made available to the entire office.
The dual speed Wi-Fi can go as high as 1.9 Gbps and has four different Gigabit Ethernet ports. This router gives you access to control the Wi-Fi from anywhere you are and at any time of the day.
4th Choice : Linksys Max-Stream EA9500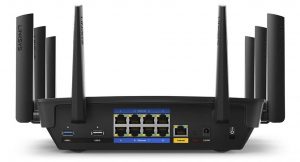 Linksys happens to be one of the most popular and recognizable brands in the world of small business networking.
This is why it is not surprising that the company was one of the first to develop and make available a tri-band router that makes use of MU-MIMO technology.
This router features eight antennas which along with the MU-MIMO technology delivers two 2.17Gbps streams and an extra 1Gbps stream for legacy 2.4GHz devices.
Before a router can successfully manage three separate brands, there has to be serious firepower involved, it is for this reason that the router, Linksys Max-Stream EA9500 has a dual-core 1.4GHz processor at its heart.
The company recommends pairing this device with the Nax-Stream AX1900- MU-MIMO Wi-Fi Range Extender so as to achieve a seamless roaming experience and enhanced coverage.
Apart from the two USB ports, the router also comes with eight different LAN ports as well as a WAN port. There are, however, no specific business features apart from the WPA2 enterprise wireless encryption.
You are also unable to bond Gigabit ports, and there are no options for failover/redundancy or extra security.
The ability of the device to be controlled from an app makes it an ideal router for your small business.
5th Coice: ASUS BRT-AC828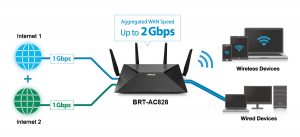 ASUS has, over the years, built a reputation as a company that produces great products for consumer use.
Operating out of Taiwan, the firm manufactures laptops and motherboards as well as wireless products.
The BRT-AC828 is the only business router that ASUS has created and it ticks a lot of the boxes that small businesses require to be ticked.
It is ideal for businesses that require more than ten connections at the same time. Although expensive.
It has features that you would not expect from a router such as an M2 slot in which an SSD can be plugged so as to convert it to a mini-NAS.
It supports RADIUS which is a capacity to aggregate four different 1Gb Ethernet ports to become one virtual 4Gb Ethernet port (the router has a total of eight Gigabit Ethernet ports).
It also supports LTE which can be deployed as a backup connection in order to improve resilience. There are two other 1Gbps WAN ports which can either be used independently or aggregated.
Finally, the router offers 4*4 MU-MIMO and speeds that can – in theory – be as high as 2.6Gbps as well as open plan coverage of up to 100m.
6th Choice: AFOUNDRY Dual Band Wireless AC Gigabit Router
This router supports 802.11ac wireless, which is the latest generation in Wi-Fi technology. AFOUNDRY Dual Band Wireless AC Gigabit Router is backward compatible with 11n devices.
It comes with three processors that ensure the distribution of a stable signal to all devices connected to it. This wireless router, however, has both advantages and disadvantages.
Some of the advantages are;
It can support up to 2.4GHz and 5.8GHz with dual-band wireless signals.
Possession of a USB3.0 port which will enable you to gain quick access to the network.
Support of up to 100 different devices at the same time
Presence of six omnidirectional antennas on the router that provides coverage of up to forty feet without any loss in signal strength being experienced.
There is a metal exterior on the router that ensures the device is durable, stable and dissipates heat efficiently.
Some of the disadvantages include:
Absence of advanced security options. The lack of security options, for instance, a firewall makes it imperative that you get another software to secure your network.
Setting it up can be quite complicated. This makes it necessary that you retain the services of a professional for installing the device so as not to compromise the security of your network.
7th Choice: ALFA High-Power Gigabit AC1200 Router
ALFA High-Power AC1200 Router makes high-speed data transmission available through four Gigabit ports and one Gigabit WAN port. It also has 802.11ac Wi-Fi connectivity. Some of the other features of the router are:
An extra-wide signal coverage which includes four external dual-band antennas that work to prevent interference
Excellent signal strength with no dead zones.
A firewall as well as a system management software.
Easy installation and configuration.
It also has some disadvantages, such as:
A high price. Several other routers exist with the same features for cheaper prices. Most, however, do not offer the customer support the manufacturer of this router provides.
There are no settings available for limiting bandwidths or tracking internet usage. If these features are however important to you, you can always make use of proprietary software.
If you combine the fast Wi-Fi connectivity, the latest Wi-Fi protocols and the excellent customer support provided, you realize that you are getting a great value for your money.
8th Choice: Peplink Pepwave Surf SOHO MK3 Router
This router is equipped with bandwidth monitoring and tracking abilities and can be configured to limit the bandwidth to certain IP addresses.
This can be achieved by; limiting the printers and phones or limiting the bandwidth for each of the employees. Some of the features of this router are:
A USB 4G LTE/3G WAN port along with automatic failover from Wi-Fi or Ethernet WAN.
Four Gigabit Ethernet ports
Three antenna connections
An option to back up your configurations
An easy to modify configuration and settings.
The disadvantages of the router include:
A plastic exterior that gives a flimsy and cheap feel to the router. This, however, doesn't affect the functions of the router. It does not alter its LAN connectivity or Wi-Fi connectivity in any way.
An inability to deliver optimum signals by the antennas. This can, however, be remedied by replacing the antennas with other ones that can deliver better signals.
The router works pretty well and will definitely be enough to support small business and meet the network needs of the said business.
Several other great routers exist that can be used by small businesses but this few are some of the best you will find around that provide optimum value for your money and are certain drive your business forward.
How To Choose The Best Router for Your Small Business
The Router Speed
one of the first things you need to figure out when getting a router for your small business is how fast you want your browsing need to be based on how many people will be using it and what exactly they will need it for.
This will inform the speed you will apply for from your internet service provider (ISP). For instance, if the majority of what you need internet access for is sending of emails.
And ordinary internet browsing, ordering for a superfast internet speed would more or less be a waste of money.
However, if your browsing needs comprise of video and audio streaming, then, ordering for fast internet speed is a necessity.
Security is Everything
One of the main reasons for buying a router in the first place is so that your business can have some measure of protection from attacks.
While most routers have a hardware firewall already built, you would need to get one that has full unified threat management (UTM) if your business is one that has compliance standards you have to meet.
These routers are, however, more expensive than the average router as they require a subscription to keep you secured, so, you are not advised to buy them unless needed.
IPv6
With the Internet of Things gaining ground and growing more and more by the day, you should do your best to get a router and an ISP that supports IPv6.
This is because this particular feature is very important in the connection of devices in your office to the internet. IPv6 enables each device in your office to have its own IP address which renders the use of network address translation (NAT) redundant.
USB Ports

Some expensive routers feature print spoolers which will better enable you to handle print jobs in your workplace. You could, however.
Also use USBs for file sharing via a USB hard drive or a flash drive. Most routers solely meant for business do away with the USB port, however, in favor of a NAS device for network storage.
WAN

Before purchasing a router, ensure the ISP you are looking to patronize provides you with information as to the type of WAN port you will require to connect to their system from your business. Also.
If connecting to the internet is absolutely crucial to the smooth running of your business, try to buy a router that has at least two WAN ports. This is so you can employ the services of a second Internet Service Provider as a backup.
LAN ports

Another factor you should consider when getting a router for your small business is how many LAN ports and the speed you will require.
LAN Ethernet ports are the gateway through which your business network connects to the internet service provided by your ISP.
While most routers come with at least four LAN Ethernet ports, if the number of devices you need to connect exceeds this number, you can use network switches to connect them to the router all the same.
Try to get a router that can support a speed of up to 1000Mbps even if none of your business devices requires such speed at the moment. This is just in case you eventually do.
VPN
if there is any chance that there would be a need to access your business network from outside your business premises (such as in the case of a remote staff).
You should get a router that has virtual private network (VPN) capacity and that it will support whatever protocol you have in mind to use.
With today's ever growing list of connected mobile devices, finding a wireless router that can easily handle your Wi-Fi business connectivity is a necessary task.
You need high-quality performance VoIP for staying in touch with clients, leading to your search for a top functioning router.
Choosing this important device takes careful consideration of coverage area size, the size of your client base, and the device types connecting to your router.
Not everyone needs the features of the top models, or a VoIP focused/high-end Enterprise router. While there's no reason you should pay for key features you'll never use, your business needs a good performing router that won't interfere with the VoIP quality.
Our review of the best routers for 2019 can help any small or midsize business find a good performing router for connecting tablets, computers, and several phones.
We've listed some user-friendly, cost-saving options for simple router solutions, intended for a small business office setting.
Key Features for Making Our List of Best Routers
Service Quality – Setting to allow prioritization of specific data traffic types.
Wireless Dual Band Support – Gives the router the ability of two different frequency transmission. Dual band support lets the office fit all devices on a single router.
Available LAN Ports – The number of LAN ports dictates the number of devices you can hardwire. Gigabyte LAN ports add speed and reliability.
Included WAN Ports – The Wide Area Network (WAN) has multiple LANS for combining different locations and networks inside a single building to a single Wide Area Network. You need at least one port, but multiple ports let you add extra features.
VLAN Support – The Virtual Local Area Network (VLAN) consists of several devices connected to at least one LAN. It's configured for communications as if being attached to a single wire even though they run across other LAN segments. VLAN helps separate devices by network groups.
Older Yet Powerful Small Business Routers
First up is the older but still a supreme choice, Asus RT-AC87U. This top-rated router has an impressive 2332 Mbps, dual-band data rate. The high-speed router can handle demanding tasks like 4K streaming and offers four LAN ports.
Even though the higher end routers have more ports than the ASUS router, it should still fulfill most small business needs with its capability of hardwiring three phones and installing a switch.
If you're looking for more speed and good reliability, the WAN gigabit port delivers. An Adaptive QoS prioritizes traffic while keeping VoIP calls clear. You get a variety of settings for experimenting with when you need further optimization, and the router supports SIP phones.
Key features of the Asus RT-AC87U wireless router:
Wi-fi router is a super-fast 802.11ac featuring 2334 Mbps combined dual-band data rate. The fast speed gives you 4K/UHD playback for videos, file-sharing that is super-fast for your large files and capability low-latency online gaming.
0 and 3.0 built-in USB ports delivering data transfers to USB storage that is up to 10-times faster, dongle support of 3G/4G, and print sharing.
Top multi-device performance and enhanced signal coverage with the AiRadar universal beamforming 4×4 MU-MIMO antennae design.
Access, sync, stream and share files on all internet-connected devices anywhere with the ASUS AiCloud 2.0.
Trend Micro AiProtection with privacy protection and strong total network security.
You can find the Asus RT-AC87U router through Amazon for around $199.88.
The highly-rated D-Link AC3200 Tri-Band wireless router performs like three wireless routers in one!
Six antennas with 2.4GHz 1×600 Mbps connection allows you to connect more wireless devices with less interference.
With the 1GHz dual core processor, you get powerful router task handling and traffic optimization with Intelligent QoS.
Other features include the Advanced Smart Connect for allocating the best channel or band, giving you the greatest Wi-Fi connection.
Like the Asus, the D-Link AC3200 has one Gigabit Wan port and four Gigabit LAN ports. Still, the tri-band support is the better choice when relying on connections through Wi-Fi.
Key features of the D-Link AC3200 Tri-band wireless router:
Advanced security with WPA/WPA2 encryption.
Top Wi-Fi performance speeds at 600 Mbps in 2.4 GHZ and 1300 Mbps in 5GHz for supporting more Wi-Fi device connections to the high-speed network.
Advanced SmartConnect delivers the best band for the maximum Wi-Fi performance.
The user interface is intuitive, allowing easy installation and desktop or mobile device network management.
Advanced AC SmartBeam tracks all connected devices and enhances Wi-Fi range and Speed.
Traffic optimization with intelligent QoS delivers a seamless performance across all applications.
Get powerful wireless and wired speeds with a 1GHzDual Core processor.
Another super-fast choice for a wireless router is the Netgear AC5300 Nighthawk X8. Get speeds of 5.3 Gbps with the tri-band support.
The Nighthawk, along with its quad stream technology, delivers for different streams of data per each Wi-Fi band. The fast connections from the router come with the support of the 6 Gigabit LAN ports.
The four external Active Antennas and the four internal antennas give the AC5300 Nighthawk an amplified Wi-Fi range.
Dynamic QoS handles all traffic prioritization and includes D-Link with Smart Connect. Aggregated LAN ports allow for combined speeds of 2GB over one connection.
More than the standard single port connection with 1GB. There are two major drawbacks to this router. First, it only has only one WAN port. Second, many users have complained about its durability and connection issues.
Key features of the D-Link AC3200 Tri-band:
Some of the fastest speeds available with up to 5.3Gbps, 1,000 Mbps at 2.4GHz 1024, and 2,166 Mbps at 5GHz 11ac 1024 QAM.
Four active antennas with four internal antennas for amplifying and maximizing range. Get faster file transfers with the 6 Gigabit Ethernet ports-aggregate.
MU-MIMO for simultaneous data streaming over multiple devices and Dynamic QoS gives prioritized bandwidth by device and application.
Get more Wi-Fi on more devices with tri-band Wi-Fi. The Smart Connect selects fast Wi-Fi for each device.
Router
The AC3200 has 3200 Mbps with six antennas with 1GHz dual-core CPU. The three high-speed Wi-Fi bands run each device at amazingly fast internet speed.
Smart Connect helps all your devices run faster through the process of assigning them to the best 5GHz channel, while the six external antennas maximize stability and coverage area.
TP-Link has four LAN ports, each one Gigabit, and a WAN port at one Gigabit. You get securely connected device access through Wi-Fi or USB with the built-in VPN.
Configuration is simple with the intuitive mobile app and the included dynamic QoS. The router comes with a generous 2-year warranty.
Key features of the D-Link AC3200 Tri-band wireless router:
Tri-band technology gives you three separate Wi-Fi bands that connect more devices to the network.
Get strong, reliable wireless connection with Beamforming. The six high-performance antennas maximize coverage and stability with the Beamforming feature.
1GHz dual-core CPU and the three co-processors efficiently handle connections simultaneously and without interruptions.
An interface that is intuitive and a Tether app allows easy install and network management.
A leader in the industry with a two-year warranty and unlimited technical support 24/7.
Even though the AC5400 is not quite as feature-rich as the other routers on our best list, it has triband for decent 5.3 Gbps speed and is easy to set up.
The included eight Gigabit LAN ports, and the single Gigabit WAN port helps this wireless router earn our recommendation. The router also has eight antennas that increase signal range.
The Linksys utilizes a mobile app for fast, on the go configuration using your mobile phone. The router prioritizes three applications or devices.
But needs user configuration of the QoS setting. For those who don't mind the extra step, it only takes a simple office setup.
The Linksys AC5400 is ideal for busy offices with improved signal range to all mobile devices by using focused Wi-Fi signals known as Beamforming Technology.
Key features of the Linksys AC5400 Tri-band wireless router:
Amazon Alexa compatible.
The tri-band Wi-Fi has a third, dedicated high-speed band that helps eliminate lag and buffering.
The 8 Gigabit ports deliver wire speeds that are ten times faster when running printers and other wireless devices than what standard Ethernet delivers.
Pairs Max-Stream Routers with Max-Stream Extenders for seamless roaming. The router and extender pairing lets your device automatically change to the strongest available Wi-Fi signal while you're moving around the office.
The router includes top of the line security featuring WPA/WPA2 encryption and SPI firewall for safe network connection.
The AC5400 comes with tech support and a 3-year warranty.
The newest TP-Link lineup addition, the AD7200 is the first running the 802.11ad wireless standard using a 60GHz instead of the normal 5GHz and 2.4GHz.
This new technology runs maximum speeds of 7Gbps compared to the regular 5.3 and 3.2Gbps found on other wireless router models.
The leading-edge antenna design delivers a strong and reliable Wi-Fi signal where you need it. New beam-steering technology routes Wi-Fi signal through the clearest path leading to your devices.
MU-MIMO with 4-Stream reduces waiting time while increasing Wi-Fi speed. The heavy hitter, 1.4GHz dual-core processor, makes handling simultaneous connections a breeze and keeps the router going at its peak performance.
Key features of the TP-Link AD7200 Tri-band wireless router (Talon AD7200):
Connect all your devices to an amazingly smooth wireless network offering complete and super-fast, in-room coverage with its 802.11ad. The 802 technology is the latest and most powerful wireless technology innovation on the market.
Share thousands of files and pictures with a generous 60GHz band.
The AD7200 Multi-band and the 4-Stream technology gives your office fast Wi-Fi speeds of 7200Mbps over 2.4GHz(800Mbps), 5GHz (1733Mbps, and 60GHZ (4600Mbps) bands.
The MU-MIMO technology delivers fast Wi-Fi to each device with multi-user support.
Interruption-free high-speed connections through a powerful 1.4GHz dual-core SPU.
You can find the TP-Link AD7200 Triband wireless router through Amazon for $350.
Slightly older than the Linksys AC5400 router, the 2015 model WRT1900ACS has a faster dual-core CPU at 1.6Hz. It also delivers 512MB dedicated RAM with dual-band Wi-Fi with 1300Mbps.
The WRT1900ACS provides the small business office a highly capable router, delivering wireless service at a cost-effective price.
While you don't get the tri-band support the AC5400 has, you do save a substantial amount, roughly $200.
The unique four external antennas and the 1.6 GHz dual-core Processor and 512MB RAM memory supports the active office, all while removing dead spots in multilevel buildings.
You get fast data transfer, allowing multiple users to simultaneously transfer files with no lagging or interruptions.
For those businesses developing their own firmware and want to use an open-source already in place, this professional router does the job. Like the newer model routers, you can configure the WRT1900ACS with an optional mobile app.
The included Linksys Smart Wi-Fi software helps you build a network map of the office for streamlining setup and configuration.
The WRT1900ACS comes with one WAN port, four LAN ports, and four Gigabit Ethernet ports. This router setup lets you connect to wired devices through a USB 3.0 port and dual eSATA USB 2.0 port.
Key features of the Linksys WRT1900ACS Dual-Band Smart Gigabit Wi-Fi wireless router:
Deliver wireless-AC 4.3x faster than N technology.
Four adjustable, high-performance antennas enhance dual-band communications and deliver amazing Wi-Fi signal strength throughout multilevel buildings.
High-speed data processing for simultaneous multiple users, no lag file transfer with the dual-core 1.6GHz CPU.
Share content with an external storage device and super-fast data transfer speeds. The USB 3.0 enhances data transfer performance with the external SATA drives which accommodates USB2.0.
The Trendnet AC320 delivers top performance, producing 3200 Mbps speeds and high-level security the minute you plug it in with pre-encryption.
With Smart Connect technology, you get separated slow and fast AC devices in separate Wi-Fi AC bands.
The single WAN port accompanies four, high-performance Gigabit LAN ports, as well as a 1 GHz dual-core processor which delivers hardware that functions well even though it's slower.
Six high gain antennas, SuperSpeed USB 3.0, and high power amplifiers help deliver good networking range and speed.
Like the Linksys WRT1900ACS wireless router, the Trendnet AC320 fits the bill for offices implementing their own solutions with open source firmware compatibility.
You get IPQoS needed when using VoIP functions with the capability of Qualcomm StreamBoost support, a standard QoS system upgrade. The AC320 also works with VPNs or as a standalone.
Targeted beamforming increases real-time performance with the directions of stronger wireless signals to your location.
Key features of the Trendnet AC320 Gigabit Tri-Band Wireless Router:
Fast Wi-Fi speeds at 3200 Mbps for top performance through simultaneous tri-band. Fast, uninterrupted file transfers and data streaming throughout the office with unbelievably fast wireless and wired speeds.
From the moment you plug it in, the Trendnet AC320 wireless router has pre-encryption for safety and convenience.
Two USB connection ports with an on/off power switch, one a USB 3.0, and four Gigabit Ethernet
Beamforming technology points the wireless signals toward receiving devices instead of sending in a general direction.
Get automatic grouping of fast and slow AC devices to different Wi-Fi AC bands with Smart Connect.
Simultaneous high-speed data processing totaling 2.96GHz of penta-core processing power from the 1 GHz dual core processor and three integrated coprocessors.
Trendnet offers a top industry, standard 3-year warranty with unlimited technical support 24/7.


Additional General Information About Router

What is a Router?

A router is a special networking device that is connected to two or more networks running software. This software then permits the movement of data from one network to another via the router.

The primary function of the router is to take information from various networks and deliver it to various computers.

It is also able to take data from a modem and deliver it to the computer(s) i.e. it connects several networks together while keeping control of the broadcast traffic.In essence, a router will enable you and any number of persons to access the internet with their device simultaneously and with the same internet connection.


How does a Router work?

Routers are dependent on Internet Protocol in order to provide a common addressing system.

This Protocol describes an address structure that is implemented universally and is imposed by a single controlling authority in a country.The computer that is transmitting data across the internet has to package the data into what is known as a packet.
The data packet includes a header which contains the IP address of the computer the data is to be transferred to.It is the job of the router to read the address and then transmit the packet in the direction of the destination computer.
Our Final Take on the Best Wireless Router for Small Business
The market is full of different routers and what you choose depends largely on your needs and the size of your business.
If you have an extremely small business, with only one or two people, you can go smaller. One of the small.
No-frills routers on our list, like the Linksys WRT1900ACS Dual-Band router or the ASUS RT-AC87U Wireless Router may work well for you.
But if you're operating a growing business or plan on expanding, you need to plan ahead and opt for a dual or tri-band wireless router.
You want to choose something capable of growing with you, while still delivering a reliable, uninterrupted connection.
While top tier consumer routers deliver high-performance, they lack not only scalability, but also the security of the higher end routers.
Network hardware prices are reasonable with the price of our top-tier review being only $390, which makes going for better performance a possibility.
Save
Save