Last updated on May 9th, 2019 at 04:07 am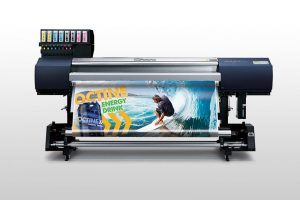 A print shop once met the commercial printing needs of business owners.
Recent technology trends allowed large businesses and small businesses to print oversized documents in-house with large format printers.
Whether you are a graphic designer, architect, or any business owner who wants to produce large format documents, now you can with a large format printer.
We selected the best large format printers based on their print quality, ink cartridges needed, Scan capabilities, and other essential features.
Wide Format Printers Vs. Large Format Printers
While the technology used for large format printers remains very similar to those used by your large format printer, the difference between them is very large. For starters, the large format printers, are much bulkier. Furthermore, any large format printer for commercial use will be on a stand.
Many websites, confuse the two terms wide format printers and large format printers, so if you are not sure, only look at the size of the printer.
Besides, large format printers will tend to have CAD capabilities and plotters.
The 7 Best Large Format Printers
| Printer | Size | Printable Width (Max) | Connectivity | # of cartridges | Hard Drive | Price |
| --- | --- | --- | --- | --- | --- | --- |
| Cannon iPF785 | 42" x 35" x 51" | 36" | USB, Ethernet | 5 | 320 GB | View on Amazon |
| Cannon iPF770 | 51" x 34" x 42" | 36" | USB, Ethernet | 5 | N/A | View on Amazon |
| Cannon PROGRAF PRO-4000 | 62.7" x 46" x 38.7" | 44" | USB, Ethernet, Wi-Fi | 12 | 320 GB | View on Amazon |
| Epson SureColor T5170 | 28" x 50" x 36 | 36" | USB, Ethernet, Wi-Fi | 4 | N/A | View on Amazon |
| HP T520 Design Jet | 24.6" x 44.2" x 22.7" | 24" | USB, Ethernet, Wi-Fi | 4 | N/A | View on Amazon |
| HP DesignJet T730 | 23" x 45.5" x 55.2" | 36" | USB, Ethernet, Wi-Fi | 4 | N/A | View on Amazon |
| HP DesignJet Z9+ | 71" x 27.4" x 39.3 | 44" | USB, Ethernet, Direct from flash drive, Wireless | 9 | 500 GB | View on Amazon |
The Canon PROGRAF iPF785 Large Format Color Printer is a part of Canon's long line of excellent printers. This awesome printer allows you to print posters and signs with ease.
Quality remains strong because this printer yields documents with a 2400 x 1200 dpi resolution. The adequate size will never be a problem as it can handle documents up to 59' long and 36" wide.
Cartridge System
This printer model utilizes five ink cartridges. If one color runs out, you can replace just that one cartridge and continue with your printing.
As an added bonus, this printer features an economy mode that helps conserve your supplies.
With the iPF785, you can select 300 ml or 130 ml ink tanks. Usually, the larger tank is a better buy than the smaller.
Using Canon print cartridges is highly important as those brands that mimic these products usually do not work well—or may not work at all!
This large format printer by Canon features a 320 GB hard drive with 32 GB of RAM that speeds up your operation if you are using large files.
Software Resources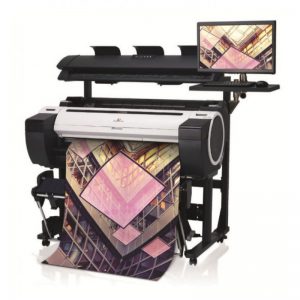 The included software assists you in assessing the status of your printer and improves your productivity.
This software includes a way to monitor the ability of your printer to mesh seamlessly with Microsoft Office, AutoCAD, and other software.
Because of its easy integration, this printer would likely be a good CAD printer for professionals who need to generate precise graphics, models, and images.
Other included software that is user-friendly and ready to use includes a Print Utility that allows users to print from an iPad.
Users can track the cost of print jobs with the Account Manager program.
Need to print a PowerPoint in a large size, no problem. The Microsoft Office Print Plug-In can handle this task with ease.
Pros
Uses pigment reactive inks 

Includes managerial software that lets users monitor print jobs

Enhances jobs Using CAD programs

Uses five separate color cartridges to avoid waste
Cons
Requires the purchase of five separate ink colors

Does not support wireless printing
The Canon iPF770 makes it simple to create high-resolution documents, posters, signs, and much more.
Using high-density print heads, this printer can produce work with a 2400 x 1200 dpi resolution. Documents may be as large as 59' in length and 36" in width.
Resource Management
Canon utilizes a five-color reactive ink system that not only produces documents that are accurate and durable but also saves you money.
With the sub-tank system, cartridges need not be replaced before the ink is totally gone and does not require the printer to be stopped for cartridge replacement.
The multi-functional iPF770 is not only an awesome printer but is also a high-quality scanner that can handle documents of up to 38" in width.
Software Tools
The included productivity software gives users the ability to improve productivity, enhance business efficiency, and monitor the status of the printer at all times.
The Microsoft Office plugin provides a way to integrate the printer with all components of the Office suite.
The AutoCAD module gives professionals an advantage in the creation of graphics and drawing.
Because this printer can produce such high-quality output, it is sure to be among the top CAD printers/plotters on the market today.
Scanning Capability
The included scanner provides accuracy when scanning in color. With the ability to scan at a maximum speed of 13 inches per second in monochrome and 3 inches per second in color, this unit will enhance your business operation.
Computer and Monitor Included
When you open this box, you will find a 22" flat screen, multi-touch monitor to provide outstanding resolution for accurately previewing all your print jobs.
With a quick, intuitive interface, you will enjoy all your printing experiences with this fine equipment.
The included computer provides a fast, easy way to send, share, and store files.
Pros
Uses high-quality reactive ink that includes 4 colored dye ink

Prints with two channels of black ink for more precise lines

Allows users to print from the cloud or a folder on a network computer with Direct Print and Share

Includes a scanner and stand-alone computer with touch screen monitor

Includes a utility program that lets users print wirelessly from an IPad

Provide utility software for monitoring print status and job costs

Includes an AutoCAD module for graphics, images, blueprints, and other image-based output
Cons
Does not support PDF scanning

Difficult to network
This printer uses the latest technology and finest quality inks to produce outstanding photographic images.
Because of the outstanding graphic output, it is rated 3rd on our most professional printers. 
With 2400 x 1200 dpi, graphics and documents with sharp, clean text are the norm. You never comprise quality when larger sized media is used.
Conserve Resources
The PRO-4000 uses a special sub-ink tank system that lets you get every drop from your cartridges.
If you need to change cartridges during a print job, no problem! The exchange is seamless—your job is never compromised.
Continuous Job Operation and Monitoring
The 3.5" color LCD touchscreen gives you control over all job operations. The ability to monitor the progress of every job in the queue is available at a glance.
Printing directly from a USB drive is a big plus for the PRO-4000. Just plug in your drive and it is ready to print your job. Wired and wireless network capabilities are also available via Ethernet, Wi-Fi, or USB 2.0.
With the color system that uses 12 pigment-based inks, the printer produces vivid graphics with detailed lines. The printed documents are durable and resist scratching.
Simple Media Exchange System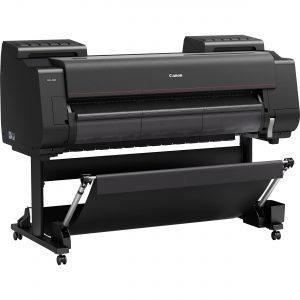 With an optional add-on item available with this printer, you can have two rolls of print media loaded at the same time.
When you utilize this dual-roll system, switching media is simple. This accessory can pay for itself because you never experience downtime due to resource management.
Handle Large Print Jobs 
The PRO-4000 includes internal storage equal to 320 GB. So, your large print jobs will run quickly and efficiently.
This printer package includes outstanding software that helps you manage your printing work with ease.
A Microsoft Plug-In lets your print business documents easily. The Accounting Manager ensures that your operation runs as efficiently as possible.
Pros
Uses quality ink to ensure outstanding output

Prints directly from a USB drive

Holds two media rolls for simpler switching

Features internal memory to queue large print jobs easily

Includes excellent productivity software
Cons
Printer has a large footprint

Heavy
The Epson SureColor T5170 large format printer produces quality printed documents up to 36" wide.
With this printer, you will enjoy quick, dependable printing that enhances the work of graphic designers, architects, engineers, and many other professionals.
Small Footprint
The SureColor T5170 gives you fast, reliable printing and features a standing design that has a small footprint in your office.
It will not disappoint when you use it to produce posters, graphics, line drawings, or blueprints.
Touchscreen Operation
This printer has a 4.3" touchscreen with a color display that allows an easy user interface. The menus and tasks are intuitive and easy to follow.
You select whether to print from the AutoSheet Feeder or a roll from the easy to follow on-screen prompts.
By using UltraChrome XD2 inks, all printing will have vibrant color. The pigment-based inks produce documents that will be durable through handling and will stand the test of time.
The reliability of these inks combined with the Precision Droplet Control ensures clarity in every document.
Because of the intense, vibrant color, professionals may deem it the best large format printers for graphic designers.
Likewise, architects and drafters will appreciate the crisp, clean lines produced on the plans they have drawn.
Roll or Cut Sheet Capability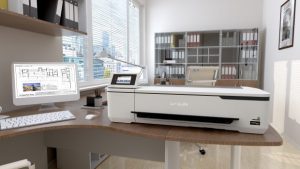 Because the Epson SureColor T5170 accommodates both roll media with a width of 36" and flat sheets as large as 11" x 17", this printer has the capability for handling almost any print job.
Anyone in your office can use the Wi-Fi connection to print from his or her smartphone, tablet, or other mobile devices.
With Wi-Fi Direct, your devices connect directly to the professional printer without connecting to a router. Ethernet or USB connections are also available.
Pros
Quickly produces quality printed documents

Features an easy to use LCD touchscreen

Has a small footprint

Uses individual color high-capacity cartridges

Allows printing from a variety of mobile devices.

Uses vibrant pigment ink

Accommodates a wide variety of sizes of media

Easy to set up
Cons
Does not print well on vinyl

Slower print speed
The HP T520 DesignJet features wireless connectivity and a solid design. The printer makes quick work of producing any large-scale documents, graphics, or images.
Color Enhancement
This printer uses 12 ink cartridges to ensure the production of high-quality black/white and color images.
When you have this many color hues, your images will pop with color! With its 2400 x 1200 dpi resolution, you will create graphics and documents with the details you have always wanted.
Versatile Print Media
The versatility of this printer continues with its ability to handle both sheet and roll print media. The printer accommodates print media up to 24" wide.
Operating the printer is easy and intuitive due to the large touchscreen display right on the printer's front panel. The user can quickly change settings and check the printer's progress.
Automatic Cutter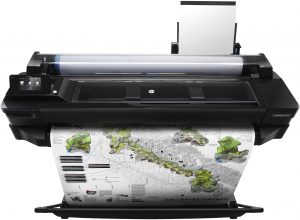 The automatic cutter included with the HP T520 cuts the media to the correct size.
This feature ensures an accurate measurement for each print job. This feature may be toggled on or off to meet the specific needs of the print job.
Using Wi-Fi connections, direct printing is simple and efficient. This professional photo printer supports printing via mobile devices as well.
Both Android and iOS technologies are supported by this professional printer. If the wireless option is not needed, this unit comes with Ethernet and USB connectivity.
Pros
Produces clean, crisp images with excellent resolution

Prints quickly at speeds starting at 35 seconds

Creates vivid images and fine line detail using dye-based inks in 12 colors

Includes the option to use sheet or roll print media

Handles print media up to 24" in width

Features an automatic cutter that can be toggled on or off as needed

Has a touchscreen panel making it easy to operate

Utilizes wired and/or wireless connectivity

Supports mobile technology
Cons
Does not allow a cartridge exchange without interrupting the print job

Inefficient method for holding printed sheets—paper curling may occur
This printer by Hewlett Packard will surely be one of the best large format printers for architects, construction professional, and engineers.
This compact unit produces outstanding quality and fits right into your office—and your budget.
Excellent Print Speed
The T730 gives you quality output at top-notch speeds that are up to 3 times faster than any previous HP printer in its class.
You can have an A1/D-sized document printed and ready to go in less than 25 seconds.
High-Capacity Ink Cartridges
With this printer, you may purchase cartridges with up to 300-ml of HP ink. By purchasing larger ink cartridges, you save money by buying in a larger quantity and reducing the number of printer interruptions and interventions required.
Simple, Familiar Interface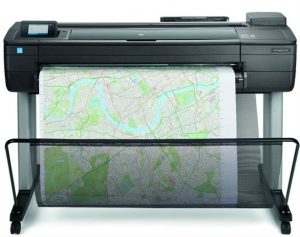 The control panel resembles a smartphone so employee training and transition will be seamless.
Your employees will quickly swipe through the menus and enjoy using the touchscreen's intuitive menus and interface.
Continuous Connectivity
When connectivity is important, this printer has you covered. You remain connected to your printer via either the Wi-Fi signal or your mobile devices.
With HP's unique ePrint function, you have the ability to print documents easily and quickly via email.
Pros
Features a compact design

Priced affordably

Intuitive user interface

Enhanced in-house and mobile connectivity

High capacity print cartridges available
Cons
Difficult to link to laptop

Time lag between sending to print queue and document printing
7th Choice: HP DesignJet Z9+ 44" -Best Large Format Printer For Photographers
The HP DesignJet Z9+ is a 44" wide printer that delivers quality output every time. This unit prints at 2.5 times the rate of other printers yet never compromises quality.
The addition of this printer will make your workflow much more efficiently.
High-Quality Print Resolution 
Because of the outstanding quality of the output from this printer, it is one of the biggest competitors to canon large format printers.
This printer consistently and accurately produces prints that have awesome visual appeal.
Print Media Options
The HP DesignJet Z9+ accommodates a variety of applications including canvas, banners, and posters.
The ability to quickly change media and make the necessary adjustments lets you spend more time printing and less time managing operations.
Media switches are simple because this printer supports dual rolls and can change automatically from one roll to another.
Quick Print Turnaround Time
With lightning-fast print speeds, this printer could easily be one of the fastest general-purpose and CAD printers on the market today.
With both speed and versatility, this printer will save you time AND money!
Pros
Quick printing speed

Prints on a variety of mediums

Features a media cutter

Includes a large hard drive that makes large jobs easier
Cons
Large and heavy

Requires 9 print cartridges
Buyers Guide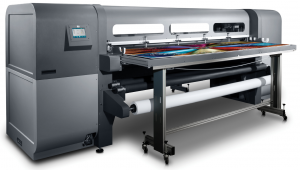 When you are looking for the all-around best bang for your buck, you will want to consider the features of the printer you plan to use to scan, copy, and print wide documents.
If you are spending anywhere from $2,700 to $4,800 for a printer, you want to be sure you've done your homework and make the right selection.  
You will want to assess the software resources available as a part of the package. A good large format printer needs to have adequate software to support your needs.
Operating a printer comes with certain expenses such as print media supplies and ink cartridges.
Before buying, look at how many cartridges the printer uses before making your final decision. As you may already know, buying quality cartridges manufactured by the original company is usually the best!
Along with the ink cartridges, assess the types of paper, canvas, vinyl and other print media you desire.
Determine if the roll media or sheet media seems best for you. Be sure the printer can support the type print media you want to use.
You should ask yourself, "How important is the ability to scan documents?" Some large format printers have scanning capabilities. If this features is important to you, be sure to take a look at those models.
Final Words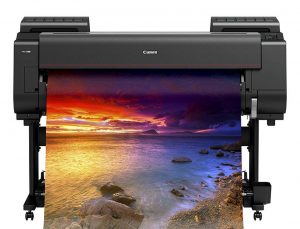 When all features and functions are taken into consideration, the Canon PROGRAF iPF770 MFP L36 is the clear choice.
The word "versatile" does not even do justice to all the features offered by this unit. You get a color printer, plotter, scanner, and copier all in one box!
This setup produces quality documents sure to please professionals who need high quality printed output.
This could easily win an award as the "Most professional printer" 
The ability to scan documents is an added bonus not offered by many laser large format printers on the market today. This feature can add to your efficiency and productivity.
As if that's not enough features, the unit comes with a computer and touch screen monitor for viewing print jobs and keeping everything running smoothly.
You cannot go wrong with the purchase of the Canon PROGRAF iPF770 MFP L36 Color Printer, Plotter, Scanner, and Copier.