Disclosure: This Website is Reader Supported. As an Amazon Associate I earn from qualifying purchases.
Last updated on April 23rd, 2020 at 05:26 pm
Many small businesses are in need of a commercial air compressor. In fact, the North American air compressor market is expected to reach 5.7 Billion by 2023 (Source).
However, large Air Compressors divide into few categories.  Further, those categories are single-stage, two-stage, and rotary screw air compressors.
Size Does Matter

The tank capacity of those commercial air compressors is between 120 to 240 gallons.
The most common size of commercial air compressors is the 200-gallon air compressors. However, most automotive shops opt for 120-gallon air compressors for their operation.
There are many websites that incorrectly identify 100-gallon air compressors as commercial air compressors.
Based on our research, those units are outdated and were never meant to serve truly industrial applications.
The Intended Use  
We divided the article into a few categories in order to make easier for the end-user to find the right commercial air compressor for its business.
Furthermore, the business owner must know what his/her requirements are and carefully examine the specs.
All the industrial compressors reviewed bellow are evaluated based on power, price and the level of quietness. We tried recommending the best ones from each category.
Which Businesses Rely on Commercial Air Compressors?
Air Compressors are most widely used by automotive businesses such as tire shops, heavy-duty truck mechanics, and machine shops.
Those types of businesses require industrial air compressors to operate their large number of power tools.
In addition,  industrial-grade air compressors are used in the agriculture industry.  Other industries are glass industry, laundromats, dry cleaners,  food & beverage industry and the aerospace industry.
Finally, many factories require the use of high volume and high-pressure air compressors. Specifically, paper mills use heavy-duty air compressors to operate the paper rollers.
Best Air Compressors For Small Businesses: 120 Gallon Units
We chose to start with the 120 Gallon Air Compressors since most small businesses will find them the most useful.
In addition, we find that the 120-gallon air compressors offer the same horsepower (10 H.P ) in many cases.
This 10 HP, 120 gallon horizontal two-stage compressor is the best choice for auto repair outlets and facilities. 
It includes a long-life cast iron two-stage pump and is designed with more than 17,000 hours of rated life.
The valve plate and head boast an advanced design with Viton(r) high temperature O-rings to protect from leakage. These rings provide superior high pressure sealing compared to paper-type gaskets.
There is an ASME certified tank for 200 PSI maximum pressure. The crankshaft is fabricated of ductile iron and optimally balanced for smooth, low vibration operation. The warranty is 3 years.
Pressure switch for automatic start stop operation

Mounted and wired motor starter for quick electrical hook up 

Fully enclosed metal belt guard for safe operation 

Industrial-rated NEMA motor for reliable service 
Not suitable for large-scale applications  
2.Quincy QT-15 – Reciprocating Air Compressor
This reciprocating air compressor will serve you for life. It is efficient with low operating costs, producing more compressed air at a lower horsepower.
It runs cooler at a slower RPM and costs less to operate.
Heavy-duty compressors boast a best-in-the-industry 50,000-hour pump life rating and are engineered for industrial applications.
There is one-year limited warranty.
If you buy an extended warranty kit on the same receipt, the package warranty increases to 2 years and the pump warranty becomes 3 years for parts and labor.
The unit has a duty cycle of 100%, 42 amps, max. PSI of 175, horizontal tank, cast iron pump, 4-cylinder, manual ball valve drain system, 230 volts, and belt drive. The working pressure is 145-175 PSI.
Heavy-duty industrial motor 

Industrial-duty general-purpose mounted and wired magnetic starter 

Less than 5 PPM oil carry-over (blow-by) rating 

4-cylinder pump design 
No after-cooler included

Extremely expensive 
This is a 2-stage air compressor with an electric motor with capacity of 20 HP.
It's well suited to a variety of commercial applications. The L-series cast iron pump runs cooler and quieter and lasts longer.
The unit is built with sturdy Swedish steel valves. It is equipped with deeper cylinder fins for additional heat dissipation. The machined components guarantee top-notch performance.
Protection is provided via the Standard Enclosed belt guard. Powder-coated components are stainless steel and corrosion-resistant. The warranty on the unit is one year; two on the pump.
Low RPM, Balanced drive pulleys, Pressure gauge indicator 

NEMA designed motors 

ASME air receivers and safety relief valves 

Manual condensate tank drain 

Heavy duty cast iron construction 
4.DeWalt DXCMH9919910 – Two-Stage Cast Iron Industrial Air Compressor
The Dewaltcast iron two-stage air compressor is a uniquely designed compressor with a large capacity to handle large loads and heavier pneumatic tools.
The two-stage function ensures more air can be compressed.
This compressor comes with a mounted magnetic and pre-wired starter, making it easier and quicker to start up.
The compressor provides 33.6 CFM at 175 PSI, making it perfect for applications that involve a longer run time for all kinds of air tools.
The unit is very durable, being constructed from cast iron. The patented pump design ensures a cooler running pump, which adds to the durability of the system.
Three Phase Induction Motor
The compressor operates on a heavy-duty, three-phase induction motor that features a running horsepower of about 10. A uniquely designed belt guard that ensures better cooling of the compressor pump is included.

Furthermore, the cast iron flywheel and patented pump design make for more efficient cooling.

This means the machine will never overheat, maintaining a consistent compressing efficiency throughout its life cycle. The two-stage function is not only powerful, but also helps operate more than one device at a time.
More than one device can be used at once

Two-stage pump for more power

Heavy-duty

Easy and quick to start up the machine

Durable and sturdy design
Requires Permenant Installation 

Only work with 3 Phase
OEM is unbeatable when it comes to reliability and delivering high-end products. Its 120-gallon industrial air compressor is yet another example of the company's consistency.
Its large horizontal compressor can be used for DIY purposes when you need extra power for your tools. The maximum operating pressure of this unit is about 125 PSI. However, it has no problem delivering 35 CFM at 100 PSI.
This means you can use it to provide air to grinders, power ratchets, drills, or whatever other tools you need. The heavy-duty cast iron pump is perfect for durability and performance. It operates at a low RPM, which further adds to the durability factor.
No Separate Filter Needed
You don't need to buy a separate starter for the motor on this unit because the starter is included, as are the oil and air filters. What is more, the compressor does not require a lot of maintenance or servicing.
In fact, it ensures longevity and effectively reduces maintenance. Optimal cooling efficiency is ensured by the heavy belt flow guard. The unit also includes tank and safety valves that adhere to the ASME standards.
Starter and start-up kit included with the package

AMSE Standard tank valves and safety valves

Used to power many different kinds of tools

Can be used for both DIY and industrial uses

Durable and reliable performance
Cannot be moved without assistance

Vibrates a lot so vibration isolation pads are needed
This commercial compressor features a patented pump design that runs cooler and lasts longer. The patented piston design helps improve compression efficiency. Below are some details about the product:
Draws heat away from the precision bored cylinders

Patented Asymmetrical Cooling Fins

Patented Cast Iron Flywheel

Pre-Wired Magnetic Starter

Saves time and money
120 Gallon ASME Tank
The compressor has enough power to operate more than 1 tool at a time with its 35.0 CFM at 100 PSI; 33.6 CFM at 175 PSI; 3/4″ air outlet.
It features a unique Metal Belt Guard Design that improves pump cooling by as much as 60% over other designs.
On the downside, the product comes with a limited factory warranty of just two years. Purchase and use of maintenance kit double the pump warranty.
It has the motor voltage of 230 Volt AC, a magnetic starter, 10 HP engine and pump CFM 35. The pump is made of solid cast iron, two-stage pump type. There is an oil sight glass, but no aftercooler.
Flexzilla Pro Air Compressor with Silencer, Stationary, 10 HP, 120 Gallon, 230 Volt, 3-Phase, 2-Stage, Vertical - FXS10V120V3-230
QUIET TECHNOLOGY - Flexzilla stationary air compressors include the Silencer, a patent pending noise suppression system that reduces low frequency noise levels. Silencer dissipates compressor intake noise by channeling the air through a series of baffles, reducing dBA levels up to 25%. Note: Every 10 decibels represents a 50% noise change
100% CAST IRON PUMP - Super-quiet low RPM two-stage pumps are constructed from solid cast iron, including cylinders, heads and crankcase. Not aluminum like our competitors. Expected life of over 50,000 hours!
COOL FLOW TECHNOLOGY - Industry exclusive. We raise the pump to allow air movement, adding an extra cooling feature and extending life. Premium industrial grade TEFC – Total Enclosed Fan Cooled motors are protected from debris
CONTINUOUS RUN FEATURE - Maximizes performance and reduces wear and tear. Eliminates frequent starts and stops by maintaining set pressure instead of cycling between set pressure and maximum PSI.
PREMIUM FEATURES AND COMPONENTS - Industry exclusive belt tension adjuster for quick and easy maintenance and automatic tank drain removes condensation in set intervals. Top quality pressure switch, 100% brass valves, ASME certified tank, heavy steel OSHA approved belt guards and B-style belts to ensure smooth operation
Technical Specs
Oil Lubricated (Splash Lubricated System) With NO Low Oil Pump Shut-Off

Tank: 3/4 Inch Horizontal with Electric Power

Weight: 920 Pounds,

Length: 75 Inches,Width: 29 Inches, Height: 60 Inches
Large, extended fins improve pump cooling & lower RPMs

High quality 4 pole, 1725 RPM, NEMA rated

Factory pre-wired for 230 volt, three phase system

Century Industrial Class 10-HP Electric Motor
No Electronic Drain Valve

Consumer and Commercial Warranty: 2 Years
Best Selling Rotary Screw Air Compressors 
Rotary Screw Air Compressors are compressors specially meant for factories and other power plants. We believe this sits outside the scope of small business. However, we put together the top 2 rotary screw air compressors we could find.
This 230 volt, 3-phase rotary screw compressor has a maximum working pressure of 115 PSI / 8 bar, a 10 HP motor, and 3600 RPM. There is an (F)NPT: G ¾ outlet with continuous duty. It comes with a CE approved standard electrical motor.
The configuration is simple with no tank, air dryer, and vibration. This product can meet the demands for compressed air of any tire shop, maintenance shop, vehicle body paint shop, and other light industrial applications.
Full sheet metal enclosure

Low noise 

Simple configuration

No vibration
No tank 

Missing air dryer
The Ingersoll Rand 230 Volt/3-Phase rotary screw compressor. This is a quiet compressor (only 69dBA) and will fit practically anywhere.
It's perfect for installation and operation within limited workspaces. The footprint is reduced by 20 thanks to the vertically stacked internal components (in comparison to earlier models) to ensure compact performance.
This reliable rotary screw compressor has the benefit of easy maintenance and delivers optimum performance in a robust, innovative package.
It is single-stage with an air tank of 80 gallons, air outlet size of ¾ inches, and max. PSI of 125. The unit is 230 volt with 46 amps and a horizontal tank. The engine is 15 HP.
Upgraded PTFE hoses with relatively few elements and O-ring face seals increase reliability and reduce the potential for leaks. The fully enclosed fan-cooled electric motor is standard 125 max.
Vertically stacked components for small footprint 

Quiet operation at 69dBA 

Ideal for limited workspaces 
Additional Rotary Screw Air Compressor Choices 
Bestseller No. 1
Bestseller No. 2
California Air Tools 10020C Ultra Quiet Oil-Free and Powerful Air Compressor, 2 HP
Ultra Quiet, only 70 Decibels
Oil-Free Pump for Less Maintenance & Costs
Powerful 2.0 Hp with Low amp draw - 7.0 Amps
6.40 CFM at 40 PSI & 5.30 CFM at 90 PSI. Dedicated 15 amp outlet -14 gauge 25ft cord - Min. 5500 Watt Generator. Maximum continuous running 30-60 min. (Depending PSI & CFM)
10 Gallon Air Tank with Wheels.125 PSI maximum pressure
Bestseller No. 3
HPDMC Rotary Screw Air Compressor With Tank & Refrigerated Dryer - 10HP/ 39CFM@125PSI / 208-230V / 60Hz / 3-Phase /80 Gallon All-in-One Side Industrial Air Compressed System
【Parameters】Power : 10HP;Input Voltage: 208-230V/60Hz/3ph;Air Flow : 39cfm;Max Working Pressure : 125 psi / 8 bar;Motor : 3600rpm;All-in-one Compressor With Air Dryer & 80 Gallon Tank.
【Simple Installation】A small footprint and lower noise levels mean increased installation flexibility, making the HPDMC air compressor ideal for most applications. And, with the optional receiver tank and integrated dryer, you will save valuable floor space and lower your cost of operation.
【Easy For Maintenance】All components are easily accessible for fast easy maintenance. Annual maintenance operations only include changing the filters and oil at predetermined intervals. Oil and Separator filters are spin-on style. Inexpensive parts and oil combine with long operating intervals to deliver significant savings over the life of the machine.
【Meet Your Needs】 This 10 HP rotary screw air compressor offers many features, including a PLC that will allow for easy and intuitive scheduling and operation. Paired with HPDMC local customer service,we are confident this air compressor will meet your compressed air needs for years to come.
【Product Application】HPDMC compressor can widely used for tire shop、maintenance shop、vehicle body or automotive dealership.It can be installed almost anywhere with an optional inter grated dryer and tank, and for all components are easily accessible for fast easy maintenance.
Comparing the Best 200-Gallon Air Compressors
1. Atlas Copco AR20 – Affordable 200 Gallon Compressor

Atlas Copco has duplex mounted 10-HP pumps.  The two 2-stage compressor pumps meet extra demand and can double the lifetime of your compressed air system.
Below are some specs:
Highly efficient system delivers energy savings

Lead-Lag Control System

Running hours are balanced for equal lifetimes

Both compressors can run for maximum output

Dual Pressure Switches & Alternator

Start-Stop Pressure Switch Control

Puts out 70 CFM at 100 PSI; 175 PSI maximum

Low noise, superior cooling

Large Multi-Blade Flywheels

Fully enclosed PVC-coated belt guards protect the belts & operator
Optional Belt Guard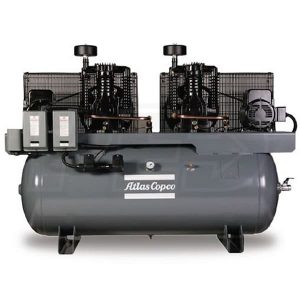 Optional belt guard aftercoolers are available (sold separately). You need to order them when making the compressor purchase.
Specs
Engine: HP 20

Pump: CFM 70

CFM Rated @ 100 PSI 

Pump Type Two-Stage – Dual Pump

Max PSI: 175 PSI
The 200 Gallon ASME Tank & Safety Valve makes it a safe addition to any facility.
The top-grade air inlet filters ensure clean air for extended operational life. Leading industry factory warranty from bumper to bumper protects your investment for two years.

Pump Material Solid Cast Iron

Oil Sight Glass

After Cooler

Pump Drive Belt Drive
2. FS-Curtis ML10 – Most Powerful Air Compressor (20 H.P) Pressure Lubricated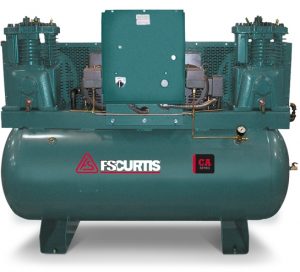 The patented Centro-Ring pressure lubrication system delivers 100% continuous duty over an extended service life because all the most important components are properly lubricated.
ML-Series reciprocating compressors handle rugged, making them better than rotary compressors, especially in hot or dirty ambient conditions.
The Pump Specs 
Durable pumps deliver 79.6 CFM at 175 PSI; slow RPM extends pump life & reduces noise

Two D97 2-Stage Pumps With 100% Cast-Iron Cylinders, Cylinder Heads, & Connecting Rods

Oversized

 tapered main roller bearings ensure long pump life; low oil shut-off protects the pump
The Motor 
Premium finned intercooler maximizes heat dissipation; metal intake filter housing is superior to plastic

Two 10-HP NEMA-Designed Electric Motors With Automatic Stop/Start Control

Alternator control panel complete with magnetic starters can run as continuous or intermittent duty

Stainless-steel valve assemblies increase airflow & reliability

Robust, heavy-duty construction is built tough to last a lifetime in demanding working conditions 

ASME-Approved 200-Gallon Air Receiver

OSHA-Approved Totally Enclosed Metal Belt Guard
The heavy-duty, sturdy, stamped-steel belt guard protects both the drive belt and the operator, and the manual condensate tank drain valve simplifies maintenance.
Finally, the compressor arrives factory oil-filled, which means you're ready to use it at once.
The A10051 / ISO 9001 certified manufacturer is "U" stamped and registered with the National Board. The maximum pressure of the air tank is 200 PSI. The tank is made of carbon steel. The size without the skirt is 30″ x 72″.
Product specs
Dimensions (L)(W)(H)30″ x 72″ (Not Including Skirt)

Weight (lbs)505.0000

Air Tank Configuration: Vertical

Warranty: Standard Warranty
We ranked this product at the top because it features optimal airflow at maximum operating pressure. Airflow is indicated by the unit's SCFM or standard cubic feet per minute.
As airflow goes up, pressure tends to drop. Please take into account the type of tools you will be using with the compressor to determine the correct SCFM and PSI regardless of which compressor you choose.
Buyer's Guide – Important Things Before Your Buy Commercial Air Compressor
Before committing to a compressor make and model, ask the following questions:  
What is the air flow and pressure?

How Much power?

How durable is the compressor?

Oil or oil-less?

How good are the cooling systems?

What about maintenance?
Air Flow and Pressure
As noted, the volume of airflow and the maximum operating pressure, measured in SCFM, should be taken into account.
You need to consider the type of tools you will be using with the compressor to determine the correct SCFM and PSI.
Power
Motor power is usually expressed in horsepower (HP). We don't recommend going anywhere below 10 HP because these compressors are bound to have large tanks.
Plus, 10 HP produces greater pressure as well as greater compression. Determine the air flow and pressure before considering the power.
Durability
You need a robust, sturdy compressor because these large products are quite expensive for the most part. Cast iron compressors won't rust easily. They are heavy duty and can usually tolerate the worst.
Oil vs. Oil-less
Oil is important in the operation of any compressor as it serves to remove heat generated by the compression process. It also provides a seal in many designs. Oil lubricates the crank and wrist-pin bearings and the sidewalls of the cylinder in the case of piston compressors.
Rings on the piston provide sealing of the compression chamber and control the passage of oil into it, as with piston engines.

Portable Commercial Air Compressors 
There are portable commercial air compressors.  Although not very common, they are part of the market.
The application of such compressors is by highway construction companies and road service professionals, who serve truckers.
Oil & Rotary Compressors
Rotary-screw compressors inject oil into the compressor body to both remove some of the heat of the compression process and seal the two non-contacting rotors.
Rotary compressors rely on oil to seal the minute space between the housing bore and the vane tips. Scroll compressors are known as oil-less because they do not normally use oil but, of course, their capacities are somewhat limited.
Centrifugal compressors are in a different league than their positive-displacement brethren and do not introduce any oil into the compression stream.
Makers rely on several approaches to create oil-free compressors. Piston-compressor makers can employ one-piece piston-crank assemblies that ride the crankshaft on eccentric bearings.

This design does away with a wrist-pin bearing on the piston. Piston-compressor manufacturers also use certain self-lubricating materials for the sealing rings and cylinder liners.
Important Questions To Ask
Disadvantages Of Oilless Compressors
There are compromises to make whatever you choose. Some of the disadvantages of oil-less compressors are increased wear, more frequent maintenance, heat-management issues, and reduced capacity.
An oil-based compressor is a good idea if it is acceptable to filter out oil or simply live with it.
Cooling Systems Of Air Compressor 
Large compressors can heat up very easily because they often face heavy loads. This is why you should always check how efficient a cooling system is.
Most compressors are equipped with aluminum heads or fans for better heat dissipation.
Is Maintenance Easy?
You don't want to be stuck with daily maintenance of such a complicated and huge machine.
It's a good idea to look for compressors that do not require much maintenance or are easy to maintain, as the rotating screw compressors.
Some Additional Factors To Consider
Sizing the compressor

Air quality

Controls
Quiet Commercial Air Compressors
There are quiet air compressors out there that can give you the maximum performance you need to get any work done, whether at your worksite, the office, or at home—all without the noise.
The quietest and most affordable models are those by Dewalt and California Air Tools. These are at least 50% quieter than the rest.
They also have great reviews from real-life users and product reviewers online. The low prices are another incentive to purchase. Manufacturers have decided to move the market towards quieter air compressors. A compressor doesn't have to be loud to be good.
Best Commercial Air Compressor Brands
Below are some leading manufacturers in the US today:
Brehob Corporation

Kaeser Compressors, Inc

Eaton Compressor & Fabrication Inc.

Werther International

Industrial Heat Transfer, Inc.
Apart from them, do consider the manufacturers of the other products we've reviewed here. Some great 120-gallon compressors ship from China, for example.
The Less Popular 100 Gallon Air Compressors 
The 100-gallon air compressor is not very common in the U.S Market. Most manufactures discontinued the manufacturing of the 100-gallon air compressor for lack of demand.
The 100 gallons is falling between the very popular 80-gallon air compressor, which is used mostly by DIY and small business owners.
The air compressor manufactures realized that most light users will most likely be using an 80-gallon air compressor or the 120 gallons (second best among light industrial users). On the other hand, the big industrial applications will require the 200-gallon air compressor.
Either Way, the 100-gallon air compressor does not have a large market share. Therefore, it was discontinued by most.  In our quest, we managed to find only compressors that are shipped directly from China.




We don't recommend users order those because parts and technical support might be very limited. We strongly suggest choosing a 120-gallon option.
This is an air tank complying with EN 286-1, EN286-2, SAE J10. It has certificates CE and ISO. Below are some details about it:
Application:  Air Brake System For Truck, Trailer, Buses

Material: Steel, Aluminum

Diameter , Length: 156mm – 396mm , 50mm-1500mm

Port Size:  M22X1.5 , NPT , NPTF

Capacity: 5L – 120L

Working pressure: 10 bar – 19 bar ,150 psi-275 psi ,1 Mpa-1.9Mpa

Warranty:  12 Months, automatic welding
Hande is a reputable factory supplier that has been in business for over a decade. This manufacture has a superb technical team to adjust the design for customers.
They specialize in producing air tanks from 5L to 120L. They make steel air tanks and aluminum air tanks for the brake system of trucks, trailers, and buses.
The company can supply air tanks with an adjustable design to adapt to customers' requirements and specific environments.
Why Hande Air Compressor?
Inside and outside powder coating, salt spray test up to 500 hours.

Weight lighter and longer product life.

Passed the safety certification in Europe, with CE certificate.

All air tanks pass strict testing before being sold to customers.
The standard volume and working pressure of the Muye is 4.0-1.3. It can supply 2600 units a day.
Produced in a licensed Chinese factor, this is a great quality air compressor tank with a volume of 100 gallons. The tank is for air compressor pistons.
Air receiver tanks are designed to provide a supply buffer to meet short-term demand spikes that can exceed the compressor capacity.
They can also dampen reciprocating compressor pulsations, make the compressed air system easier to control and separate out particles and liquids.
In some cases, installing a larger air receiver tank to meet occasional peak demands can make it possible to use a smaller compressor.
Air Receivers in Compressed Air Systems 
Air receivers in compressed air systems serve several important purposes:
Eliminate pulsations from the discharge line.

Separate some of the moisture, oil and solid particles that might be present from the air as it comes from the compressor or that may be carried over from the aftercooler.

Decrease wear and tear on the compression module, capacity control system and motor by reducing excessive compressor cycling.

Offer additional storage capacity made to compensate for surges in compressed air usage.

Help reduce dew point and temperature spikes that follow regeneration.

Contribute to reducing energy costs by minimizing electric demand charges associated with excessive starting of the compressor motor. It is good for motor lifespan increasing.
Advantages of Muye Air Compressor 
Each tank is checked by X-Ray before painted.

100% checking leakage before delivery

Pressure vessel with best quality and reasonable price

Advanced ARC welding machine and dedicated workers

Both Custom Designed Solution and OEM are welcome
About the Manufacturer 
Muye has been producing and shipping air receiver tanks worldwide since 1996. The systems are compliant with ASME/PED/ISO/SGS/TUV.
They have a strong R&D team with powerful technical support. All raw materials and spare parts pass rigorous testing. The service is friendly and helpful post-sale. Most designs are stocked for immediate shipment.
Ready to Use A Commercial Air Compressor In Your Business?
While there are many commercial compressors on the market. Only one or two would be a good fit for your business type.
We hope that you were able to use the above buyers guide to make the right decision regarding your air compressor.
Last update on 2020-08-13 / Affiliate links / Images from Amazon Product Advertising API